Andrew Huberman
AMA #9: Kratom Risks, Does Infrared Sauna Work & Journaling Benefits
Understanding the Risks and Benefits of Cratum and Opioids.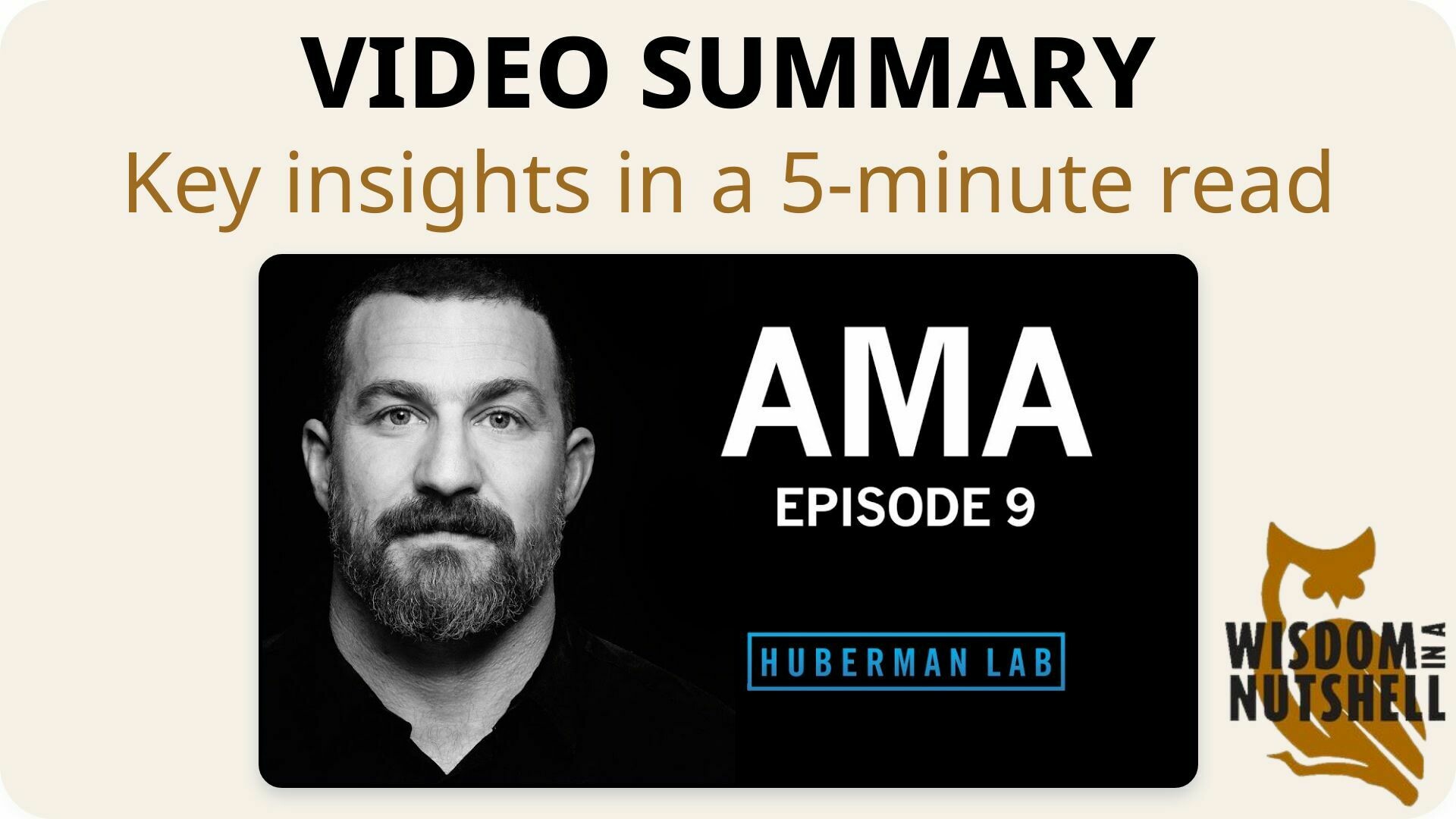 🌰 Wisdom in a Nutshell
Essential insights distilled from the video.
---
---
📚 Introduction
In recent years, there has been a growing interest in the use of cratum, a substance with opioid-like properties, as a potential alternative to opioids. However, it is important to understand the risks and benefits associated with cratum and other opioids before considering their use. This blog post aims to provide a comprehensive overview of the topic, highlighting the potential benefits of cratum in reducing or quitting other opioids, but also emphasizing the risks of addiction and respiratory failure. By the end of this post, you will have a better understanding of the complex nature of cratum and opioids, and be equipped with the knowledge to make informed decisions about your health.
---
🔍 Wisdom Unpacked
Delving deeper into the key ideas.
1. Cratum, an opioid-like substance, can be both beneficial and harmful.
Cratum, a substance extracted from a tree in Indonesia, has opioid-like properties and can be both beneficial and harmful. It can be used to reduce or quit other opioids, but can also be habit-forming and addictive. It binds to the same opioid receptors as morphine and hydrocodone, triggering pain relief and mild euphoria. However, it can also activate the brain's reward circuitry, leading to addiction. It's important to be aware of the potential risks and benefits of cratum and not rely on the argument that it is less harmful than other substances.
Dive Deeper: Source Material
This summary was generated from the following video segments. Dive deeper into the source material with direct links to specific video segments and their transcriptions.
| Segment | Video Link | Transcript Link |
| --- | --- | --- |
| What are the short-and long-term effects of taking Cratum? | 🎥 | 📄 |
| Cresta Addiction Can Be Real | 🎥 | 📄 |
| How Kratom Works in the Body | 🎥 | 📄 |
| What are the letter best sources of Precision Nutrition Handfeed Selections | 🎥 | 📄 |
---
2. Opioid crisis and addiction are complex, with potential for withdrawal and abuse.
The opioid crisis, fueled by the over-prescription and access of opioid drugs, has had a pernicious impact on many aspects of people's lives. Opioids, such as morphine and oxycodone, are highly habit-forming and addictive, with a small percentage of people experiencing euphoric effects. However, these effects can quickly lead to tolerance and addiction. Cannabis, while not as addictive as opioids, can also have withdrawal symptoms when stopped. It's important to consider the potential benefits and risks of any substance, including cradum supplements, which lack regulation and have a high abuse and addiction potential.
---
3. Cratum, a synthetic opioid, is highly addictive and should be avoided.
Cratum, a synthetic opioid, is highly addictive and should be avoided if possible. It is often used to wean off other opioids, but the dosage and individual response to opioids should be carefully considered. The risk of respiratory failure and addiction is real, especially when taken at higher dosages. Medical professionals advise against taking cratum unless absolutely necessary, as it can lead to a cycle of addiction. Gradual tapering off is recommended for those who have become addicted to cratum or other opioids.
---
---
💡 Actionable Wisdom
Transformative tips to apply and remember.
When it comes to managing pain or considering alternatives to opioids, it is crucial to consult with a healthcare professional who can provide personalized guidance based on your specific situation. Avoid self-medicating with cratum or any other substance without proper medical supervision. Stay informed about the potential risks and benefits of different treatment options and make informed decisions about your health.
---
📽️ Source & Acknowledgment
This post summarizes Andrew Huberman's YouTube video titled "AMA #9: Kratom Risks, Does Infrared Sauna Work & Journaling Benefits". All credit goes to the original creator. Wisdom In a Nutshell aims to provide you with key insights from top self-improvement videos, fostering personal growth. We strongly encourage you to watch the full video for a deeper understanding and to support the creator.
---