Andrew Huberman
Dr. David Anderson: The Biology of Aggression, Mating, & Arousal | Huberman Lab Podcast #89
Understanding Emotions, Aggression, and Mating Behaviors: Insights from Neuroscience.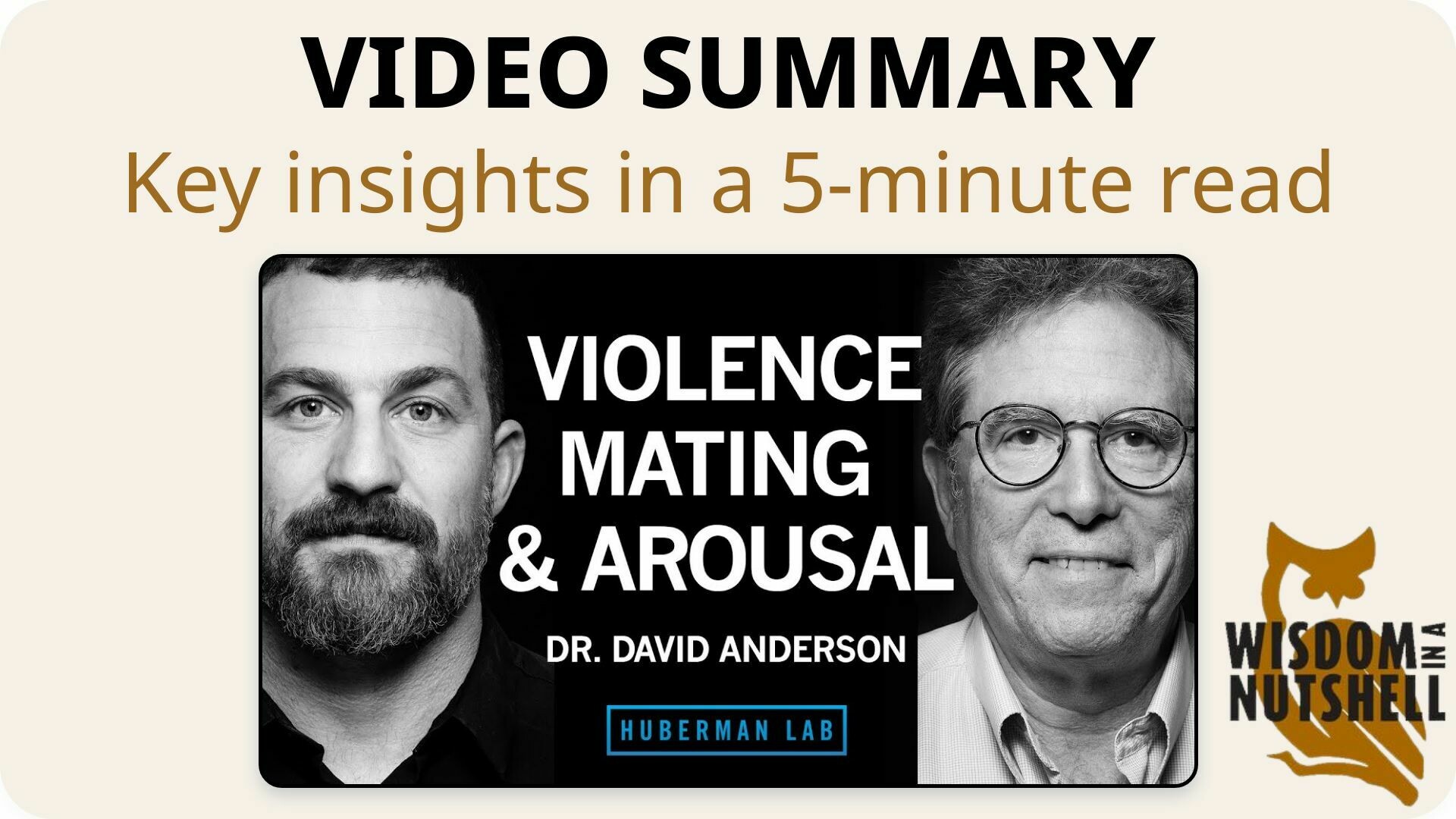 🌰 Wisdom in a Nutshell
Essential insights distilled from the video.
---
---
📚 Introduction
Neuroscience provides valuable insights into the complex world of emotions, aggression, and mating behaviors. By studying the brain and its interconnected systems, researchers have uncovered fascinating findings that shed light on these fundamental aspects of human and animal behavior. In this blog post, we will explore key discoveries in neuroscience and their implications for understanding and managing emotions, aggression, and mating behaviors.
---
🔍 Wisdom Unpacked
Delving deeper into the key ideas.
1. Emotions and states are distinct, with persistence and generalization, influenced by brain-body connection.
Emotions and states of mind and body are distinct, with emotions being internal states that control behavior, and states being the neurobiological processes that change the input to output transformation of the brain. These states, including arousal and valence, can be broken down into different facets or dimensions, and can have a persistence component, where they can outlast the stimulus that evokes them. They can also be generalized, where a state triggered in one situation can apply to another. Understanding these states is crucial for understanding emotions and improving psychiatric treatments. The brain-body connection, mediated by the peripheral nervous system, is critical for this understanding. The vagus nerve plays a crucial role in this communication.
Dive Deeper: Source Material
This summary was generated from the following video segments. Dive deeper into the source material with direct links to specific video segments and their transcriptions.
| Segment | Video Link | Transcript Link |
| --- | --- | --- |
| Dr. David Anderson, Emotions & Aggression | 🎥 | 📄 |
| Emotions vs. States | 🎥 | 📄 |
| Dimensions of States: Persistence, Intensity & Generalization | 🎥 | 📄 |
| Arousal & Valence | 🎥 | 📄 |
| Brain, Body & Emotions; Somatic Marker Hypothesis & Vagus Nerve | 🎥 | 📄 |
| Zero-Cost Support, YouTube Feedback, Spotify & Apple Reviews, Sponsors, Momentous Supplements, AG1 (Athletic Greens), Instagram, Twitter, Neural Network Newsletter, Huberman Lab Clips | 🎥 | 📄 |
---
2. Aggression is a complex brain behavior influenced by fear, cost-benefit analysis, and neural circuits.
The brain's aggression is triggered by different stimuli, including fear and hunger, and is controlled by the ventromedial hypothalamus (V-M-H) and the hypothalamus. Aggression can be offensive or defensive, with offensive aggression being more rewarding for some individuals. The type of aggression is determined by the type of stimuli and the brain's cost-benefit analysis. The V-M-H also plays a role in mating behavior, engaging other brain domains in the cost-benefit analysis. The close positioning of neurons that elicit divergent states and behaviors in the brain is a perplexing question, with fear neurons and aggression neurons starting out from a common pool of precursors. Fear can inhibit offensive aggression, and stimulation of fear neurons can stop a fight. The mechanism of how fear dominates over offensive aggression is not clear, but it may involve circuitry and chemicals.
Dive Deeper: Source Material
This summary was generated from the following video segments. Dive deeper into the source material with direct links to specific video segments and their transcriptions.
| Segment | Video Link | Transcript Link |
| --- | --- | --- |
| Aggression, Optogenetics & Stimulating Aggression in Mice, VMH | 🎥 | 📄 |
| Aggression Types: Offensive, Defensive & Predatory | 🎥 | 📄 |
| Evolution & Development of Defensive vs. Offensive Behaviors, Fear | 🎥 | 📄 |
| Balancing Fear & Aggression | 🎥 | 📄 |
---
3. Hydraulic pressure in the brain drives behaviors, but not aggression.
The concept of hydraulic pressure in the brain, introduced by Conrad Lorenz, refers to the prioritization of different states and conflicting states. This pressure can be seen in behaviors like hunger, thirst, and seeking a comfortable temperature, but not in aggression. The accumulated hydraulic pressure in the brain can be based on deprivation or a strong desire to do something, leading to the release of pressure. This pressure, combined with information about the presence of an object, can trigger mating or attacking behavior. However, there is a serious issue with young males who are obsessed with the idea of no masturbation and seek mates online due to the availability of pornography, which has a different physiological basis compared to mice.
Dive Deeper: Source Material
---
4. Hormones, especially estrogen, play a complex role in aggression.
The relationship between hormones and aggression is complex, with testosterone, estrogen, and progesterone playing a role. Testosterone can enhance or diminish aggression, depending on the individual's initial behavior. Estrogen receptors are found in aggression-promoting neurons in male mice, suggesting its importance in aggression. Castration can reduce aggression, but it can be restored with testosterone or estrogen implants. Aromatase inhibitors, which prevent testosterone from being converted into estrogen, can also reduce aggression. Female aggression is unique from male aggression, with different pathways involved. The transition from virgin to maternal female in mice is not fully understood, but it is known that a nursing mother is aggressive towards any intruder, regardless of gender.
Dive Deeper: Source Material
---
5. Mating behaviors reflect different states and contexts, with complex neural circuitry.
The mating behaviors of humans and animals are complex and can reflect different states, such as dominance or sexual desire. The same behavior can have different meanings depending on the context and interaction. For example, male-male mounting can be seen as dominance behavior rather than homosexual behavior. Female mice have been observed displaying male-like mounting behavior towards other females, which could be a type of dominance display. The function of this behavior is unknown, but stimulating the neurons in the medial preoptic area of females can evoke male-like mounting behavior towards males or females. The same neural circuitry as mice is present in humans, but the forebrain allows for context, making it inappropriate to make a one-to-one link between observations from online communities and the neurobiological discussion.
Dive Deeper: Source Material
This summary was generated from the following video segments. Dive deeper into the source material with direct links to specific video segments and their transcriptions.
| Segment | Video Link | Transcript Link |
| --- | --- | --- |
| Mating & Aggressive Behaviors | 🎥 | 📄 |
| Mounting: Sexual Behavior or Dominance? | 🎥 | 📄 |
| Females & Male-Type Mounting Behavior | 🎥 | 📄 |
---
6. Fetishes are a form of classical conditioning, influenced by interplay of states and neurocircuitry.
Fetishes, a phenomenon where people develop a requirement for thinking about or the presence of ordinarily disgusting things to become sexually aroused, can be understood as a form of classical conditioning. This involves the association of aversive or disgusting things with a rewarding experience, which can be orchestrated by the cortex. The development of fetishes can be attributed to the interplay between different states and the potential for crossed wires in certain individuals. Treatment for violent sexual offenders often eliminates both the violence and the sexual desire, highlighting the need for more tools in human neuroscience to probe and manipulate neurocircuitry.
Dive Deeper: Source Material
---
7. Brain region regulates mating behavior and body temperature, influencing aggression.
The medial preoptic area, a brain region, contains neurons that regulate mating behavior and body temperature. Stimulating these neurons can trigger changes in body temperature and/or mating behavior. There are different populations of neurons in the preoptic area that are active during different phases of mating behavior. The relationship between temperature and mating behavior is not well understood, but there is evidence that thermoregulation is tightly connected to energy expenditure. The question of why violence increases in the summertime when temperatures are high is still unresolved, but there may be a connection between thermoregulation and aggressiveness. Arousal is also tethered to the mating and reproductive process, and the seesawing between sympathetic and parasympathetic arousal is necessary for mating to occur.
Dive Deeper: Source Material
---
8. PAG, a behavior-modulating structure, influences pain and fear responses.
The peri-aqueductal gray (PAG) is a structure involved in various innate behaviors, including pain modulation and control during fighting and mating. It acts like an old-fashioned telephone switchboard, routing information to the right recipient. Different regions of the PAG are involved in different behaviors, such as fear and freezing. There is evidence of a topographic arrangement along the dorsal ventral and medial lateral axes of the PAG that determines the type of behavior emitted when neurons in that region are stimulated. Fear-induced analgesia, where an animal experiences reduced pain during high states of fear, is also observed. The PAG is connected to the spinal cord and may influence pain at multiple levels. Understanding the mechanisms of pain modulation in the PAG is still limited.
Dive Deeper: Source Material
---
9. Blocking tacky-kinden can reduce aggression and alleviate separation anxiety.
Tacky-kinden, a family of neuropeptides, promotes aggression and is upregulated in social isolation. It can be blocked by a drug called Osanatant, which reduces aggression and fear. This drug has a good safety profile in humans and could potentially be used to treat stress-induced anxiety or aggressiveness. However, pharmaceutical companies are hesitant to test it due to economic disincentives. It would be beneficial to test this drug on pets, as it could alleviate separation anxiety. Social isolation drives powerful neurochemical and neurobiological changes, and tacky-kinden is a key player in this process.
Dive Deeper: Source Material
---
---
💡 Actionable Wisdom
Transformative tips to apply and remember.
Take a moment each day to reflect on your emotions and states of mind. By developing self-awareness, you can better understand the underlying factors influencing your behavior and make conscious choices to manage your emotions and interactions with others. Practice empathy and seek to understand the emotions and behaviors of those around you. This will help foster healthy relationships and create a more compassionate and understanding world.
---
📽️ Source & Acknowledgment
This post summarizes Andrew Huberman's YouTube video titled "Dr. David Anderson: The Biology of Aggression, Mating, & Arousal | Huberman Lab Podcast #89". All credit goes to the original creator. Wisdom In a Nutshell aims to provide you with key insights from top self-improvement videos, fostering personal growth. We strongly encourage you to watch the full video for a deeper understanding and to support the creator.
---