Andrew Huberman
Dr. David Spiegel: Using Hypnosis to Enhance Health & Performance | Huberman Lab Podcast #60
The Power of Hypnosis: A Comprehensive Guide.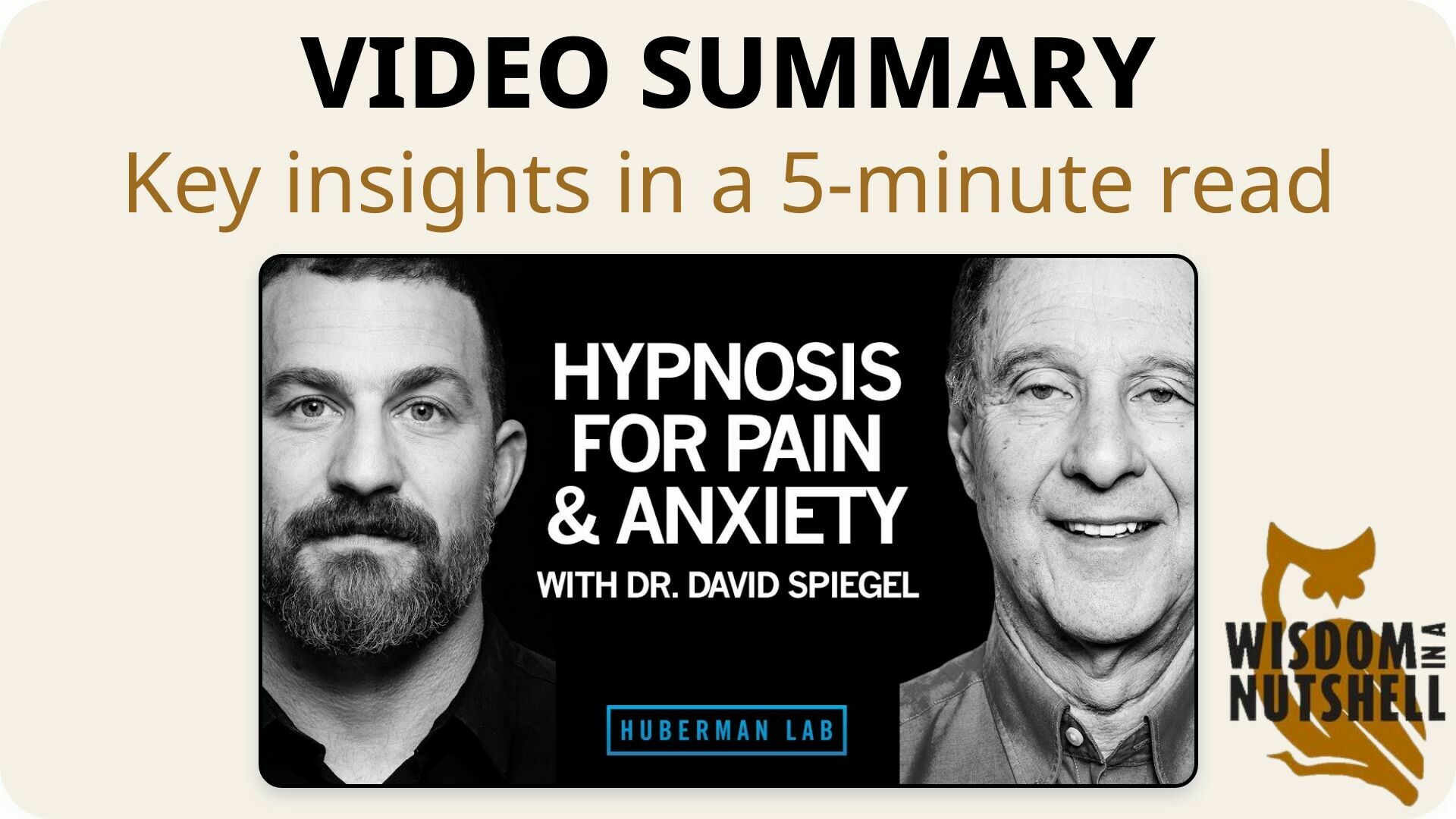 🌰 Wisdom in a Nutshell
Essential insights distilled from the video.
---
---
📚 Introduction
Hypnosis is a fascinating and powerful tool that can be used for a variety of purposes, from reducing pain and anxiety to treating trauma and enhancing well-being. In this blog post, we will explore the different aspects of hypnosis, including its benefits, applications, and techniques. Whether you are curious about trying hypnosis for yourself or simply want to learn more about this intriguing practice, this guide will provide you with valuable insights and information.
---
🔍 Wisdom Unpacked
Delving deeper into the key ideas.
1. Hypnosis can significantly reduce pain and anxiety, and is a skill for long-term use.
Hypnosis, a skill that can be acquired and used long-term, has the power to make lasting changes. It can significantly reduce pain and anxiety during medical procedures. Clinical hypnosis, different from stage hypnosis, is a tool that can improve symptoms of stress, anxiety, chronic pain, and psychiatric illnesses. It can be self-directed through apps like Riveree, which provide step-by-step guides for dealing with various issues. A simple test can determine hypnotizability, and breath work can also be used for anxiety, mood, and sleep. Clinical hypnotists can be sought for deeper underlying issues.
Dive Deeper: Source Material
---
2. Hypnosis is a powerful tool for stress reduction, anxiety management, and overall well-being.
Hypnosis is a state of focused attention that can be used for various purposes, including stress reduction, anxiety management, and overcoming physical reactions to psychological stress. It involves immersing oneself in an experience without evaluation, similar to looking through a telephoto lens. Hypnosis can be used in clinical settings and by stage hypnotists, and has been found to be effective in helping patients with acute pain and post-traumatic stress disorders. It can also be used to help people overcome anxiety and improve their overall well-being. Self-hypnosis, a problem-focused treatment, can be done during the daytime to prepare for stressful events or to improve sleep. Regular self-hypnosis practice can strengthen brain networks, leading to improved well-being.
Dive Deeper: Source Material
---
3. Hypnosis can enhance control, but requires understanding and awareness.
Hypnosis, whether self-induced or administered by a hypnotist, can be a powerful tool for enhancing control over the mind and body. It can be used to deal with obsessive thoughts and OCD, and can even be effective in children for various situations. However, it's important to recognize and understand hypnosis to avoid negative experiences. Hypnosis can also be misused to manipulate people's behavior, as seen in stage hypnosis. It's crucial to be aware of the potential risks and benefits of hypnosis.
Dive Deeper: Source Material
---
4. Hypnosis can enhance focus and cognitive flexibility for individuals with ADHD.
Hypnosis, a state characterized by reduced distractions and enhanced executive control, can be beneficial for individuals with ADHD. The capacity to experience hypnosis, known as hypnotizability, is influenced by factors like age and individual differences. Hypnotizability can be assessed using simple tests like the hypnotic induction profile or the Spiegel-Iroll test. The process of hypnosis involves the downregulation of the dorsal anterior cingulate cortex (DACC), increased functional connectivity between the DACC and the left-or-saladore prefrontal cortex (PFC), and inverse functional connectivity between the DACC and the posterior singular cortex. These processes contribute to the ability to put things outside of conscious awareness and increase cognitive flexibility. Hypnosis can be a helpful tool for individuals with ADHD who struggle with focus and attention.
Dive Deeper: Source Material
---
5. Hypnosis can strengthen neural networks, treat phobias, and provide exposure therapy.
Neurons that fire together, wire together, a rule in neurobiology. Repeated use of self-hypnosis can strengthen neural networks. Long-term potentiation allows for repeated activation of a network to build new connections. Memory is a network of associations. Hypnosis can help treat phobias by allowing people to have more positive experiences and build a wider array of associations. Hypnosis can provide exposure therapy in the mind, without the need for props or animals. It can help individuals overcome fears and gain control over their reactions.
Dive Deeper: Source Material
---
6. Hypnosis can enhance trauma treatment by reprocessing experiences and enhancing control.
Hypnosis, a state of focused attention and heightened suggestibility, can be a powerful tool in treating trauma. It allows individuals to approach and reprocess traumatic experiences, enhancing control over mind and body. This can be particularly helpful in cases of post-traumatic stress disorder (PTSD), where dissociation can hinder treatment. The use of hypnosis in conjunction with other therapies, such as ketamine, can improve treatment outcomes. Additionally, hypnosis can be used to restructure the understanding of trauma, making it more tolerable. It is important to note that hypnosis is not a magic cure, but rather a tool that can be used in conjunction with other therapies to enhance their effectiveness.
Dive Deeper: Source Material
---
7. Overcoming trauma requires self-exposure, mind-body connection, and grief comprehension.
Overcoming trauma and stress requires deliberate self-exposure, understanding, and managing stress. The mind-body connection is crucial, and hypnosis can be used to unify or uncouple it. Grief is a natural stage of life, and it's important to comprehend the loss while also recognizing the gifts left behind. Eye movement desensitization reprocessing (EMDR) is a therapy that involves lateral eye movements to help process trauma, but its effectiveness is limited. It's not necessary to have a clinician to deal with trauma, as there are resources like the Revery app that can help. However, it's important to find a way to feel in control of the access to our memories and define what happened on our own terms.
Dive Deeper: Source Material
This summary was generated from the following video segments. Dive deeper into the source material with direct links to specific video segments and their transcriptions.
| Segment | Video Link | Transcript Link |
| --- | --- | --- |
| EMDR (Eye Movement Desensitization Reprocessing) | 🎥 | 📄 |
| Confronting Stress & Trauma | 🎥 | 📄 |
| The Mind-Body Connection | 🎥 | 📄 |
| Dealing with Grief | 🎥 | 📄 |
---
8. Hypnosis, aided by breathing and vision, can effectively modulate brain states.
Hypnosis, when combined with drug therapies, can increase GABA activity in the brain, similar to the effect of benzodiazepines. However, using drugs as an adjuvant to hypnosis is not always necessary and can sometimes hinder the experience. Mild stimulants may enhance hypnotic responsiveness, but too much can scatter attention. Breathing plays a crucial role in shifting the brain's state during hypnosis, leading to relaxation and parasympathetic activity. By taking deep breaths and slowly exhaling, individuals can enhance the idea of relaxation during the hypnotic induction. Breathing is a powerful tool for modulating internal states and can be used to augment hypnosis more effectively than medication. In addition to breathing, vision and bodily states are key elements of hypnosis. Hypnosis can be achieved in a physically relaxed state or during intense activity. It is important to find a well-trained hypnotist by looking for professionals who are licensed and trained in their primary discipline and have interest in using hypnosis.
Dive Deeper: Source Material
---
---
💡 Actionable Wisdom
Transformative tips to apply and remember.
Try incorporating self-hypnosis into your daily routine by using a guided app or recording. Find a quiet and comfortable space, close your eyes, and focus on your breath while following the instructions. Regular practice can help reduce stress, improve sleep, and enhance overall well-being.
---
📽️ Source & Acknowledgment
This post summarizes Andrew Huberman's YouTube video titled "Dr. David Spiegel: Using Hypnosis to Enhance Health & Performance | Huberman Lab Podcast #60". All credit goes to the original creator. Wisdom In a Nutshell aims to provide you with key insights from top self-improvement videos, fostering personal growth. We strongly encourage you to watch the full video for a deeper understanding and to support the creator.
---