Andrew Huberman
Optimizing Workspace for Productivity, Focus, & Creativity | Huberman Lab Podcast #57
Optimizing Your Workspace for Maximum Productivity.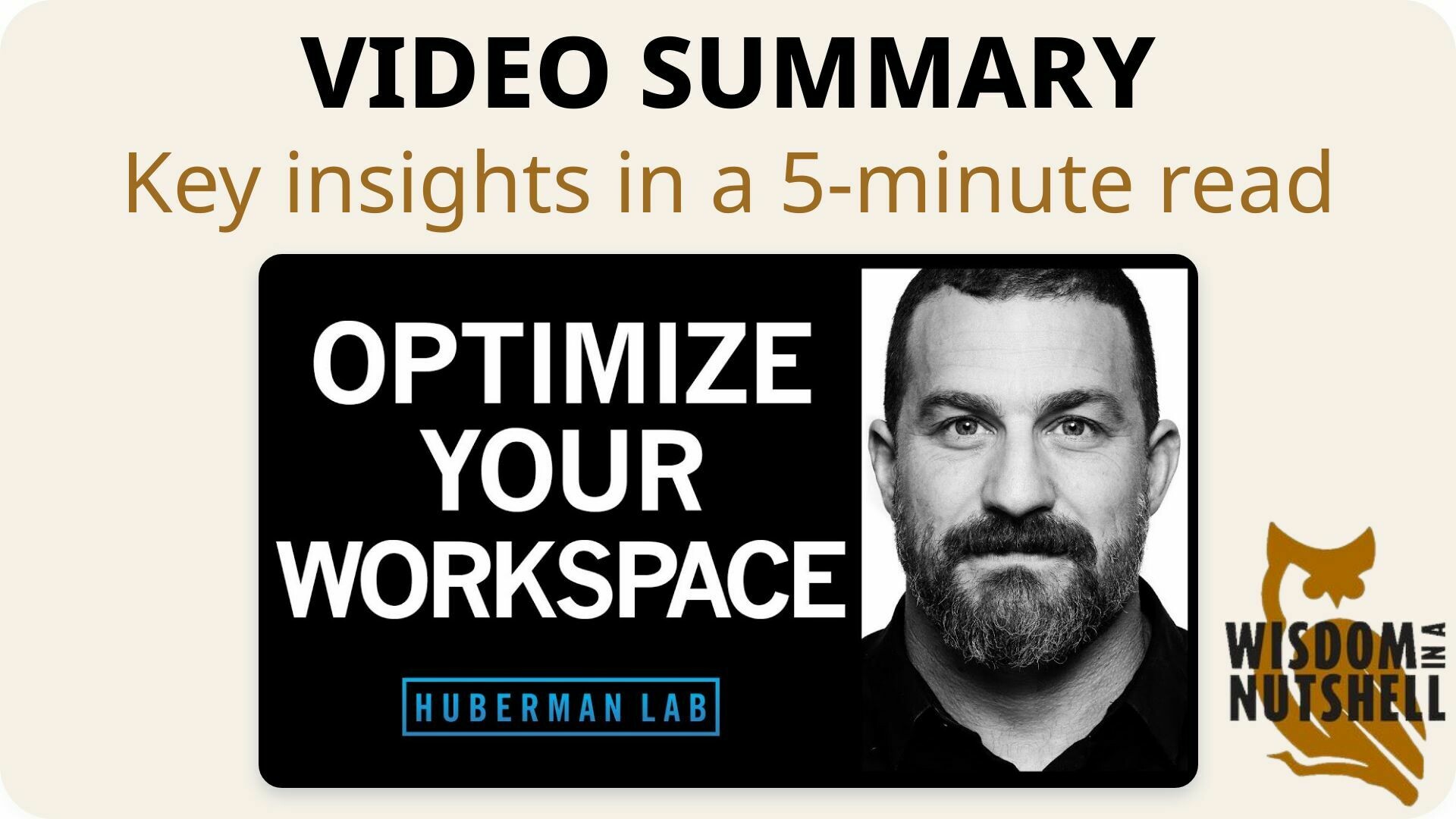 🌰 Wisdom in a Nutshell
Essential insights distilled from the video.
---
---
📚 Introduction
In today's fast-paced world, productivity is key to success. But how can we optimize our workspace to maximize our output? This blog post explores the science behind workspace optimization, from the impact of physical environment to the frequencies of sound, and provides practical tips to help you create an ideal work setting that enhances your cognitive function, focus, and creativity.
---
🔍 Wisdom Unpacked
Delving deeper into the key ideas.
1. Binaural beats at 40 Hertz enhance cognitive function and focus.
Optimizing your workspace for maximum productivity involves understanding the impact of your physical environment and the frequencies of sound on your cognitive function. Binaural beats, specifically at 40 Hertz, have been found to improve cognitive function, memory, reaction times, and verbal recall. These beats can be listened to before a task to enhance performance. However, it's important to note that binaural beats are not a one-size-fits-all solution and may have different effects on different individuals. The 40 Hertz binaural beats pattern has been found to increase striatal dopamine release, which is closely related to motivation and focus. This increase in dopamine release is measured indirectly by spontaneous blink rate. Longer blinks are associated with less alertness, while increased blink rate is associated with increased dopamine transmission. This dopamine release leads to heightened levels of motivation and focus. Dopamine is converted into epinephrine, which works together with dopamine to enhance movement and mental movement toward a goal. Understanding the role of movement in optimizing our workspace can enhance our work output and performance.
Dive Deeper: Source Material
This summary was generated from the following video segments. Dive deeper into the source material with direct links to specific video segments and their transcriptions.
| Segment | Video Link | Transcript Link |
| --- | --- | --- |
| Arranging Environment for Focus | 🎥 | 📄 |
| Binaural Beats for Work | 🎥 | 📄 |
| The Best Binaural Frequency for Work | 🎥 | 📄 |
| How Binaural Beats Increase Focus | 🎥 | 📄 |
---
2. Optimize workspace for focus and productivity through light, sound, movement, and novelty.
Workspace optimization is crucial for productivity and focus. It involves various factors like vision, light, noise, music, and noise canceling headphones. Bright lights during the early part of the day can enhance work performance, while standing for at least half of the workday can increase focus and alertness. Using 40 Hertz binaural beats for 30 minutes prior to work can improve cognitive performance. The 'cathedral effect' suggests that for analytic work, a lower ceiling or a brimmed hat can be beneficial, while for creative work, a high ceiling or no ceiling environment is recommended. Moving from different locations can help maintain alertness and engagement. Novel visual environments can enhance productivity. Workspace optimization tools, such as standing desks, ergonomic chairs, and noise canceling headphones, can also be effective.
Dive Deeper: Source Material
---
3. Regulate alertness and sleep by controlling light exposure.
The circadian cycle, which affects our sleep, metabolism, and alertness, can be regulated by controlling light exposure. During the afternoon, it's beneficial to dim lights and reduce screen brightness to facilitate creative thinking and abstract thinking. Around 4-5 pm, transition to yellow and red lights. During the third phase, limit bright light exposure to avoid depleting melatonin levels and shifting the circadian clock. If you need to stay awake, dim the lights overall. Drinking water and refraining from using the restroom can increase alertness. Bright light and dim light environments can help regulate alertness. It's important to find the right balance of brightness and dimness for your retinal sensitivity.
Dive Deeper: Source Material
---
4. Elevate screens, maintain proper posture, and optimize workspace for alertness.
The relationship between our gaze and alertness is crucial. Looking down or below our nose activates neurons associated with calm and sleepiness, while looking up activates neurons associated with alertness. To maintain focus and alertness, screens or objects should be at eye level or slightly above it. This can be achieved by elevating the screen, using a stack of books or a box, or by wall mounting a monitor. Proper posture, a brightly lit room, and avoiding text neck can also enhance alertness. When we are ambulatory, our neurons become more active, so adjusting the angle of our body can increase sleepiness and calmness. However, for workspace optimization, it's important to create an environment that promotes alertness.
Dive Deeper: Source Material
---
5. Optimize workspace, minimize distractions, and unplug for productivity.
The process of starting a workout or any task requires time for our brains to engage and deploy neurochemicals like dopamine and norepinephrine. This ramp-up time can be optimized by warming up, creating a conducive workspace, and using tools like Freedom to limit distractions. Interruptions can be minimized by using a recording light, a sign on the door, or acknowledging the presence of the person without shifting your body. Unplugging from the phone is crucial for productivity, and it's important to have large periods of time without phone engagement.
Dive Deeper: Source Material
---
6. Optimize workspace for visual focus and alleviate eye fatigue.
Our visual pathways have two channels: the Parvo Cellular Channel for high-resolution focus and the Magnoceller Channel for lower-resolution scanning. Bringing eyes to a common point increases alertness and focus, while dilating gaze broadens the visual field but reduces resolution. Workspace optimization suggests keeping the visual target area within the range of your hands when looking at a screen. Restricting your visual window too much can change the types of information you can process. Accommodation, the process of focusing, can fatigue the eyes. To maintain alertness and alleviate eye fatigue, take breaks every 45 minutes of focused work, spending at least five minutes relaxing your eyes. Looking off into the distance or at a horizon triggers panoramic gaze, which is relaxing for the eyes. Avoid checking your phone during breaks as it disrupts the virgins eye movement that increases focus and attention. For every 45 minutes of focused work, get at least five minutes of panoramic vision. Taking a 15-minute walk is even better. Workspace optimization can also influence whether our brain and nervous system are better suited for detailed analytic work or more abstract work.
Dive Deeper: Source Material
---
7. Optimize workspace for cognitive processes by leveraging the cathedral effect and managing background noise.
The cathedral effect, where people in high-ceilinged environments think more abstractly, can be leveraged to optimize workspace for different cognitive processes. For creative work, high-ceilinged environments or outdoors are best, while for detailed analytic work, lower-ceilinged environments are more suitable. Background noise can enhance focus, but certain types of noise should be avoided. Long-term exposure to white noise can disrupt the auditory system and impair language processing. Playing white noise, pink noise, or brown noise in the background can facilitate cognition by increasing alertness, but the duration should be limited to avoid negative effects.
Dive Deeper: Source Material
---
8. Balance sitting and standing, and consider active workstations for improved performance.
Sitting for long periods can negatively impact health, while standing desks can improve health metrics and cognitive performance. It's recommended to spend half the worktime standing and half sitting. Standing desks can also improve productivity due to the activation of alertness circuits in the brain. However, standing for long periods can cause postural issues. Physical movement under the desk, such as treadmilling or cycling, can be beneficial for workplace performance, improving attention and cognitive control scores. Active workstations, whether walking or cycling, can reduce anxiety and increase alertness, leading to improved cognition.
Dive Deeper: Source Material
---
---
💡 Actionable Wisdom
Transformative tips to apply and remember.
To optimize your workspace for maximum productivity, try incorporating these tips into your daily routine: use 40 Hertz binaural beats before starting a task, adjust the lighting in your workspace to match your circadian rhythm, position your screen at eye level or slightly above it, take regular breaks to relax your eyes and engage in panoramic vision, and create a conducive environment for focused work by minimizing distractions and maximizing alertness. By implementing these strategies, you can create an ideal work setting that promotes productivity, focus, and creativity.
---
📽️ Source & Acknowledgment
This post summarizes Andrew Huberman's YouTube video titled "Optimizing Workspace for Productivity, Focus, & Creativity | Huberman Lab Podcast #57". All credit goes to the original creator. Wisdom In a Nutshell aims to provide you with key insights from top self-improvement videos, fostering personal growth. We strongly encourage you to watch the full video for a deeper understanding and to support the creator.
---