BeerBiceps
10 Sure-Shot Money Making Tips Of 2022 ft. Viraj Sheth | The Ranveer Show 153
Mastering Personal Finance and Investing: Key Insights.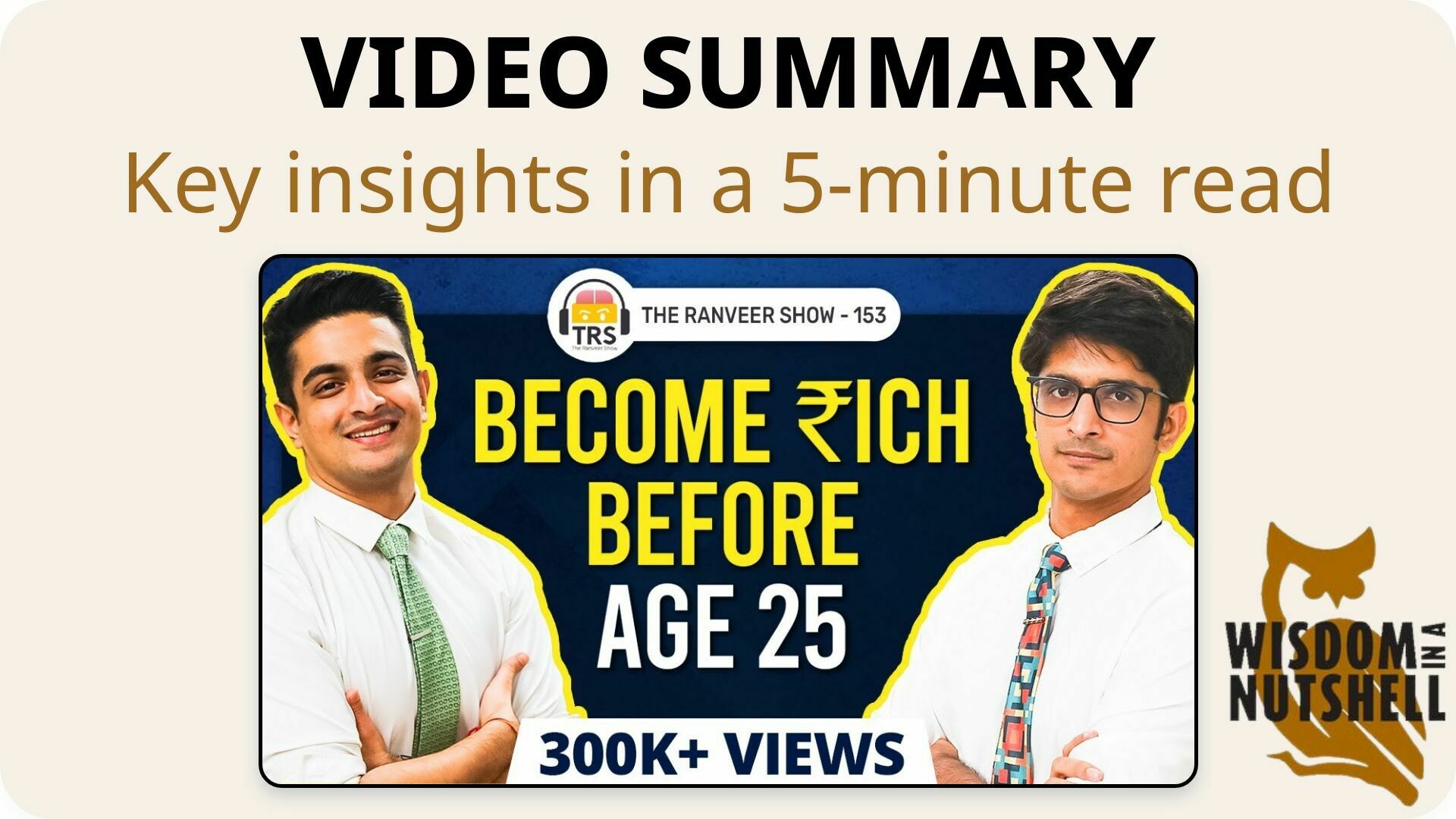 🌰 Wisdom in a Nutshell
Essential insights distilled from the video.
---
---
📚 Introduction
In this blog post, we will explore the world of personal finance and investing, uncovering valuable insights and tips to help you make informed decisions and grow your wealth. From understanding the importance of self-investment to navigating the stock market and exploring new opportunities like Web 3, we will cover a wide range of topics that are essential for financial success. Let's dive in!
---
🔍 Wisdom Unpacked
Delving deeper into the key ideas.
1. Reinvest in yourself, learn personal finance, and avoid common money mistakes.
The essence of personal finance lies in reinvesting in oneself, even when resources are limited. This includes learning about personal finance and the stock market. It's crucial to avoid common money mistakes, such as not having a budget, not saving, and not investing. The key is to start small and gradually increase investments. It's also important to be mindful of spending habits and avoid unnecessary purchases. The speaker shares their personal experience of making money mistakes and the lessons they learned from them.
Dive Deeper: Source Material
---
2. Invest in personal development for long-term financial success.
Investing in yourself, including learning, building knowledge, and focusing on physical and mental health, is crucial for long-term financial success. This includes spending money on personal development, such as online education or fitness habits. Building a strong foundation of discipline, which can be developed through these investments, is essential for career and personal finance. It's important to prioritize self-investment over spending on material possessions during this phase of life.
Dive Deeper: Source Material
---
3. Discover your niche through hands-on experience and internships.
To discover your core skill set and niche, try new things and work at different companies. Experience internships and sell products to gain sales skills. Give each career at least three months to see if you enjoy it. To succeed in personal finance, you need capital, which requires hard work. Get hands-on experience by interning or working for free. Learn about specific industries by working in companies operating in that space. Communication skills and basic knowledge of PowerPoint, Word, and Excel are sufficient for internships. Ask stupid questions and get your hands dirty.
Dive Deeper: Source Material
---
4. Investment journey starts with education, understanding, and personal finance.
The journey of investment begins with education and understanding of basic finance. This can be achieved through online resources like Rajna Rana and Ankur Warikoo's videos, which cover equities, stocks, crypto, and fixed deposits. It's crucial to understand why certain investments may not be suitable for you. After gaining a basic understanding, you can start practically investing in these markets. Don't be afraid to ask silly questions, as the right people will never make fun of you. Mutual funds and SIPs are good starting points for investing. However, personal finance is crucial, and it's important to highlight point number 4, which is a very important aspect of financial knowledge.
Dive Deeper: Source Material
---
5. Learn the basics, start small, and invest in long-term quality companies for stock market success.
Understanding the stock market can be intimidating, but it's crucial to learn the basics. Many people make mistakes by relying on tips instead of financial fundamentals. However, with the help of advanced software and research, it's possible to study the fundamentals of a stock. It's recommended to start small and be a long-term investor. Trading in the stock market is like studying a sport, and it requires discipline and experimentation. Trading can provide valuable insights into the world of finance and help improve self-awareness. Don't be afraid of the stock market, but start by learning the basics and gradually gain confidence. Investing in long-term quality companies is recommended, rather than trading on a daily basis. Additionally, considering investing in the US stock market can be beneficial.
Dive Deeper: Source Material
---
6. Invest in US stocks, study your daily products, and consider Web 3 opportunities.
Investing in US stocks, particularly those that offer products we use daily, can be a rewarding and growth-oriented strategy. This approach allows us to be part of the growth journeys of companies like Apple, Google, and Netflix. It's important to study the brands and products we use, as they can provide valuable insights into potential investment opportunities. For those new to investing, commission-free apps like IND Money offer a great starting point, with the option to invest in US stocks. Additionally, the Web 3 revolution, a significant development in the digital world, presents new opportunities for investment.
Dive Deeper: Source Material
---
7. Stay ahead by studying Web 3, understanding crypto, and filtering outdated advice.
To stay ahead in the future, it's crucial to study the Web 3 revolution and understand concepts like crypto, NFTs, and the metaverse. Keeping up with technology can help spot future opportunities and make informed investment decisions. Web 3 is decentralized, meaning there will be multiple billionaires emerging from this ecosystem. Staying connected with the Web 3 community through platforms like Twitter and Discord can provide valuable insights. It's also important to filter out outdated advice from older relatives and parents to stay focused on the future.
Dive Deeper: Source Material
---
8. Stay informed, unemotional, and focused on returns in investments.
The world of money and investments has evolved, and it's crucial to stay informed and unemotional in decision-making. Real estate may not provide the same returns as other investments, so it's important to consider smarter alternatives like REITs. The focus should be on returns, not status. As active startup investors, it's important to prioritize hard work and attracting the right people, rather than relying on luck.
Dive Deeper: Source Material
---
9. Build a network, attend events, and invest in startups for exponential returns.
To attract and network yourself, focus on building a network of friends who run startups and attend conferences, networking events, and parties. Angel investing, which involves investing small amounts in multiple startups, can bring exponential returns. However, it's crucial to have the right guidance and mentors to bring you the right opportunities. Before learning how to make money, focus on making friends and retaining them. Startup investments come with access, so it's important to have the right kind of expertise and access.
Dive Deeper: Source Material
---
10. Money is potential for wealth creation, not just basic needs.
Having an abundance mindset towards money is key. It's not just about meeting basic needs, but about using it to create more wealth, jobs, and opportunities. Once you have enough capital to live off of for six months, you can take risks and invest in new businesses and asset classes. This mindset shift can lead to a more fulfilling and enjoyable journey of building wealth.
Dive Deeper: Source Material
---
11. Balance investing and spending on experiences for joy.
The key is to balance investing and spending on experiences that bring joy. Don't view missed opportunities as missed opportunities, but as chances to pursue your passions. It's okay to have fun and enjoy the moment, as long as you're not neglecting important responsibilities. Stop making choices between spending money and investing, and instead, find a balance that aligns with your values and priorities.
Dive Deeper: Source Material
---
---
💡 Actionable Wisdom
Transformative tips to apply and remember.
Start by investing in yourself and building a strong foundation of knowledge and discipline. Allocate a portion of your income towards personal development and health. As you gain financial literacy, gradually start investing in the stock market, focusing on long-term quality companies. Consider exploring opportunities in the US stock market and stay updated on the latest developments in Web 3. Remember to maintain an abundance mindset towards money and find a balance between investing and enjoying life experiences.
---
📽️ Source & Acknowledgment
This post summarizes BeerBiceps's YouTube video titled "10 Sure-Shot Money Making Tips Of 2022 ft. Viraj Sheth | The Ranveer Show 153". All credit goes to the original creator. Wisdom In a Nutshell aims to provide you with key insights from top self-improvement videos, fostering personal growth. We strongly encourage you to watch the full video for a deeper understanding and to support the creator.
---