BeerBiceps
5 TV Shows That Changed Me Forever (Available Online) | The Ranveer Show 55
The Power of TV Shows in Shaping Perspectives and Inspiring Growth.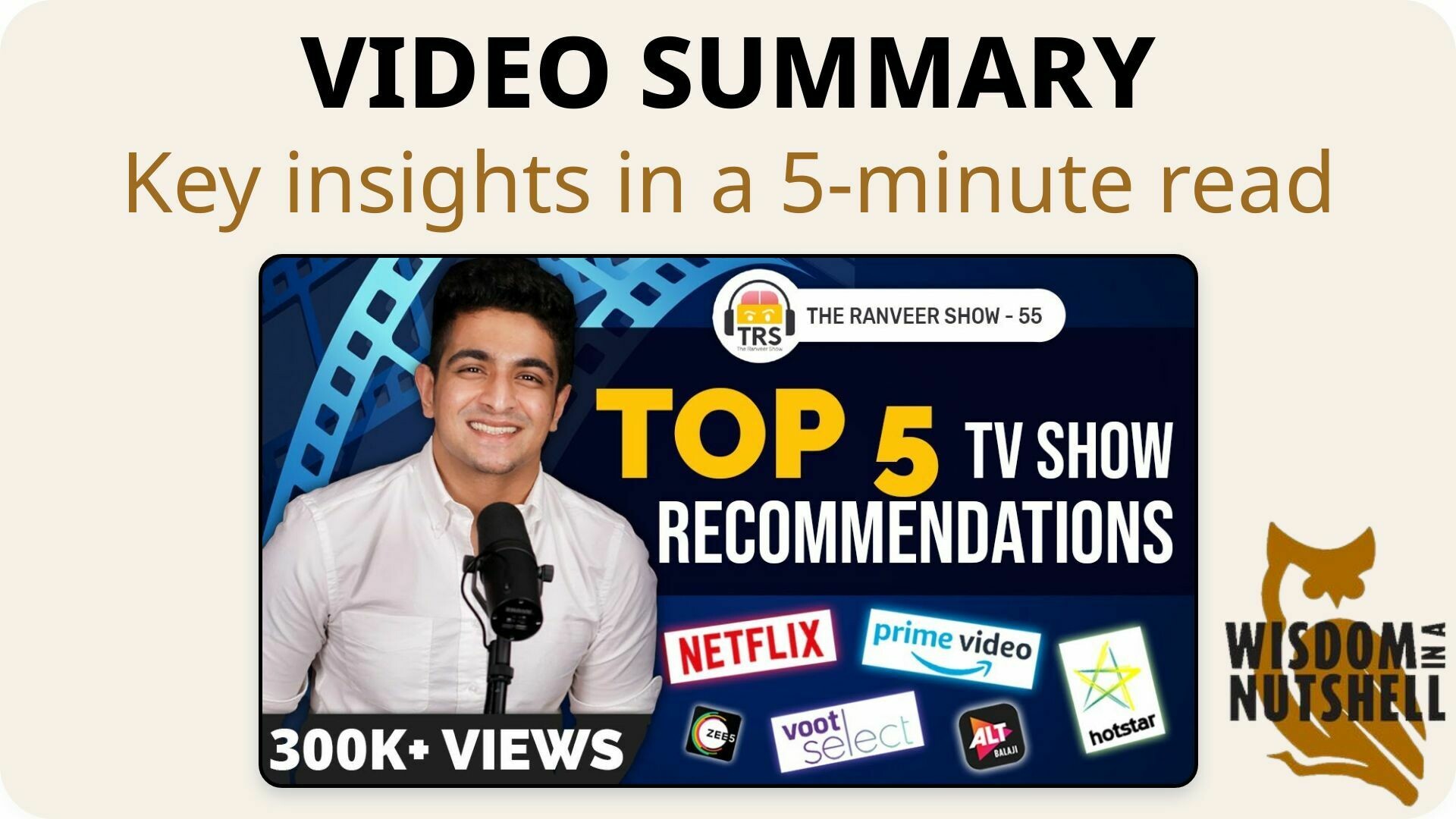 🌰 Wisdom in a Nutshell
Essential insights distilled from the video.
---
---
📚 Introduction
TV shows have the power to shape our perspectives and inspire personal growth. From exploring the impact of technology on human life to delving into the quantum world and the universe, these shows challenge our perceptions and open our minds to new possibilities. They also provide valuable insights on storytelling, friendship, ambition, and the highs and lows of life. In this blog post, we will discuss the transformative power of TV shows and how they can inspire us to live our dream lives.
---
🔍 Wisdom Unpacked
Delving deeper into the key ideas.
1. TV shows like Black Mirror and Silicon Valley offer valuable insights for personal growth.
The value of watching TV shows like 'Black Mirror' and 'Silicon Valley' lies in their ability to challenge your perspective and open up new perspectives. 'Black Mirror' explores the impact of technology on human life, inspiring entrepreneurial thinking and encouraging you to expand your mind. 'Silicon Valley' teaches entrepreneurs valuable lessons about startups. It's important to spend your time doing things that add value to your life and help you grow, rather than passively consuming content.
Dive Deeper: Source Material
---
2. Explore the quantum world and the universe, and navigate Hollywood's highs and lows.
The quantum world, a fascinating topic, explores the behavior of atoms and the laws of physics, challenging our perception of colors and opening our minds to new possibilities. The show 'Cosmos' takes us on a journey through the universe, challenging our minds with mathematics, physics, and past science discoveries. It explores revolutionary moments in human history, like the discovery that the Earth revolves around the sun. The show 'Entourage' is about a Hollywood star and his friends and family navigating the entertainment industry, exploring themes of friendship, ambition, and the highs and lows of Hollywood.
---
3. TV shows can inspire dreams and motivate content creation.
The inspiration for a dream life can come from various sources, such as TV shows like Entourage and The Last Dance. These shows, especially the latter, provide valuable insights on storytelling and editing, reminding us that we need external motivation, even if we have accomplished something. During challenging times, like lockdown, consuming content that motivates us to create can be beneficial. It's not easy, especially when team members are stuck at home, but it requires a mentality like Michael Jordan's.
---
---
💡 Actionable Wisdom
Transformative tips to apply and remember.
Choose TV shows that challenge your perspective and inspire personal growth. Use them as a source of motivation and creativity, especially during challenging times. Seek external motivation and adopt a mindset of determination and resilience, just like the characters in your favorite shows.
---
📽️ Source & Acknowledgment
This post summarizes BeerBiceps's YouTube video titled "5 TV Shows That Changed Me Forever (Available Online) | The Ranveer Show 55". All credit goes to the original creator. Wisdom In a Nutshell aims to provide you with key insights from top self-improvement videos, fostering personal growth. We strongly encourage you to watch the full video for a deeper understanding and to support the creator.
---