BeerBiceps
6 Years Of BeerBiceps - Anger, Arrogance & Trauma | The Ranveer Show 124
The Journey and Challenges of Being a YouTuber.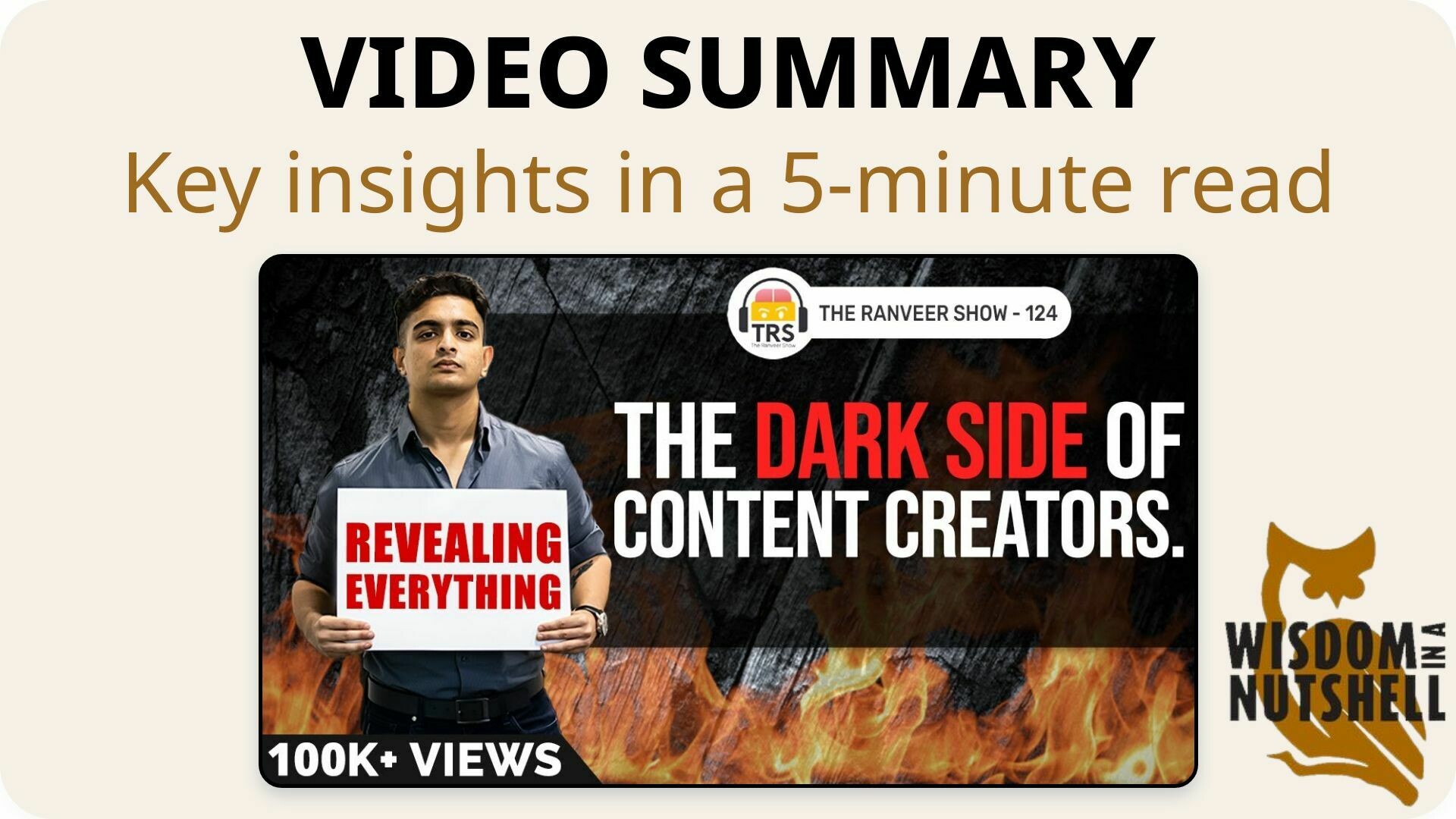 🌰 Wisdom in a Nutshell
Essential insights distilled from the video.
---
---
📚 Introduction
Being a YouTuber is a transformative experience filled with challenges and rewards. This blog post explores the insights and wisdom gained from the journey of YouTubers, including the potential downsides and the importance of personal growth.
---
🔍 Wisdom Unpacked
Delving deeper into the key ideas.
1. Being a YouTuber shapes personalities and presents challenges.
Being a YouTuber can transform an individual, often leading to a different personality compared to their initial state. This journey, often filled with challenges, is a common experience among YouTubers. It's important to understand this transformation and the challenges faced by those in this profession.
Dive Deeper: Source Material
---
2. YouTube can be a rewarding career, but requires dedication and awareness of potential downsides.
Being a YouTuber can be a rewarding career, but it requires dedication and hard work. It's a platform that can lead to other career options, such as films or business. However, it's important to be aware of the potential downsides, including the constant need for improvement and the potential for burnout. Despite the challenges, many people see YouTube as a stepping stone to other opportunities. It's also worth noting that one year spent on social media is equivalent to three years in other industries in terms of growth, money, and recognition.
Dive Deeper: Source Material
---
3. YouTube creators face challenges, but success requires personal fulfillment and constant effort.
The YouTube platform presents challenges for creators, such as maintaining relevance, overcoming burnout, and dealing with the algorithm's favoritism towards newer creators. To overcome these challenges, it's crucial to create content for personal fulfillment, not just success. The platform also teaches valuable life skills and can lead to other opportunities. Staying relevant requires constant effort, skill development, and learning. It's important to remember that success is not solely dependent on the last piece of content, and to not attach self-worth to it. The platform's algorithm promotes multiple creators in the same genre, creating a competitive environment. Despite these challenges, many creators enjoy the process of creating videos and want to continue on YouTube for years to come.
Dive Deeper: Source Material
---
4. Success involves sacrifices, external factors, and humility.
The journey to success often involves making sacrifices and stepping out of one's comfort zone. This can include giving up substances, changing relationships, or taking on new experiences. It's crucial to understand that success is not solely achieved by oneself, but also influenced by external factors. Arrogance, a common problem in various industries, can lead to the downfall of careers. It's essential to surround oneself with people who provide constructive feedback and remind them that success is not just about them. Linear growth, where success is solely based on individual effort, is not sustainable. External growth, where success is influenced by external factors, is more reliable and sustainable.
Dive Deeper: Source Material
---
5. YouTube as a platform for creating employment and making a positive impact.
The speaker, a content creator, aims to create employment for 20,000 people in India and is using YouTube as a platform to achieve this goal. They believe in helping others and making the world a better place, and choose money as a means to achieve their long-term goals. They emphasize the importance of consistently catering to a niche audience, as their content is a supplement to their main career. They also request engagement with their content and the creation of a community to support their mission.
Dive Deeper: Source Material
---
---
💡 Actionable Wisdom
Transformative tips to apply and remember.
Focus on personal growth and creating content that fulfills you, rather than solely chasing success. Surround yourself with a supportive community and be open to feedback. Remember that success is not solely achieved by individual effort, but also influenced by external factors. Use your platform to make a positive impact and help others.
---
📽️ Source & Acknowledgment
This post summarizes BeerBiceps's YouTube video titled "6 Years Of BeerBiceps - Anger, Arrogance & Trauma | The Ranveer Show 124". All credit goes to the original creator. Wisdom In a Nutshell aims to provide you with key insights from top self-improvement videos, fostering personal growth. We strongly encourage you to watch the full video for a deeper understanding and to support the creator.
---