BeerBiceps
Abhijit Chavda - Hidden History, Dinosaurs & Apocalyptic Events | The Ranveer Show 254
The Fascinating Journey of Life on Earth.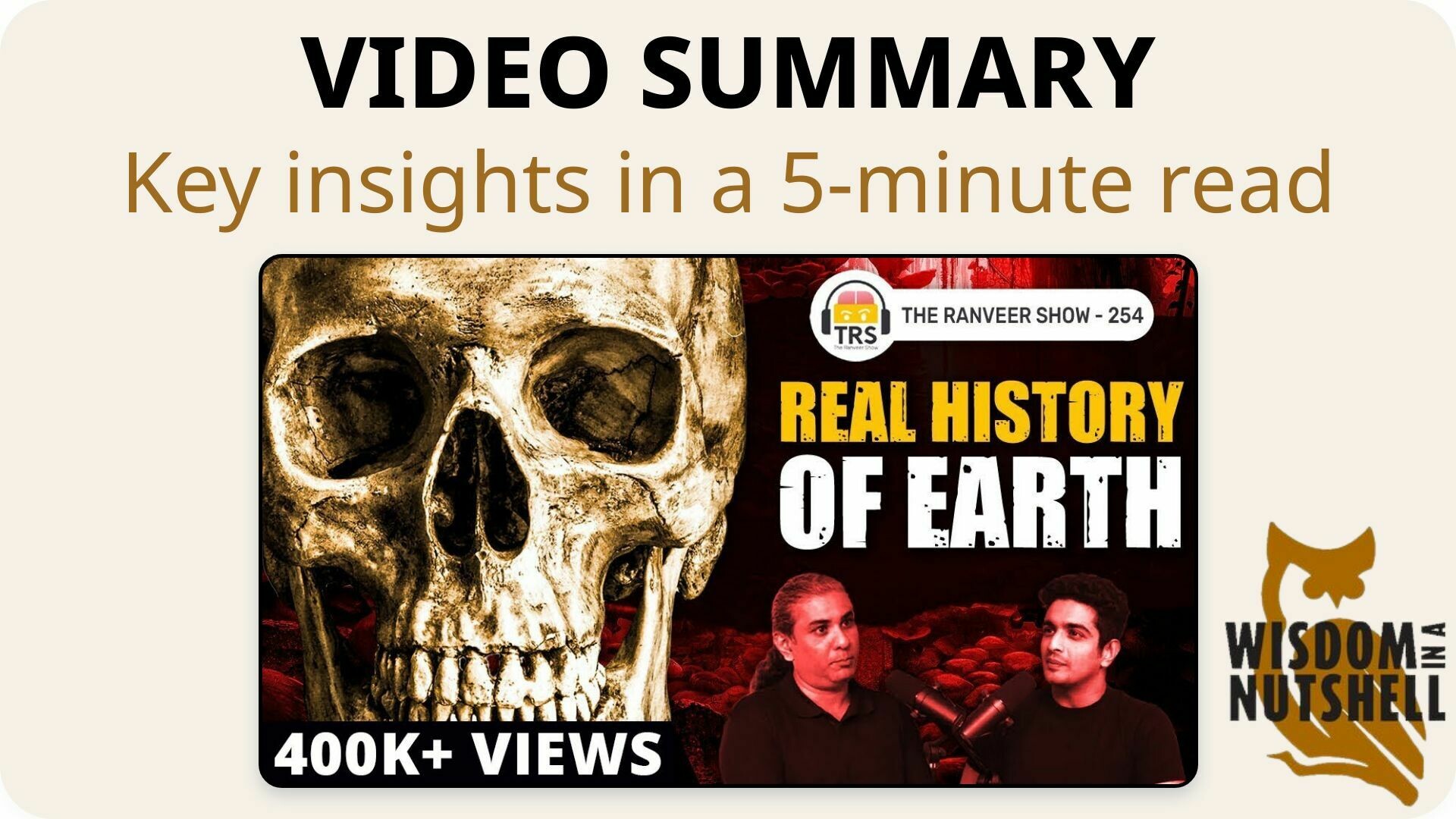 🌰 Wisdom in a Nutshell
Essential insights distilled from the video.
---
---
📚 Introduction
The history of life on Earth is a captivating tale that spans billions of years. From the origins of DNA to the evolution of intelligent species, there are countless mysteries and discoveries to explore. In this blog post, we will delve into the fascinating journey of life on Earth, uncovering the secrets of our ancient ancestors and the potential for advanced civilizations. Join us as we unravel the wonders of our planet and the universe.
---
🔍 Wisdom Unpacked
Delving deeper into the key ideas.
1. Evolution of life on Earth, from simple organisms to intelligent species, is a complex journey.
The history of life on Earth, from the earliest evidence of life to the evolution of intelligent species like humans, is a fascinating and complex journey. The ancestors of dinosaurs were primitive reptiles, and their ancestors were primitive fish. The first unambiguous evidence of life on Earth dates back to about 3.77 billion years before today. All living beings, including humans, carry DNA, which is the blueprint of life. The question of where DNA comes from is still a mystery. One theory is that DNA could have come from comets or meteorites. The formation of DNA is a complex and intricate process that looks engineered. The evolution of intelligent species like humans is a relatively short process compared to the history of life on Earth. Our ancestors were rat-like creatures, but around 20 million years ago, the first apes emerged. The first hominins, similar to humans, appeared around 3 million years ago. However, it wasn't until about half a million years ago that something special happened, and our species evolved differently. One reason for our evolution was our ability to walk upright on two feet, which allowed us to see further and develop larger brains and the ability to make tools. It's possible that there could have been a dinosaur species similar to ours, with similar characteristics and intelligence. However, due to tectonic activity, any traces of such civilizations may have been buried or lost over time. The oldest evidence of Homo sapiens, the species we are today, dates back to around 300,000 years ago in North Africa. While we can't pinpoint the exact time when our ancestors became modern humans, the fossil record suggests a gradual change over time.
Dive Deeper: Source Material
This summary was generated from the following video segments. Dive deeper into the source material with direct links to specific video segments and their transcriptions.
| Segment | Video Link | Transcript Link |
| --- | --- | --- |
| Introduction | 🎥 | 📄 |
| Origin of dinosaurs | 🎥 | 📄 |
| Dinosaur age | 🎥 | 📄 |
| Jurassic Park | 🎥 | 📄 |
| On life & evolution | 🎥 | 📄 |
| On Megafauna | 🎥 | 📄 |
---
2. Advanced beings may be observing us, similar to bacteria.
The possibility of advanced beings or aliens observing us, similar to how we observe bacteria, is a fascinating concept. As scientists, we rely on observational evidence, but our instruments may be primitive, limiting our understanding of the universe. It's possible that there are dark scientists observing us, unaware of their existence. This scenario raises questions about our place in the universe and the potential for other intelligent life forms.
Dive Deeper: Source Material
---
3. Anunnaki and universal consciousness theories offer insights into human evolution.
The concept of Anunnaki, a hypothetical race of advanced beings, is present across various cultures, suggesting a possible connection or influence. This idea is explored in alternative histories and is often associated with the consciousness revolution. The structure of the brain and the universe may be connected, indicating a universal consciousness. Our ancestors explored the inner universe through meditation, gaining insights about the external universe. The existence of advanced technology and megafauna is also discussed, with some theories suggesting a cyclical evolution of humanity.
Dive Deeper: Source Material
---
4. AI's consciousness and emotions are complex, influenced by factors.
The concept of conscious artificial intelligence (AI) is a topic of scientific confusion, with no clear definition of consciousness. A conscious system would have perception, memory, self-awareness, and an agenda. Recently, a Google chatbot called Lambda passed the Turing test, but this does not guarantee consciousness. Emotions, which are complex and influenced by various factors, can be mimicked by AI, but it is unclear if they truly feel emotions. The solipsistic perspective suggests that everything we perceive could be a product of our imagination. The simulation hypothesis proposes that we could be living in a massive computer simulation created by a super intelligent being or civilization. The sudden exponential increase in science is attributed to various factors, including cultural tipping points and advancements in technology.
Dive Deeper: Source Material
---
5. Rapid progress and technological advancements have shaped human history.
The history of human civilization is marked by rapid progress and technological advancements, with the past being more advanced than we often believe. The age of colonization disrupted this progress, but the West's use of acquired knowledge led to global conquest and accelerated progress. The quantum era has brought about exponential advances, and the future holds hopes for a more peaceful world with space exploration, better understanding of gravitation and time, and a permanent base on the moon and Mars. Scientists are driven by curiosity and the desire to solve puzzles and mysteries, and there is still much to discover about our own planet.
Dive Deeper: Source Material
---
6. Great Oxygenation Catastrophe led to rise of oxygen-breathing creatures.
The Great Oxygenation Catastrophe, an event in Earth's history, marked the rise of oxygen-breathing creatures, including primitive life forms. This was triggered by cyanobacteria, microorganisms that inhaled carbon dioxide and exhaled oxygen, causing a mass extinction. This event had a profound impact on the evolution of life on Earth.
Dive Deeper: Source Material
---
---
💡 Actionable Wisdom
Transformative tips to apply and remember.
Take a moment to appreciate the incredible journey of life on Earth. Reflect on the interconnectedness of all living beings and the mysteries that still surround our origins. Embrace curiosity and the desire to learn more about the world we inhabit. By exploring the wonders of our planet and the universe, we can gain a deeper understanding of ourselves and our place in the cosmos.
---
📽️ Source & Acknowledgment
This post summarizes BeerBiceps's YouTube video titled "Abhijit Chavda - Hidden History, Dinosaurs & Apocalyptic Events | The Ranveer Show 254". All credit goes to the original creator. Wisdom In a Nutshell aims to provide you with key insights from top self-improvement videos, fostering personal growth. We strongly encourage you to watch the full video for a deeper understanding and to support the creator.
---