BeerBiceps
Acharya Prashant - Vedas, Hindu Atheism & Romance | The Ranveer Show 263
Insights from Acharya Prashant: Love, Existence, and Spiritual Growth.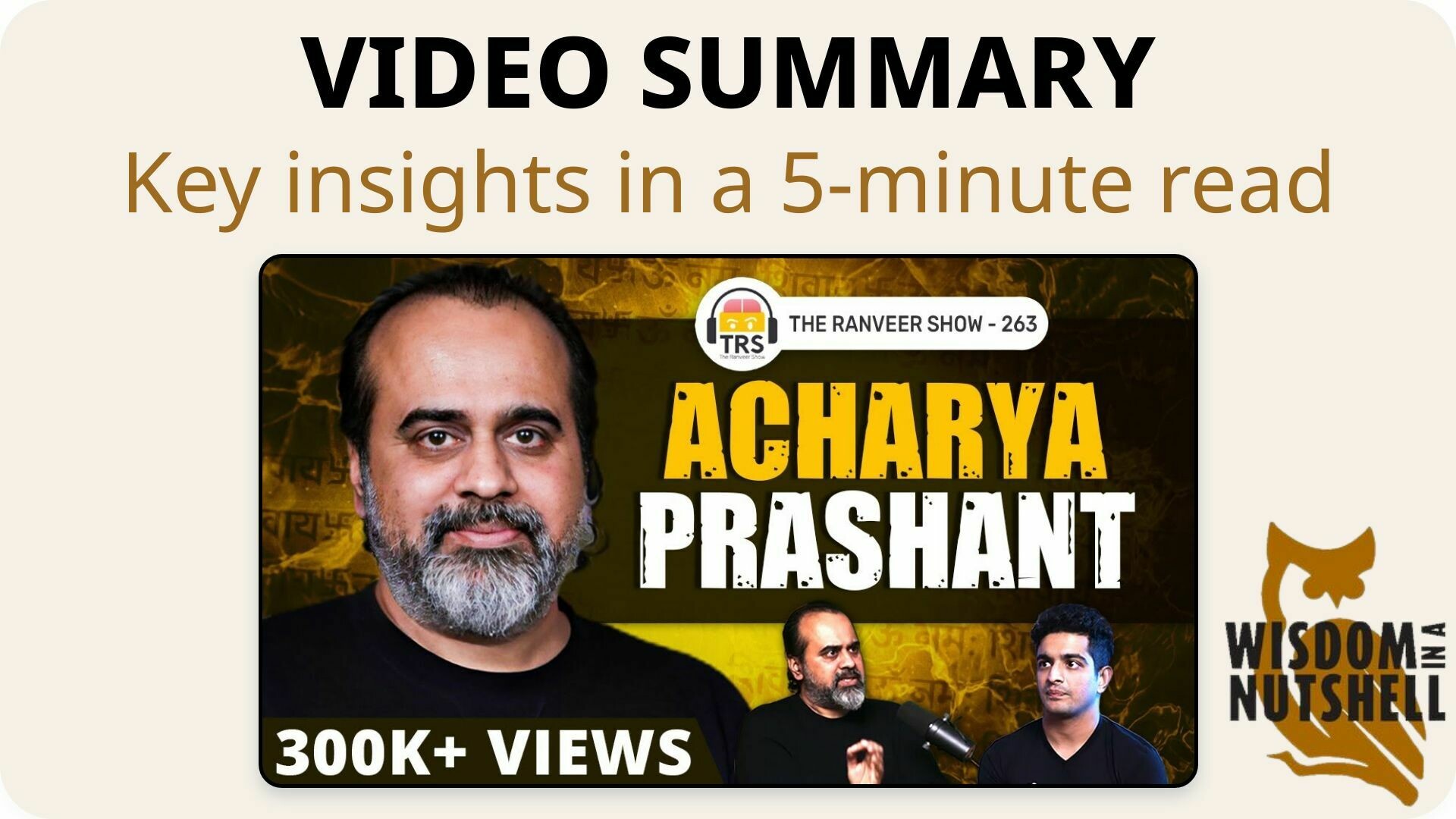 🌰 Wisdom in a Nutshell
Essential insights distilled from the video.
---
---
📚 Introduction
In a world filled with anxiety, exploitation, and confusion, Acharya Prashant offers profound wisdom on love, existence, and the journey of self-awareness. His teachings provide valuable insights into the true essence of life and the importance of spiritual growth. Let's explore some of the key ideas he shares and how they can inspire personal transformation.
---
🔍 Wisdom Unpacked
Delving deeper into the key ideas.
1. Courage to receive love is crucial for personal growth.
The anxiety levels of young people today are higher than those of soldiers on the battlefield during World War II, indicating a need for courage to receive love. We often block love and settle for cheap gratification, but love is not about attachment or gratification. It's important to be open to receiving love. Acharya Prashant, a highly respected mind in modern India, offers a unique perspective on life, existence, existentialism, and philosophy, making his teachings highly valuable.
Dive Deeper: Source Material
---
2. Self-awareness is key to avoiding mental health issues and solving societal problems.
The term 'spiritual guru' has become loaded, and the speaker prefers to be seen as a well-wisher and an elder brother. The world is facing a strange time where humans have gained too much power and are exploiting nature. We have made great progress in medicine and technology, but we lack self-awareness and understanding of life. We are depressed and anxious, and we refuse to acknowledge our mistakes. The younger generation will bear the burden of our actions. Society's expectations of marriage and children are social constructs that can heavily affect mental health. Self-awareness is key to avoiding mental health issues and solving the problems in the world.
Dive Deeper: Source Material
---
3. Sex should fulfill consciousness, not just physical needs.
The essence of human existence lies in the fulfillment of our consciousness, not just physical needs. Sex, as a means of escapism, should not be easily comprehended. It should fulfill our consciousness, not just be a physical act. Masturbation and easy release may provide temporary satisfaction, but they do not address the underlying causes of disquiet. True relaxation requires understanding the real reasons for our unease and not relying on cheap releases.
Dive Deeper: Source Material
---
4. Confront emotions, name them correctly, and seek wellness.
The journey of self-awareness involves confronting our own emotions and questions, which are part of the journey towards redemption. This process requires us to identify and name our emotions correctly, as we often assign false names to them. For instance, we may call attachment love or fear responsibility, which prevents us from acknowledging our true state and seeking wellness. The Bhagavad Gita mentions six enemies that are all interconnected: lust, anger, envy, illusion, fear, and attachment. Love and attachment are mutually exclusive, and detachment is a key aspect of love.
Dive Deeper: Source Material
---
5. Life is about recognizing patterns, surrendering to something greater, and freeing the mind.
The essence of human life lies in recognizing and understanding the patterns of our experiences, learning from them to avoid repeating mistakes. The concept of eternal return suggests that everything that has happened before will happen again. Prayer is seen as a means of surrendering to something greater, letting go of our ego and desires. The origin of life and the nature of God are complex questions, with the speaker suggesting that we are both ordinary beings and have the potential to be pure and sacred. The goal of spirituality is to cleanse the mind and free us from exploitation and suffering.
Dive Deeper: Source Material
---
6. Spirituality is personal growth, love, and transcendence.
Spirituality is about personal growth, challenging oneself, and not settling for compromises. It's about finding solace in something like God, which can lead to higher levels of joy. Love, often misunderstood as validation or gratification, is about pursuing purity and liberation. It's unstoppable and brings joy to life. Music can evoke different emotions and help us transcend our personalities. The ultimate goal of spirituality is inner death, where we let go of our ego and become nobody. Seek guidance from saints like Kabir, Radas, Rumi, Hafiz, Baba Bolesha, and Mirabai to experience love and dissolve in your own tears.
Dive Deeper: Source Material
---
---
💡 Actionable Wisdom
Transformative tips to apply and remember.
Take the time to reflect on your emotions and question the labels you assign to them. Are you truly experiencing love or attachment? Are you facing your fears or avoiding responsibility? By gaining self-awareness and understanding the true nature of your emotions, you can cultivate healthier relationships and live a more fulfilling life.
---
📽️ Source & Acknowledgment
This post summarizes BeerBiceps's YouTube video titled "Acharya Prashant - Vedas, Hindu Atheism & Romance | The Ranveer Show 263". All credit goes to the original creator. Wisdom In a Nutshell aims to provide you with key insights from top self-improvement videos, fostering personal growth. We strongly encourage you to watch the full video for a deeper understanding and to support the creator.
---