BeerBiceps
Andre Agassi Opens Up On His Life Story, Drug Abuse, Mental Health & Sports Mentality | TRS 110
Lessons from Andre Agassi's Autobiography: A Journey of Fear, Love, and Personal Growth.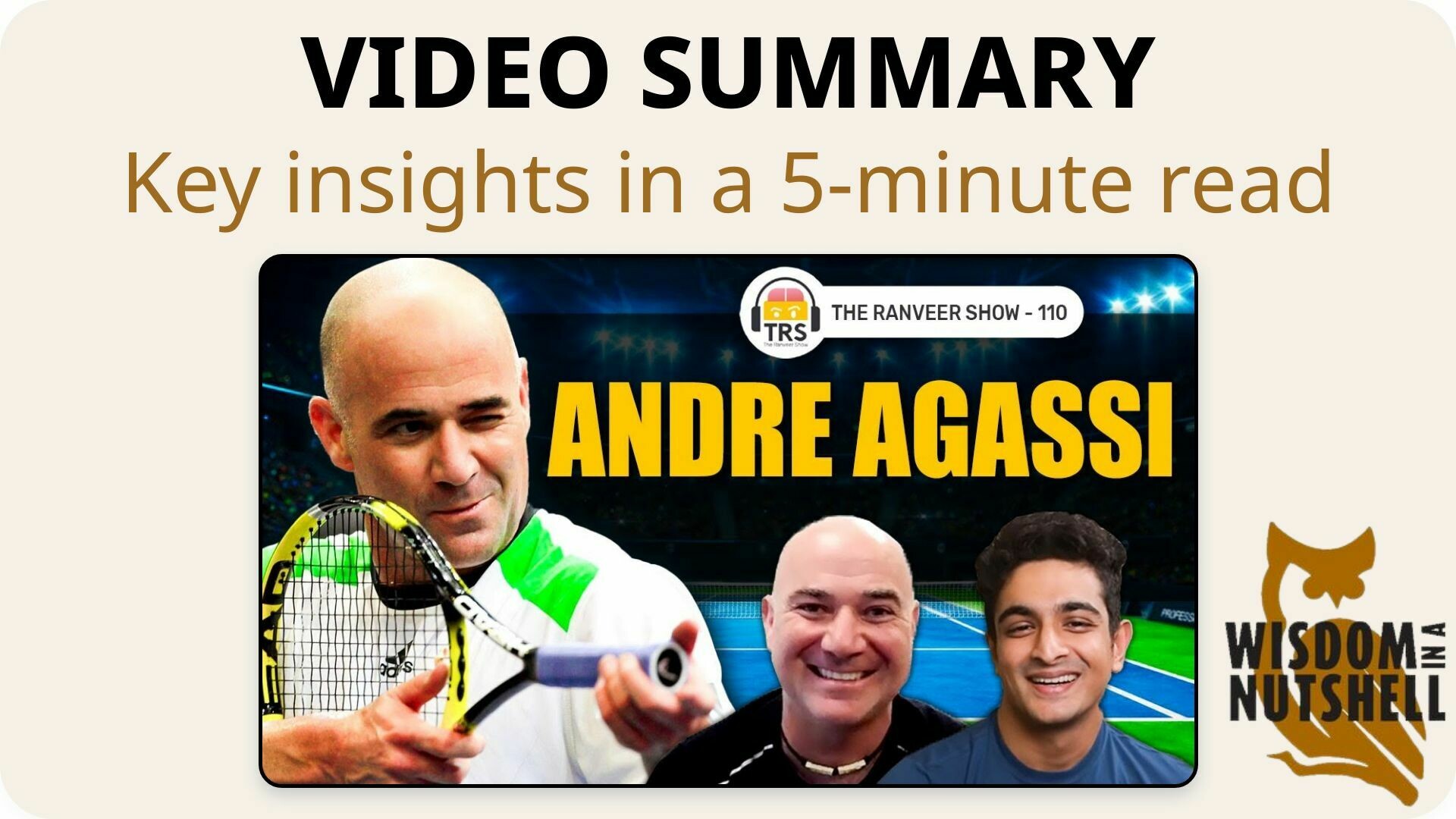 🌰 Wisdom in a Nutshell
Essential insights distilled from the video.
---
---
📚 Introduction
Andre Agassi's autobiography, 'Open', is a powerful exploration of his life and the lessons he has learned along the way. From his experiences in tennis to his personal growth and philanthropic endeavors, Agassi shares valuable insights that can inspire and motivate readers. This blog post will delve into some of the key lessons from Agassi's autobiography, highlighting the importance of fear, love, and taking ownership of one's life.
---
🔍 Wisdom Unpacked
Delving deeper into the key ideas.
1. Andre Agassi's journey is a testament to personal growth and the power of kindness.
Andre Agassi's autobiography, 'Open', is a powerful human journey about fear, love, and taking ownership of one's life. He believes in the power of small acts of kindness and meaningful engagement. His experiences, including his love for spicy Indian dishes and his journey to manage his energy, are a testament to his growth. He values peace and stability now, but recognizes the importance of embracing the present moment and doing good in life. He is using his platform to make a positive impact, especially through his work with Square Panda, a platform that aims to help kids. He encourages personal growth and exploration, especially in the Himalayas.
Dive Deeper: Source Material
---
2. Tennis, an individual sport, requires self-motivation and resilience.
The speaker's journey in tennis was marked by a strong disconnect between their passion for the sport and their father's intense push for them to excel. This led to a resentful relationship with tennis and a constant need to perform well. However, as they reached the top of their game, they gave themselves permission to quit. The speaker highlights the unique aspect of tennis as an individual sport, where the outcome depends solely on the player's actions. They also mention the importance of self-motivation, citing fear as a strong motivator in their own journey.
Dive Deeper: Source Material
---
3. Combine skills, empathy, and education for a higher purpose.
The journey to finding purpose often involves a shift from personal success to using one's platform for a higher purpose. This can be achieved by combining skills and empathy to make a difference in the lives of others. Education is a crucial tool in this process, as it can empower children and help them develop problem-solving skills. The experiences of a former tennis player, who founded a charter school facility fund and a tech company for personalized learning, highlight the potential for innovation in solving societal problems.
Dive Deeper: Source Material
---
4. Understanding true identity fosters mental toughness and resilience.
The essence of personal growth lies in understanding and internalizing our true identity, not tying it to external factors like achievements. This mindset, often fostered by mentors, helps us develop mental toughness and resilience. It's crucial to teach children this lesson, especially in the context of sports like tennis, which can be a powerful tool for personal development. The holistic approach of programs like Square Panda, which reinforce the tools needed for success and build confidence, can be particularly beneficial. However, it's important to consider the impact of social media on different generations and how it can affect our mental well-being.
Dive Deeper: Source Material
---
5. Success lies in discipline, focus, and a present mindset.
The essence of success lies in discipline, focus, and a present mindset. It's crucial to separate fame from work and maintain a humble perspective. Social media, while a powerful tool, can be dangerous if used wrongly. The key is to have discipline and stick to your values. In sports, the focus should be on the basics and treating every moment the same. The next step is the most important, not the future. It's a discipline to stay present and enjoy the moment. The current era of tennis is remarkable, with the big three dominating the sport. The next generation needs to own their success and push themselves to the next level.
Dive Deeper: Source Material
This summary was generated from the following video segments. Dive deeper into the source material with direct links to specific video segments and their transcriptions.
| Segment | Video Link | Transcript Link |
| --- | --- | --- |
| How has your life changed since retirement? | 🎥 | 📄 |
| What is the key to happiness? | 🎥 | 📄 |
| The leadership and activism | 🎥 | 📄 |
---
6. Success is driven by problem-solving, perseverance, and connecting talents to something greater.
The journey to success is often driven by fear of failure and the fear of not knowing what else to do. However, the second half of the journey is different. Problem-solving skills from tennis, such as working backwards from an objective and building momentum, can translate to the business world. The discipline of perseverance and the idea that you don't have to be better than everyone else are also valuable. If you're good at something you don't enjoy, find a reason to connect it to something that matters to you. Treat yourself as a vessel for something greater and let your talents be a gift to others. Taking your eyes off yourself and focusing on something else can change your perspective and engagement.
Dive Deeper: Source Material
---
7. Greatness lies in unique qualities and personal growth.
The essence of greatness lies in the unique qualities that set individuals apart. In the context of tennis, players like Federer, Rafa, and Novak brought their own distinct strengths to the game, making them stand out. This applies to all aspects of life, where facing tough times requires a belief in one's ability to overcome them. Kindness, love, and empathy are crucial qualities to cultivate during these times, as they help navigate challenges and foster personal growth.
Dive Deeper: Source Material
---
---
💡 Actionable Wisdom
Transformative tips to apply and remember.
Take ownership of your life and embrace fear as a motivator for growth. Show kindness and meaningful engagement in your interactions with others. Focus on personal development and explore new experiences. Use your platform, no matter how big or small, to make a positive impact. Remember that success is not defined by external factors, but by discipline, focus, and a present mindset.
---
📽️ Source & Acknowledgment
This post summarizes BeerBiceps's YouTube video titled "Andre Agassi Opens Up On His Life Story, Drug Abuse, Mental Health & Sports Mentality | TRS 110". All credit goes to the original creator. Wisdom In a Nutshell aims to provide you with key insights from top self-improvement videos, fostering personal growth. We strongly encourage you to watch the full video for a deeper understanding and to support the creator.
---