BeerBiceps
Archaeologist Reveals SHOCKING Truths Hidden From You - Dr. Ajay Prabhakar | The Ranveer Show 229
Unveiling the Secrets of Ancient Symbols and Treasures.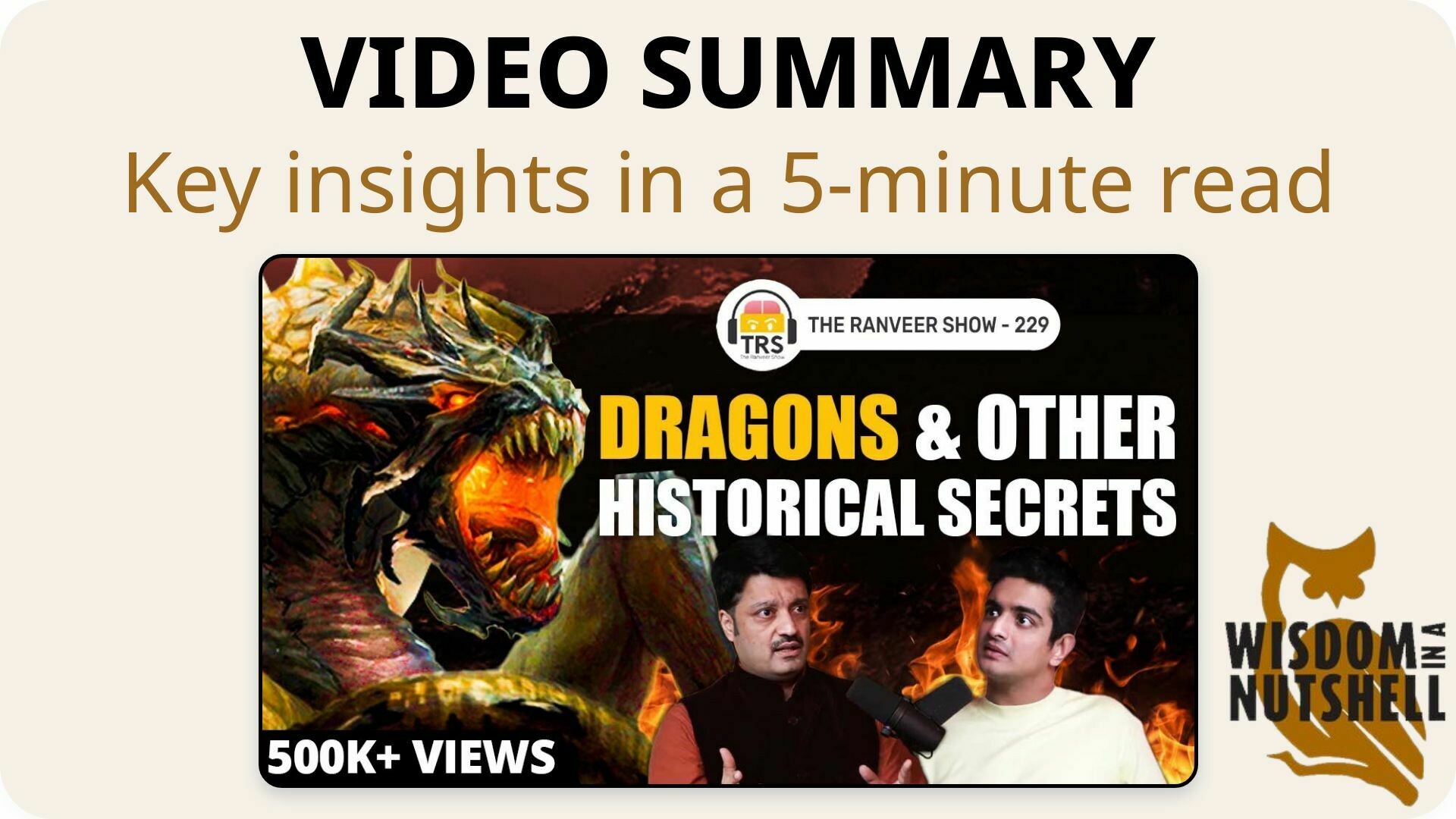 🌰 Wisdom in a Nutshell
Essential insights distilled from the video.
---
---
📚 Introduction
Ancient symbols and treasures hold profound meanings and insights into our past. They serve as a bridge between ancient civilizations and our modern world, carrying messages of wisdom, sustainability, and the mysteries of the universe. In this blog post, we will explore the significance of these symbols, the journey of an archaeologist, the power of ancient monuments, the fascination with extraterrestrial life, the enigma of dragons, and the allure of hidden treasures.
---
🔍 Wisdom Unpacked
Delving deeper into the key ideas.
1. Ancient symbols and signs hold timeless messages for future generations.
Symbols and signs from ancient cultures hold deep meanings and messages, often related to sustainability and being one with nature. These messages, found in various forms like etched walls or hymns, are meant to be remembered beyond time, serving as a way to communicate important lessons and cautions. The Bhagavad Gita, for instance, contains multiple messages in its verses and placement, serving as encapsulated information that the past wanted the future to know. Archaeological evidence, such as stone monuments, provides valuable insights and challenges our understanding of history. The presence of elements of Shiva across cultures suggests the existence of a great human being who went beyond human life.
Dive Deeper: Source Material
---
2. Understanding our past and lost technologies can guide our future.
The journey of an archaeologist, Dr. Jayaprabakar, highlights the importance of understanding our past and the potential for lost technologies. He emphasizes the need to balance our work and emotional lives and the significance of considering the possibility of advanced technologies in ancient civilizations. The discovery of a battery-like device in Egypt suggests that such technologies may have existed, but were lost due to cataclysmic events or other factors. The question is where did all this knowledge and technology go? It could have been lost or inherited by certain groups. The importance of aligning ourselves with nature's goals and recommendations is also stressed, along with the need to explore technologies that can serve as a barrier against cataclysmic events.
Dive Deeper: Source Material
---
3. Pyramids symbolize power, history, and balance between genders.
The pyramids, ancient monuments, serve purposes beyond aesthetics, carrying messages that withstand time. They are symbols of power, history, and knowledge, with hieroglyphs on the walls providing messages and questions. The pyramids, associated with the feminine and the sacred feminine, showcase the organization and craftsmanship of ancient cultures. They are a testament to the balance between men and women in matriarchal societies, where women held power and influence. The empathy and connection to nature, missing in modern societies, are embodied in these ancient structures.
Dive Deeper: Source Material
---
4. Ancient symbols and stories convey messages of growth and understanding.
The fascination with ancient aliens and symbols related to extraterrestrial life is evident across various civilizations. These symbols, such as the spiral and the trident, suggest a deep fascination with the unknown and the mysterious. The similarities in symbols and gods across different civilizations, despite geographical and temporal distances, further add to the intrigue. Fertility symbols, such as mother symbols, fertility symbols, masculine symbols, and symbols related to stars, nature, and thoughts, have been fascinating throughout history. These symbols represent the universal flow of life and the mind's ability to observe and appreciate them. Ancient stories from cultures like Indian and Egyptian cultures often feature beings arriving on ships, which could be seen as a way of conveying messages through different media, such as drawings, papyrus, paper, stones, and oral songs. These stories and symbols may hold messages from the past that guide us in our journey of growth and understanding.
Dive Deeper: Source Material
---
5. Dragons, ancient creatures of wisdom and flight.
Dragons, believed to have evolved from reptiles, are present across cultures and may have had feathers, hollow bones, and the ability to fly. They are associated with wisdom and ancient knowledge. The idea of fusing different elements together, like the glowing of a frog and the skin of a firefly, is intriguing and raises questions about the capabilities of ancient civilizations.
Dive Deeper: Source Material
---
6. Treasure can be found in various forms, with historical significance.
Treasure can take various forms, including material wealth and knowledge, and can be found in hidden spots across the planet. Treasure maps may exist, although they are not widely known. Ancient civilizations believed that treasure gave them power and status in the afterlife. Gold and silver, valuable metals that cannot be eroded by oxygen, are often used as treasures. The Egyptian government preserves treasures like Tutankhamen's tomb and the Kerala temple's gold. Treasure hunting missions are active, with people trying to retrieve treasures from various sources. Treasures may be valuable not only for their monetary worth but also for their historical significance.
Dive Deeper: Source Material
---
---
💡 Actionable Wisdom
Transformative tips to apply and remember.
Take a moment to observe the symbols and signs around you. They may hold deeper meanings and connections to our ancient past. By exploring the wisdom embedded in these symbols, we can gain a greater understanding of ourselves and the world we live in. Additionally, treasure the knowledge and experiences you acquire in your own personal journey. Just like ancient treasures, they have the power to enrich your life and leave a lasting legacy.
---
📽️ Source & Acknowledgment
This post summarizes BeerBiceps's YouTube video titled "Archaeologist Reveals SHOCKING Truths Hidden From You - Dr. Ajay Prabhakar | The Ranveer Show 229". All credit goes to the original creator. Wisdom In a Nutshell aims to provide you with key insights from top self-improvement videos, fostering personal growth. We strongly encourage you to watch the full video for a deeper understanding and to support the creator.
---