BeerBiceps
Congress Leader Milind Deora - Modi Govt, Dr. Manmohan Singh & Running India | The Ranveer Show 344
Insights from Political Conversations in India.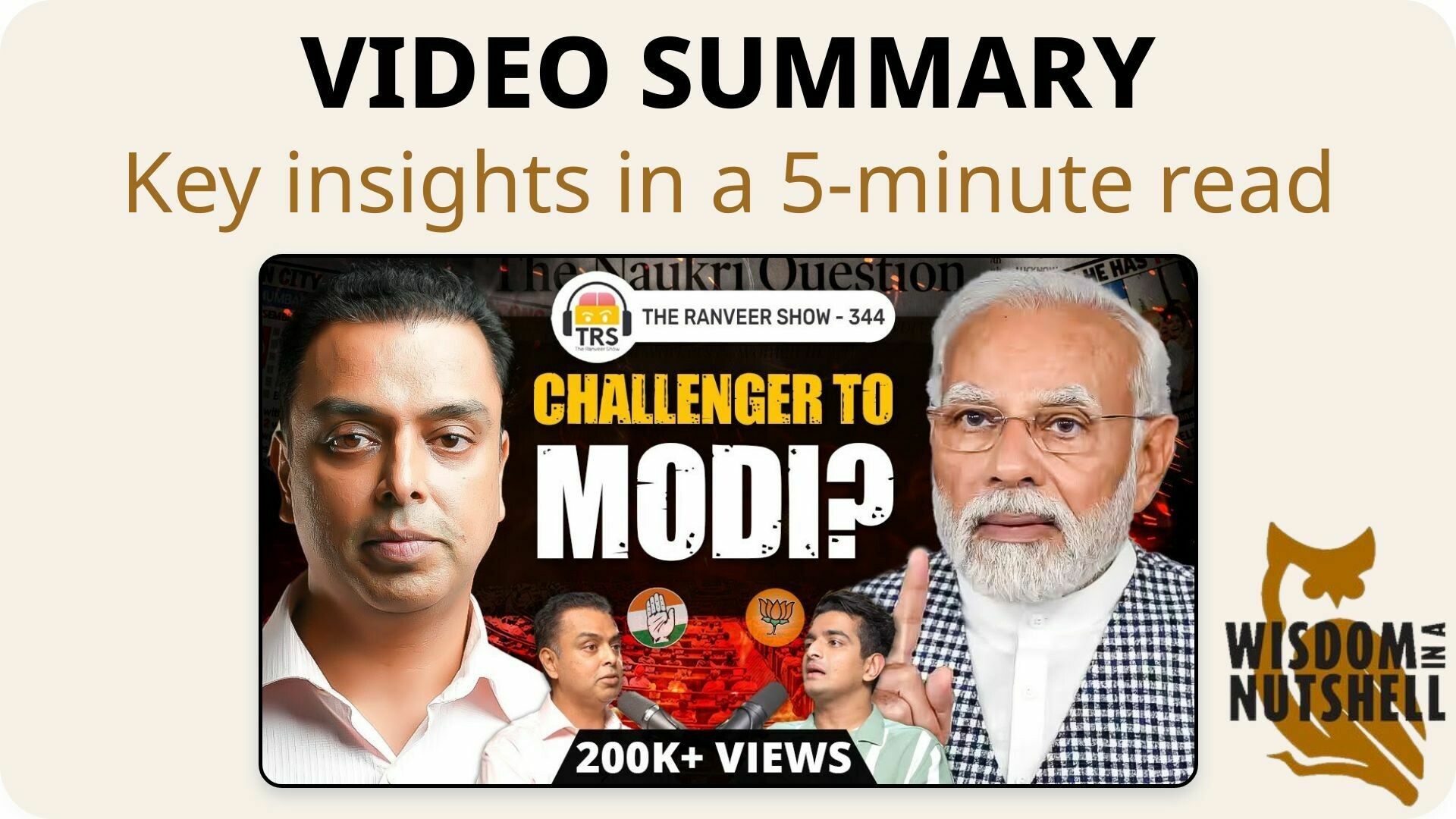 🌰 Wisdom in a Nutshell
Essential insights distilled from the video.
---
---
📚 Introduction
Political conversations in India provide valuable insights into the country's governance, economy, and societal issues. From the impact of leaders like Manmohan Singh to the importance of education and urban development, there is much to learn and discuss. In this blog post, we will explore key highlights from these conversations and uncover actionable wisdom for personal growth and understanding of Indian politics.
---
🔍 Wisdom Unpacked
Delving deeper into the key ideas.
1. Political leaders' contributions shape India's economy and politics.
The political landscape in India has seen significant contributions from leaders like Manmohan Singh and Vajpayeeji, who have shaped the country's economy and politics. Milan Deura, a respected political commentator, believes that the real victory for a diverse country like India would be if people in their 20s without a political background entered Parliament. The conversation can be both man-to-man and boy-to-boy, exploring the inner child's motivation for being in politics. Working in the Manmohan Singh government, the speaker observed his mentor's leadership, integrity, and analytical skills. He demonstrated gravitas and accurately predicted the impact of lockdowns on GDP. Public policies can have a significant impact on the cost of services, and the judiciary plays a crucial role in determining the validity of scams. Economic reforms in 1991 were initially not well received, but today we realize their importance. Access to technology and instruments has improved significantly due to economic reforms.
Dive Deeper: Source Material
---
2. Private sector collaboration and small government can combat corruption and improve services.
The success of India's internet and telecom story can be attributed to the collaboration between the government and the private sector. The government's market share in sectors like aviation and insurance has reduced, leading to innovation and better services for customers. The private sector has come of age in India, and sectors like defense and space offer opportunities for innovation and competition. The success of DARPA in the US and the failure of DRDO in India can be attributed to the collaboration between DARPA and the private sector. The lack of good services in MTNL and BSNL can be attributed to the fear of taking decisions and the lack of ownership in these companies. Small government is seen as a solution to fighting corruption, as it reduces the number of layers between the citizen and the bureaucrat or politician. The British legacy of corruption in India has made it difficult to remove corruption completely, but initiatives like CCTV cameras and automated fines have helped.
Dive Deeper: Source Material
---
3. Indian opposition unites to challenge BJP in upcoming elections.
As elections approach, the opposition in India is becoming more active in holding the government accountable. Opposition parties, including Shiv Sena, are becoming more belligerent and pulling their socks up. This is a game-changing situation in Indian politics, with parties that were not on talking terms before now working together to ensure that votes consolidate towards one candidate fighting against the BJP.
Dive Deeper: Source Material
---
4. Education and governance initiatives can foster personal growth and economic development.
Education is often seen as a root cause of societal problems, but it can also provide personal growth and discipline. Military training can be beneficial in this regard. The speaker is passionate about improving governance and transparency, initiating the Right to Information Act and a scheme to expose college students to parliament. They believe there is a breakdown in urban governance in India, highlighting the importance of urban development as a driver of economic growth.
Dive Deeper: Source Material
---
5. Improve city governance, coordinate infrastructure, and prioritize development.
The governance structure of cities like Mumbai needs to be improved, with a directly elected mayor representing the entire city, not just a small group of municipal councillors. This would empower the mayor to oversee the BMC and coordinate various city functions, addressing issues like flooding, housing crisis, and slums. The lack of coordination among different agencies and governments is a major problem in Mumbai, causing traffic congestion and air pollution. Cities around the world have converted old port areas into livable areas, but in Mumbai, this is not happening. Development is preceding infrastructure, which is a major problem in India. China's urban infrastructure improvement has contributed to their economic growth. In Mumbai, the Trans-Habar ceiling project has the potential to transform the city.
Dive Deeper: Source Material
---
6. Understanding politics and its complexities is key to personal growth.
Politics is a complex and layered world, with everyone working towards the country's progress. It's crucial to understand the different voices and perspectives in politics. As a content analyst, I aim to provide a centrist perspective based on personal experiences and data points. I strive to provide actionable insights and summaries of political conversations, aiding users' personal growth journey. I appreciate feedback and coaching from viewers and am open to suggestions on how to improve these political conversations.
Dive Deeper: Source Material
---
---
💡 Actionable Wisdom
Transformative tips to apply and remember.
Stay informed about the political landscape in India and engage in meaningful conversations. Seek out diverse perspectives and strive to understand the impact of policies and governance on society. By being an active participant in the democratic process, you can contribute to the progress of the country and your own personal growth.
---
📽️ Source & Acknowledgment
This post summarizes BeerBiceps's YouTube video titled "Congress Leader Milind Deora - Modi Govt, Dr. Manmohan Singh & Running India | The Ranveer Show 344". All credit goes to the original creator. Wisdom In a Nutshell aims to provide you with key insights from top self-improvement videos, fostering personal growth. We strongly encourage you to watch the full video for a deeper understanding and to support the creator.
---