BeerBiceps
Conversation With An Astronaut - Space, Aliens & The Future | Sirisha Bandla | The Ranveer Show 215
Exploring the Wonders of Space and the Future of Space Travel.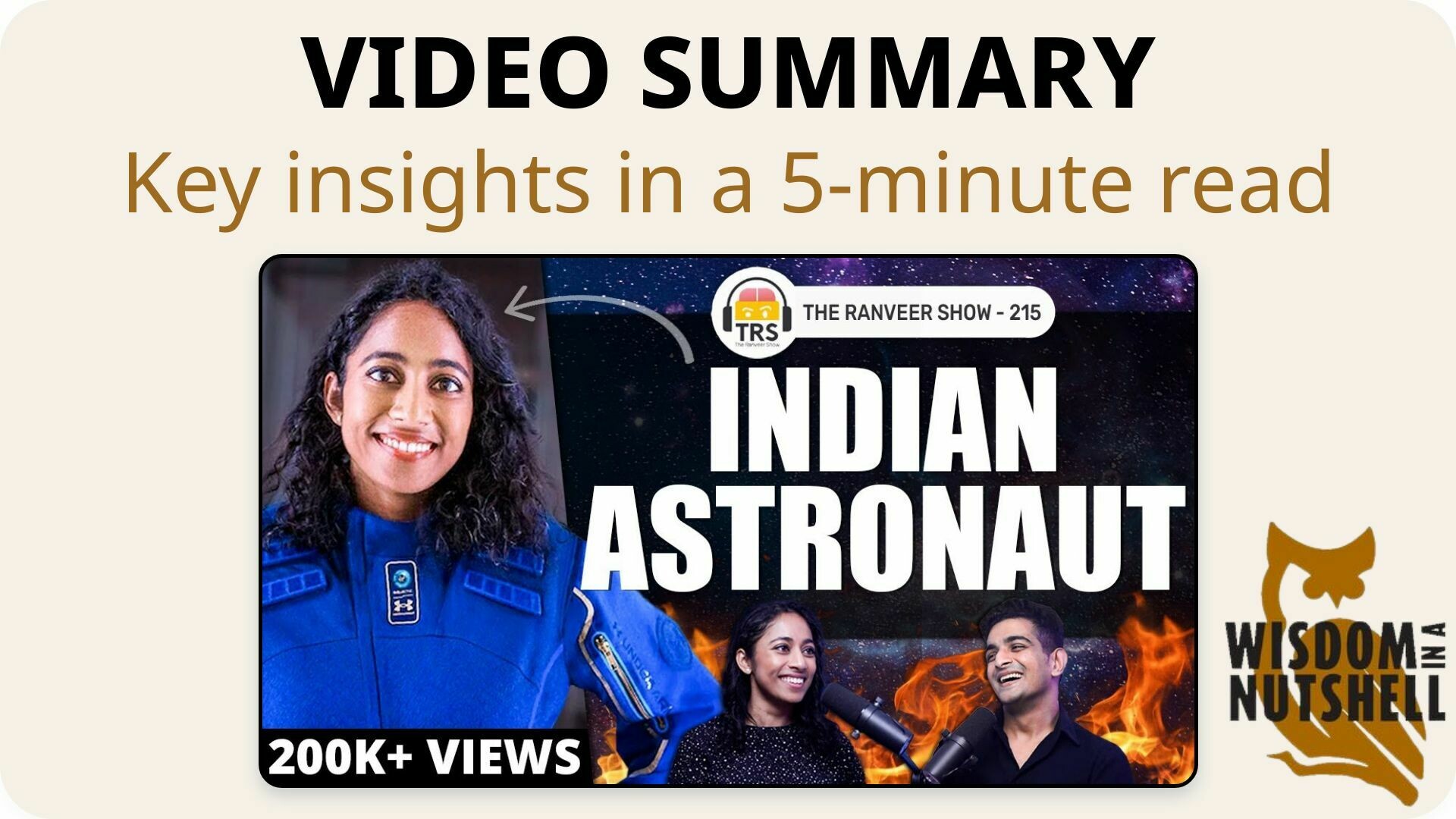 🌰 Wisdom in a Nutshell
Essential insights distilled from the video.
---
---
📚 Introduction
Space exploration has always captivated the human imagination, and recent advancements have made it more accessible than ever. From the breathtaking views of Earth to the potential for extraterrestrial life, there is so much to discover and learn. In this blog post, we will delve into the wonders of space, the future of space travel, and the impact it has on our lives. Get ready to be inspired and amazed!
---
🔍 Wisdom Unpacked
Delving deeper into the key ideas.
1. Space experience inspires awe, perspective, and research for a better planet.
Experiencing space is awe-inspiring, with the planet's fragility and beauty put into perspective. It's a feeling that pictures can't capture. The view from space is breathtaking, with the planet glowing against a black void. The suborbital trip for Virgin Galactic doesn't allow you to see stars due to the brightness of the Earth. The main attraction is the planet itself. The distance from Earth's atmosphere is around 80 to 100 kilometers. During the flight, you test the cabin and conduct experiments, like taking plant samples to space to study their response to different environments. Space research is not just for exploration but also for improving life on Earth and creating a better planet.
Dive Deeper: Source Material
---
2. Richard Branson's Virgin Galactic aims to make space accessible and fun.
Richard Branson, known for his human-centric approach, has always been passionate about space exploration and making it accessible to everyone. He founded Virgin Galactic to achieve this goal, focusing on the human side of the experience. During his first space flight, he read a message to children, passing the torch to the next generation, and even floated around the cabin with everyone, making it a fun experience.
Dive Deeper: Source Material
---
3. SpaceX's Starship to make space travel accessible, with ticket prices expected to decrease.
Commercial flights for SpaceX's Starship, a spacecraft designed for space tourism, are expected to begin in the first quarter of 2023. The journey starts with the aircraft, called the mothership, carrying the spacecraft, called the spaceship, to an altitude of 45,000 feet. The spaceship then drops, and the rocket motor lights, taking the spacecraft horizontal. Commercial travelers only need to undergo a five-day training program. The current ticket price for Starship is around 450,000 dollars, but it is expected to decrease as the company scales up and becomes more efficient. The goal is to make space travel accessible to a wider audience, with the ticket price being driven by development, operations, and the limited number of spaceships currently available.
Dive Deeper: Source Material
---
4. Safety in space travel is crucial, with frequent testing and strong records.
The legacy of Dr. Kalpana Chawla, an Indian astronaut, continues to inspire young women to pursue careers in aerospace engineering. However, her tragic death in a space shuttle incident highlights the importance of safety measures in space travel. The heat shield of the shuttle, designed to dissipate heat during re-entry, is a crucial component. If not managed properly, it can lead to the loss of the crew. The commercial space industry has made significant strides in safety, with frequent flight testing and a strong safety record.
Dive Deeper: Source Material
---
5. NASA focuses on long-duration spaceflight, ISS research, and lunar missions.
NASA is currently developing technologies for long-duration spaceflight, including commercial stations on orbit and settlements on the moon and Mars. The International Space Station serves as a laboratory for scientific research and technology demonstrations, and private tourism is also being allowed. Astronauts who have spent time on the ISS have been impacted by the view from space and have expressed their love for the experience. The ISS is powered by solar panels. NASA's Artemis program aims to send the first woman to the moon in the next few years, with international partners. To become an astronaut, one can apply through NASA's website.
Dive Deeper: Source Material
---
6. Commercial space travel inspires future generations and advances scientific knowledge.
The process of becoming an astronaut varies, with NASA and ESA requiring physical qualifications and STEM degrees, while commercial space companies like Virgin Galactic offer opportunities for anyone. This diversity will inspire future generations, potentially leading to increased interest in STEM fields and various careers. The Virgin Galactic spacecraft travels through a unique area of the atmosphere, providing valuable data for atmospheric scientists, leading to new insights and discoveries.
Dive Deeper: Source Material
---
7. Extraterrestrial life is likely due to the universe's vastness.
The possibility of extraterrestrial life is widely believed among scientists due to the vastness of the universe. This belief is also supported by ancient Indian scriptures and recent congressional hearings on UFOs, which confirm the existence of unidentified objects and the need for further investigation. The universe's vastness makes it unlikely that we are the only ones, and the discovery of exoplanets and other celestial bodies has increased the likelihood of extraterrestrial life.
Dive Deeper: Source Material
---
8. Astronauts' space experience can aid in deep sea exploration.
Aerospace engineering, the study of air and space vehicles, involves understanding structures, propulsion systems, and electrical systems. Astronauts' experience in operating in extreme environments, such as space, can be applied to exploring other parts of the world, like the deep sea. The deep sea, as inhospitable as space, requires robust vehicles and precise systems. There is still much to be explored on our planet and beyond.
Dive Deeper: Source Material
---
9. Understanding space exploration history and collaboration is key.
The history of commercial space and space exploration is explored in 'The Space Barons' and 'Escaping Gravity', which provide insights into the advancement of policies that allowed space technologies to come to market. The science fiction book 'The Three Body Problem' tells a realistic story of first contact, highlighting the importance of collaboration between scientists and communicators in the field. These recommendations offer a comprehensive understanding of the field and its potential for progress.
Dive Deeper: Source Material
---
10. Space exploration is rapidly evolving, with focus on moon and communication networks.
The exploration of space is a rapidly evolving field, with scientists and engineers actively developing spacecrafts capable of taking humans beyond the solar system. NASA is exploring different propulsion systems and vehicles for future travel. The moon, with its dark side, is a fascinating destination, and communication networks are crucial for space exploration. Small satellites are being used to provide effective communication, and the internet in space is through satellite relays. The International Space Station has the means of internet and communication, and spacewalks are live-streamed on YouTube.
Dive Deeper: Source Material
---
11. Exploring black holes, despite survival challenges, is a growing interest.
The allure of exploring the unknown, particularly black holes, is strong, despite the current technology not allowing for survival. The recent capture of the first image of a black hole is a testament to this interest. While we may not be able to survive a black hole yet, the experience of space travel is something many people are eager to experience.
Dive Deeper: Source Material
---
12. Sirisha Bhandla's journey inspires, highlighting India's space achievements.
The journey of Sirisha Bhandla, a Brown girl who pursued her childhood passion and succeeded, is an inspiration to many. She shares her knowledge and encourages everyone to root for humanity. India, known for its achievements in space, has produced many individuals of Indian origin who have excelled in their fields. The Renvi show aims to bring the best experiences and perspectives through casual conversations, especially for those interested in space and science.
Dive Deeper: Source Material
---
---
💡 Actionable Wisdom
Transformative tips to apply and remember.
Take a moment each day to appreciate the beauty and fragility of our planet. Look up at the night sky and imagine the vastness of the universe. Foster curiosity and a love for exploration in yourself and others, whether it's through reading books, watching documentaries, or engaging in scientific discussions. Remember, the possibilities of space are endless, and we all have a role to play in shaping the future of space travel.
---
📽️ Source & Acknowledgment
This post summarizes BeerBiceps's YouTube video titled "Conversation With An Astronaut - Space, Aliens & The Future | Sirisha Bandla | The Ranveer Show 215". All credit goes to the original creator. Wisdom In a Nutshell aims to provide you with key insights from top self-improvement videos, fostering personal growth. We strongly encourage you to watch the full video for a deeper understanding and to support the creator.
---