BeerBiceps
Dear Indian Women, Dr. Kiran Bedi Has A Lot To Say To You | The Ranveer Show 180
Empowering Women in the Indian Workforce: A Journey of Personal Growth and Leadership.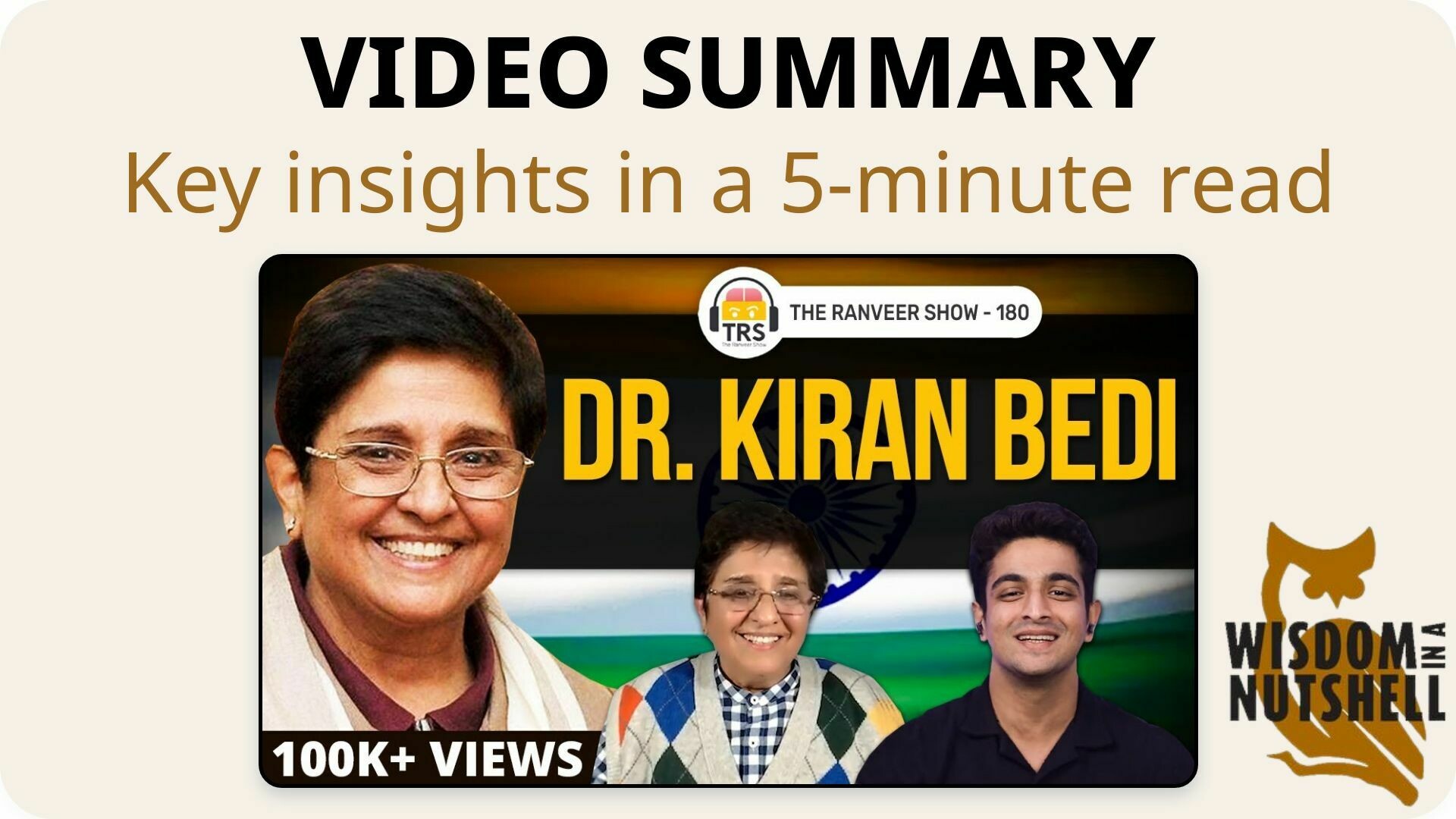 🌰 Wisdom in a Nutshell
Essential insights distilled from the video.
---
---
📚 Introduction
This blog post explores the journey of a female leader in India and the importance of empowering women in the workforce. It delves into the challenges faced by women, the role of parenting and societal biases, and the need for support systems. The post also highlights the power of personal growth and the concept of legacy. Through inspiring stories and insights, readers will gain a deeper understanding of the issues and discover actionable tips for creating a more inclusive and empowering environment for women in the workforce.
---
🔍 Wisdom Unpacked
Delving deeper into the key ideas.
1. Boosting female workforce morale and exploring podcasting as a knowledge-sharing platform.
This episode aims to boost the morale and mentality of the female workforce in India, with a focus on changing the low percentage of urban women in the workforce. The speaker, a legend in post-independence India, shares their mindset and vision for India's future. The episode is also a call to explore the world of podcasting as a platform for sharing knowledge and connecting with the youth. The speaker's book, 'Fearless Governance', is being used to groom leadership and challenge the youth.
Dive Deeper: Source Material
---
2. Power is a responsibility to correct, do, and get things done.
The speaker's journey to public service was inspired by their father's influence and their desire to make a difference. They understood power as a responsibility to correct, do, and get things done. Growing up, they wanted to be self-reliant and powerful, not dependent on others. They consciously built their architecture to take the civil services examination and become a police officer, feeling destined for it. They wanted to be in a position of justice and reform, already self-dependent, confident, and physically fit. Even now, they continue to empower others.
Dive Deeper: Source Material
---
3. Nurture both feminine and masculine qualities for personal growth and success.
The key to personal growth and career success lies in recognizing and nurturing both feminine and masculine qualities. Women, in particular, have a natural advantage in professional environments due to their empathetic and caring nature. This can be leveraged by developing emotional intelligence, being self-dependent, and building on the qualities they lack. Education and sports can also contribute to personal growth. In the past, women in India faced limited opportunities and conservative parents, but today, there are many women breaking barriers and achieving success. It's crucial for parents to invest in their children's education and give them the freedom to pursue their dreams.
Dive Deeper: Source Material
---
4. Empowering women in the workforce requires addressing societal biases, parenting, and workplace challenges.
The low representation of women in the workforce in urban India is attributed to societal biases and parenting. Bias starts in the home, where parents often have different expectations and messaging for boys and girls. Boys are often encouraged to pursue higher education and share home responsibilities, while girls are often expected to prioritize marriage and family. This bias affects the girl's confidence and independence, leading to a small percentage of women in the workforce. To address this issue, there needs to be a change in parenting and education, with a focus on equal opportunities and financial independence. Empowering women in the workforce requires addressing the challenges they face, such as the toll of motherhood on their bodies, time, energy, and health. The lack of support from workplaces, social systems, and childcare services makes it difficult for women to balance their roles as mothers, wives, and employees. Men need to take on an equal role in managing the home and supporting their partners. Companies should provide family support, including after-school care and trained nannies, to support working parents. The absence of these support systems leads to women dropping out of the workforce. Empowering women in the workforce requires addressing these challenges and creating a more supportive environment.
Dive Deeper: Source Material
---
5. Legacy is about empowering others, not personal promotion.
The concept of legacy is not about personal promotion, but about doing justice to the collaborative teamwork and the story that needs to be told. It's about being visible, true to your purpose, and fulfilling your responsibilities. The key is to empower others, be accountable, and trustworthy. This approach, focused on ego-less service and spiritual growth, can create a model of good governance and empowerment.
Dive Deeper: Source Material
---
6. Mastering time and focusing on personal fulfillment leads to happiness.
The speaker, who is in a fulfilling stage of life, has mastered their own time and is happy. They spend their time reading and writing, with a focus on personal fulfillment and service to their country, family, and community. They have just finished writing a book and are now engaging in follow-up activities. Their goal is to make every day a day of accomplishment and fulfillment.
Dive Deeper: Source Material
---
---
💡 Actionable Wisdom
Transformative tips to apply and remember.
To empower women in the workforce, start by examining your own biases and expectations as a parent. Encourage equal opportunities for education and career development for both boys and girls. Support working parents by advocating for family-friendly policies in the workplace. Take time for personal growth and fulfillment, focusing on service to others and leaving a positive legacy. By taking these steps, you can contribute to creating a more inclusive and empowering environment for women in the workforce.
---
📽️ Source & Acknowledgment
This post summarizes BeerBiceps's YouTube video titled "Dear Indian Women, Dr. Kiran Bedi Has A Lot To Say To You | The Ranveer Show 180". All credit goes to the original creator. Wisdom In a Nutshell aims to provide you with key insights from top self-improvement videos, fostering personal growth. We strongly encourage you to watch the full video for a deeper understanding and to support the creator.
---