BeerBiceps
Dr. Anand Ranganathan - Designer Babies, Nicotine Addiction & More | TRS 342
Insights from Various Topics.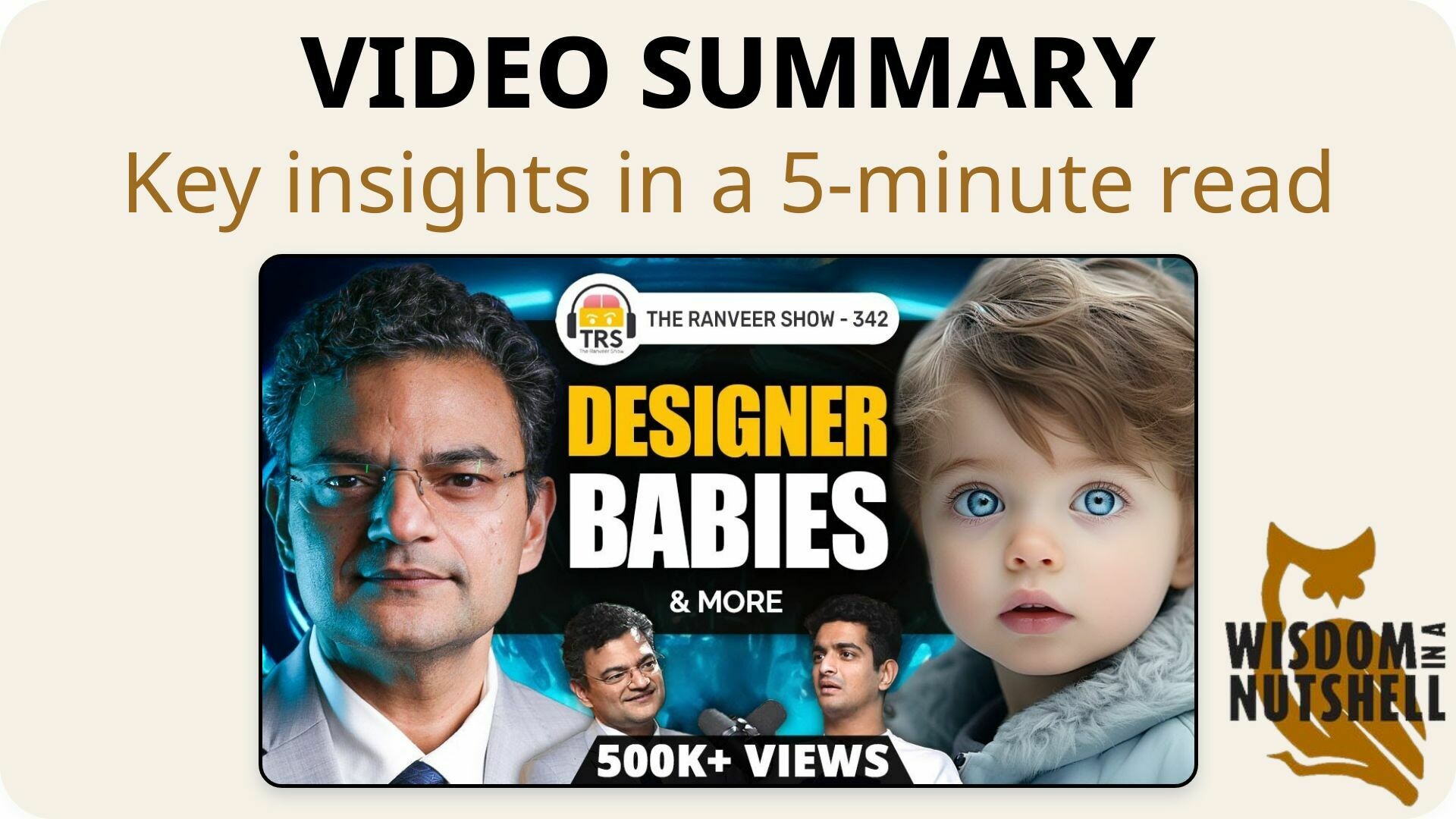 🌰 Wisdom in a Nutshell
Essential insights distilled from the video.
---
---
📚 Introduction
In this blog post, we will explore a variety of topics and uncover interesting insights. From the origin of COVID-19 to advancements in science and the future of humanity, there is much to learn and discuss. Let's dive in!
---
🔍 Wisdom Unpacked
Delving deeper into the key ideas.
1. COVID-19 origin and impact are still debated, with potential manmade and natural causes.
The origin of COVID-19 is still debated, with some believing it was manmade and others thinking it was a natural occurrence. Regardless, it is known that COVID-19 escaped from the Wuhan lab and China did not impose any restrictions, allowing the virus to spread. The question of whether this was intentional or an accident is still debated. The pandemic has had a significant impact on the world economy and millions of lives. Despite not being virologists, a team of scientists, including the speaker, entered the field of COVID-19 research and discovered a molecule more potent than Remdesivir. This experience taught them that even if they didn't know much about the field, they could still learn and contribute.
Dive Deeper: Source Material
---
2. Directed evolution and CRISPR-Cas9 can cure diseases, but unintended effects are possible.
Directed evolution, a process that speeds up natural evolution, can be used to create bacteria resistant to antibiotics. This process, which can be done in just one hour, involves targeting human proteins that help bacteria and viruses gain infection and invasion, rather than targeting the pathogens themselves. CRISPR-Cas, a gene therapy tool, has the potential to cure diseases like cancer and eradicate diseases like malaria and tuberculosis. However, there is a risk of unintended effects, such as altering genes that were not intended to be removed. Genetic engineering can have unintended consequences, such as altering genes that produce desired traits but also have unforeseen effects on other genes. This is known as 'offsite repercussions.' A study on fruit flies showed that altering a single gene could result in multiple changes in the body. This concept of alternate splicing applies to humans as well. It means that a single gene can produce multiple proteins, and the effects of altering that gene are not always predictable. This is why CRISPR, a gene editing technology, is still being developed and refined.
Dive Deeper: Source Material
---
3. Heart attacks are life-threatening, addictive smoking is a concern.
A heart attack is a life-threatening condition caused by blockages in the arteries, specifically the LAD artery. It's characterized by intense pain and can be fatal. The speaker, who experienced a heart attack, realized the importance of every day and the calmness that comes with submitting to one's fate. They also discussed the difference between accidental death and death from a heart attack. The addictive nature of cigarettes, despite their illegality in some states, is attributed to nicotine. The influence of role models on smoking is also discussed, with criticism of celebrities endorsing products. The future of humanity is uncertain, but India is expected to reach Western living standards in the next 15 to 20 years.
Dive Deeper: Source Material
---
4. Advancements in cloning and stem cells raise questions on memory and energy.
The discussion on work culture, gender identity, and sex change operations is now being complemented by advancements in science, particularly in the fields of cloning and stem cells. Cloning, which is already possible, can be used to create a clone that is not burdened by a genetic disease, and can also be used for purposes such as drug discovery and genetic modification. Stem cells, on the other hand, are progenitor cells that can turn into any kind of cells in the body, and can be used for repair, healing, and recovery. The potential for stem cells to be used in the creation of a dinosaur womb or the cloning of humans is also being explored. These advancements raise questions about the nature of memory and how it can be accessed, as well as the possibility of eliminating the need for thermal energy.
Dive Deeper: Source Material
---
5. Celebrating Indian scientists and exploring global science.
The speaker expresses gratitude to a guest and mentions plans to visit JNU and arrange a visa for them. They also mention a desire to celebrate Indian scientists and the world of science, inviting guest recommendations. Additionally, they mention a few upcoming trips to America and Europe, seeking further recommendations.
Dive Deeper: Source Material
---
---
💡 Actionable Wisdom
Transformative tips to apply and remember.
Stay curious and open-minded. There is always something new to learn and explore. Take the time to educate yourself on different topics and engage in meaningful conversations. By expanding your knowledge and perspective, you can make a positive impact on the world around you.
---
📽️ Source & Acknowledgment
This post summarizes BeerBiceps's YouTube video titled "Dr. Anand Ranganathan - Designer Babies, Nicotine Addiction & More | TRS 342". All credit goes to the original creator. Wisdom In a Nutshell aims to provide you with key insights from top self-improvement videos, fostering personal growth. We strongly encourage you to watch the full video for a deeper understanding and to support the creator.
---