BeerBiceps
Dr. Philipp Ackermann on World War I to current geopolitical scenarios | The Ranveer Show 289
Insights from Diplomats: Understanding Cultures, Geopolitics, and the World.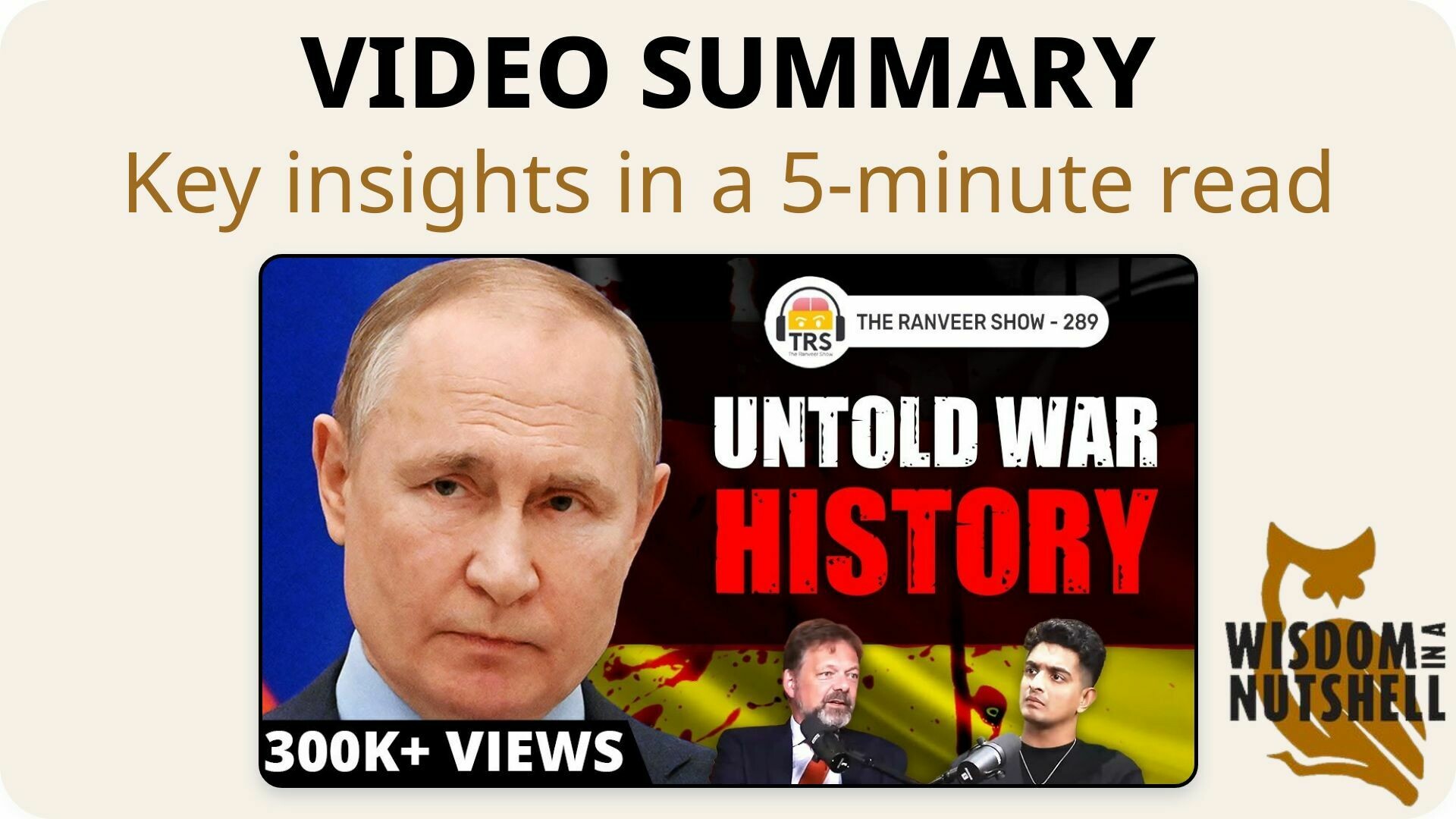 🌰 Wisdom in a Nutshell
Essential insights distilled from the video.
---
---
📚 Introduction
Diplomats play a crucial role in international relations, bridging gaps between nations and fostering understanding. In this blog post, we will explore the insights shared by diplomats on various topics, including their personal experiences, the impact of historical events, the importance of education and culture, the challenges of war, and the future of diplomacy. These insights provide valuable lessons and perspectives that can help us navigate the complexities of our globalized world.
---
🔍 Wisdom Unpacked
Delving deeper into the key ideas.
1. Explore diverse perspectives and engage in meaningful conversations.
The speaker shares their life story, including their experiences as a diplomat in various countries. They discuss the challenges of living in remote areas and the importance of understanding different cultures. They also share their perspective on geopolitics and the impact of historical events on the world today. The speaker encourages listeners to explore different perspectives and engage in meaningful conversations.
Dive Deeper: Source Material
---
2. Dr. Jay Shankar's diplomatic skills and political acumen are exceptional.
Dr. Jay Shankar, a respected Indian diplomat and politician, excels in intercultural communication and foreign policy decision-making. His extensive experience in diplomatic postings and political skills enable him to navigate complex relationships and effectively convey India's interests. Despite his success, he is cautious about expressing ambitions, understanding the risks involved. His ability to apply his knowledge and experience in supporting the Modi government's governance, particularly in foreign policy, is a testament to his diplomatic prowess.
Dive Deeper: Source Material
---
3. Understanding the impact of war on individuals and families is crucial.
The history of World War I and II is taught in German schools, with a focus on the responsibility of the Nazi regime and the devastating consequences of war. The war had a significant impact on individuals and families, with many Germans experiencing trauma and insecurity. The movie 'All Quiet on the Western Front' is a powerful portrayal of the German perspective during World War I, highlighting the horrors of war and the need for peace. The current situation in Ukraine is a reminder of the devastation war can cause, and it is important to question whether such destruction is necessary.
Dive Deeper: Source Material
---
4. Germany's economic success is attributed to its education system, vocational training, and diversity.
Germany's post-WWII economic success can be attributed to its industrial tradition, education system, and vocational training. The vocational training system provides a sense of self-confidence to craftspeople, while refugees brought a strong will and creativity, positively impacting the economy. Diversity is essential for the global economy, and Germany has become more international and global. Being a diplomat allows for a rich and diverse experience, but it also comes with challenges. Understanding the local culture and problems is crucial for success.
Dive Deeper: Source Material
---
5. Afghanistan's education and ethnic understanding, Israel's Hebrew education, and the Taliban's treatment of women are key issues.
The burka is seen as a protection shield for women in Afghanistan, but it's not the most important issue. The lack of education and understanding of Afghanistan's ethnicities is a major challenge. In Israel, teaching Hebrew to girls is seen as a way to promote education and prevent the Taliban from controlling the population. The Taliban's treatment of female team members is different from their treatment of men. The preservation of the horrors of war in Berlin serves as a reminder of the importance of remembering the past. The closure of girls' schools and developmental projects in Afghanistan is a concern. The life of a PM is demanding and dedicated to politics, with little time for personal life. The chancellor also has a busy schedule. Meeting Barack Obama was a positive experience, and he was described as charismatic and chilled. Putin's popularity in Russia is questionable due to the political climate. The possibility of a World War III is discussed at high levels of work.
Dive Deeper: Source Material
---
6. Diplomats work to end war, avoiding further escalation and respecting borders.
The ongoing war in Europe is a complex issue, with diplomats working to avoid its spread and end it without further escalation. The war is not universally supported in Russia, with a nationalistic mood and propaganda. The international order must be sustained, and borders should not be violated by the strongest. The goal is to make the war come to a stop, but not at the expense of Ukraine. Borders can be overcome in a different way, as seen in Europe. Diplomats do not have special training for wars, but there are international rules for handling conflicts. A third world war is not imminent, but it is important to be cautious.
Dive Deeper: Source Material
---
7. Globalization fosters a new consciousness, leading to world improvement.
The world is becoming a better place, with advancements in medicine, education, and the economy. Awareness of climate change and the need for cleaner energy sources is on the rise. Despite the current gloominess and conflicts, globalization has brought us closer together, fostering a new consciousness. As a diplomat, the speaker has witnessed this shift and is grateful for the opportunity to share their perspective.
Dive Deeper: Source Material
---
---
💡 Actionable Wisdom
Transformative tips to apply and remember.
Embrace diversity and engage in meaningful conversations with people from different cultures and backgrounds. Seek to understand different perspectives and question the status quo. Educate yourself about historical events and their impact on the world today. Support initiatives that promote education and empower individuals. Contribute to creating a better world by being aware of global issues, advocating for sustainable practices, and fostering a sense of unity and interconnectedness.
---
📽️ Source & Acknowledgment
This post summarizes BeerBiceps's YouTube video titled "Dr. Philipp Ackermann on World War I to current geopolitical scenarios | The Ranveer Show 289". All credit goes to the original creator. Wisdom In a Nutshell aims to provide you with key insights from top self-improvement videos, fostering personal growth. We strongly encourage you to watch the full video for a deeper understanding and to support the creator.
---