BeerBiceps
Dropout At 13, Millionaire At 20 - Inspiring Vishnu Prasath Story | The Ranveer Show 207
The Journey to Success: Lessons from Teenage Entrepreneurs.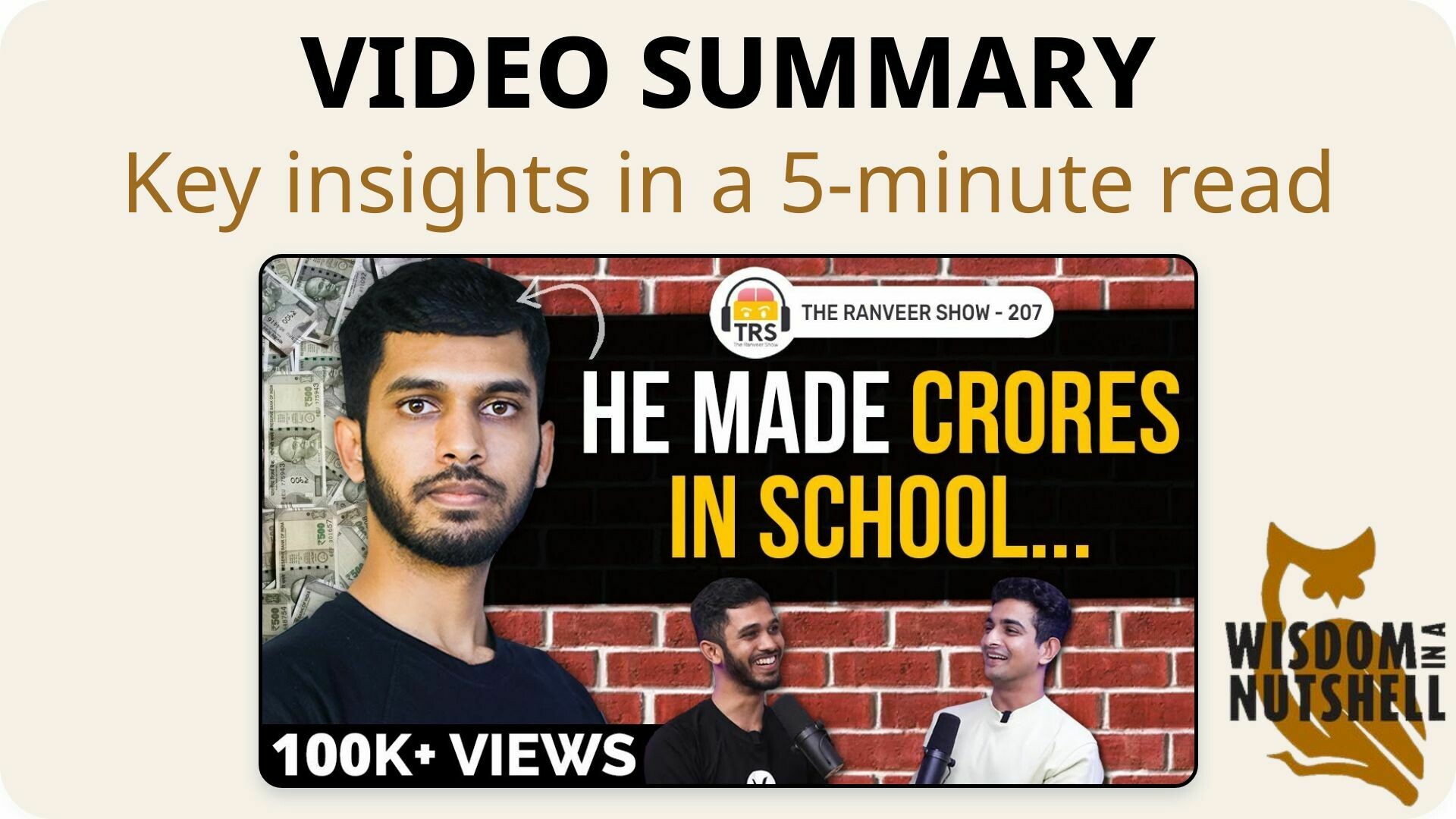 🌰 Wisdom in a Nutshell
Essential insights distilled from the video.
---
---
📚 Introduction
In this blog post, we will explore the inspiring journeys of teenage entrepreneurs and the valuable lessons they have learned along the way. From building successful businesses to personal growth and making a difference, these young individuals have overcome challenges and achieved remarkable success. Their stories will motivate and educate readers on the importance of hard work, focus, value creation, and continuous learning. Let's dive in and uncover the wisdom gained from their experiences.
---
🔍 Wisdom Unpacked
Delving deeper into the key ideas.
1. Success is a journey, not a destination, requiring continuous effort.
The journey to success is not easy and requires effort. A teenage entrepreneur's story highlights this, as he built a successful business without financial backing or experience. He employed people older than him and eventually sold his business. The lesson is that success is not a gift, but something earned through hard work. This is evident in the case of lottery winners, who often lose their money due to a lack of financial management skills. It's important to understand that success is not a destination, but a journey that requires continuous effort.
Dive Deeper: Source Material
---
2. Successful entrepreneurship requires focus, self-restraint, and a supportive partner.
The journey of a successful entrepreneur, who started freelancing at 13, is marked by focus, self-restraint, and the ability to not get distracted. They attribute their success to being in the comfort zone and not suffering, and to the mindset of starting their own thing and leading a team at a young age. They also highlight the importance of building attentiveness and being in the present moment. They share that they didn't have a lot of access to girls or the internet, but they didn't let that distract them from their goals. They also mention the value of having a supportive partner who understood their aspirations.
Dive Deeper: Source Material
---
3. Value creation and delivering results are key to personal and professional success.
The key to personal and professional success is to add value to others, whether it's through providing solutions, delivering results, or offering actionable steps. This value creation is not limited to financial success, but also encompasses making a positive impact in people's lives. It's important to take responsibility, gauge problems, and offer solutions. When learning, it's crucial to either win or learn and keep moving forward, seeing results as grace. The fast rise and fall of social media creators highlights the importance of value creation and delivering results to every stakeholder. Personal success is not just about money, but about making a difference.
Dive Deeper: Source Material
---
4. Personal growth involves understanding the impact of external factors and the importance of inner peace.
The journey of personal growth and transformation involves understanding the impact of external factors like money and fame, and the importance of inner peace and spirituality. It's about recognizing the need for control and taking action to make a positive impact. Reading the works of influential figures like Swami Vivekananda can provide valuable insights into their philosophy and approach to problem-solving. It's about dedication, relentless action, and not being attached to material possessions, but focusing on making a difference.
Dive Deeper: Source Material
---
5. Carefully consider the consequences of dropping out of college and continue learning.
The decision to drop out of college should be carefully considered, as it can have significant consequences. While there are exceptions, dropping out without a clear plan or progress can lead to failure and limited opportunities. Successful entrepreneurs have a clear trajectory and dedicate themselves to creating value. It's important to understand that education is a key factor in lifting people out of poverty and providing a better quality of life. However, it's also crucial to continue learning and seeking mentorship. For young professionals and teenagers who are lost, the advice is to get started, be consistent in their efforts, and continue to progress forward each day.
Dive Deeper: Source Material
---
---
💡 Actionable Wisdom
Transformative tips to apply and remember.
Take responsibility for your own success by adding value to others. Whether it's in your personal relationships or professional endeavors, focus on providing solutions and delivering results. Embrace the mindset of continuous learning and growth, and never be afraid to take action. Remember, success is not a destination, but a journey that requires effort and dedication.
---
📽️ Source & Acknowledgment
This post summarizes BeerBiceps's YouTube video titled "Dropout At 13, Millionaire At 20 - Inspiring Vishnu Prasath Story | The Ranveer Show 207". All credit goes to the original creator. Wisdom In a Nutshell aims to provide you with key insights from top self-improvement videos, fostering personal growth. We strongly encourage you to watch the full video for a deeper understanding and to support the creator.
---