BeerBiceps
EXPLOSIVE: Sr Journalist Coomi Kapoor Explains India's Untold Politics - Gandhi To Modi | TRS 323
Insights on Indian Politics and Media.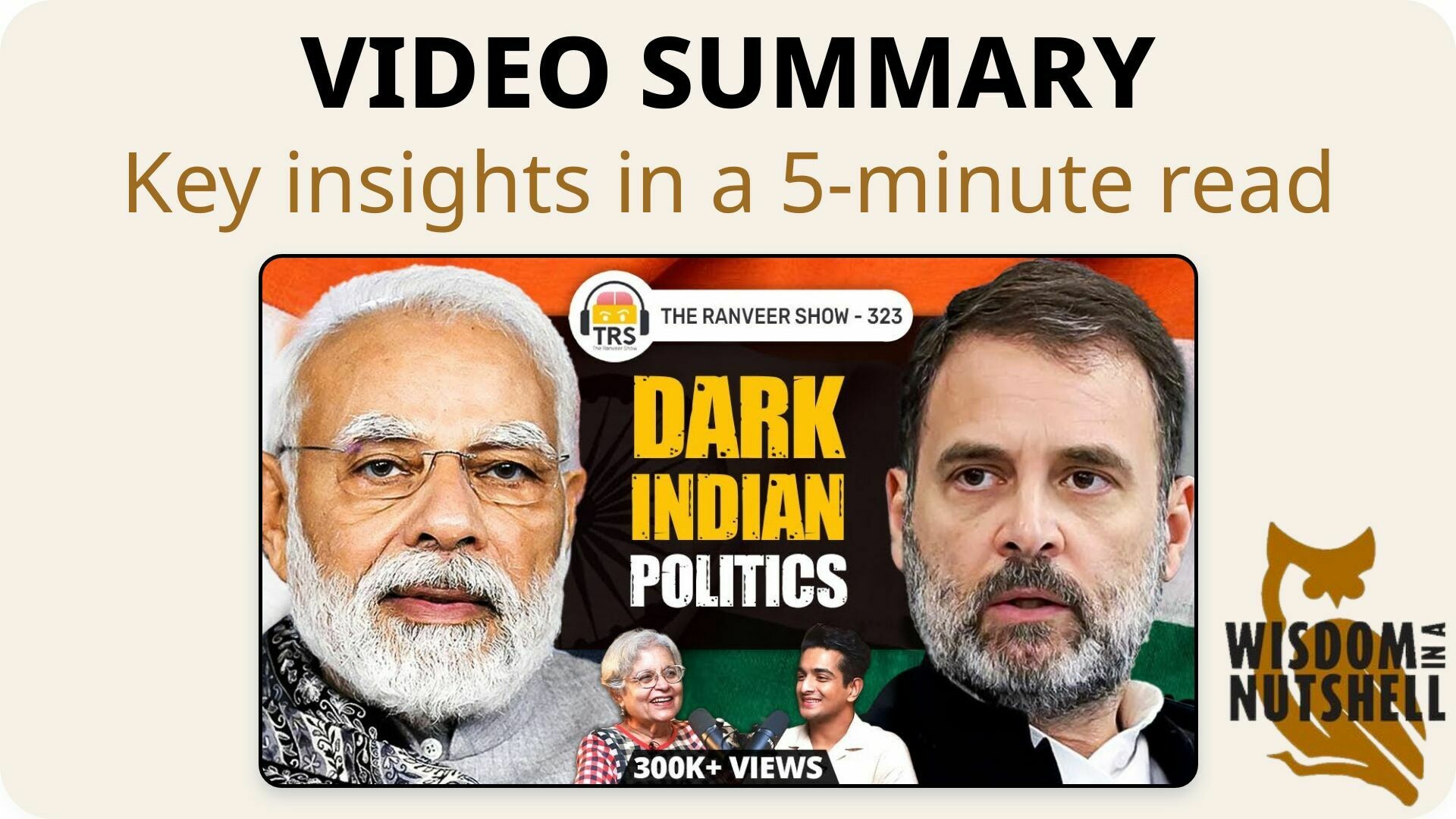 🌰 Wisdom in a Nutshell
Essential insights distilled from the video.
---
---
📚 Introduction
Indian politics and media have undergone significant changes over the years, with various leaders and events shaping the landscape. From the challenges of selecting a leader to the impact of liberalization and the role of social media, there is much to unpack. In this blog post, we will explore key insights from different perspectives on Indian politics and media.
---
🔍 Wisdom Unpacked
Delving deeper into the key ideas.
1. India's political landscape has seen diverse leaders, with challenges in leadership selection.
The political landscape of India has been shaped by various leaders, with similarities in behavior patterns. The story of India has seen one-party systems, press censorship, and self-aggrandizement. The difficulty in selecting a leader has been a challenge throughout history. The movie Guru is loosely based on Dhirubhai Ambani's rise in the textile industry, causing concern among other industrialists. Rajiv Gandhi's political career started with brash decisions but later became mature, but his assassination prevented him from fully implementing his plans. The nineties saw the liberalization of the economy, which had a significant impact on the country. The former Prime Minister, Manmohan Singh, had a mixed legacy, with scandals and controversies due to his inability to act against his allies in government. The current leader of the Congress, Rahul Gandhi, has faced criticism for not having proper political instincts and clinging to issues that are not relevant to the masses. The future of India is uncertain, but it is important to have a definite figure to compare the government's policies and performance.
Dive Deeper: Source Material
This summary was generated from the following video segments. Dive deeper into the source material with direct links to specific video segments and their transcriptions.
| Segment | Video Link | Transcript Link |
| --- | --- | --- |
| Coomi Kapoor x Ranveer Allahbadia begins | 🎥 | 📄 |
| The rise of Dhirubhai Ambani | 🎥 | 📄 |
| About Rajiv Gandhi | 🎥 | 📄 |
| Dr. Manmohan Singh Government | 🎥 | 📄 |
---
2. Weak governments foster diverse media viewpoints, while strong governments limit information flow.
The best phases of journalism occur when governments are weak, allowing for more freedom of expression and a diverse range of viewpoints. However, during periods of strong governments, the media faces pressure to conform, leading to a lack of objectivity. This can be seen in the ownership patterns of media outlets and the tightening of government control over information. Social media has become a reliable source of current affairs, making it difficult for governments to control the flow of information. Journalists can gain insights into public opinion by observing data and trends, allowing them to predict election outcomes more accurately. It's important for journalists to go to the ground and talk to common people to understand the pulse of the country, regardless of their background or location.
Dive Deeper: Source Material
This summary was generated from the following video segments. Dive deeper into the source material with direct links to specific video segments and their transcriptions.
| Segment | Video Link | Transcript Link |
| --- | --- | --- |
| Favorite phase of Journalism | 🎥 | 📄 |
| Weakest Government According to Coomi Kapoor | 🎥 | 📄 |
| Perspectives of jounalism | 🎥 | 📄 |
---
3. Delhi's transformation from Soviet-like to entrepreneurial hub.
The speaker reflects on the transformation of Delhi from a semi-Soviet country to a thriving hub of entrepreneurship and capitalism. They express their admiration for the current government's support for these values. However, they also acknowledge the challenges and limitations of the current system.
Dive Deeper: Source Material
---
4. Indian government's favoritism and political maneuvers are common.
The Indian government's favoritism towards certain industrialists and its use of policies like demonetization for political gain are common practices. Cabinet reshuffles are often based on political considerations rather than performance, with ministries not always being assigned based on expertise or qualifications. The emergency period during Indira Gandhi's rule was a challenging time for journalists, with fundamental rights suspended and arbitrary arrests. The Indian Express newspaper stood out for its bravery in reporting during this period.
Dive Deeper: Source Material
---
5. s India's polarization and lack of nuance in journalism.
The 70s in India saw a challenging period marked by intense polarization, with the government implementing policies that required people to agree to vasectomies. This period was politicized, with people either supporting or opposing the government. The lack of perspective and tendency to see things in black and white is evident, with nuances often overlooked. This polarization is not limited to India, but is also evident in journalism, where nuances are often overlooked.
Dive Deeper: Source Material
---
6. Indian government's influence by RSS and use of religion as a tool.
The current Indian government, led by Prime Minister Modi, is perceived to be influenced by the RSS, a Hindu nationalist organization. This influence is believed to be significant, especially during elections. The government's priority is economic growth and geopolitical strength, which they believe requires unity and cooperation. However, the government's use of religion as a tool to divide the country, especially during elections, is a concern. The opposition is accused of creating false narratives to create a divide. The government's focus on religion is seen as a tactic to win votes. The power of the RSS in the government's decision-making is uncertain.
Dive Deeper: Source Material
---
---
💡 Actionable Wisdom
Transformative tips to apply and remember.
Stay informed about the political landscape and media dynamics in your country. Seek diverse sources of information, including social media, to get a well-rounded view. Engage with people from different backgrounds to understand their perspectives and the pulse of the nation. As a citizen, hold your government accountable and participate in the democratic process.
---
📽️ Source & Acknowledgment
This post summarizes BeerBiceps's YouTube video titled "EXPLOSIVE: Sr Journalist Coomi Kapoor Explains India's Untold Politics - Gandhi To Modi | TRS 323". All credit goes to the original creator. Wisdom In a Nutshell aims to provide you with key insights from top self-improvement videos, fostering personal growth. We strongly encourage you to watch the full video for a deeper understanding and to support the creator.
---