BeerBiceps
@garyvee & BeerBiceps Discuss The Future | The Ranveer Show 108
Insights from Various Topics.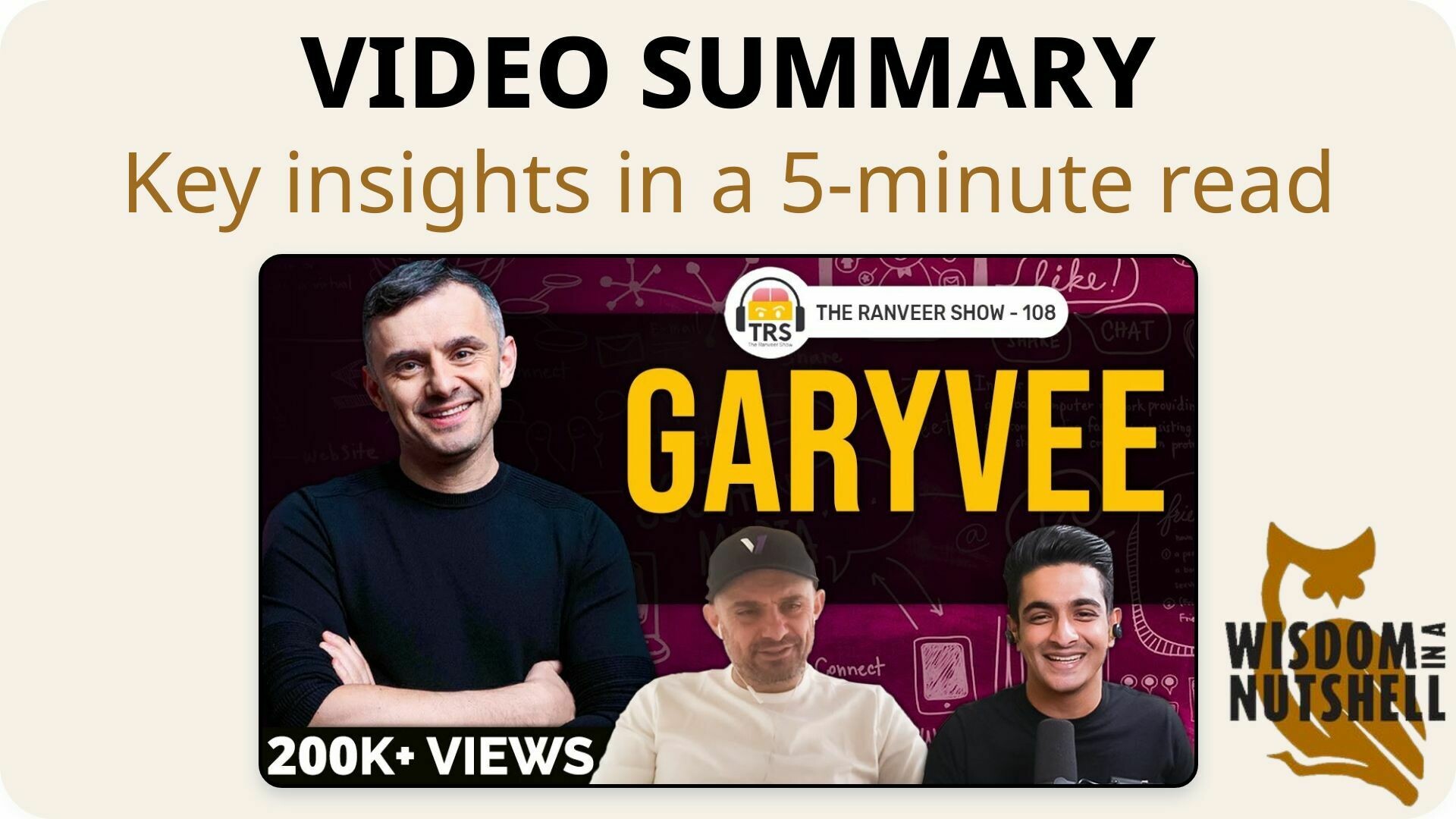 🌰 Wisdom in a Nutshell
Essential insights distilled from the video.
---
---
📚 Introduction
In this blog post, we will explore a variety of topics, including the impact of the pandemic on human behavior and consumer behavior, the rise of social media and its influence on content consumption, the shift to remote work and the concept of NFTs, the future of social media and the importance of design, the potential of Indian startups and the global perception of India, and the personal drive and obsession of the speaker, Gary Vee.
---
🔍 Wisdom Unpacked
Delving deeper into the key ideas.
1. Pandemic exposing human behavior, changing consumer behavior, and impacting future predictions.
The current pandemic has exposed weaknesses in human behavior and consumer behavior, changing the way we work out, travel, and consume media. It has also exposed or changed people, with those who were already unhappy becoming more anxious and those who were optimistic becoming more content and grounded. When it comes to predicting the future, it's important to rely on processing information, pattern recognition, and intuition. The speaker, who bought Ethereum in 2016, believes that people are underestimating the impact of the current situation on human behavior and consumer behavior.
Dive Deeper: Source Material
---
2. Social media consumption drives demand for deeper, richer content.
The rise of social media has significantly impacted the mindset of people, particularly teenagers, who are now smarter due to their exposure to it. This shift is reflected in the increased consumption of content, particularly on platforms like social media and podcasts. People are seeking deeper, richer content that will benefit their lives, driven by the exercise of their brain and information muscles through social media consumption.
Dive Deeper: Source Material
---
3. Technology and NFTs have played a crucial role in remote work and the pandemic.
The shift to remote work during the pandemic led to a significant increase in hours worked, primarily due to the use of phones or laptops. This highlights the importance of technology in enabling remote work. The pandemic also brought about the concept of NFTs, which have gained popularity in recent times.
Dive Deeper: Source Material
---
4. NFTs: digital assets with investment potential and social status.
NFTs, or non-fungible tokens, are digital assets that can represent various items, including art, collectibles, and even tickets to events. They have the potential to become a form of investment, capitalizing on pop culture and social media stars. NFTs can also be used to showcase digital assets in the real world, similar to how people show off their social media profiles or expensive sneakers. They have the potential to become as prevalent as social media and can be used to showcase one's status and interests. They can also be used to create status-driven products, which can lead to high profits.
Dive Deeper: Source Material
---
5. Niche social media platforms will thrive, offering engaging activities and mental breaks.
The future of social media is likely to be niche-based, with people gravitating towards thematic platforms. The key to success will be design and user interface. Social media platforms will become more niched, but if successful, they can expand beyond their initial niche. The vulnerabilities of social networks are a key factor. As social networks age, they become more cynical and negative. People are seeking a mental break from judgment and anxiety, so showing likes and comments may not be necessary. The future of social media may involve new technologies like AR or VR. Social networks are like television shows and networks, with different lifespans. There is a new product in the self-improvement space that is exploring the niche social media concept. People are looking for engaging activities and want to use their heads in a certain way.
Dive Deeper: Source Material
---
6. Indian startups can leverage cultural knowledge for global sales.
Indian startups often focus on targeting the Indian market, but there are opportunities to sell products to the world. Yoga is a successful example of a soft product that has been sold globally. There are many other products and concepts that Indians are familiar with but the world is not. Indian entrepreneurs and content creators should consider leveraging their cultural knowledge to create products or content that can be sold globally.
Dive Deeper: Source Material
---
7. India's potential is recognized, but youth should focus on happiness and process.
The global perception of India is a mix of perspectives, with the business community recognizing its market potential and a growing trend of nationalism. However, there is a deep respect for Indian talent and innovation, with successful startups and prominent Indian citizens in global companies. Indian youth often have a strong ambition and desire to prove their parents wrong, leading to a lack of patience. It's important for young Indians to understand that their parents' decisions are often based on fear and that they should focus on their own happiness and process, rather than trying to prove their success to others.
Dive Deeper: Source Material
---
8. Gary Vee's life mission is to give more, touch lives, and live well.
The speaker, Gary Vee, is driven by a desire to live a life well-lived, touching as many lives as possible and giving more than they took. He is grateful for the opportunity to share his insights with young entrepreneurs and content creators, particularly in India. His obsession is to continue giving even more in the next 45 years of his life.
Dive Deeper: Source Material
---
---
💡 Actionable Wisdom
Transformative tips to apply and remember.
Embrace the changes brought about by the pandemic and use technology to adapt to remote work. Explore the world of NFTs and consider their potential as an investment or a way to showcase digital assets. Pay attention to the evolving landscape of social media and consider the importance of design in creating successful platforms. Indian entrepreneurs and content creators should leverage their cultural knowledge to create products or content that can be sold globally. Focus on personal happiness and growth, rather than trying to prove success to others.
---
📽️ Source & Acknowledgment
This post summarizes BeerBiceps's YouTube video titled "@garyvee & BeerBiceps Discuss The Future | The Ranveer Show 108". All credit goes to the original creator. Wisdom In a Nutshell aims to provide you with key insights from top self-improvement videos, fostering personal growth. We strongly encourage you to watch the full video for a deeper understanding and to support the creator.
---