BeerBiceps
How I Became A Start-Up Investor In America ft. Kavita Gupta | The Ranveer Show 138
Insights from Various Personal Growth Journeys.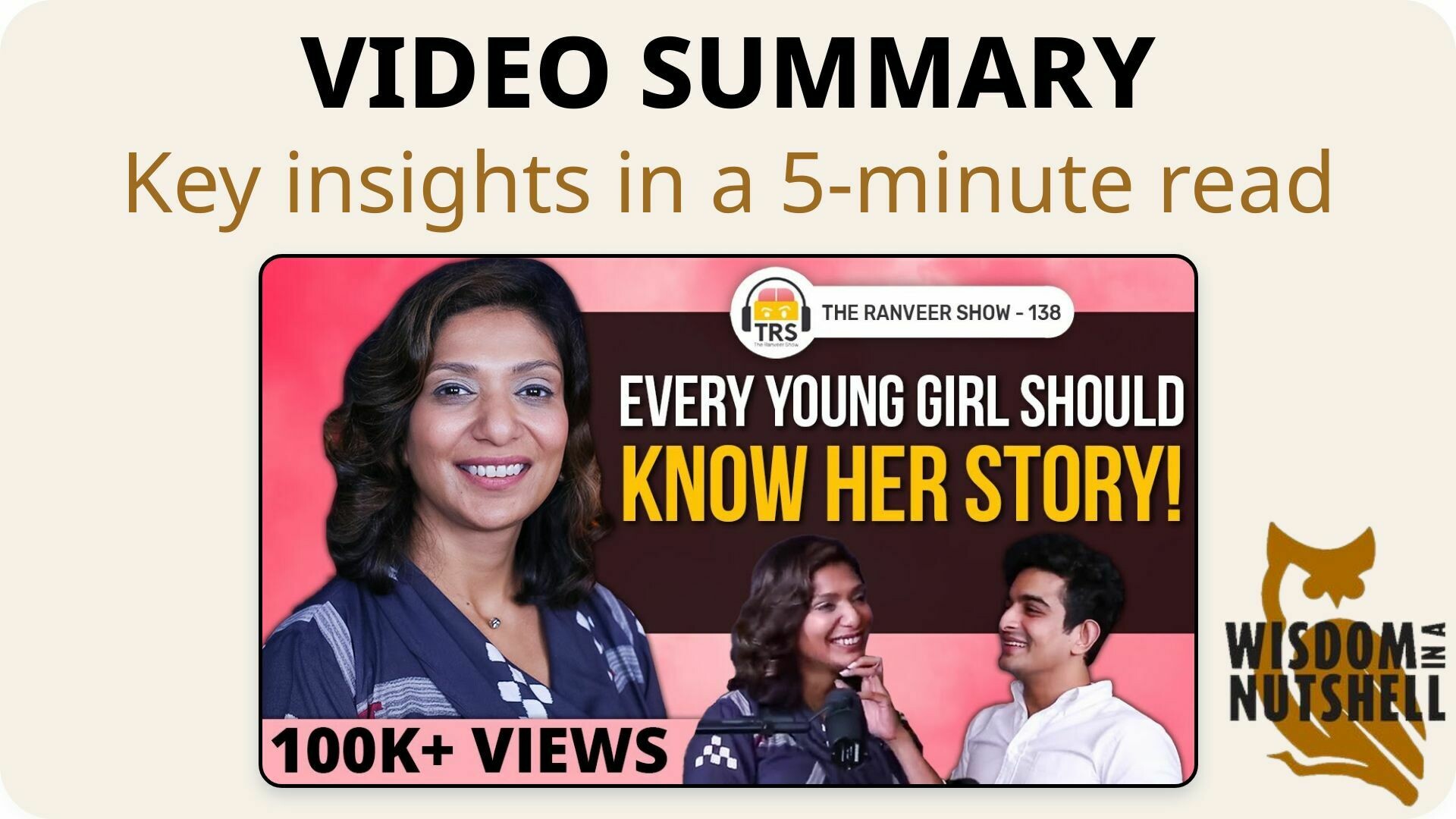 🌰 Wisdom in a Nutshell
Essential insights distilled from the video.
---
---
📚 Introduction
Explore the transformative power of personal growth through the journeys of inspiring individuals. From pursuing education and entrepreneurship to overcoming challenges and defying expectations, these stories offer valuable lessons and motivation. Discover the importance of self-discovery, finding your purpose, and manifesting your vision. Gain insights into the Indian startup landscape, the role of women in leadership, and the value of education. Learn about the essence of personal growth, the power of observation, and the keys to a successful relationship.
---
🔍 Wisdom Unpacked
Delving deeper into the key ideas.
1. Resilience and belief in oneself can overcome adversity and achieve success.
Kavitha Gupta's inspiring journey, despite facing discouragement and adversity, is a testament to her determination and resilience. She pursued higher education, established herself as a top VC, and became a successful fintech founder. Her belief in the power of energy and attracting what you want in life is a valuable lesson. Her story, which can be turned into a movie, serves as a motivation for young girls and boys to chase their dreams and overcome obstacles.
Dive Deeper: Source Material
---
2. Pandemic has led to personal growth, exploration, and innovation.
The pandemic has led to personal growth, with a focus on exploring podcasts, meditation, and self-reflection. Twitter spaces provide a platform for connecting with others and learning about various topics. FinTech and DeFi offer innovative investment opportunities. Studying abroad exposes individuals to different perspectives. Entrepreneurs should plan for the future and consider taking risks in their careers. Success is not solely based on monetary connections, but on the value and impact of the content created. The pandemic has taught the importance of being open to new opportunities and not being limited by traditional norms.
Dive Deeper: Source Material
---
3. Self-discovery involves understanding your identity, purpose, and manifesting your vision.
The journey to self-discovery and personal growth involves understanding your identity and purpose. For some, it's about being process-driven and enjoying the hunt and creation, while for others, it's about building teams and overcoming challenges. It's important to support and encourage young visionaries, even if they may not fully understand their potential. Finding your feet and achieving your goals can be a challenging journey, especially when others dismiss your vision as lazy or arrogant. However, it's crucial to manifest your vision and make it a reality. There are three types of business people: energy execution, strategist, and visionary. Visionaries often face challenges where people don't understand them, but it's important to persevere and not let others' perceptions define you.
Dive Deeper: Source Material
---
4. Defy expectations, prioritize happiness, and pursue your own career.
Growing up in a traditional Indian family, the speaker faced challenges and doubts about their potential, but their dad played a crucial role in encouraging them to pursue their dreams. They were expected to pursue a career in medicine or commerce, but they chose to study engineering, defying their parents' expectations. The speaker emphasizes the importance of not letting someone else's expectations dictate our choices, and instead, prioritizing our own happiness and career. Despite the pressure to get married, the speaker's parents now see their success in their career and the money they make, and are happy for their happiness.
Dive Deeper: Source Material
---
5. Entrepreneurship involves adaptability, effective communication, and innovation.
The journey of an entrepreneur involves navigating personal and professional challenges, learning from failures, and adapting to changing circumstances. It's crucial to balance conviction and agility, investing in the founder's character and their ability to adapt. Observation, compromise, and effective communication are key skills in family dynamics and in the startup ecosystem. The Indian startup landscape is rapidly evolving, with a focus on innovative technologies like blockchain, AI, and FinTech. Indian entrepreneurs are creating products tailored to the Indian market, understanding the needs of tier two and tier three cities. The country is producing blockchain products that are being followed by the world, with companies like Polygon and InstaDapp gaining global recognition.
Dive Deeper: Source Material
---
6. Gender equality in leadership requires addressing biases and providing equal access to education.
The lack of women in leadership positions, even in diverse companies, highlights the existence of silos and biases in the workplace. Women bring a unique energy to startups and can be more empathetic and reliable. However, there is still a long way to go in terms of gender equality and representation. Women often face challenges in getting promoted or occupying higher positions. Personal experiences of facing gender bias and discrimination are common. Education plays a crucial role in defining people's lives and providing equal access to education is important. The goal is to create orphanages and old age homes with the best education, not based on charity. Personal education has been valuable for career growth and provides weapons in the form of knowledge and skills.
Dive Deeper: Source Material
---
7. Personal growth lies in human skills, integrity, and performance.
The essence of personal growth and success lies in developing human skills, communication, and observation. Traveling and experiencing different cultures can provide valuable insights into the world. It's important to approach professional life with integrity and hard work, treating it as a person. Don't rely on your parents' money; earn your own and do backpack travel. There are two types of people in the world: performers and non-performers. Performers always do their best in the job they're given and choose jobs they know they can handle. Knowing you're a performer eliminates self-doubt. Self-doubt arises from thinking about the future and questioning relevance. The real question is, are you performing to the best of your ability in the task at hand? No one can guarantee success, not even the biggest VCs.
Dive Deeper: Source Material
---
8. Prioritize trust, love, and respect in relationships, and find other sources for your needs.
The key to a successful relationship is to prioritize trust, love, and respect, and to recognize that no one can fulfill all your needs. It's unrealistic to expect your partner to provide everything you need, so it's important to find some of those needs in your social circle and friends. Instead of focusing on what you're missing, appreciate the things you do receive. High expectations often lead to relationship breakdowns, so it's important to understand that if your expectations are high, you may not be giving enough in the relationship. Remember, relationships are about trust, loyalty, and mutual respect.
Dive Deeper: Source Material
---
---
💡 Actionable Wisdom
Transformative tips to apply and remember.
Take charge of your personal growth journey by embracing self-discovery, setting goals, and persevering through challenges. Be open to new opportunities and believe in your vision. Develop essential human skills, communicate effectively, and observe the world around you. Prioritize trust, love, and respect in your relationships, and manage your expectations to foster a healthy connection.
---
📽️ Source & Acknowledgment
This post summarizes BeerBiceps's YouTube video titled "How I Became A Start-Up Investor In America ft. Kavita Gupta | The Ranveer Show 138". All credit goes to the original creator. Wisdom In a Nutshell aims to provide you with key insights from top self-improvement videos, fostering personal growth. We strongly encourage you to watch the full video for a deeper understanding and to support the creator.
---