BeerBiceps
"How Meditation Built My Billionaire Career" - Alok Kejriwal's Spiritual Story | The Ranveer Show 84
The Power of Spirituality in Personal Growth and Success.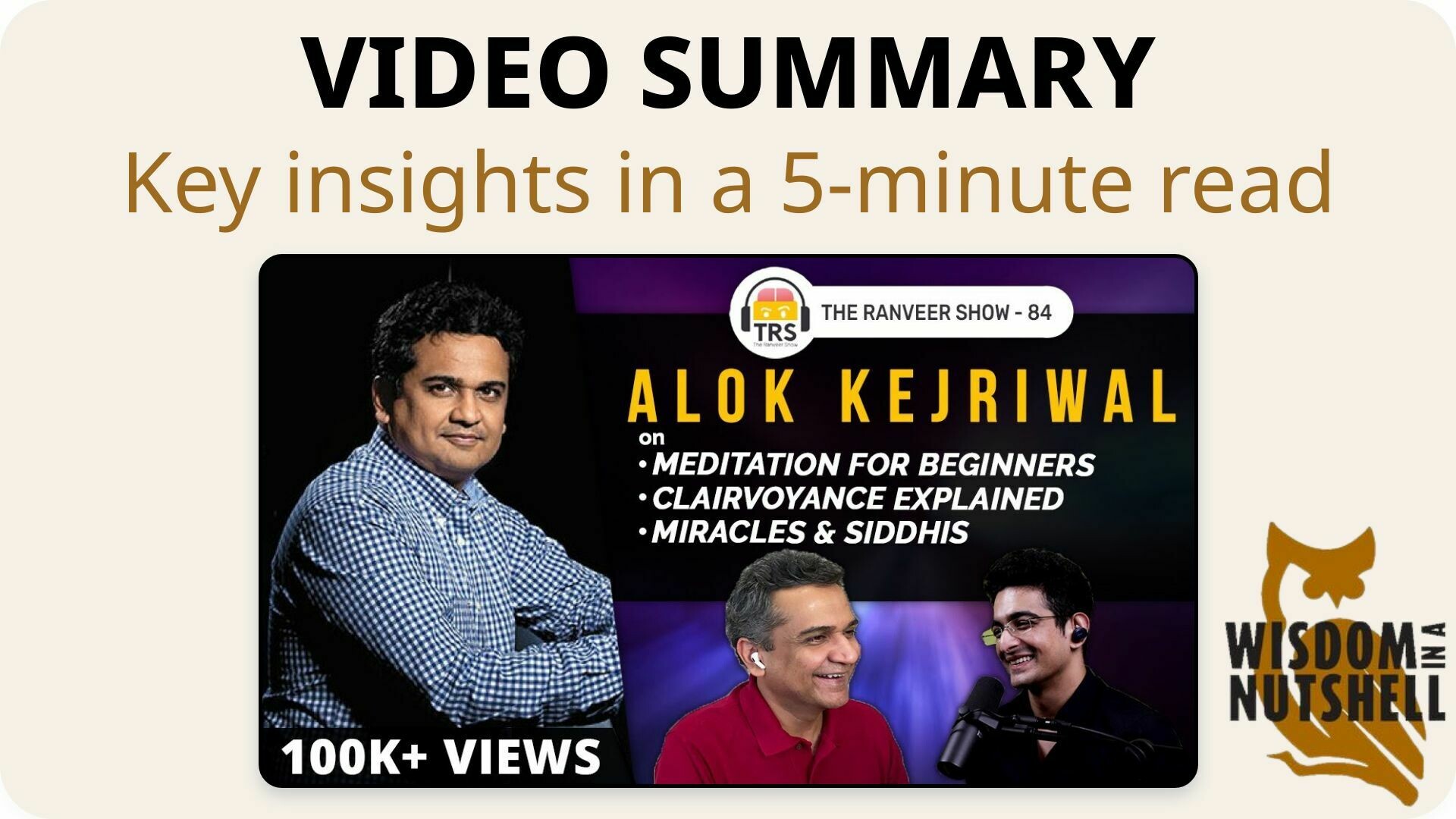 🌰 Wisdom in a Nutshell
Essential insights distilled from the video.
---
---
📚 Introduction
In the pursuit of personal growth and success, many entrepreneurs and individuals turn to spirituality as a guiding force. This blog post explores the transformative power of spirituality, the role it plays in our lives, and the impact it can have on our journey towards self-discovery and fulfillment.
---
🔍 Wisdom Unpacked
Delving deeper into the key ideas.
1. Spiritual guidance can enhance entrepreneurial clarity and insight.
Entrepreneurs often seek spiritual guidance to gain clarity and de-cloud their minds, which can be clouded by constant decision-making. This helps them gain original thoughts and insights that others may not have. It's important to have a parallel spiritual journey alongside the business journey.
Dive Deeper: Source Material
---
2. Curiosity about spiritual abilities sparks exploration and understanding.
The speaker's curiosity about the spiritual abilities of people they grew up with, despite initially disliking them, led to a deeper exploration of spirituality. They noticed that these individuals had a magnetism and could see things that they couldn't. This sparked a desire to learn more about their abilities and understand the power they possessed.
Dive Deeper: Source Material
---
3. Deep understanding of others is a key aspect of self-discovery.
The journey of self-discovery often involves meeting people who possess a deep understanding of others, gained through meditation and the ability to read people. These individuals ask questions that challenge our perspectives and make us think deeply about our lives. They have a deep intuitive sense of how life unfolds, which they use to guide us towards a better understanding of ourselves and the world around us.
Dive Deeper: Source Material
---
4. Ayahuasca and meditation have profound impact on personal growth and decision-making.
Ayahuasca, a South American ritual, had a profound impact on the speaker during a vacation. It was introduced to them by a person who also introduced them to meditation at 22, which helped them navigate the early days of YouTube. Today, the speaker relies on deep meditations for key decisions and creativity.
Dive Deeper: Source Material
---
5. Meditation, a symphony of spirituality and material pursuits.
The pursuit of spirituality and material success is not mutually exclusive. Steve Jobs, for instance, was a spiritualist and a capitalist, and meditation played a significant role in his work. Meditation, which doesn't require much time, can help clear the mind and bring original thoughts. It's ironic that we spend more time on social media than meditating. The Art of Living Foundation has had a positive impact on the speaker's life.
Dive Deeper: Source Material
---
6. Seeking customer love and a clean lifestyle can save a business.
In 2000, a business was on the verge of shutting down due to stress and lack of control. A friend suggested an Art of Living course, which helped alleviate stress and gain a new perspective on the business. Instead of chasing investors, the business owner approached customers and asked for their support, leading to survival and thriving. The course also taught the importance of seeking customer love and support, and the value of living a clean lifestyle free of vices.
Dive Deeper: Source Material
---
7. Vices teach dependency, meditation provides respites and potential transformation.
The experience of growing up in a vegetarian family and later in a monastery in Ladakh, where the desire to drink alcohol was transformed, highlights the power of willpower and the importance of vices in our lives. Vices teach us about dependency and the need for alternative highs and respites. Meditation and mindfulness can provide these respites, potentially leading to a transformation where the vice leaves us. This can be achieved through meditation and prayer for miracles, as experienced by the speaker.
Dive Deeper: Source Material
---
8. Spirituality is about humility, openness, and recognizing vice.
The essence of spirituality lies in humility and openness to new experiences. A personal anecdote highlights the importance of letting go of arrogance and embracing unexpected outcomes. Spiritual practices can lead to unexpected outcomes like clairvoyance, reminding us that we are not in control. It's crucial to recognize that vice can manifest both externally and internally, and that we need to be mindful of our thoughts and actions.
Dive Deeper: Source Material
---
9. Focused mind and commitment can lead to spiritual experiences and siddhis.
Siddhis, or super powers, can be achieved through a focused mind and the fulfillment of wishes. By committing to a wish and practicing the actions that led to its fulfillment, these experiences can be repeated and spiritual experiences can increase. This concept is supported by a personal story of the author's desire to see Babaji in an airport, which eventually came true.
Dive Deeper: Source Material
---
10. Abstaining from alcohol can lead to improved well-being and mindfulness.
Habits like excessive alcohol consumption can hinder mindfulness and alertness, leading to a vicious cycle of negativity. However, by abstaining from alcohol, we can create a virtuous cycle of improved physical and mental well-being. This can be achieved through regular exercise and meditation, which can make us calmer and more focused in our 40s and beyond.
Dive Deeper: Source Material
---
11. Meditation enhances clarity, calmness, and spontaneity.
Meditation can provide clarity and calmness, helping to navigate busy days. It can also enhance telepathy and clairvoyance, allowing for a sense of lightness and relaxation. Compared to those who don't meditate, those who do may exhibit more energy, enthusiasm, and spontaneity.
Dive Deeper: Source Material
---
12. Spirituality is about self-awareness and managing emotions.
The essence of spirituality lies in examining and acting on your spiritual journey, rather than worrying about books or podcasts. Eventually, everyone experiences tiredness and fatigue, and the difference between meditators and non-meditators is how they manage and handle it. This highlights the importance of mindfulness and self-awareness in managing our emotions and well-being.
Dive Deeper: Source Material
---
13. Explore spirituality to find personal resonance and happiness.
The journey of spiritual exploration involves trying out different institutions and practices to find the one that resonates with you. It's important to not choose based on someone else's recommendation, but to explore and find what works for you. This process can lead to a deeper understanding of the concept of happiness and a good feeling in every situation.
Dive Deeper: Source Material
---
---
💡 Actionable Wisdom
Transformative tips to apply and remember.
Take a few minutes each day to engage in a spiritual practice that resonates with you, whether it's meditation, prayer, or mindfulness. This will help you cultivate a sense of clarity, calmness, and self-awareness, enabling you to navigate life's challenges with greater ease and make more conscious decisions. By incorporating spirituality into your daily routine, you can experience personal growth, success, and a deeper connection with yourself and the world around you.
---
📽️ Source & Acknowledgment
This post summarizes BeerBiceps's YouTube video titled ""How Meditation Built My Billionaire Career" - Alok Kejriwal's Spiritual Story | The Ranveer Show 84". All credit goes to the original creator. Wisdom In a Nutshell aims to provide you with key insights from top self-improvement videos, fostering personal growth. We strongly encourage you to watch the full video for a deeper understanding and to support the creator.
---