BeerBiceps
How Science Explains Spirituality ft. Abhijit Pradhan | The Ranveer Show 03
Exploring the Intersection of Spirituality and Science.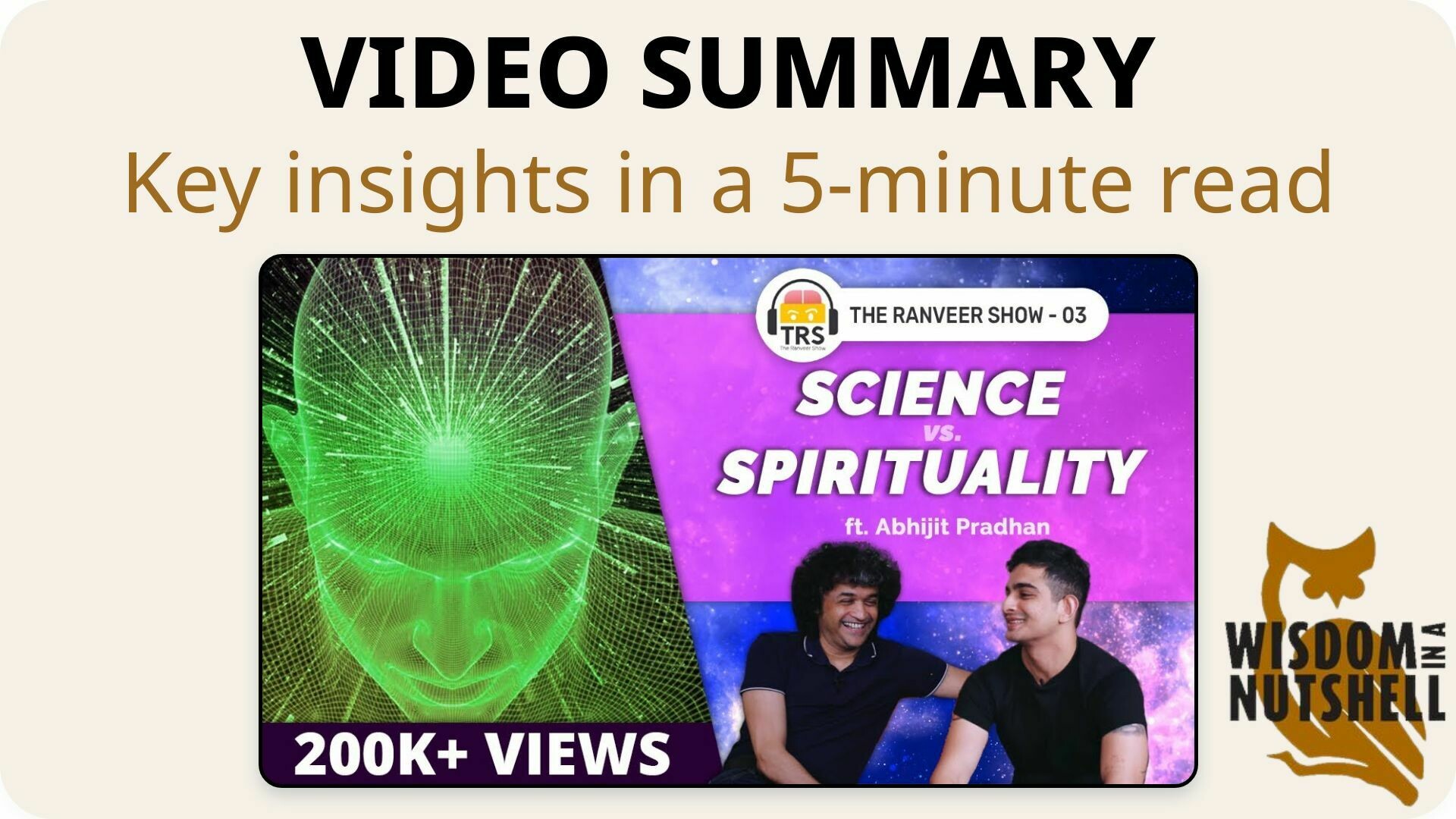 🌰 Wisdom in a Nutshell
Essential insights distilled from the video.
---
---
📚 Introduction
In this blog post, we delve into the fascinating world of spirituality and science, uncovering the interconnectedness and convergence of these two seemingly different realms. From the exploration of quantum physics to the practice of Reiki and the power of meditation, we discover the profound impact these disciplines can have on personal growth and understanding the nature of reality. Join us on this enlightening journey as we unravel the mysteries of the universe and uncover the wisdom that lies within.
---
🔍 Wisdom Unpacked
Delving deeper into the key ideas.
1. Spirituality and quantum physics share intricate, interconnected concepts.
The intersection of spirituality and science, specifically quantum physics, is explored in this podcast. The guest, Abhijit Pradhan, combines his passion for exploration with his spiritual side, finding intrigue and mystery in everything he does. He discusses the similarities between spirituality and quantum physics concepts, highlighting the intricate nature of the universe and the interconnectedness of all things. This podcast offers a unique perspective on life and the universe, blending spirituality and science in a fascinating way.
Dive Deeper: Source Material
---
2. Spirituality and exercise can help overcome emotional issues and interconnected challenges.
The speaker's journey of overcoming health issues and personal struggles was aided by spirituality and exercise. They discovered that many of their issues were not just physical but also emotional, stemming from suppressed emotions throughout their life. This realization led them to embrace spirituality, which they found to be interconnected with science, providing a sense of empowerment and hope. This journey helped them understand that everything is interconnected and that time does not heal all wounds.
Dive Deeper: Source Material
---
3. Convergence of science and spirituality in Eastern practices.
The Western world's dominance in thought is being challenged as the Eastern world's ancient practices, such as Pranayama and meditation, are gaining scientific acceptance. This convergence between science and spirituality is a journey of harmony and alignment, where each supports the other. The Western world is now discovering the Eastern, and the Eastern world is realizing the importance of scientific research. This convergence is happening in various practices, such as Reiki, where there is no scientific proof but still valuable insights.
Dive Deeper: Source Material
---
4. Reiki, a form of touch healing, bridges logical and spiritual worlds.
Reiki, a form of touch healing, involves the practitioner sending electromagnetic waves from their body into the injured area, potentially contributing to the healing process. It also involves administering healing energy to key points on the body's cerebrospinal axis. Reiki can be seen as a bridge between the logical and spiritual worlds, allowing energy to flow through the practitioner for personal and others' benefit. It's a phenomenon that can be observed in our daily lives, such as when we think of someone and they call us, similar to entanglement in quantum physics.
Dive Deeper: Source Material
---
5. Touch and healing are linked to our memories and energy fields.
Our bodies are made up of memories, both physical and mental, which can be stored and exchanged through touch. This is why it's important for parents to touch their children while growing up. Our bodies are like a system of energy, and there is a code field around us. When we're not feeling well, it's like there's a bug in the code. Healing is about getting that code back in play. Reiki could be a form of electronic impulse that heals the code.
Dive Deeper: Source Material
---
6. Quantum physics reveals the power of attention and intuition in manifesting reality.
Quantum physics, the study of the subatomic world, reveals that everything is chaotic and unpredictable, with atoms existing in two states: as particles or waves. Attention and consciousness play a crucial role in manifesting reality, as demonstrated by scientific institutes measuring quantum physics effects. This shows that attention can transform particles into waves. The dual nature of everything, with both physical and energetic aspects, is also significant. Collective energy and attention can manifest reality, and intuition, the ability to tune into the energy field, can be developed by anyone.
Dive Deeper: Source Material
---
7. Spirituality aids in self-awareness, resilience, and career decision-making.
Spirituality is a crucial aspect of career development, aiding in self-awareness, resilience, intuition, and decision-making. It's like a gym for life, helping to build these skills. Understanding oneself and what motivates them is key to making better career choices. This awareness allows for a pause between stimulus and response, enabling better decision-making.
Dive Deeper: Source Material
---
8. Meditation is a powerful tool for personal growth and development.
The practice of meditation is a powerful tool for personal growth and development, as it has been shown to have biological benefits and improve cognitive function. It is a regular exercise for the mind, akin to physical exercise for the body. Regular meditation can lead to increased calmness, efficiency, and cognitive function, as observed in personal experiences and supported by neuroscience. Despite some skepticism, the positive impact of meditation on productivity and overall well-being is undeniable, making it a valuable practice for anyone seeking personal improvement.
Dive Deeper: Source Material
---
9. Meditation helps manifest reality and fosters curiosity.
Meditation, a practice that requires consistent effort, can help you manifest reality better by focusing on yourself and your surroundings. It has been scientifically proven that meditators can change the pH level of water, a fundamental aspect of quantum physics. This practice allows you to step back and tap into curiosity, which is important for the flow of energy. It's not about becoming a superstar overnight, but rather a journey of exploration and understanding.
Dive Deeper: Source Material
---
10. Triangulate perspectives for personal growth and career expansion.
The key to personal growth and career expansion is to triangulate your source of insight, considering multiple perspectives. This habit of seeking opposing viewpoints can add depth and understanding to your journey. It's crucial to cultivate this habit from the beginning of your life, avoiding blame and fostering open-mindedness. By embracing different perspectives, you can learn and grow.
Dive Deeper: Source Material
---
---
💡 Actionable Wisdom
Transformative tips to apply and remember.
Embrace the convergence of spirituality and science in your daily life by incorporating practices like meditation and seeking multiple perspectives. Cultivate self-awareness, resilience, and intuition through spiritual exploration, and enhance your decision-making skills. Remember, personal growth is a journey of curiosity and understanding, where every experience and insight contributes to your expansion.
---
📽️ Source & Acknowledgment
This post summarizes BeerBiceps's YouTube video titled "How Science Explains Spirituality ft. Abhijit Pradhan | The Ranveer Show 03". All credit goes to the original creator. Wisdom In a Nutshell aims to provide you with key insights from top self-improvement videos, fostering personal growth. We strongly encourage you to watch the full video for a deeper understanding and to support the creator.
---