BeerBiceps
Is India Secular? Writer Ashwin Sanghi On History, Politics & Storytelling | The Ranveer Show 187
Insights from Various Topics.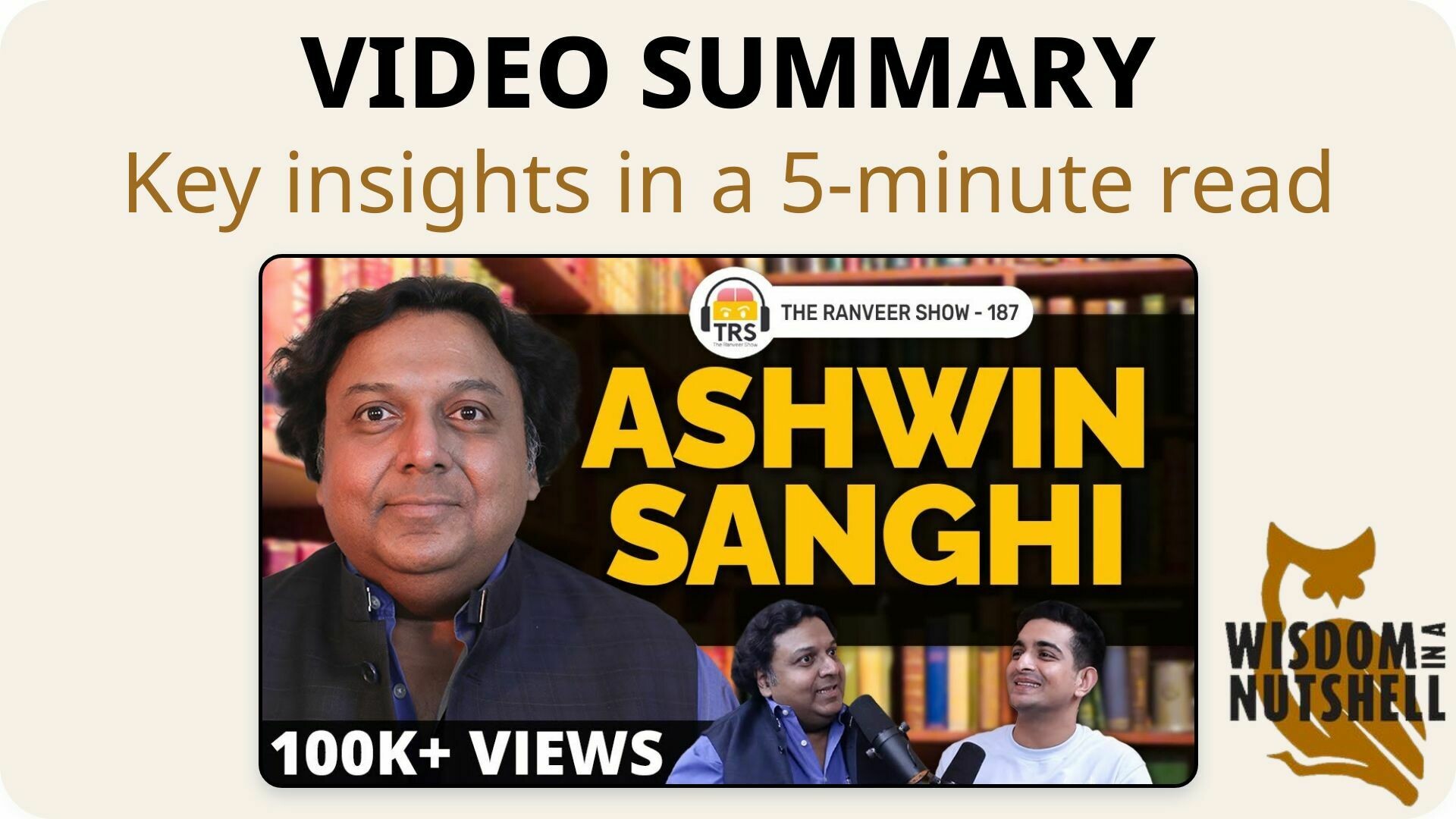 🌰 Wisdom in a Nutshell
Essential insights distilled from the video.
---
---
📚 Introduction
This blog post explores a collection of insights from various topics, including wisdom, happiness, culture, balance, pluralism, and the power of storytelling. Each topic offers valuable lessons and perspectives that can inspire personal growth and a deeper understanding of the world.
---
🔍 Wisdom Unpacked
Delving deeper into the key ideas.
1. Insightful conversation with Ashwin Sanghi offers wisdom and knowledge.
The conversation with Ashwin Sanghi, a celebrated author, explored various topics and offered valuable insights. The author's comfort and happiness with his life and mind were striking, a result of wisdom. The podcast provided a deep and engaging discussion, with the author sharing his experiences and insights. The author's love for reading and his wealth of knowledge from books were highlighted. The episode ended with a prayer to the goddess Saraswati, emphasizing the importance of wisdom and knowledge.
Dive Deeper: Source Material
---
2. Happiness and peace can be influenced by cultural upbringing and business training.
The speaker, a writer, shares their experience of observing the happiness and peace of a person from a distance, despite being trained in business. They attribute this to the person's culture and upbringing, which emphasizes the importance of debit and credit. The speaker also mentions a tradition in certain cultures of teaching children to be good salespeople by touching honey and glue to their tongue and palm. This realization during a holiday led the speaker to question their own upbringing and the role of business in their life.
Dive Deeper: Source Material
---
3. Happiness lies in financial security, family, purpose, relationships, and beliefs.
The key to happiness lies in understanding that money alone cannot bring it, but a certain level of financial security is necessary for freedom. Having a healthy family, a purpose in life, strong relationships, and a belief in a higher power can contribute to happiness. Comparing ourselves to others can lead to unhappiness, and it's important to be content with what we have and not constantly strive for more. We should also be aware that things can change and not take them for granted.
Dive Deeper: Source Material
---
4. Balance in life is key, not compartmentalizing into different ideologies.
The concept of God can be understood as everything divine minus human knowledge, with our understanding of what is truly valuable in life increasing as we age. This understanding often leads to a desire for a balance in life, as seen in the concept of the middle path. Many people, especially in their 50s, experience a phenomenon of compartmentalization, where they focus on one aspect of life, such as career or family, and neglect others. However, it's important to find a balance and not compartmentalize oneself into different ideologies.
Dive Deeper: Source Material
---
5. Preserving pluralism and respect for other faiths is crucial for peace and stability.
The concept of pluralism and respect for other faiths, known as the Ganga Jamuna Tezeeb, is a unique aspect of the subcontinent. However, this ethos is not prevalent in Bangladesh or Pakistan due to the influence of Islamization. It is important to preserve the Dharmic ethos and avoid discrimination against other faiths. Faith should be personal and not imposed on others. Algorithms can contribute to the spread of hate and negative narratives about other religions. It is crucial to question and doubt our own beliefs in order to achieve peace and stability in the world. The Hindu faith shares similarities with other religions, and there is a connection between the words Ahura and Asura. The concept of vegetarianism in Hinduism has been influenced by Buddhism. The Sermon on the Mount and the Beatitudes in the New Testament have similarities with the teachings of the Buddha. It is possible that Jesus may have studied under Buddhist masters during the lost years of his life.
Dive Deeper: Source Material
---
6. Storytelling is a powerful tool for communication and success.
The power of storytelling is highlighted, with examples from politics, religion, and literature. The ability to tell stories is crucial for success in modern-day professional life. Different versions of mythological stories convey deeper truths and reveal myths. Fiction, including Bollywood movies, can shape culture, and the line between fact and fiction is often blurred. To keep readers hooked, the first paragraph of a novel should be engaging, every chapter should end on a hook, and the final paragraph should provide a sense of contentment. These rules, when consistently followed, can make reading a transformative experience.
Dive Deeper: Source Material
---
---
💡 Actionable Wisdom
Transformative tips to apply and remember.
Take time to reflect on the wisdom gained from different experiences and cultures. Cultivate a love for reading and seek knowledge from a variety of sources. Strive for a balanced life, embracing both financial security and meaningful relationships. Practice respect for other faiths and challenge your own beliefs. Harness the power of storytelling in your personal and professional life by crafting engaging narratives and seeking deeper truths.
---
📽️ Source & Acknowledgment
This post summarizes BeerBiceps's YouTube video titled "Is India Secular? Writer Ashwin Sanghi On History, Politics & Storytelling | The Ranveer Show 187". All credit goes to the original creator. Wisdom In a Nutshell aims to provide you with key insights from top self-improvement videos, fostering personal growth. We strongly encourage you to watch the full video for a deeper understanding and to support the creator.
---