BeerBiceps
Jemimah Rodrigues On Women IPL & Comeback In World Cup, BCCI | The Ranveer Show 178
The Inspiring Journey of a Rising Star in Women's Cricket.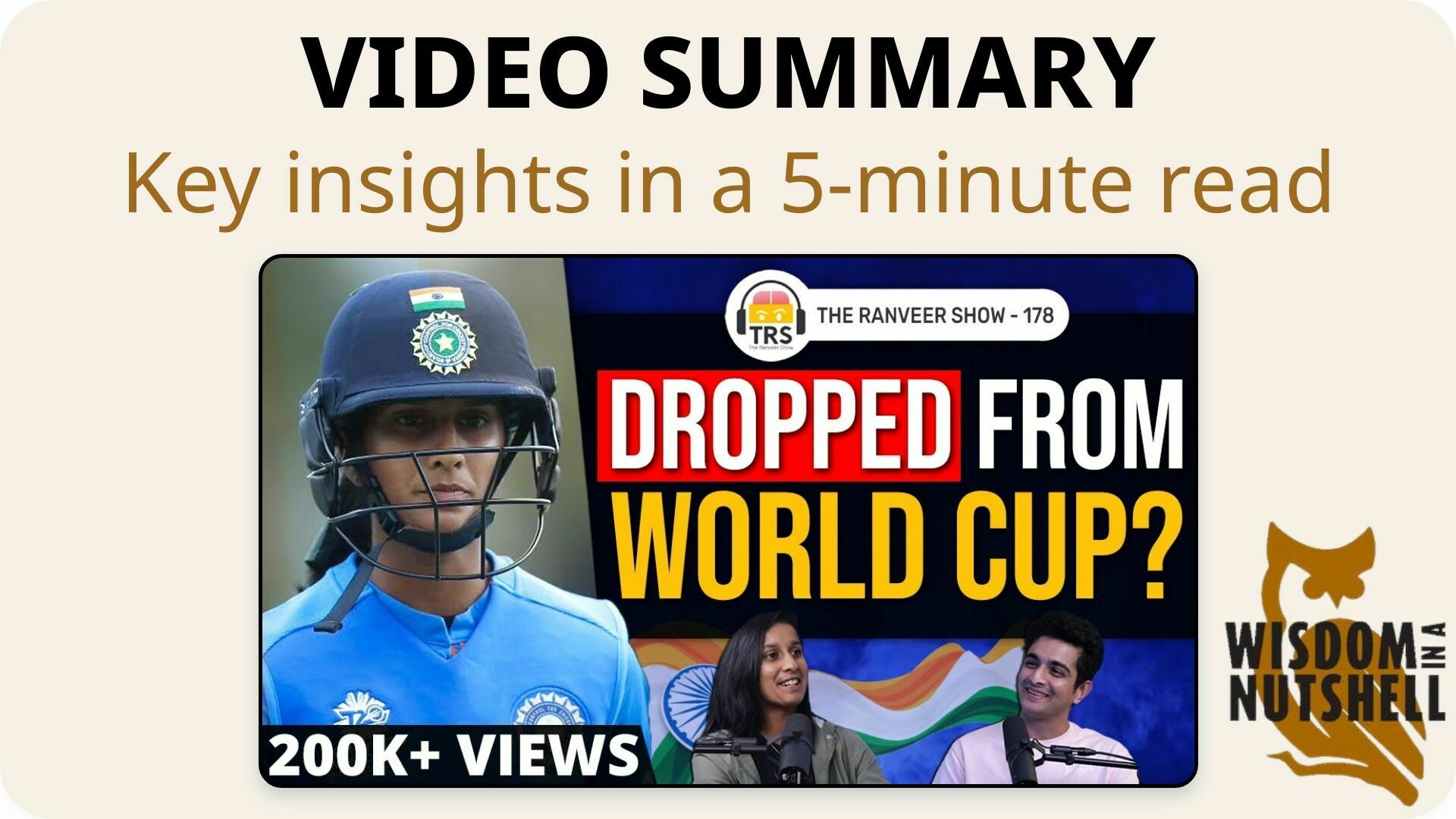 🌰 Wisdom in a Nutshell
Essential insights distilled from the video.
---
---
📚 Introduction
In this blog post, we will explore the inspiring journey of Jemima Rodericks, a rising star in women's cricket, and the valuable lessons she has learned along the way. From facing doubts and challenges to finding motivation and success, Jemima's story is a testament to the power of passion and perseverance. Join us as we delve into the world of cricket and uncover the secrets to achieving greatness.
---
🔍 Wisdom Unpacked
Delving deeper into the key ideas.
1. Passion, support, and belief in one's abilities are key to success in cricket.
The journey of a rising star in women's cricket, Jemima Rodericks, highlights the importance of supportive parents and a passion for the sport. She shares her journey of playing hockey and cricket at an international level, with her abilities in different areas happening naturally. The selection process for the Indian women's cricket team involves different levels of selection, with the top performers making it to the India team. Growing up, Jemima faced doubts and questioning from others due to her gender, but her parents' support and belief in her talent never affected her. Today, she's proud to see more girls playing cricket and parents seeking advice on how to support their daughters in pursuing their dreams.
Dive Deeper: Source Material
This summary was generated from the following video segments. Dive deeper into the source material with direct links to specific video segments and their transcriptions.
| Segment | Video Link | Transcript Link |
| --- | --- | --- |
| Introduction | 🎥 | 📄 |
| Hockey & Cricket | 🎥 | 📄 |
| Start of her journey | 🎥 | 📄 |
| Selection for womens cricket | 🎥 | 📄 |
| Stereotypes with womens sports | 🎥 | 📄 |
---
2. Preparation and confidence are key to success.
The key to success in any field, including cricket, is being well-prepared. This mindset, coupled with the belief that you've practiced a task 10,000 times, can boost confidence and focus. It's important to remember that there's a secret world that only professionals in a particular field know about, which the media may not reveal.
Dive Deeper: Source Material
---
3. Cricket professionals' lives are not just about constant practice, but balance and personal choices.
The life of a cricket professional is often misunderstood, with a common perception of constant practice and busy schedules. However, they have a lot of free time on tour and only practice for a few hours a day. It's important to recognize them as human beings with a life outside of cricket, and not just athletes. The decision to prioritize cricket over personal life can be challenging, especially with social media criticism. Being single for a long time can be a choice, and it's important to maintain a balance between professional and personal life. Finding a partner can be challenging for celebrities, especially women, as they want someone who loves them for who they are, not just for their fame.
Dive Deeper: Source Material
---
4. Overcome struggles, find focus, and motivate through love.
The journey to success involves overcoming personal struggles and finding ways to stay focused and motivated. It's crucial to understand that our motivations are driven by fear or love, and switching to motivating oneself through love can lead to better performance. Finding your own way to get into the zone, whether through silence, music, or other methods, is important. Accepting and feeling your emotions is a step towards healing, and having open conversations with loved ones can help. When in a situation where you're being watched, imagine the people are on your side, cheering you on. It's also important to stay away from social media when on tour to maintain a better headspace.
Dive Deeper: Source Material
This summary was generated from the following video segments. Dive deeper into the source material with direct links to specific video segments and their transcriptions.
| Segment | Video Link | Transcript Link |
| --- | --- | --- |
| Her mental health | 🎥 | 📄 |
| God & Spirituality | 🎥 | 📄 |
| State of flow | 🎥 | 📄 |
| Sachin Tendulkars advice | 🎥 | 📄 |
| Menstruation affecting the game | 🎥 | 📄 |
| Being dropped from the world cup | 🎥 | 📄 |
---
5. Visualization, hard work, and respect are key to success.
The book, 'The Art of Winning', emphasizes the power of visualization, consistent hard work, and treating others with respect. It highlights the importance of not giving up, even in the face of setbacks, and the growth of women's cricket. The author, who was an angry person earlier in his career, learned the power of visualization from a West Indies cricketer. He believed that visualizing success the night before a match made it more likely to happen. The book also mentions the impact of Mitali Raj, who became the face of women's cricket even when it wasn't mainstream.
Dive Deeper: Source Material
---
6. Women's IPL can elevate women's cricket standards and popularity.
The introduction of women's IPL is expected to significantly improve the standards of women's cricket, providing exposure and repetition that are crucial for improvement. The level of competitiveness in women's cricket is currently lower than men's, but the IPL has helped elevate its standards. The next step is to create a women's IPL, which will further boost its popularity. The love lives of women's cricketers are also a topic of interest, as they face challenges in maintaining relationships due to their busy schedules and routines.
Dive Deeper: Source Material
---
7. Handling expectations, focusing on process, and setting a positive trend are key.
The essence of this episode lies in the insights shared by a guest, a cricketer, on handling expectations, focusing on the process, and setting a positive trend. The guest's energy and professionalism are highlighted, along with the importance of not doubting oneself. The speaker's work ethic and sense of motivation are also commended, with a belief in the guest's potential as a future captain. The episode ends with a call to action to follow the show and share episodes to positively impact the country.
Dive Deeper: Source Material
---
---
💡 Actionable Wisdom
Transformative tips to apply and remember.
Believe in your abilities and never let doubts or challenges deter you from pursuing your passion. Find motivation through love and embrace your emotions. Create a personal ritual to get into the zone and visualize your success. Disconnect from social media when you need to focus and maintain a positive mindset. Remember, success is not just about talent and hard work, but also about treating others with respect and never giving up.
---
📽️ Source & Acknowledgment
This post summarizes BeerBiceps's YouTube video titled "Jemimah Rodrigues On Women IPL & Comeback In World Cup, BCCI | The Ranveer Show 178". All credit goes to the original creator. Wisdom In a Nutshell aims to provide you with key insights from top self-improvement videos, fostering personal growth. We strongly encourage you to watch the full video for a deeper understanding and to support the creator.
---