BeerBiceps
Left Sweden To Build A Multi-Million Dollar Career In India ft. Cecilia Oldne | The Ranveer Show 212
Insights from Various Topics.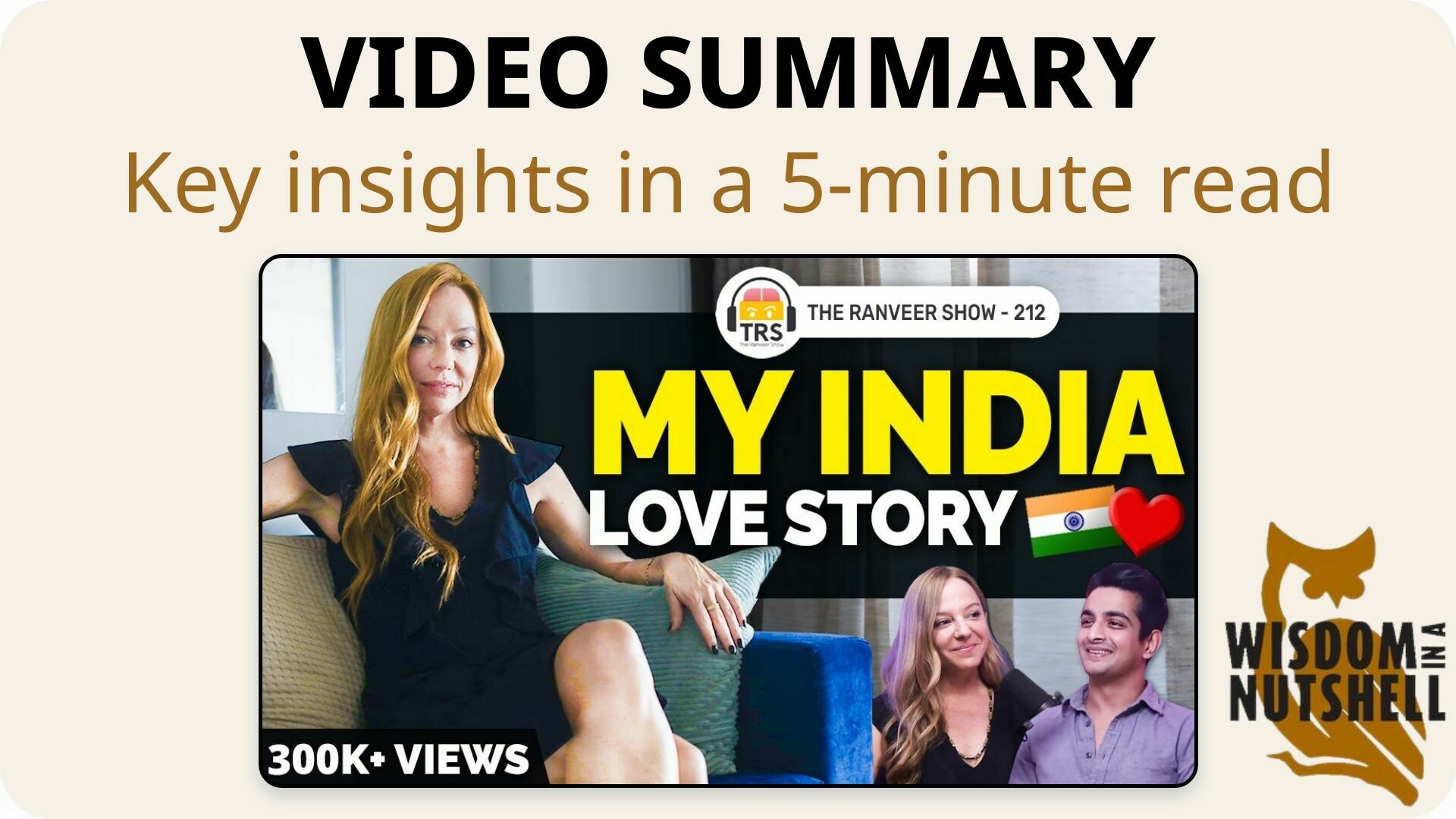 🌰 Wisdom in a Nutshell
Essential insights distilled from the video.
---
---
📚 Introduction
In this blog post, we will explore various topics and gain insightful wisdom from each of them. From the culture and success of Sweden to the entrepreneurial opportunities in India, from the journey of a sommelier in the wine industry to personal preferences and spiritual experiences, and finally, the key to success in career and wealth building. Let's dive in and uncover the wisdom within each topic.
---
🔍 Wisdom Unpacked
Delving deeper into the key ideas.
1. Sweden's culture fosters global thinking, design, and community.
Sweden's culture emphasizes global thinking, design sensibilities, and a strong sense of community. This is reflected in the country's successful startups like Spotify and Ikea. The country's focus on aesthetics and design thinking is valued. The summer solstice festival, a celebration of fertility and future partners, is a unique cultural expression. The Viking culture, while sometimes aggressive, also fostered a sense of community and inclusivity. Sweden's international mindset and design sensibilities are beneficial for entrepreneurs, allowing them to succeed in a global market.
Dive Deeper: Source Material
---
2. India's growth in technology, education, and entrepreneurship makes it an exciting global hub.
The development of technology and infrastructure has made India more accessible and open-minded, with a growing population of educated and affluent individuals. This has led to an increase in entrepreneurship and global opportunities, making India an exciting place to be. The country's pull power is evident, with many urban Indians choosing to stay in India instead of moving abroad. As a foreigner in India, one experiences a lot of attention from Indian men, which can be both intimidating and flattering.
Dive Deeper: Source Material
---
3. Spiritual connection and determination drive wine expertise and entrepreneurial success.
The speaker, a sommelier, shares their journey of becoming a wine expert and entrepreneur. They started by joining a wine company in India, Sula, to be part of the country's wine revolution. Over the years, they built a successful wine company, became a sommelier, and eventually got involved in wine investments. They attribute their success to their spiritual connection to India and their determination to learn and grow in the industry.
Dive Deeper: Source Material
---
4. Personal preferences in men include masculine energy, looks, and inner happiness.
The speaker's personal preferences in men include tall, blonde, well-built individuals, with a focus on masculine energy. They believe that looks are important, but not the only factor. They also emphasize the importance of personality and inner happiness. The speaker's confidence and exuded energy may intimidate some men, leading to a lack of attention from them in India. They believe in different types and stages of life, and believe that yoga and meditation can help reverse aging and give a glow.
Dive Deeper: Source Material
---
5. Spiritual experiences and conversational culture are key.
The essence of this conversation revolves around the speaker's spiritual experiences and their desire to share stories from diverse cultures. They mention their fascination with India, particularly Rajasthan, Jaipur, Udaipur, and Jodhpur, and their personal connection with Goa. They also share their encounter with the Dalai Lama, who they consider a spiritual guide. The speaker emphasizes the importance of conversational culture, noting that there are many conversationalists in Hindi but fewer in English. They express their intention to feature stories from people from different countries, with a focus on international episodes.
Dive Deeper: Source Material
---
6. Traits like adaptability, networking, and forward thinking are key to success.
The key to success in career and wealth building lies in five essential traits: thinking outside the box, nurturing relationships, continuous learning, having diverse mentors, and forward thinking. These traits can be developed through experiences and learning. Angel investing, while risky, can be a rewarding and strategic way to invest in startups. It's important to focus on investments rather than material possessions and to have a different mindset and skillset to add value. In India, there is a culture of showing off wealth, but it's crucial to focus on investments rather than possessions.
Dive Deeper: Source Material
---
---
💡 Actionable Wisdom
Transformative tips to apply and remember.
Think outside the box, nurture relationships, never stop learning, seek guidance from diverse mentors, and always have a forward-thinking mindset. These traits are not only applicable to career and wealth building but also to personal growth and success in any endeavor.
---
📽️ Source & Acknowledgment
This post summarizes BeerBiceps's YouTube video titled "Left Sweden To Build A Multi-Million Dollar Career In India ft. Cecilia Oldne | The Ranveer Show 212". All credit goes to the original creator. Wisdom In a Nutshell aims to provide you with key insights from top self-improvement videos, fostering personal growth. We strongly encourage you to watch the full video for a deeper understanding and to support the creator.
---