BeerBiceps
Love & S*x According To Biology - Neurologist Sid Warrier Explains | The Ranveer Show 211
The Science of Love, Relationships, and Personal Growth.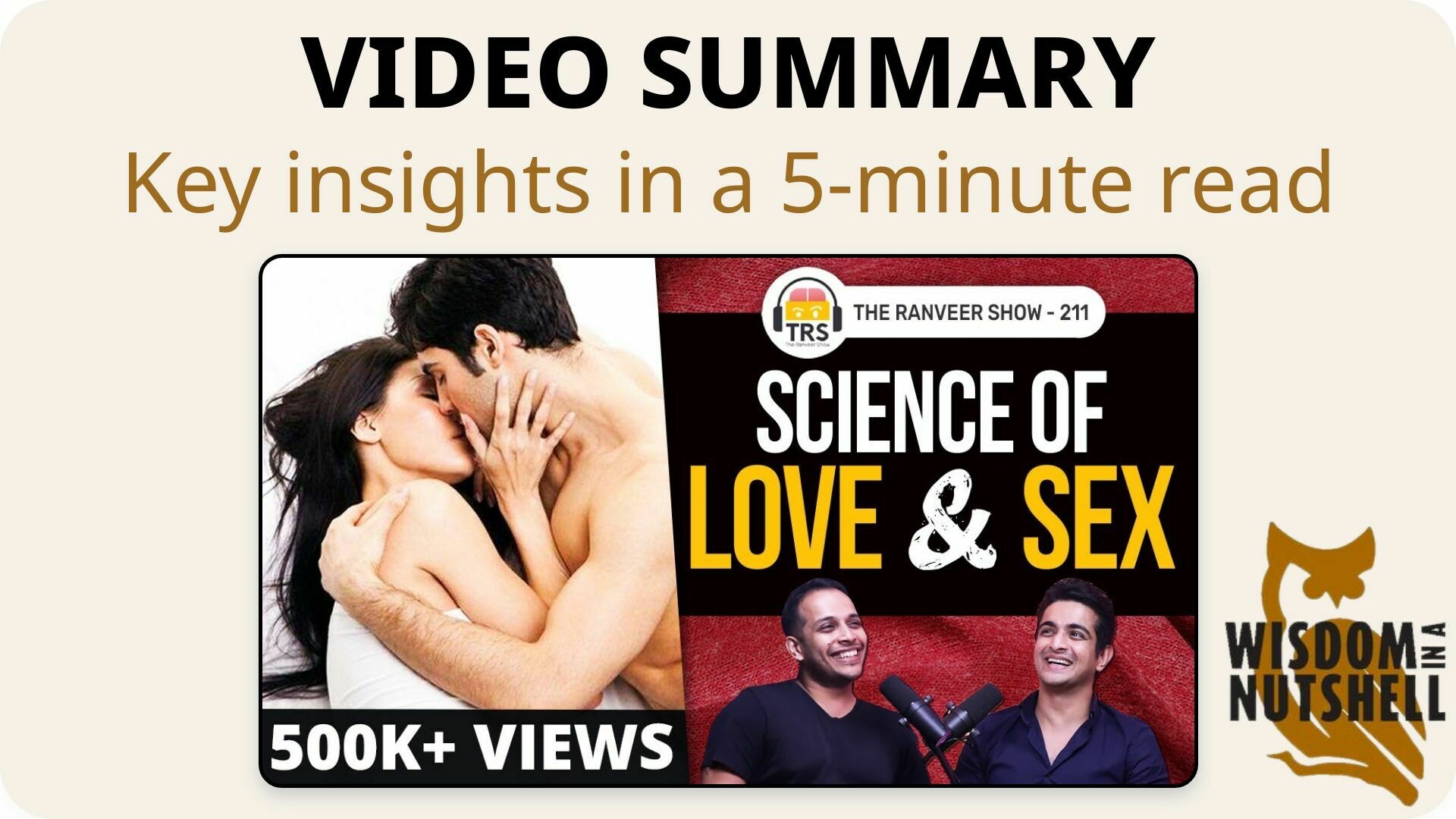 🌰 Wisdom in a Nutshell
Essential insights distilled from the video.
---
---
📚 Introduction
Love and relationships are complex and deeply rooted in our biology. Understanding the science behind these aspects can help us navigate them more effectively and foster personal growth. In this blog post, we will explore various topics related to love, including the evolution of consciousness, the role of hormones, the impact of sex on relationships, the power of meditation, and the dynamics of polyamory. By delving into these subjects, we can gain valuable insights into the intricacies of love and relationships, and discover how they can contribute to our personal development.
---
🔍 Wisdom Unpacked
Delving deeper into the key ideas.
1. Love evolves with consciousness, involving compromise and independence.
Love, as a form of consciousness, evolves as we grow and become more conscious. It involves a compromise between independence and togetherness. The brain naturally focuses on the positive qualities when we fall in love, but it's important to remember that relationships are personal and can vary for each individual. Love can make us feel connected and a part of each other, but it's not about possessing the other person. The prefrontal cortex plays a role in shaping our relationships, and our past experiences and upbringing can influence how we perceive and act in relationships. It's important to enjoy being single and grow as an individual before entering a relationship, as it makes both partners grow.
Dive Deeper: Source Material
---
2. Oxytocin, a bonding hormone, influences relationships and love motivations.
The hormone oxytocin, released during sex and bonding activities, plays a crucial role in forming and maintaining relationships. It spikes in both men and women, leading to feelings of protection and possessiveness. However, the prefrontal cortex, unique to humans, creates a story around these hormonal changes, which can both help and hinder relationships. Repeatedly having sex and sharing trauma with the same person can lead to increased hormone levels, forming a bond over time. This bond is evident in the activation of certain parts of the brain when shown a picture of their partner. The motivation to find love is driven by a deep-seated impulse, often conflicting with our conscious desires.
Dive Deeper: Source Material
---
3. Libido and PMS are influenced by hormonal changes, impacting mood and behavior.
Libido, the mental ability to have sex, is influenced by sex hormones like estrogen, progesterone, and testosterone. These hormones, released from the adrenal glands, play a significant role in libido. As individuals grow up, their brain's control over sex increases. Low testosterone levels can affect libido in women. PMS, a complex issue during the menstrual cycle, is influenced by hormonal changes and can impact mood, attention, focus, and physical symptoms. It's important to avoid generalizing and dismissing behavioral patterns based on hormonal changes. After sex, there is a connection and vulnerability that can be felt, even in casual relationships.
Dive Deeper: Source Material
---
4. Meditation and mindfulness can help control anxiety and manage social media impact.
Meditation can help reduce the functioning of the amygdala, the fear center in the brain, leading to better control over emotions. This is particularly beneficial for individuals prone to anxiety, which is often caused by excessive cortisol levels. Cortisol, a hormone released by the adrenal gland, is useful in fighting infections but can also contribute to anxiety. Social media can exacerbate anxiety by affecting the brain's ability to differentiate between reality and online content. It's crucial to be mindful of the impact of social media on our mental health.
Dive Deeper: Source Material
---
5. Polyamory, a form of non-monogamy, is a natural human tendency.
Polyamory, the practice of having sexual relationships with multiple partners, is a form of non-monogamy that has been documented throughout history and across cultures. It is a natural human tendency to explore and seek new experiences, which is rewarded by our brain. However, maintaining a relationship while exploring new connections can be challenging. Some couples choose to prioritize comfort and stability, while others prioritize experimentation and exploration. The choice of story depends on individual preferences and values. Polyamorous couples often have to communicate extensively to maintain a successful relationship. The hormonal effects of having sex with multiple people are similar to those in a long-term relationship. The subjective reality and prioritization of a relationship can influence hormone levels. Being monogamous can reduce cognitive load and allow individuals to focus on other aspects of life. However, in stable societies, the luxury of experimentation and exploration is possible.
Dive Deeper: Source Material
---
---
💡 Actionable Wisdom
Transformative tips to apply and remember.
Take time to understand the science behind love and relationships. Reflect on your own experiences and how they align with the biological and psychological factors discussed. Practice mindfulness and limit your exposure to social media to maintain a healthy mental state. If you are in a relationship, prioritize open and honest communication to ensure its success. Remember, personal growth is a continuous journey, and love can be a powerful catalyst for self-discovery and transformation.
---
📽️ Source & Acknowledgment
This post summarizes BeerBiceps's YouTube video titled "Love & S*x According To Biology - Neurologist Sid Warrier Explains | The Ranveer Show 211". All credit goes to the original creator. Wisdom In a Nutshell aims to provide you with key insights from top self-improvement videos, fostering personal growth. We strongly encourage you to watch the full video for a deeper understanding and to support the creator.
---