BeerBiceps
Man Made Virus, Intention behind it, Modern Wars & More ft. Rajiv Malhotra | The Ranveer Show 134
Insights from Various Topics: Geopolitics, Ultimate Reality, AI Revolution, Brain Drain, COVID-19, and the Future of Education.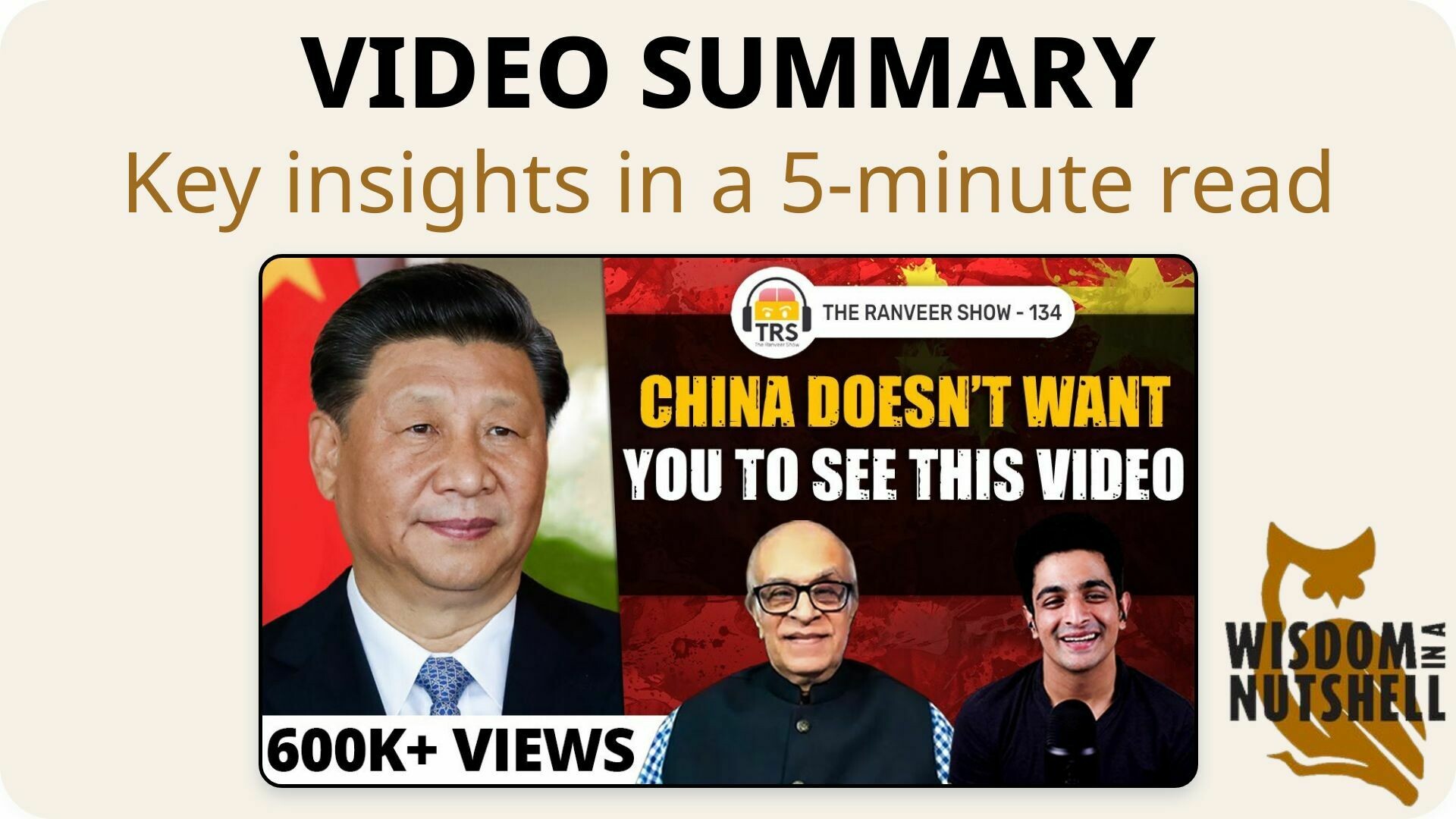 🌰 Wisdom in a Nutshell
Essential insights distilled from the video.
---
---
📚 Introduction
In this blog post, we will explore a variety of topics and gain valuable insights from each. From understanding geopolitics and the pursuit of ultimate reality to the AI revolution, brain drain in India, the COVID-19 pandemic, and the future of education, there is much wisdom to uncover. Let's dive in and discover the key takeaways from these discussions.
---
🔍 Wisdom Unpacked
Delving deeper into the key ideas.
1. Understanding geopolitics is crucial in today's turbulent world.
The current era of global turmoil and natural calamities highlights the importance of understanding geopolitics. Rajiv Malhotra, a renowned computer scientist, shares his expertise on the subject, shedding light on the shifting history. He expresses gratitude for the opportunity to share his ideas and wisdom, and looks forward to future discussions.
Dive Deeper: Source Material
---
2. Understanding ultimate reality guides life and death, transforming perspectives.
The pursuit of understanding the ultimate reality, often referred to as the nature of the self, the universe, and one's place in it, is a lifelong quest that can guide life's decisions and provide a deeper understanding of the world. This quest, often seen as the ultimate purpose of life, can be approached through various means, including philosophical inquiry, spiritual traditions, and practices like death meditation. The latter, a type of meditation in Buddhism and Shabism, allows for the witnessing of oneself without involvement or emotion, potentially leading to a fearless approach to death. Personal experiences, such as a guru's guidance, can also transform one's perspective on the world, offering a transformational lens.
Dive Deeper: Source Material
---
3. India must invest in future technologies and address education disparities to prevent colonization.
The world is experiencing a new industrial revolution, driven by the AI revolution, with countries competing for colonies and influence. India, in particular, needs to take action to prevent being colonized by focusing on creating intellectual property and patents, monitoring data use, and addressing the issue of big data. The power structure in the world is shifting towards privately owned organizations, and India should invest in future technologies and encourage tech companies to do the same. The use of AI in biology and other technologies like implants have the potential to create a different world, but there are concerns about the disparity in education and access to basic necessities in India.
Dive Deeper: Source Material
---
4. Encourage futuristic thinking, support entrepreneurship, and foster courageous individuals.
India's brain drain is a significant issue, particularly for smart kids who consider going abroad. It's crucial for Indian families to celebrate creating jobs and pursuing instability, rather than solely focusing on job placements and stability. Indian entrepreneurs should be celebrated more, and venture capital investments should be supported. India needs to create its own venture capital and funding sources. Setting big challenges and goals, like creating a competitor to GPT-3, can lead to significant advancements and spinoff technologies. India should have a few moon shot scale technology projects to capture the imagination of its young people and provide funding and intellectual property benefits. The defense community in India understands the importance of strategic thinking and developing their own technologies. To create futuristic thinkers, encourage young people to engage in meditation, reading, and studying. Our culture should value courageous individuals who stick their necks out and argue in a civil and courteous manner. It is important to be emotionally tough and realistic in facing adversity. Democracy can be a luxury that India cannot afford in the short term.
Dive Deeper: Source Material
---
5. India's future lies in the hands of its young leaders, but borders pose economic risks.
The younger generation of corporate leaders in India, influenced by the internet and podcasts, hold the key to the country's future. However, India's large hostile borders with Pakistan and China pose a significant risk to its GDP, as the country spends a significant amount on weapons and petroleum. The concept of borders may change in the future, and the takeover of mountain areas by China has implications for the economy.
Dive Deeper: Source Material
---
6. COVID-19 may be a man-made virus, with potential for biological warfare and AI advancements.
The concept of COVID-19 being a man-made virus is a topic of interest and debate, with the Chinese having a genetic mapping of different populations that allows them to create biological weapons targeting specific groups. It is believed that the virus may have been an accidental leak from a research facility, rather than a deliberate release. The capability to create and manipulate genetic mutations exists, and this knowledge is rapidly expanding. The intersection of biology and artificial intelligence holds great promise for advancements in medicine and interventions. India has the potential to be a leader in this field by setting ambitious targets and investing in research and development.
Dive Deeper: Source Material
---
7. Understanding AI and social media's impact on behavior and education.
The future of education and the country's development are significantly influenced by AI and social media. These platforms, like Facebook, are gamified, with rewards and punishments for certain behaviors. This has a profound impact on our behavior and thinking, often without our realization. It's crucial to understand and address this issue. Additionally, the internet can be a powerful tool for education, but it's important to ensure that students use it for serious learning and not just entertainment. Creating products that teach and entertain can make learning fun and engaging. The concept of gamification can also be applied to education, making it more enjoyable and effective.
Dive Deeper: Source Material
---
---
💡 Actionable Wisdom
Transformative tips to apply and remember.
Take the time to engage in philosophical inquiry and explore spiritual traditions to deepen your understanding of the ultimate reality. Stay informed about the advancements in AI and their impact on society, and advocate for ethical use and equal access to technology. Celebrate entrepreneurship and support venture capital investments in your community. Foster a culture of courageous dialogue and encourage young people to pursue meditation, reading, and studying. Be aware of the influence of social media and gamification on your behavior, and use the internet as a tool for meaningful learning.
---
📽️ Source & Acknowledgment
This post summarizes BeerBiceps's YouTube video titled "Man Made Virus, Intention behind it, Modern Wars & More ft. Rajiv Malhotra | The Ranveer Show 134". All credit goes to the original creator. Wisdom In a Nutshell aims to provide you with key insights from top self-improvement videos, fostering personal growth. We strongly encourage you to watch the full video for a deeper understanding and to support the creator.
---