BeerBiceps
Saket Modi Explains Behind the Scenes of Blockchain, Web3, Crypto World | The Ranveer Show 204
Demystifying Blockchain, Web3, and the Metaverse.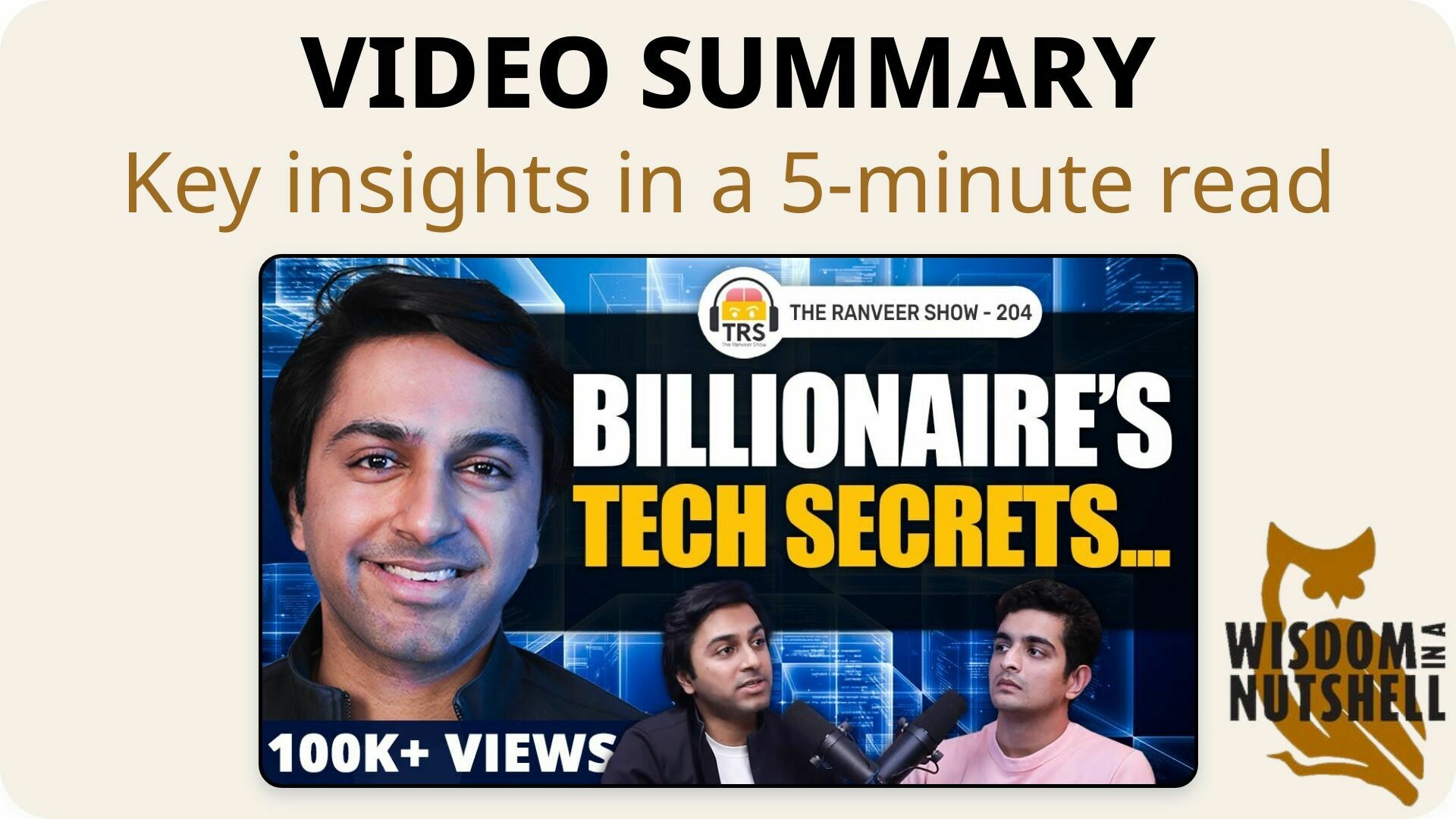 🌰 Wisdom in a Nutshell
Essential insights distilled from the video.
---
---
📚 Introduction
In this blog post, we will explore the fascinating world of blockchain, Web3, and the metaverse. We will discuss the concepts, technologies, and their implications for the future. Get ready for a deep dive into the future of technology and its potential to reshape our lives.
---
🔍 Wisdom Unpacked
Delving deeper into the key ideas.
1. Blockchain and Web3 are the future of technology, with Ethereum and Bitcoin key players.
The future of technology is centered around blockchain technology and Web3, with the Ethereum network and Bitcoin playing significant roles. The metaverse, a virtual world, is also gaining attention. Understanding these concepts requires a deep understanding of technology, which is provided by special souls like Saqib Modi. This episode is recommended for those interested in learning more about blockchain and Web.
Dive Deeper: Source Material
---
2. Blockchain technology is a decentralized, distributed system for recording transactions.
Blockchain technology is a distributed, decentralized, and shared system that records transactions in a chain of blocks. It is a fundamentally different way of looking at peer-to-peer connectivity and communication. The total number of bitcoins is capped at 21 million, and each transaction is recorded in a block, which is a cryptographic key. The blockchain is decentralized, meaning there is no central authority controlling it, but there are still a group of people who control the first principles of how it operates. The blockchain has a limit on the number of transactions per second, which can slow down transactions. To speed up transactions, users can pay more transaction fees. Blockchain technology is used to build decentralized applications, such as web3 products.
Dive Deeper: Source Material
---
3. Web 3.0 shifts data storage and processing to decentralized networks, enhancing privacy and security.
The transition from web 2.0 to web 3.0 is characterized by the shift from centralized to decentralized data storage and processing, providing users with more privacy and security. This includes the encryption of data, making it inaccessible to social media platform owners, and the processing of data at multiple nodes, eliminating data correlation and tracking. This shift also leads to the emergence of niche-based domains, as social media platforms will need to develop depth and transparency. The future of social media is uncertain, but it is likely that meaningful connections will become more important.
Dive Deeper: Source Material
---
4. Cryptocurrencies are based on work, but value is influenced by hype and manipulation.
Cryptocurrencies like Bitcoin and Ethereum are based on the theory of work, where miners solve complex mathematical puzzles to validate transactions and create new blocks in the blockchain, earning more cryptocurrencies in the process. However, the value of these currencies is also influenced by hype and herd mentality. Ethereum, a blockchain technology, allows developers to build programs on it, enabling a wide range of transactions beyond financial ones. The future of Web 3.0 is about anonymity and manipulation, where data about individuals can be used to predict and control their behavior. Ethereum coins incentivize users to store data and use their processing power. The transition of Facebook to Meta is also related to the metaverse and NFTs, which are part of the cryptocurrency ecosystem.
Dive Deeper: Source Material
---
5. Deep exploration of complex topics leads to deeper understanding and personal growth.
The journey of exploring complex topics like web 3.0, deep and dark web, and blockchain should be a deep and immersive one. It's important to delve into the technical aspects and not settle for a superficial understanding. This approach not only makes you a more knowledgeable person but also a changed individual. It's a faster way to gain a deeper understanding. Feedback on these types of episodes with thought leaders and powerful minds is welcomed.
Dive Deeper: Source Material
---
---
💡 Actionable Wisdom
Transformative tips to apply and remember.
To stay ahead in the rapidly evolving world of technology, take the time to understand complex concepts like blockchain, Web3, and the metaverse. Dive deep into the technical aspects and explore their potential applications. Embrace the future of decentralized systems and be open to the possibilities they offer. Your knowledge and understanding will be invaluable in navigating the digital landscape.
---
📽️ Source & Acknowledgment
This post summarizes BeerBiceps's YouTube video titled "Saket Modi Explains Behind the Scenes of Blockchain, Web3, Crypto World | The Ranveer Show 204". All credit goes to the original creator. Wisdom In a Nutshell aims to provide you with key insights from top self-improvement videos, fostering personal growth. We strongly encourage you to watch the full video for a deeper understanding and to support the creator.
---