BeerBiceps
SECRETS Of The Universe With Dr. Annapurni Subramaniam: Life On Mars & More | The Ranveer Show 345
Exploring the Wonders of Science and Astrophysics.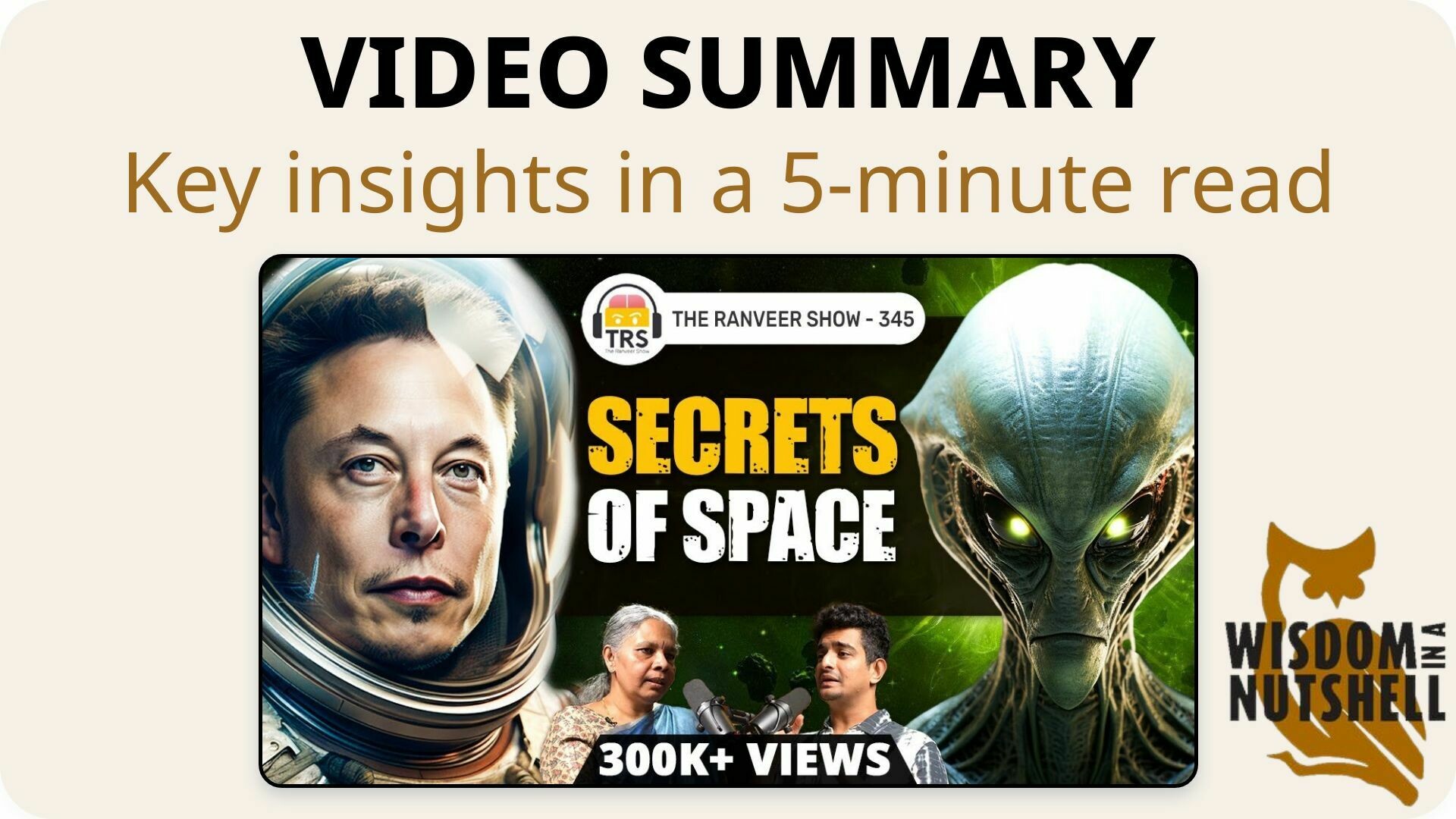 🌰 Wisdom in a Nutshell
Essential insights distilled from the video.
---
---
📚 Introduction
Science and astrophysics are fascinating fields that offer a deeper understanding of the universe and our place in it. In this blog post, we will delve into various topics, including the alignment of Orion's belt and the pyramids, the study of celestial objects and phenomena, the future of space exploration, the mysteries of black holes, the possibility of time travel and wormholes, and the potential for human colonization of other planets. Get ready to embark on a journey of discovery and awe-inspiring knowledge!
---
🔍 Wisdom Unpacked
Delving deeper into the key ideas.
1. Orion's belt and pyramids align with Nile floods, revealing ancient astronomical knowledge.
The alignment of Orion's belt and the pyramids in Egypt is believed to be related to the flooding of the Nile. The pyramids were constructed to point towards Orion's belt, and there is a specific hole in the pyramids that aligns with Orion's rising in the east. This alignment is believed to indicate when the Nile floods. The connection between Orion and the pyramids is fascinating and provides insight into the ancient Egyptian calendar and their understanding of the stars. Astrophysics is the study of celestial objects and phenomena, and black holes are objects with such high density that light cannot escape. They can be detected indirectly by observing the movement of stars around them.
Dive Deeper: Source Material
---
2. Astrophysics combines astronomy and physics to understand celestial bodies and their patterns.
Astrophysics, a combination of astronomy and physics, involves understanding celestial bodies and their patterns. It extends beyond our solar system to study nearby stars, galaxies, and the universe's beginning. To determine the existence of other planets, astronomers use mathematical models and observations, comparing predicted orbits with actual data. They also use highly precise measurements, such as observing the wobble of stars caused by unseen planets, and the transit method, where a planet passes in front of a star, causing a small decrease in brightness. Despite our advanced technology, there are still limitations to our current mathematical methods and understanding of our own solar system.
Dive Deeper: Source Material
---
3. Space exploration is evolving, with opportunities for individual contributions and applications in various fields.
The field of space exploration is rapidly evolving, with opportunities for individuals to contribute to their country's space agency and government. The development of rockets, propulsion systems, and communication networks is underway, with a focus on electric propulsion. The technology and techniques developed in space tech can be applied to various areas, including astronomy. The field is fascinating but requires hard work, iterations, and a willingness to face failures and learn from them. The government's control over space exploration is being challenged by the industry, with multiple agencies and individuals needed to support multiple missions and establish communication networks. The communication networks for spacecraft are complex and require collaboration with NASA, ESA, and other organizations. The DART mission by NASA successfully deviated the path of an asteroid, highlighting the importance of space tech in preventing potential impacts on Earth.
Dive Deeper: Source Material
---
4. Black holes, a potential gateway to other dimensions, are studied by scientists.
The concept of time travel and wormholes, explored in science fiction, is currently being studied by scientists. Black holes, massive objects with high density, are believed to be a possible gateway to other dimensions. Scientists study black holes by observing the movement of stars around them. The study of black holes involves both theoretical and experimental approaches, with the Nobel Prize being awarded to both sets of people in the past. Astronomy, a painstaking field, requires years of data collection and analysis. The study of black holes has been fascinating for various reasons, including the potential for human civilization to explore other planets and galaxies in the future.
Dive Deeper: Source Material
---
5. Mars colonization is feasible, but requires safety testing and material development.
The possibility of colonizing other planets, specifically Mars, is within the next 20 to 30 years. The moon is seen as a resource center, while terraforming Mars is more feasible. Heating up a planet and creating oxygen and nitrogen are necessary for terraforming. The first mission to Mars will take longer due to safety concerns and testing, with multiple experiments and data collection required before humans can set foot on the planet. The idea of a dome on Mars is being explored, but the material and technology for it are still being developed.
Dive Deeper: Source Material
---
6. Maturing is a journey of personal growth, enjoy the process.
Maturing is a journey of personal growth, and it's important to have fun and enjoy the process. This is highlighted in the context of discussions on science and astrophysics, which are of great interest and close to the heart. If you have any recommendations for scientists you'd like to see on TRS, please let me know.
Dive Deeper: Source Material
---
---
💡 Actionable Wisdom
Transformative tips to apply and remember.
Take a moment each day to appreciate the wonders of the universe and engage in activities that spark your curiosity. Whether it's stargazing, reading about scientific advancements, or watching educational videos, nurturing your interest in science and astrophysics can be a source of inspiration and personal growth.
---
📽️ Source & Acknowledgment
This post summarizes BeerBiceps's YouTube video titled "SECRETS Of The Universe With Dr. Annapurni Subramaniam: Life On Mars & More | The Ranveer Show 345". All credit goes to the original creator. Wisdom In a Nutshell aims to provide you with key insights from top self-improvement videos, fostering personal growth. We strongly encourage you to watch the full video for a deeper understanding and to support the creator.
---