BeerBiceps
Self Made Media Crorepati - Sahil Khattar On His 5 Simple Success Secrets | 83 | The Ranveer Show 51
Insights from Various Industry Professionals.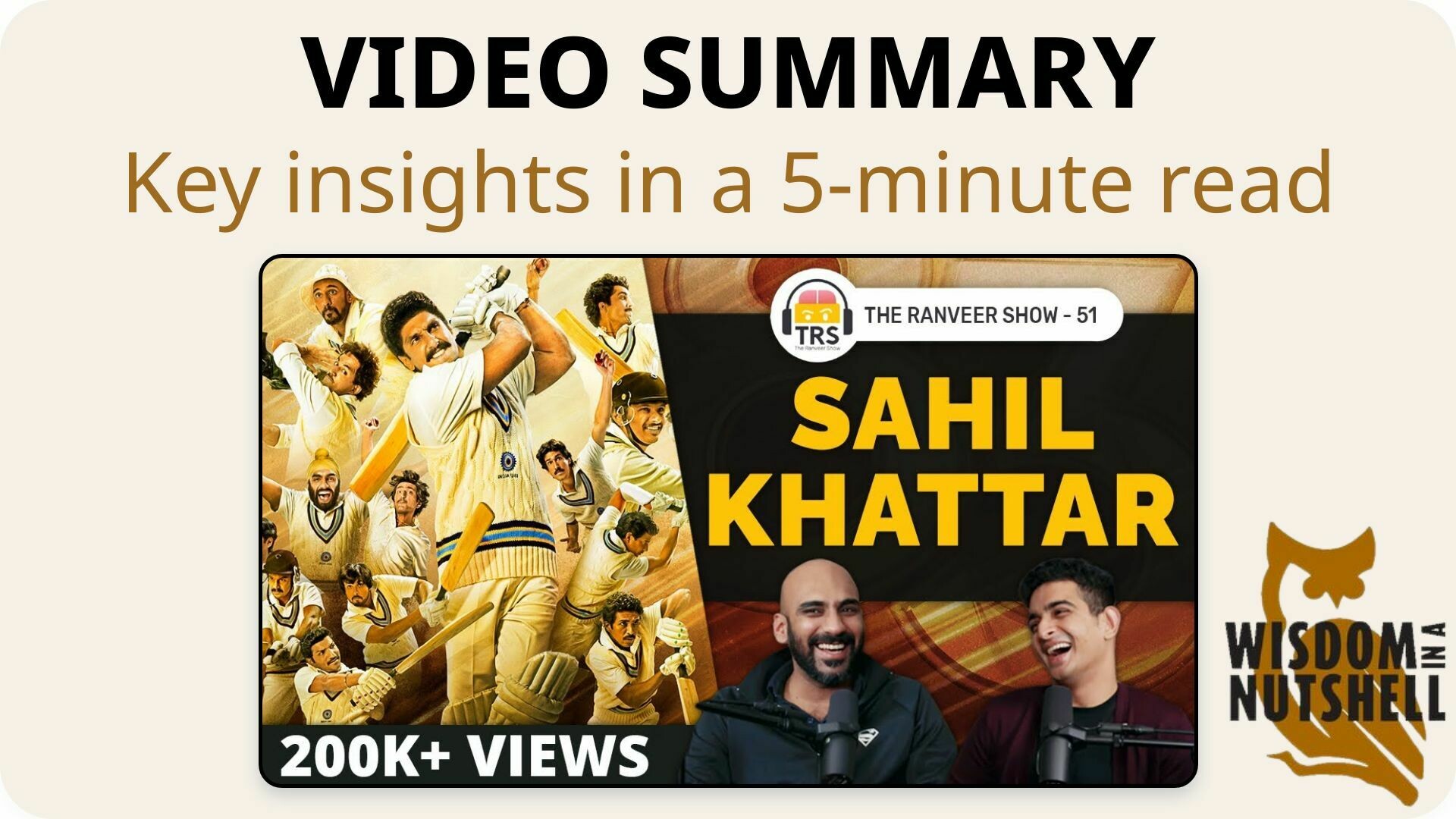 🌰 Wisdom in a Nutshell
Essential insights distilled from the video.
---
---
📚 Introduction
In the fast-paced and competitive world of entertainment and media, success is often a result of hard work, perseverance, and a unique approach. This blog post explores the journeys and insights of industry professionals who have achieved success in their respective fields. From understanding the importance of mindset and work ethic to embracing new platforms and techniques, these professionals share valuable lessons that can inspire and guide aspiring individuals in the industry.
---
🔍 Wisdom Unpacked
Delving deeper into the key ideas.
1. Enter rooms with a mindset of hard work and positivity.
The mindset of being the hardest worker and being positive are crucial when entering a room, especially in a competitive industry. It's important to approach your own work with care and attention to detail, while also being aware of the industry you're in. This mindset can help you stand out and achieve success.
Dive Deeper: Source Material
---
2. Perseverance, hard work, and focus are key to success in the entertainment industry.
The journey to success in the entertainment industry involves perseverance, hard work, and patience. It often starts with exploring different interests and finding one's calling, as in the case of the speaker, who transitioned from theater and roller hockey to television and film. The industry offers significant financial rewards, especially for hosts of TV shows, but it's important to stay focused and avoid distractions. The speaker's journey, which included working in different parts of the UK, highlights the importance of taking advantage of opportunities to learn and grow.
Dive Deeper: Source Material
---
3. Balancing personal goals and industry expectations, using talent to shoulder projects.
The speaker, a performer, aims to reach the level of success achieved by actors like Adam Sandler, Sasha Baron Cohen, and Sean Penn. They believe in staying true to themselves and finding a balance between what others expect and what they want to do. They have changed their management to someone who understands scripts and can vet them. They want to break the notion that a certain look is necessary for success in the film industry, using their talent to shoulder projects. They believe films offer a different kind of high that they enjoy, and they see the future in films, not in digital or television.
Dive Deeper: Source Material
---
4. Understanding human psychology and behavior can be enhanced through NLP and social cues.
Understanding human psychology and behavior can be enhanced through techniques like NLP, which involves framing questions and influencing thoughts. This can be applied in various contexts, such as advertising and social interactions. The physical and social cues of a person, such as their Instagram energy and captions, can reveal a lot about their personality. It's important to value experiences and not just money in the media industry, and to test social skills techniques to know when they may not work. Developing social skills involves learning from various sources, including psychology content, body language content, and social tricks like the push-pull technique.
Dive Deeper: Source Material
This summary was generated from the following video segments. Dive deeper into the source material with direct links to specific video segments and their transcriptions.
| Segment | Video Link | Transcript Link |
| --- | --- | --- |
| His Being Indian Story | 🎥 | 📄 |
| About social skills | 🎥 | 📄 |
| Ranveer on how to analyse others mind through Instagram | 🎥 | 📄 |
---
5. Find your path, work hard, and embrace interconnectedness for success.
The path to achieving your goals, whether in comedy or any other field, involves finding your own path, working hard, and being open to learning from mistakes. It's important to understand the vibe of a room and be in the right mood to contribute to humor. The six degrees of separation theory highlights the interconnectedness of the world, showing that anyone can make connections and get into the media industry with the right mindset and hustle. Combining natural talent with hard work and smart work is key to success, as it's the core of success at all stages.
Dive Deeper: Source Material
---
6. Media platforms will coexist, transcending boundaries and reaching wider audiences.
The future of media platforms is not a zero-sum game, where one platform's success comes at the expense of another. Instead, they will coexist and continue to thrive. The idea is to coexist and not put anyone down. While some platforms may gain more popularity, others will still have their own space. For example, TikTok may be the next big thing, but television and films are already established. Shows on digital platforms can later be taken by television, and vice versa. Content can transcend boundaries and reach a wider audience. It's important for a college kid entering the media industry to understand this and not be confused about the future of different platforms.
Dive Deeper: Source Material
---
---
💡 Actionable Wisdom
Transformative tips to apply and remember.
Embrace the mindset of being the hardest worker and approach your work with care and attention to detail. Stay true to yourself and find a balance between others' expectations and your own aspirations. Continuously learn and develop your social skills to navigate the industry effectively. Remember that success is a combination of natural talent, hard work, and smart work. Lastly, understand that the future of media platforms is about coexistence and not competition, so be open to exploring different platforms and mediums.
---
📽️ Source & Acknowledgment
This post summarizes BeerBiceps's YouTube video titled "Self Made Media Crorepati - Sahil Khattar On His 5 Simple Success Secrets | 83 | The Ranveer Show 51". All credit goes to the original creator. Wisdom In a Nutshell aims to provide you with key insights from top self-improvement videos, fostering personal growth. We strongly encourage you to watch the full video for a deeper understanding and to support the creator.
---