BeerBiceps
Taapsee Pannu's Unstoppable Drive For Career, Success & Work-Life Balance | The Ranveer Show 146
Insights from Various Topics.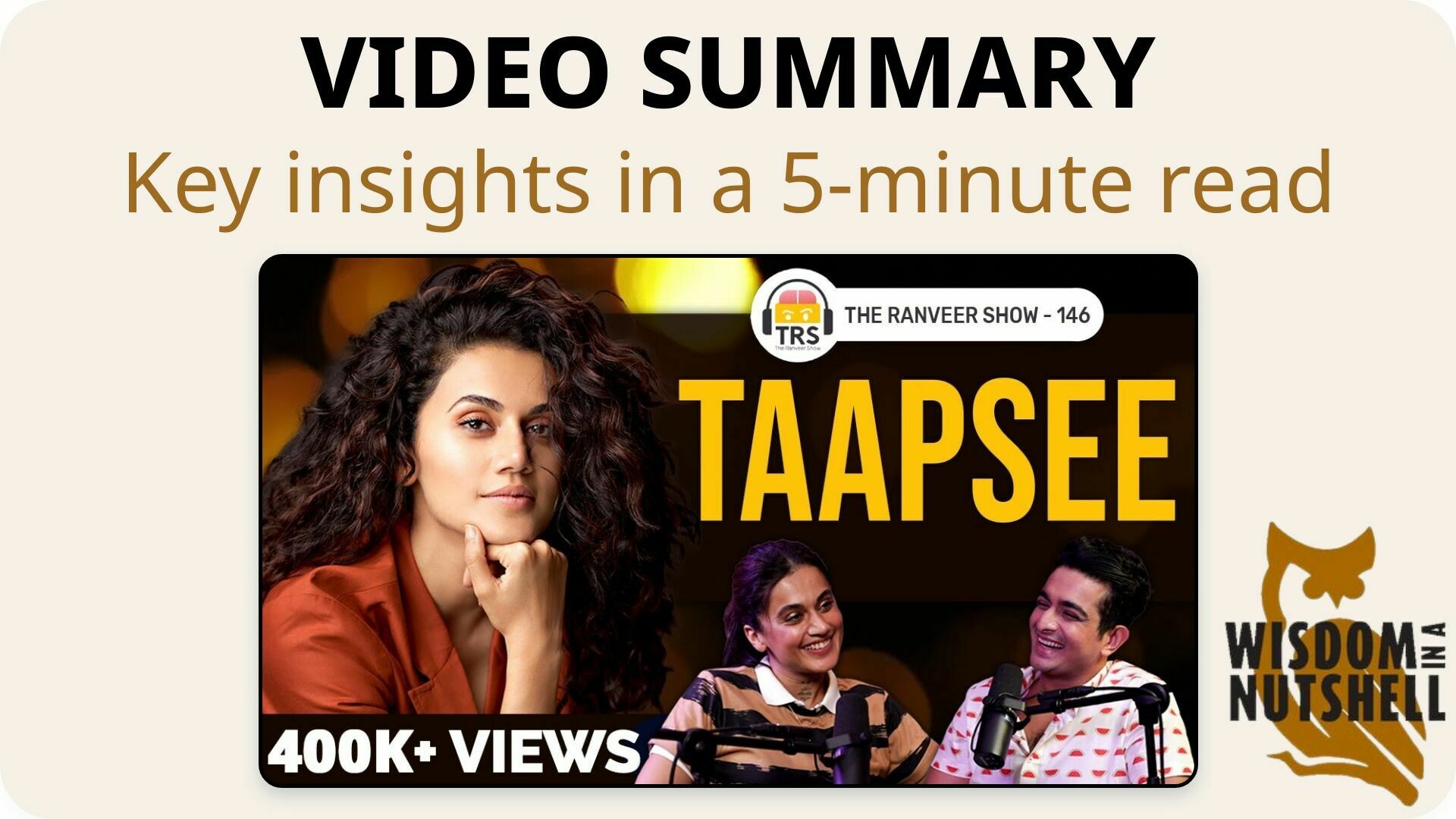 🌰 Wisdom in a Nutshell
Essential insights distilled from the video.
---
---
📚 Introduction
In this blog post, we will explore insights from various topics, including the Indian film industry, entrepreneurship, role preparation, the city of Mumbai, and the perception of Indian cinema and stars. These insights provide valuable lessons and perspectives on different aspects of life and career. Let's dive in and uncover the wisdom shared by the speakers.
---
🔍 Wisdom Unpacked
Delving deeper into the key ideas.
1. Balance work and personal life, focus on short-term goals, and prioritize unique roles for success.
The Indian film industry is fast-paced and competitive, with actors constantly seeking their next project. However, not everyone is in a rush, with some actors choosing to wait for the right opportunities and prioritizing unique roles. The journey to success is long and challenging, but actors now have the luxury of choosing from good scripts. They also aspire to have a more relaxed lifestyle and focus on one project a day. The key to success is to focus on the next month or a few weeks at most, rather than looking too far ahead. It's also important to maintain a balance between work and personal life, as seen in actors like Akshay Kumar and Taapsee Pannu.
Dive Deeper: Source Material
---
2. Entrepreneurship is influenced by family history, personal experiences, and significant events.
The journey of entrepreneurship often begins with a desire for freedom and autonomy. This desire can be influenced by family history and personal experiences. For instance, a speaker's grandfather was an entrepreneur, but their father chose a safer route. This led the speaker to pursue business, seeking more control over their life. The journey can also be shaped by significant events, such as a project submission in engineering college that led to the creation of an app. This experience not only taught the speaker about software engineering but also instilled a sense of entrepreneurial spirit.
Dive Deeper: Source Material
---
3. Physical transformation for a role demands mental and physical discipline.
The process of preparing for a role, especially one that requires a high level of physical fitness, can be challenging and demanding. It involves a significant transformation, both physically and mentally, which can be stressful and affect one's mood. The need to constantly switch between different aspects of oneself can be exhausting and impact mental health. However, the rewards of this process can be significant, leading to personal growth and a deeper understanding of oneself. It's important to prioritize sleep, maintain a consistent routine, and have a supportive team to help navigate these challenges.
Dive Deeper: Source Material
---
4. Mumbai's city of dreams fosters independence, ambition, and creativity.
The city of Mumbai, known as the city of dreams, is a hub for aspiring actors and actresses. It's a place where people from outside the city, especially women, feel more independent and empowered. However, there's a pressure on men to provide for their families, which can lead to a sense of burden and pressure. Living alone in Mumbai can teach one about independence and self-reliance, which is crucial for success. India, a diverse country, has different cultures within it, each with their own traits. While every culture has positives and negatives, it's important to channel aggression into creativity and not direct it towards oneself. The energy of this conversation has been ambition, and the guest's positive aggression and ambition are contagious.
Dive Deeper: Source Material
---
5. Adapting to changing perceptions and social media's influence on our views.
The perception of Indian cinema and stars has shifted, with audiences now seeking approachability, humility, and relatability. Social media has played a role in this change, allowing audiences to get to know celebrities on a personal level. Actors are now seen as representatives of the audience's thinking, and their content and characters are more important than their social media presence. However, the scrutiny and expectations that come with being an actor can be challenging. It's important to handle criticism and trolling in a balanced way, recognizing that most trolling is virtual and not representative of real life. The algorithms used by Big Tech companies can also influence our views, leading to increased polarization and hatred. To protect ourselves, we need to be aware of these algorithms' impact and take social media detoxes. The industry, including Bollywood, is not all good or all bad, and it's important to see the grey areas and not abuse others for their opinions.
Dive Deeper: Source Material
---
---
💡 Actionable Wisdom
Transformative tips to apply and remember.
Take a social media detox regularly to protect your mental well-being and avoid getting influenced by polarizing views. Focus on the content and characters you create in your life, as they define your true impact. Embrace the journey of entrepreneurship, even if it means stepping out of your comfort zone, and seek a balance between work and personal life. Remember that success is not just about the destination but also about the choices you make along the way. Prioritize self-care and surround yourself with a supportive team to navigate challenges and foster personal growth.
---
📽️ Source & Acknowledgment
This post summarizes BeerBiceps's YouTube video titled "Taapsee Pannu's Unstoppable Drive For Career, Success & Work-Life Balance | The Ranveer Show 146". All credit goes to the original creator. Wisdom In a Nutshell aims to provide you with key insights from top self-improvement videos, fostering personal growth. We strongly encourage you to watch the full video for a deeper understanding and to support the creator.
---