BeerBiceps
The BeerBiceps Startup Story ft. Viraj Sheth & Ranveer Allahbadia | The Ranveer Show 01
The Journey of Monk Entertainment and the Power of Personal Growth.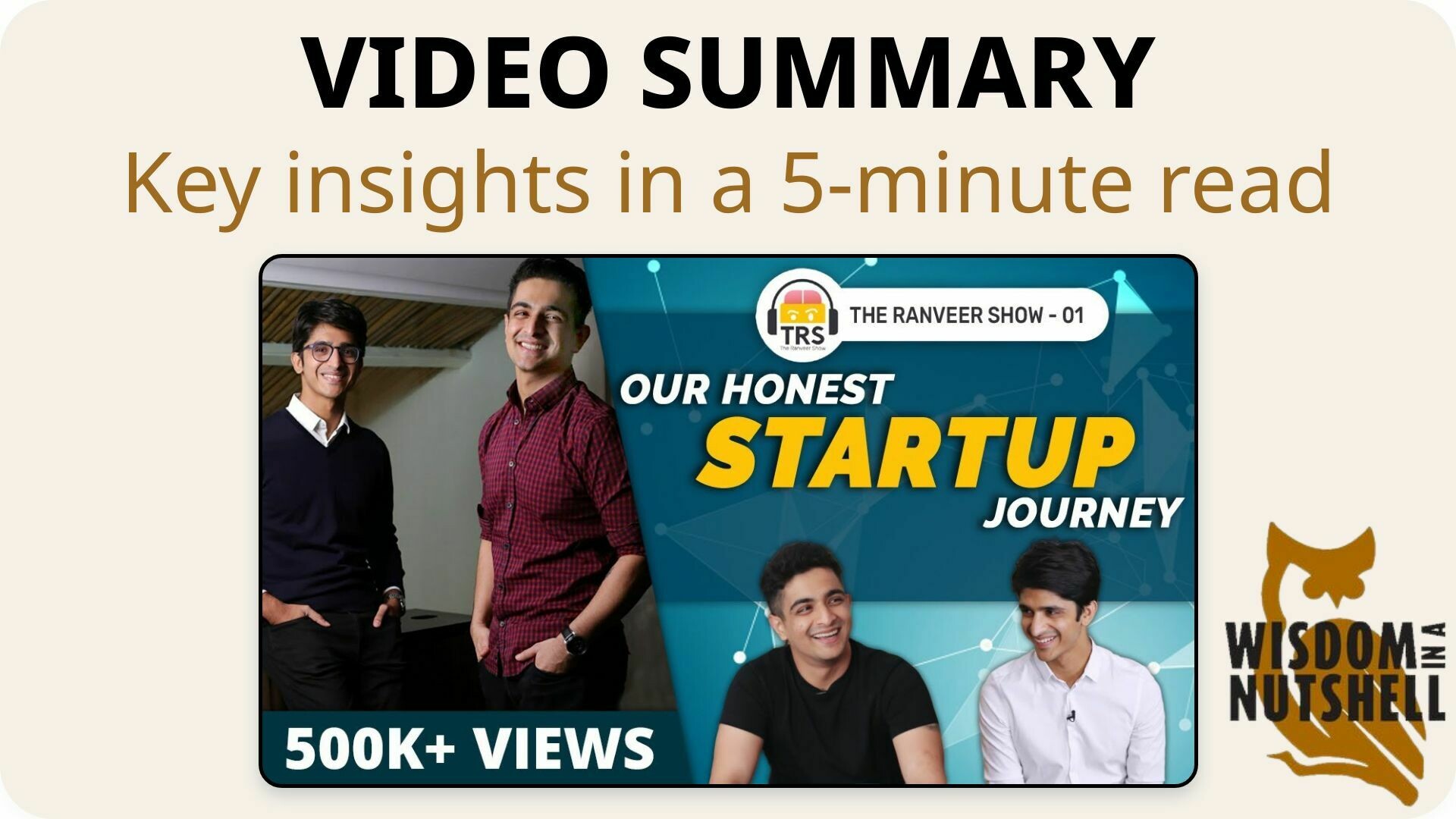 🌰 Wisdom in a Nutshell
Essential insights distilled from the video.
---
---
📚 Introduction
Monk Entertainment, founded by Ranveer Alabadia and Viraj Shait, is a company that aims to bridge the gap between talents and brands. Their journey is filled with valuable lessons and insights into the world of business and personal growth. From self-taught learning and taking risks to building a successful company, they have experienced it all. In this blog post, we will explore their inspiring journey and uncover the power of personal growth in achieving success.
---
🔍 Wisdom Unpacked
Delving deeper into the key ideas.
1. Monk Entertainment aims to bridge talent-brand gap, build sustainable legacy.
Monk Entertainment, a company founded by Ranveer Alabadia and Viraj Shait, aims to bridge the gap between talents and brands by providing strategies for collaboration and offering services like social media management and video production. The company's future goal is to build a sustainable legacy, expand its team, and open more verticals. The founders' motivation comes from the potential to create leaders, employment opportunities, and contribute to the nation's growth. The company's success is also driven by the founders' personal experiences and failures in college, which have taught them valuable lessons.
Dive Deeper: Source Material
---
2. Self-taught learning, calculated risks, and networking can lead to success.
The journey to success often involves self-taught learning and taking calculated risks. Cold emailing and networking can be effective in reaching out to potential clients or partners. In the case of Viraj, he started by reaching out to CEOs and eventually caught the wave of money in the YouTubing game. He is now the leader of both Bea Bison and Monk Entertainment, and is known for his hard work and dedication. He believes in keeping the creative aspects of the business active while handling the logistical and administrative tasks. His self-taught approach is an inspiration for many young creatives.
Dive Deeper: Source Material
---
3. Success in business requires a mindset of learning, adapting, and adding value.
The key to success in business is a combination of mindset, consistency, and a willingness to learn and adapt. It's crucial to maintain a beginner's mindset, avoid complacency, and consistently add value. When selecting a co-founder, consider technical expertise, network, and financial contribution. Co-founders bring unique values and set the tone for the organization's culture and work ethic. It's important to have aligned long-term goals and be open to disagreements, as they can lead to better decision-making. Consistency and a long-term vision are key to success, and it's important to start and keep executing, even in the face of challenges.
Dive Deeper: Source Material
---
4. Confidence, value, and empathy are key to personal growth and business success.
The journey of personal growth and business success involves gaining confidence, valuing oneself, and adding value to others. It's about faking confidence until it becomes genuine and understanding the needs and challenges of others. Building emotional connections and being a person of value leads to more opportunities and financial success. This journey also involves meeting accomplished people and gaining their expertise and wisdom, which is a privilege at a younger age. The key is to know your stuff and believe in yourself.
Dive Deeper: Source Material
---
5. Learning and scaling up involve problem-solving, team building, and quality work.
The process of learning new things is a step-by-step journey, starting with personal experiences and expanding to helping others. It's important to focus on the core problem-solving agenda, building a team, networking, and delivering quality work to scale up. Don't be overwhelmed by business stories; instead, read between the lines and extract the key insights.
Dive Deeper: Source Material
---
---
💡 Actionable Wisdom
Transformative tips to apply and remember.
Embrace self-taught learning, take calculated risks, and never stop adding value. Surround yourself with a supportive team and stay consistent in pursuing your long-term vision. Believe in your abilities and be open to learning from others. Remember, personal growth is a continuous journey that leads to both professional and personal success.
---
📽️ Source & Acknowledgment
This post summarizes BeerBiceps's YouTube video titled "The BeerBiceps Startup Story ft. Viraj Sheth & Ranveer Allahbadia | The Ranveer Show 01". All credit goes to the original creator. Wisdom In a Nutshell aims to provide you with key insights from top self-improvement videos, fostering personal growth. We strongly encourage you to watch the full video for a deeper understanding and to support the creator.
---