BeerBiceps
Truths About Hinduism - Black Magic, Rebirth & Ghosts ft. Devdutt Pattanaik | The Ranveer Show 143
Exploring Indian Culture, Hinduism, and Mythology: A Journey of Wisdom and Growth.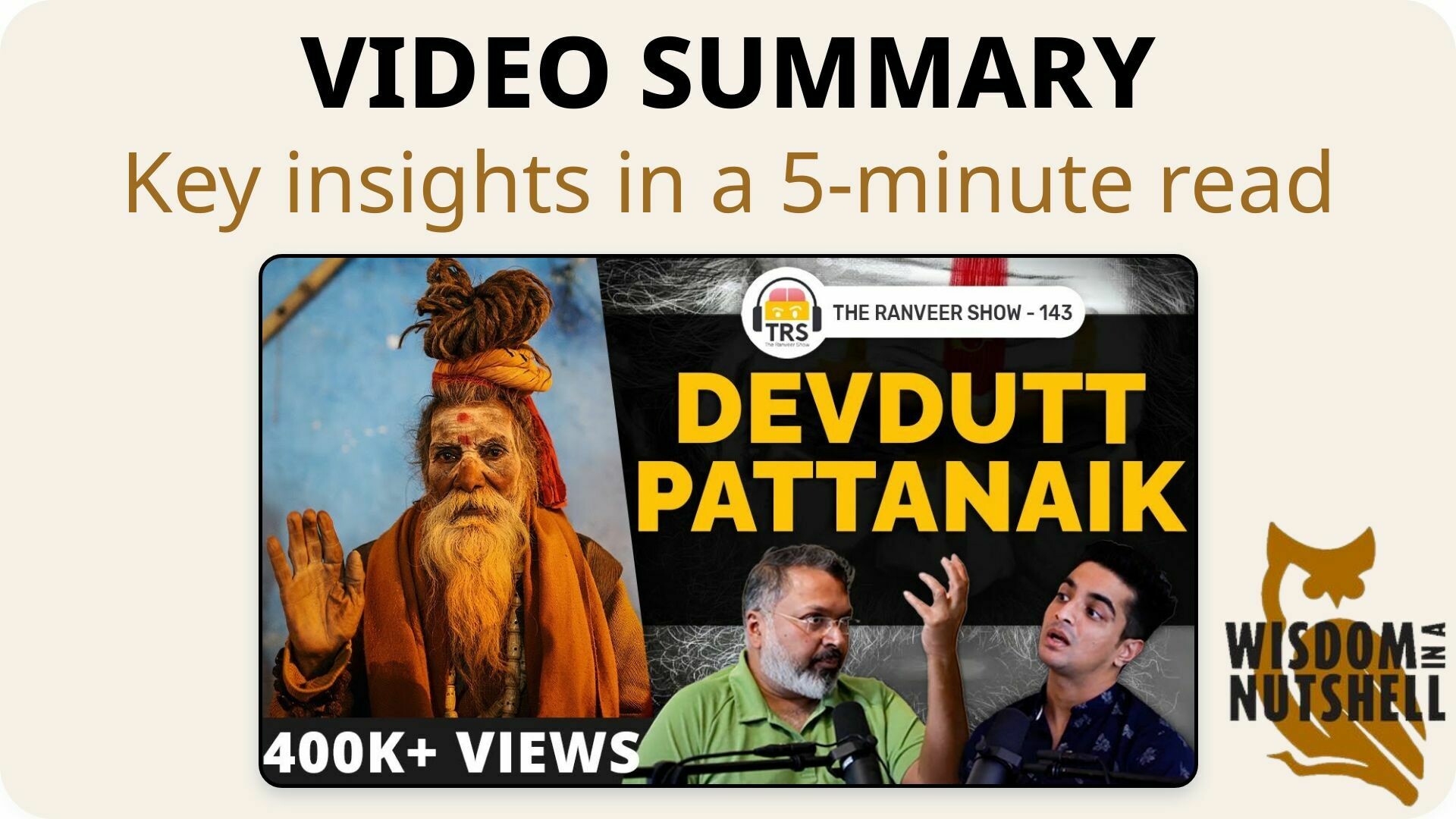 🌰 Wisdom in a Nutshell
Essential insights distilled from the video.
---
---
📚 Introduction
In this blog post, we delve into the fascinating world of Indian culture, Hinduism, and mythology, as we uncover the wisdom and lessons they offer for personal growth and understanding the human experience.
---
🔍 Wisdom Unpacked
Delving deeper into the key ideas.
1. Expanding perspectives on Indian culture and language can enrich our understanding and problem-solving abilities.
Devdutt Patnaik, a renowned author and historian, discusses Indian culture, Hinduism, and Hindu philosophy, highlighting the importance of expanding perspectives. He believes that every language brings its own magic and that speaking both languages feeds off each other. He also emphasizes the value of learning about Indian culture, which is deep and limitless. He brings ancient culture to the modern world, making it relevant and applicable to everyday life.
Dive Deeper: Source Material
---
2. Indian mythology views suffering as a result of past actions, not evil.
Indian mythology, unlike Western mythologies, does not have a concept of evil, instead viewing negative experiences as a result of past actions. The idea of evil is symbolized by beings like Asuras and Rakshasas, representing the tension between different beings and the negative influences in our lives that bring suffering and consume our energy. Different cultures have different concepts and ways of looking at the world, with examples like Agaris and Kala Jadu in India. There are also individuals who don't fit into society and seek alternative lifestyles, like the Aharas in India, who value freedom and find spiritual answers.
Dive Deeper: Source Material
---
3. Mythology is a form of storytelling, not historical fact, inspiring imagination and technology.
The concept of mythology, often misunderstood as historical fact, is a form of storytelling that has evolved over time. It serves as a way to connect with each other and inspire us. The power of imagination, not limited by reality, has led to the creation of technology. The stories and myths of ancient civilizations, such as the Harappa, are around 4,500 years old, not 10,000 years old. These stories and myths, like the Brahmastra, exist only in our imagination and do not require belief in their existence. The power of imagination is what sets humans apart, and it is through imagination that we have been able to create technology. The obsession with saving the world in American superhero movies stems from the idea of Jesus saving the world. Indians do not have the concept of a savior. The popularity of alien stories in America is a reflection of their fascination with the unknown. However, in India, these ideas are not as popular, as Bollywood focuses more on superhero movies.
Dive Deeper: Source Material
---
4. Hinduism's unique practices and ideas foster inclusivity and spiritual growth.
Hinduism, a unique set of ideas, is characterized by the use of thali and the practice of eating by hand, setting India apart. It allows for the coexistence of multiple ideas, including monotheism, polytheism, atheism, and agnosticism. The Vishnu Puran, a Hindu text, explores the creation of Vishnu Bhagwan, Brahma Shiva, and the divine feminine energy, representing the conflict between material and spiritual journeys. The concept of rebirth is a Hindu belief that we are born again in different forms, helping us understand life. The concept of avatars, adaptations of knowledge to solve specific problems, is not about superheroes but about customizing knowledge. The stories of Hinduism convey valuable knowledge and lessons for daily life. The concept of justice and property, though not real, are cultural frameworks that create a civilized society.
Dive Deeper: Source Material
---
5. Beliefs shape our world, but respect for different perspectives is crucial.
The concept of 'fictions' or 'myths' shapes our world, often based on beliefs that are not necessarily true but are meaningful to individuals. This idea is explored in Yuval Noah Harari's book 'Sapiens', which suggests that these beliefs, whether religious or cultural, are not inherently good or bad. However, some critics argue that Harari's approach is disrespectful to people's beliefs. The Buddhist concept of 'Shunya' suggests that nothing really matters and that we give meaning to things, while the Hindu concept of 'mithya' means an incomplete truth. The idea that the world is based on imagination and that different ideas are not inherently good or bad is a central theme in Harari's work, but is seen as nihilistic and disrespectful by some.
Dive Deeper: Source Material
---
6. Empathy, learning, and sharing are key to personal growth and wisdom.
The essence of personal growth and wisdom lies in empathy, learning, and sharing. Empathy, often overlooked, is a crucial aspect of communication and understanding others. It is embedded in the idea of exchange and is essential for personal progress. The process of personal growth is influenced by observing and understanding others, and it is important to develop the wisdom to overcome insecurities and understand others' hunger and insecurities. Mythology, a rich source of empathy and collaboration, should be a part of school education to foster these qualities.
Dive Deeper: Source Material
---
---
💡 Actionable Wisdom
Transformative tips to apply and remember.
Take a moment each day to explore a different culture, mythology, or philosophy. This will expand your perspective, foster empathy, and provide valuable insights for personal growth. Remember, wisdom is not limited to one source, but can be found in the diversity of human experiences.
---
📽️ Source & Acknowledgment
This post summarizes BeerBiceps's YouTube video titled "Truths About Hinduism - Black Magic, Rebirth & Ghosts ft. Devdutt Pattanaik | The Ranveer Show 143". All credit goes to the original creator. Wisdom In a Nutshell aims to provide you with key insights from top self-improvement videos, fostering personal growth. We strongly encourage you to watch the full video for a deeper understanding and to support the creator.
---