BeerBiceps
UNKNOWN & Unexplored Side Of The Creator Economy ft. Viraj Sheth | The Ranveer Show 171
Insights from The Ranveer Show and Personal Experiences.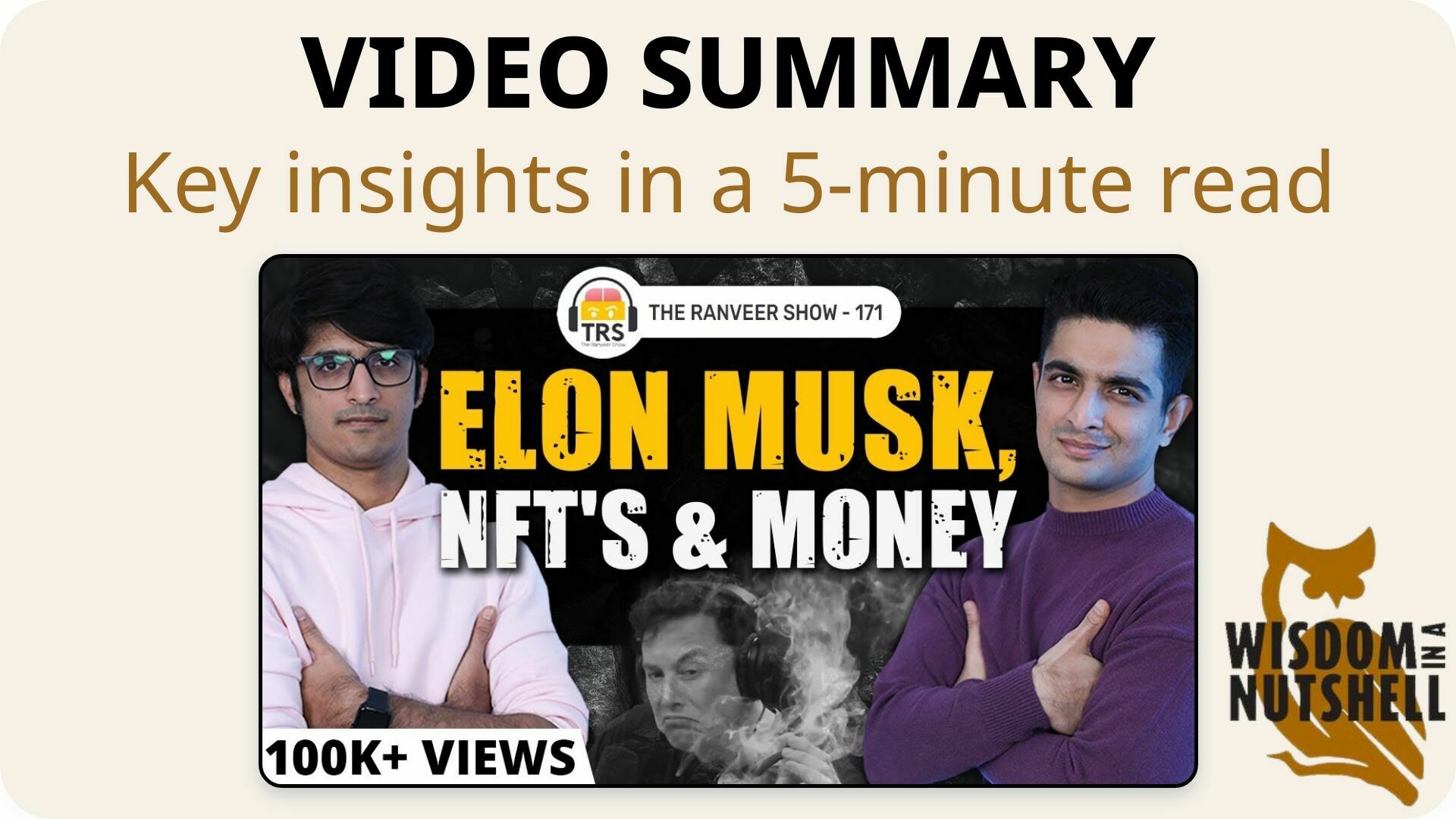 🌰 Wisdom in a Nutshell
Essential insights distilled from the video.
---
---
📚 Introduction
The Ranveer Show is a popular podcast that explores various topics and features insightful guests. In this blog post, we will discuss some of the key insights from recent episodes, as well as personal experiences shared by the host. From the challenges faced by the creator community to the importance of personal growth and understanding, there are valuable lessons to be learned. We will also delve into the world of cryptocurrency, biotech advancements, and the pressure of fame. Let's dive in!
---
🔍 Wisdom Unpacked
Delving deeper into the key ideas.
1. The Ranveer Show evolves with new formats, guests, and release schedules.
The Ranveer Show is experimenting with new formats and a new space, including recording in a new studio and dividing episodes into segments. They aim to make the podcast more open and intimate, with a different vibe and more personal guests. They also plan to release more episodes, potentially three per week, and are open to feedback on the new format. Highlights of each episode are available on TRS Clips, and followers on Spotify can access early releases.
Dive Deeper: Source Material
---
2. Continuous growth, adaptability, and resilience are key to creator success.
The creator community, especially in India, faces challenges such as competition, negativity, and the need to adapt to changing times. It's important to remember that success is not about pleasing everyone, but about continuous growth and improvement. The concept of seeking discomfort and getting uncomfortable every day is crucial for personal growth. However, it's also important to not let negativity and hate affect you. The goal of life is to continuously grow and improve, which will lead to increased success and happiness. It's crucial to pick your battles and not try to win every fight. The industry is constantly changing, and those who fail to adapt will fade away.
Dive Deeper: Source Material
---
3. Living alone can foster personal growth and work efficiency.
The transition to living alone has been a positive experience, allowing for the pursuit of personal preferences and work efficiency. The host values their morning routine and prefers a chill atmosphere. They believe that money can buy happiness and that the right partner will come along. However, they are currently not ready for marriage due to career demands and the lack of time and energy. They also highlight the importance of understanding your own timing and energy management.
Dive Deeper: Source Material
---
4. Cryptocurrency dips are normal, NFTs have utility, and biotech advancements are promising.
The current dip in cryptocurrency values, particularly Bitcoin and Ethereum, is seen as a correction and a normalization of valuations. However, it's crucial to understand the engineering behind these technologies and their potential for long-term growth. NFTs, which are gaining popularity, have utility and offer exclusive opportunities for networking and access. The Ethereum network is used to build Web 3 based apps, including NFTs. Investing in cryptocurrencies should be done with caution, focusing on established coins like Bitcoin and Ethereum. Neuralink, a computer-body interface, has the potential to fix various brain-related problems, including Alzheimer's and blindness. However, the extent of its capabilities is still unknown, and there is a concern about the potential risks of external intervention in the brain. Other advancements in biotech include genome sequencing and stem cell research, which could lead to anti-aging and designer babies in the future.
Dive Deeper: Source Material
---
5. Celebrities deserve privacy and respect despite constant scrutiny.
The constant scrutiny and pressure of being in the public eye, especially for celebrities like Virat Kohli, can be overwhelming. While it's understandable that their personal lives may be exposed, it's important to remember that they are human beings too and deserve some level of privacy and respect. The pressure of fame, especially at a young age, can be immense, and it's not easy to handle the constant criticism and pressure of being in the spotlight.
Dive Deeper: Source Material
---
---
💡 Actionable Wisdom
Transformative tips to apply and remember.
Embrace discomfort and focus on continuous personal growth. Choose your battles wisely and adapt to the changing times. Understand the potential of cryptocurrencies and biotech advancements, but also be aware of the risks. Show empathy and respect towards public figures who face constant scrutiny. Remember, success is not about pleasing everyone, but about continuous improvement and happiness.
---
📽️ Source & Acknowledgment
This post summarizes BeerBiceps's YouTube video titled "UNKNOWN & Unexplored Side Of The Creator Economy ft. Viraj Sheth | The Ranveer Show 171". All credit goes to the original creator. Wisdom In a Nutshell aims to provide you with key insights from top self-improvement videos, fostering personal growth. We strongly encourage you to watch the full video for a deeper understanding and to support the creator.
---