BeerBiceps
Why Short Content Is Killing My Career | The 2022 Social Media Manual | The Ranveer Show 190
Insights and Tips for Personal Growth from a Social Media Journey.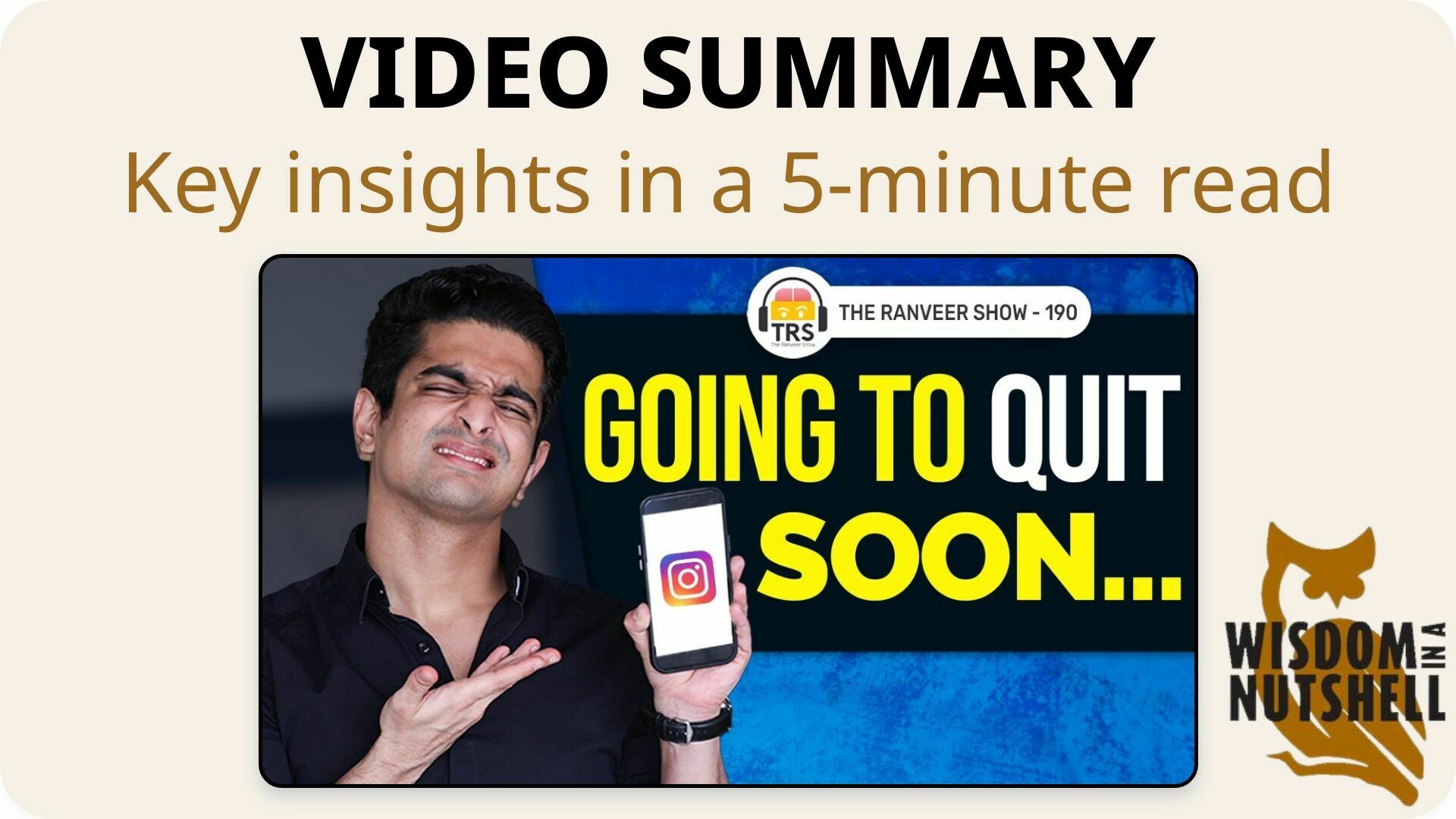 🌰 Wisdom in a Nutshell
Essential insights distilled from the video.
---
---
📚 Introduction
In this blog post, we will explore the journey of personal growth and entrepreneurship through the lens of social media. We will uncover valuable insights and tips for success in the ever-changing world of social media. From the shift towards short-form content to the importance of studying social media theory and understanding personal finance, there is much to learn and apply in our own lives.
---
🔍 Wisdom Unpacked
Delving deeper into the key ideas.
1. Personal growth and entrepreneurship involve continuous learning and adaptation.
The journey of personal growth and entrepreneurship involves continuous learning and adaptation. It's important to take breaks and allow perspectives to sink in. This can be achieved through solo podcasts, where valuable information and perspectives are shared. The speaker's entrepreneurial journey started with social media, learning from experts like Viraj Sheth. They have been studying social media every day since starting YouTube in 2015. This episode, focused on social media, provides valuable insights and tips for personal growth.
Dive Deeper: Source Material
---
2. Short-form content is dominating social media, but long-form content still holds value.
The shift in social media in 2022 is towards short-form content, with platforms like Instagram and TikTok focusing on increasing user time spent. This is due to the human mind's addiction to sexual content and the success of TikTok's team of psychologists and ML experts in creating an addictive product. Instagram Reels have replaced photos and videos, and IGTV is being shut down. Long-form content is declining, and adapting to short-form content is necessary. However, long-form content is still valuable when deeply edited and researched. The key to success in long form content is to study the subject of social media and understand what works.
Dive Deeper: Source Material
---
3. Understand social media as a product and analyze its algorithms for effective content creation.
To succeed as a young creator, it's crucial to study the theory of social media through online courses and analyze social media from a product perspective. This involves understanding the algorithms, recommendations, and conversations on social media. By thinking analytically and selecting a few games at the beginning, you can create effective social media content. However, the audience is becoming more skeptical of online courses from creators who haven't achieved success themselves. Therefore, it's important to focus on understanding the product perspective of social media and not just relying on online courses.
Dive Deeper: Source Material
---
4. Social media success requires a clear vision, teamwork, and real-world achievements.
To succeed on social media, focus on short content and target platforms like Twitter and Instagram. Gradually build a team, learn teamwork, and have a clear vision. Social media numbers are only half of what you do on social media, the other half is based on what you do in the real world. Treat your social media brand like a startup. Actors in shows like Money Heist and Squid Game see their numbers spike after their shows are released. Social media content creators who are active and consistently release content gradually rise up. However, the surges from real-world achievements overshadow the growth from just being an active social media creator. If you're a social media creator, think about what you want to do outside of social media. If you're starting out, establish yourself as a social media creator and there's potential for earning money and growth. Remember to approach creativity with a sustainable process and do what you enjoy.
Dive Deeper: Source Material
---
5. Social media creators need exit strategies and personal finance understanding.
The journey of a full-time social media creator is marked by constant ups and downs, with a focus on the downs due to our psychological biases. It's crucial to have an exit strategy and think about what you want to do after social media. Understanding personal finance is key to earning your freedom. When considering a job, it's important to have a clear understanding of the job's responsibilities and requirements, as well as an exit strategy in your mind. Having a mentor or friend who can provide guidance and support can be helpful.
Dive Deeper: Source Material
---
---
💡 Actionable Wisdom
Transformative tips to apply and remember.
To apply the wisdom gained from this blog post in your daily life, start by studying the theory of social media and understanding the algorithms and recommendations. Create short-form content on platforms like Twitter and Instagram, and gradually build a team to support your growth. Remember to approach your social media brand like a startup and focus on what you can do in the real world to complement your online presence. Lastly, always have an exit strategy in mind and prioritize understanding personal finance to secure your freedom and future success.
---
📽️ Source & Acknowledgment
This post summarizes BeerBiceps's YouTube video titled "Why Short Content Is Killing My Career | The 2022 Social Media Manual | The Ranveer Show 190". All credit goes to the original creator. Wisdom In a Nutshell aims to provide you with key insights from top self-improvement videos, fostering personal growth. We strongly encourage you to watch the full video for a deeper understanding and to support the creator.
---