Jay Shetty Podcast
Dave Ramsey's SECRET TO WEALTH & RICHES Will Leave You SPEECHLESS! | Jay Shetty
Insights on Personal Finance and Success.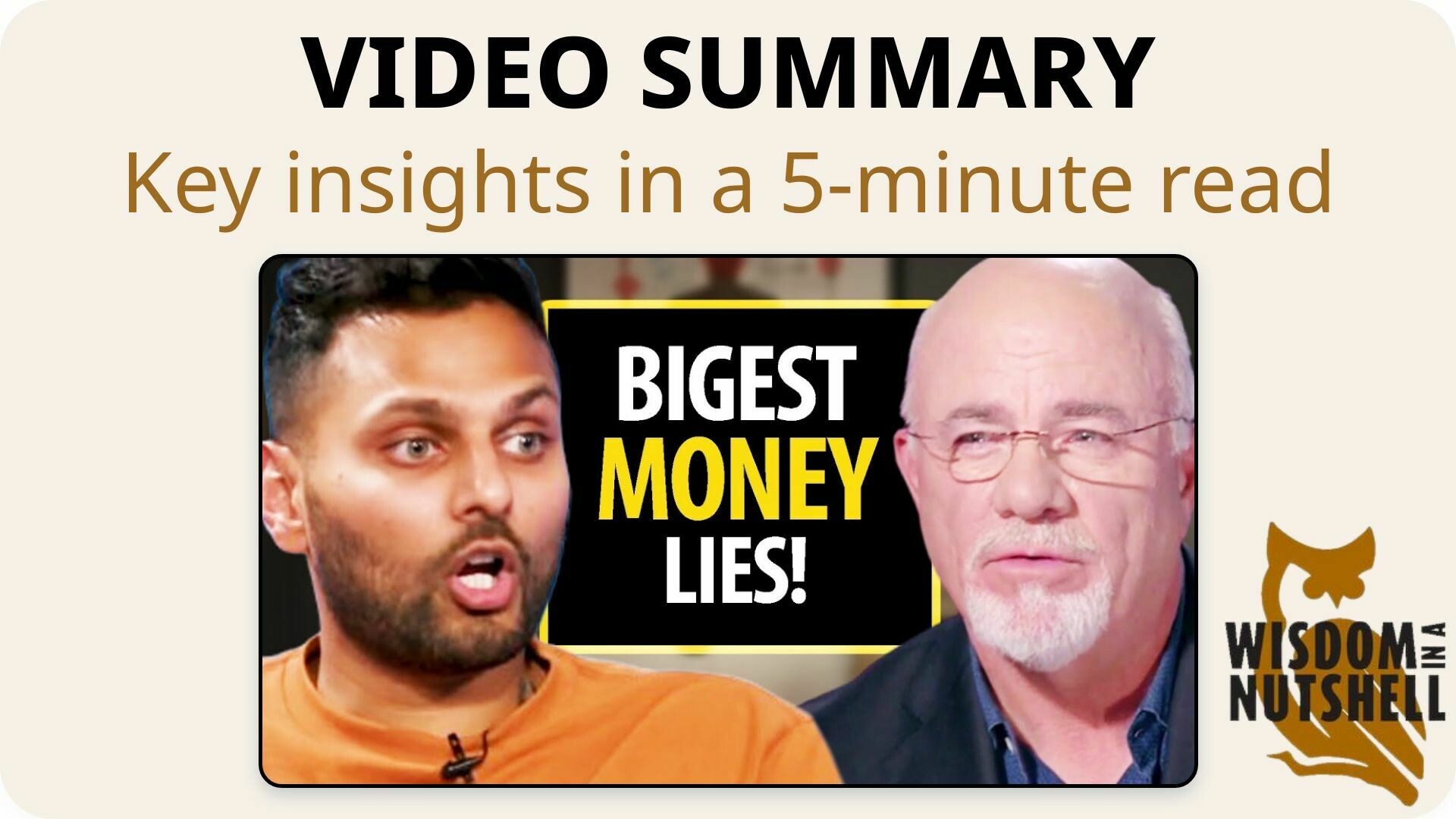 🌰 Wisdom in a Nutshell
Essential insights distilled from the video.
---
---
📚 Introduction
In our journey to personal finance and success, there are key principles, mindsets, and behaviors that can guide us. This blog post explores the wisdom from various sources, including books like 'Baby Steps Millionaire' and 'The Total Money Makeover', and highlights the importance of understanding the spiritual aspect of personal finance, the power of consistency and discipline, the role of giving, and the significance of integrity in the marketplace.
---
🔍 Wisdom Unpacked
Delving deeper into the key ideas.
1. Understand and apply financial principles for a healthy relationship with money.
The key to a healthy relationship with money is understanding and adhering to certain principles, such as living on a budget, saving, and investing in the power of compound interest. These principles are not promoted by the banking community, but are agnostic and can be applied by anyone. The credit score system, while useful, can be absurd and trapping, as seen in cases of high-income individuals unable to rent apartments due to lack of credit scores. The book 'Baby Steps Millionaire' offers specific strategic advice for getting out of financial difficulties.
Dive Deeper: Source Material
This summary was generated from the following video segments. Dive deeper into the source material with direct links to specific video segments and their transcriptions.
| Segment | Video Link | Transcript Link |
| --- | --- | --- |
| How did it start for Dave Ramsey? | 🎥 | 📄 |
| How to start having a healthy relationship with your finances | 🎥 | 📄 |
| Stories about loans and debts | 🎥 | 📄 |
---
2. Belief in potential and positive influences are key to personal growth and prosperity.
The belief in one's potential for success is crucial for personal growth and prosperity. This belief can be influenced by the people we surround ourselves with, our upbringing, and our mindset. It's important to unlearn negative mindsets and surround ourselves with positive influences. The book 'The Total Money Makeover' provides a practical approach to personal finance, combining financial knowledge with Bible verses for a holistic approach to personal growth. It emphasizes the importance of believing in oneself and taking action towards success, highlighting the existence of millionaires who started with nothing and followed the author's baby steps.
Dive Deeper: Source Material
---
3. Personal finance is a spiritual journey, requiring behavioral changes.
Personal finance is not just about math, but also about behavior. It's important to understand that behavior is a spiritual thing. The Bible, regardless of your faith or background, contains wisdom that can be applied to personal finance. Many people struggle with their finances because of their behavior, not because of a lack of knowledge. It's crucial to address the spiritual aspect of personal finance and make changes in our behavior to achieve better outcomes.
Dive Deeper: Source Material
---
4. Millionaire status is about steady investing, financial discipline, and systems.
Becoming a millionaire is not about quick riches or luxury items, but about steady investing and financial discipline. The key is to fund your 401K and Roth IRAs in good mutual funds over an extended period, usually 12 to 17 years, while paying off your home within 10 years. This process, often referred to as the 'baby steps', leverages the power of compound interest and steady investing. Most millionaires are everyday people, not celebrities or tech founders, and they believe in systems and processes. They understand that as you sow, so shall you reap.
Dive Deeper: Source Material
---
5. Wealth and success require discipline, consistency, and generosity.
Achieving wealth and success requires a different level of mental and emotional maturity, shifting from acquisition to serving. It's crucial to build discipline and consistency, as true greatness requires steady application over time. The 'get rich quick' mentality rarely works, and generosity is a key aspect of building wealth. It's important to give consistently and quietly, without seeking recognition. Giving builds character and gratitude, leading to contentment and a great advantage in building wealth. Society often misleads us into believing that winning is the key to happiness, but money magnifies your character. It's important to talk to children about money at an appropriate age to help them understand its value and avoid negative consequences.
Dive Deeper: Source Material
---
6. Integrity and service are rewarded in the marketplace.
The marketplace rewards integrity and service, with money reflecting the character of the person it touches. It's not fair to pay the same for different levels of service, as the free market will punish those who don't serve their customers well. Honest and reliable service providers are essential, and the market will eventually weed out those who lack integrity.
Dive Deeper: Source Material
---
---
💡 Actionable Wisdom
Transformative tips to apply and remember.
To apply these insights in daily life, start by creating a budget, saving, and investing in a disciplined manner. Believe in your potential for success and surround yourself with positive influences. Address any negative mindsets and behaviors that may be hindering your financial growth. Practice consistency and discipline in your financial decisions, and prioritize giving without seeking recognition. Finally, strive to provide honest and reliable service in your professional endeavors, knowing that integrity is rewarded in the marketplace.
---
📽️ Source & Acknowledgment
This post summarizes Jay Shetty Podcast's YouTube video titled "Dave Ramsey's SECRET TO WEALTH & RICHES Will Leave You SPEECHLESS! | Jay Shetty". All credit goes to the original creator. Wisdom In a Nutshell aims to provide you with key insights from top self-improvement videos, fostering personal growth. We strongly encourage you to watch the full video for a deeper understanding and to support the creator.
---