Jay Shetty Podcast
Dr. Zach Bush ON: The Importance of Gut Health & Why Dehydration Is Worse Than You Think
Embracing a Journey of Personal Growth and Health Improvement.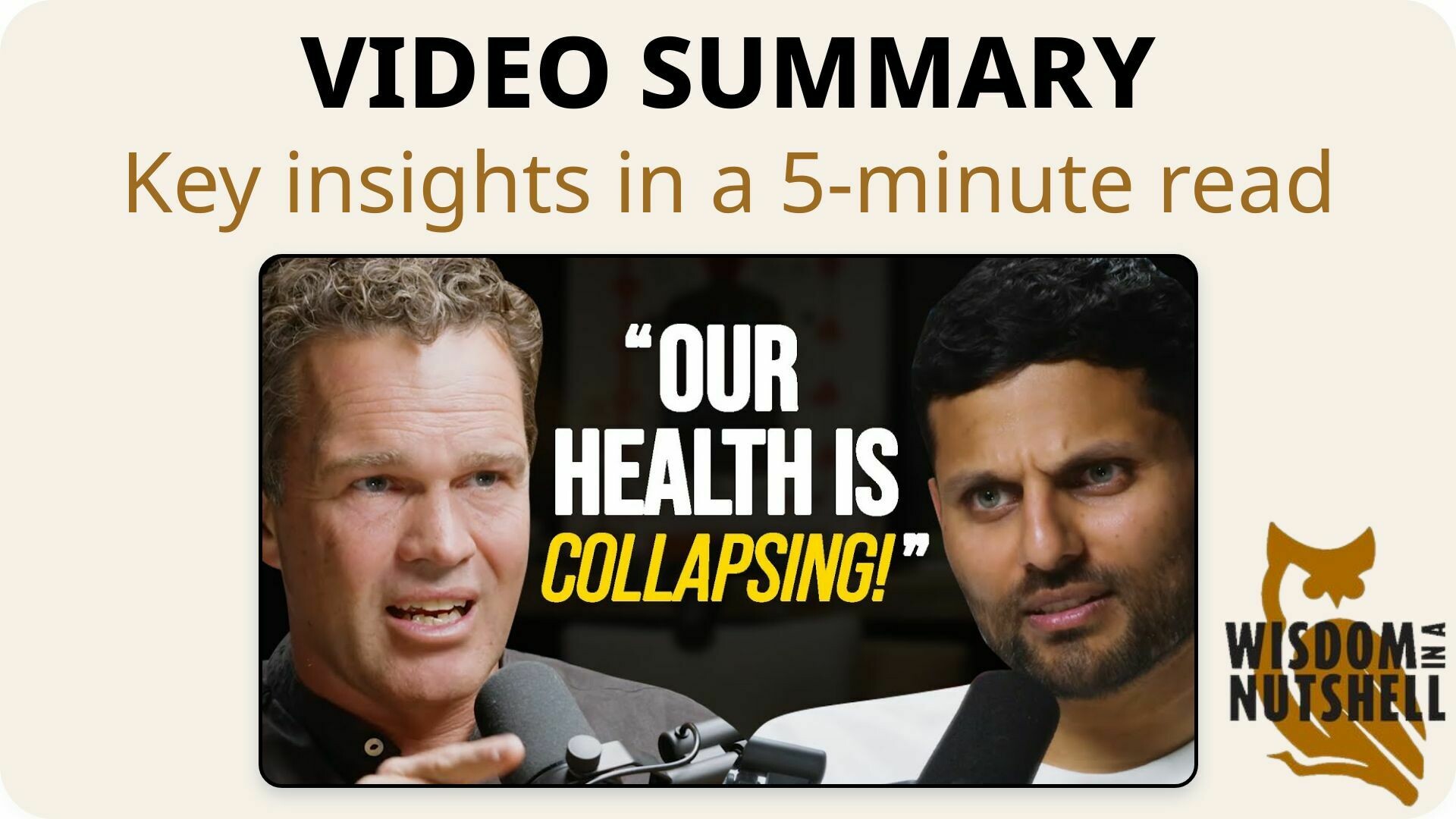 🌰 Wisdom in a Nutshell
Essential insights distilled from the video.
---
---
📚 Introduction
In our fast-paced and complex world, it is essential to prioritize personal growth and health improvement. This blog post explores the interconnectedness of various aspects of life, from medicine and biology to nature and agriculture. It delves into the importance of embracing our natural state, understanding the power of nutrition, and recognizing the significance of soil and the microbiome. By taking small steps towards self-discovery and making conscious choices, we can enhance our well-being and contribute to a healthier planet.
---
🔍 Wisdom Unpacked
Delving deeper into the key ideas.
1. Nutrition and nature are key to health, not toxins and chemicals.
The journey from conventional medicine to internal medicine often involves unexpected turns, as seen in the case of a medical doctor who initially pursued a career in engineering. This shift occurred during a time when chronic diseases were rapidly increasing, leading to a focus on nutrition as a basis for reversing chronic disease. The traditional approach of using toxins to kill cancer cells was not effective and was causing harm to the body's ecosystem. The realization that nutrition could be the key to health led to a deeper understanding of the connection between nutrition and nature. This understanding has been lost in the last 100 years, leading to a decline in health and a reliance on chemicals in farming and medicine. Small changes in our approach to health can have a significant impact on our health and vitality.
Dive Deeper: Source Material
---
2. Current health issues stem from disrupted cellular communication, leading to collapse of biology.
The current era is experiencing a sixth extinction event, characterized by the loss of biology and the collapse of our cellular communication, leading to various health issues. This disruption, caused by factors like glyphosate, a widely used herbicide, affects our self-identity, sociopolitical systems, and our ability to regenerate. It's an exciting time to explore the end of an old paradigm and the beginning of something new, with the potential for new discoveries and innovations.
Dive Deeper: Source Material
---
3. Embrace abundance, slow down, and foster diversity for personal growth.
The essence of personal growth lies in embracing our natural state, recognizing and compassionately addressing our conditioning, and moving towards abundance-based relationships. This involves slowing down, releasing the need for ownership, and fostering diversity in our thoughts and connections. The fear of death and the scarcity mindset in medicine need to be overcome, as they stifle creativity and potential. We are at a pinnacle of human rebirth, and the key to embracing this potential lies in recognizing and harnessing the abundance of life on Earth.
Dive Deeper: Source Material
---
4. Health improvement involves tuning into inner vibration, internalizing practices, and optimizing water intake.
The journey of self-discovery and health improvement involves tuning into our inner vibration, which is the energy field that organizes our reality. Our bodies are made up of 99.999% vacuum space filled with an electromagnetic field, which holds our original identity. To improve our health, we need to internalize practices like food, water, breath, fasting, and exercise, and focus on getting water into the crystalline structure within our cells. This can be done by reevaluating water and understanding how it enters our cells. Testing for the quality of the crystalline structure can be done using a phase angle calculation, which measures the amount of water inside every cell. Ideal health is around a phase angle of 10-12, while cancer typically shows up at a phase angle of.
Dive Deeper: Source Material
---
5. Understanding and healing through the microbiome and soil regeneration.
The microbiome, a complex ecosystem of bacteria, fungi, protozoa, and human cells, plays a crucial role in our health. It communicates with us through carbon snowflakes, which can be extracted from fossil soils, providing a communication network that can help us overcome isolation. Soil, like the microbiome, is a key element that affects our health. Understanding the significance of soil is essential, as it contains more organisms than the entire human population. However, our current scientific understanding of soil is limited due to the complexity of studying the behavior of eight billion different species. The concept of good and bad bacteria is dissolved, and instead, we should focus on maintaining a healthy ecosystem. Chemicals used in farming and agriculture destroy the biodiversity of soil, leading to a push towards biodiversity for health. The Regenerative Agriculture movement aims to revolutionize our understanding of soil and its role in sustaining life. The nonprofit farmers footprint aims to increase awareness and innovation around farmers shifting away from chemical farming and focusing on creating life within their soil systems. By converting lawns into food forests, we can address hunger and food security issues. In the past, during World War II, Americans grew their own food in victory gardens to overcome food shortages. Today, the United States is facing a food crisis due to the loss of soil and reliance on long supply chains. We need to start realizing the importance of eating locally grown food and utilizing our backyards as a source of safety and bounty. This paradigm shift is crucial for our health and well-being, both biologically and societally.
Dive Deeper: Source Material
This summary was generated from the following video segments. Dive deeper into the source material with direct links to specific video segments and their transcriptions.
| Segment | Video Link | Transcript Link |
| --- | --- | --- |
| Understanding the microbiome | 🎥 | 📄 |
| Listen to your intuition! | 🎥 | 📄 |
| The importance of gut health | 🎥 | 📄 |
| What is regenerative agriculture? | 🎥 | 📄 |
---
6. Reconnecting with nature and nurturing it can lead to personal growth and a brighter future.
The Regenerative Agricultural Movement, led by women and youth, emphasizes the importance of reconnecting with nature and nurturing it. This can be achieved by spending time in nature, which can rewire our brains and tap into the complexity and beauty of nature. Telling stories around flames can help us find stillness and remember our original selves. The idea of growing our own food and reconnecting with nature is gaining popularity, especially among young people. To take a good inhalation, it's important to exhale first, as exhaling allows us to exchange life force with the environment. We also release carbon dioxide, which is essential for our oxygen use. The planet is also experiencing a lack of breath, leading to rising temperatures. We need to allow the earth to breathe again and trust that we are part of the solution. We should let go of fear and embrace abundance. The optimism and excitement we see around the world indicate a bright future. Connecting with others and creating a quorum sensing moment is crucial for quantum intelligence and a brighter future.
Dive Deeper: Source Material
---
---
💡 Actionable Wisdom
Transformative tips to apply and remember.
Take a moment each day to connect with nature and reflect on your natural state. Incorporate nutrient-rich foods into your diet and prioritize local, organic produce. Support regenerative agriculture initiatives and consider growing your own food, even in small spaces. Practice conscious breathing and engage in physical activities that promote inner balance. By nurturing your own well-being and the health of the planet, you can contribute to a brighter future for all.
---
📽️ Source & Acknowledgment
This post summarizes Jay Shetty Podcast's YouTube video titled "Dr. Zach Bush ON: The Importance of Gut Health & Why Dehydration Is Worse Than You Think". All credit goes to the original creator. Wisdom In a Nutshell aims to provide you with key insights from top self-improvement videos, fostering personal growth. We strongly encourage you to watch the full video for a deeper understanding and to support the creator.
---