Jay Shetty Podcast
Ed Mylett ON: Watch These 37 Minutes To COMPLETELY CHANGE Your Life | Jay Shetty
The Power of 'One More' in Personal Growth and Success.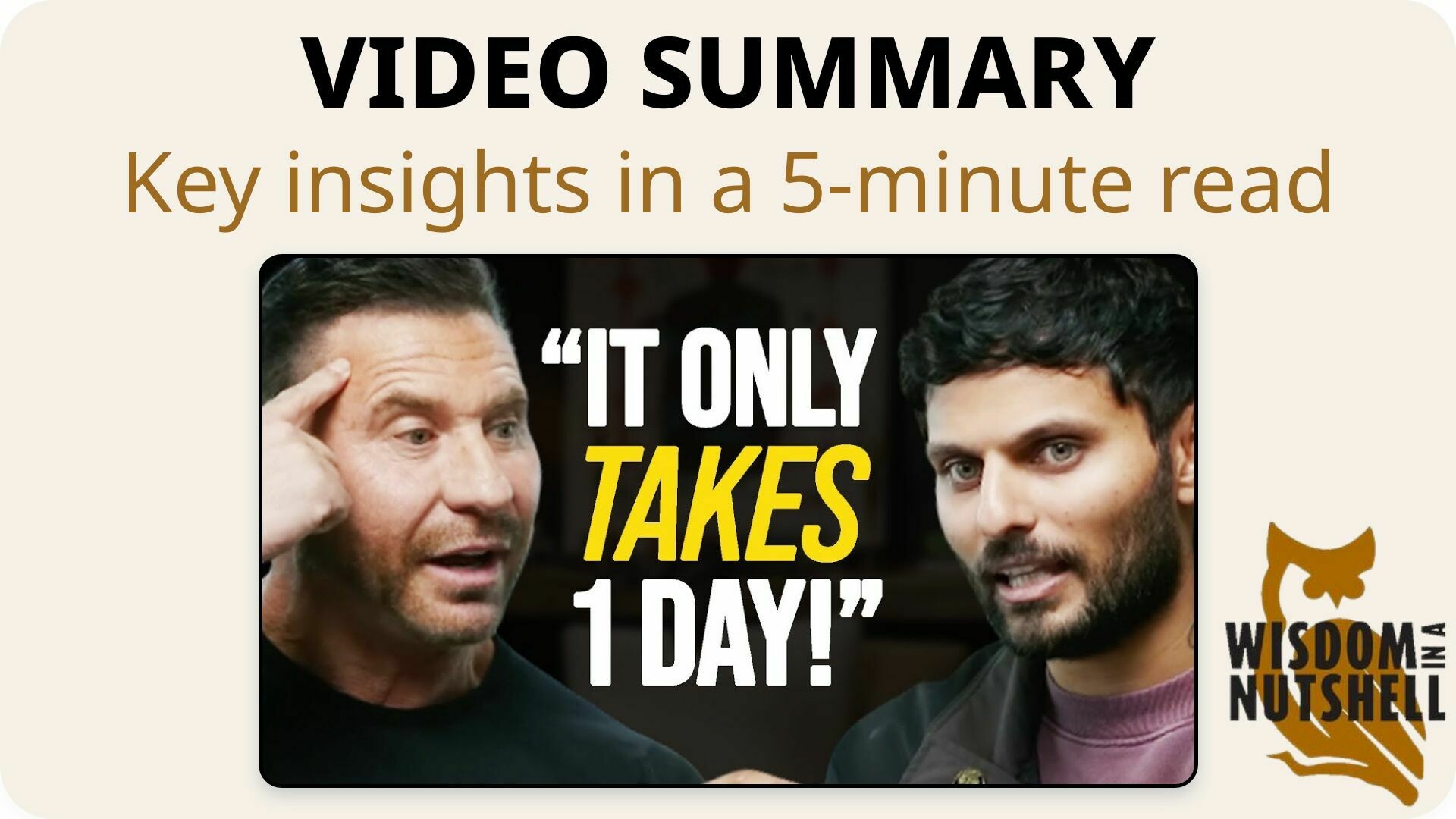 🌰 Wisdom in a Nutshell
Essential insights distilled from the video.
---
---
📚 Introduction
In the journey of personal growth and success, there is a powerful mindset that can make a significant difference. It's called the mindset of 'one more.' This mindset involves taking action, recognizing opportunities, and not giving up. It can transform your life and help you overcome challenges. Let's explore the insights and wisdom gained from various stories that highlight the power of 'one more' in different aspects of life.
---
🔍 Wisdom Unpacked
Delving deeper into the key ideas.
1. Embrace the mindset of 'one more' to change your life.
The power of 'one more' can change your life by recognizing that change is possible and taking action towards it. Many people delay pursuing their dreams, thinking they will get around to it eventually, but the mindset of 'one more' can help them make a significant change. It's about having a clear vision for your life and taking action towards achieving it. The truth is that you are often just one step away from making a change. It's about depth perception and recognizing that opportunities for change are closer than we think. By adopting the mindset of 'one more,' you can change the trajectory of your life.
Dive Deeper: Source Material
---
2. Love and personal experiences can overcome challenges and qualify us to help others.
The story of a father's addiction and recovery highlights the power of love and the potential for change. Despite the challenges, the father promised to stay sober one day at a time, and he lasted the rest of his life without drinking. This teaches the importance of taking things one day at a time and the possibility of change. Additionally, it emphasizes the qualification to help others based on personal experiences. This applies to any situation, where our past experiences can make us uniquely qualified to support others who have been through similar struggles.
Dive Deeper: Source Material
---
3. Transform pain into purpose, focus on growth, and surround yourself with supportive people.
Pain can be transformed into purpose when used to serve others who are struggling with the same issue. Temporary pain is a part of life, but it can lead to personal growth and the ability to help others. By becoming a new person through personal growth, we can help those who used to be like us. It's important to understand the power of doing one more and not giving up. When faced with failure or rejection, it's crucial to separate from the outcome and focus on being present in the moment. Many people operate out of history and memory, but it's important to return to operating out of imagination and vision. This allows us to create something new and not be tied to the result. Surround yourself with people who inspire and support you, rather than those who bring you back to the past.
Dive Deeper: Source Material
---
4. Vision for the future and present-moment awareness are key to personal growth.
The key to personal growth lies in having a vision for the future and being present in the present. Dwelling on the past, whether it's good or bad, hinders creativity, productivity, and the ability to create a new future. Nostalgia can distort our perception of the past, making it seem better or worse than it actually was. It's crucial to have a vibrant and imaginative vision for our lives, rather than trying to recreate the past.
Dive Deeper: Source Material
---
5. Value the present moment and make the most of it.
The story of Kobe Bryant's dedication to basketball despite injuries, and his belief in playing for the people who paid to watch him, exemplifies love and dedication. Similarly, the story of a man who chose to fight cancer for eight years to see his grandkids again highlights the importance of valuing the present moment and not taking our time for granted. It's crucial to not put off our dreams and relationships for later, as we don't know how many more days we have. This mindset encourages us to make the most of our time and not take it for granted.
Dive Deeper: Source Material
---
6. Maximize productivity and happiness by focusing on emotions.
The essence of personal growth lies in maximizing productivity and happiness by focusing on emotions rather than material possessions. This shift from physical to emotional focus can be profound, as seen in the speaker's journey from a failed business to success. The speaker's father taught valuable lessons about time management and the importance of doing one more thing. This mindset of continuous effort and perseverance has been instrumental in the speaker's success.
Dive Deeper: Source Material
This summary was generated from the following video segments. Dive deeper into the source material with direct links to specific video segments and their transcriptions.
| Segment | Video Link | Transcript Link |
| --- | --- | --- |
| You only understand the power of one day when you're threatened with never having another one." | 🎥 | 📄 |
---
7. Persevere through challenges, showing love and appreciation.
The journey to success is often marked by challenges and setbacks, but it's crucial to persevere and not give up on your dreams. A personal experience of financial struggles and the encouragement from a father to keep going for one more day taught the importance of resilience and not quitting. This mindset is not just about building a successful business, but also about showing love and appreciation to those around us every day.
Dive Deeper: Source Material
---
8. Raise self-confidence by taking small actions, embracing discomfort, and aligning with values.
The belief that some people are meant to be successful while others are not is a common misconception. However, self-confidence can be challenging for those who have faced difficult circumstances. It's crucial to raise the standard of self-confidence by taking small actions every day, increasing our chances of success and self-respect. Discomfort, not comfort, creates self-respect. Successful and happy people have more uncomfortable conversations and experiences, but they selectively choose the right kind of discomfort. It's important to be mindful of the direction we are heading and not get misguided by constantly doing one more thing, ensuring we are moving towards our true selves and values.
Dive Deeper: Source Material
---
9. Regular self-checks ensure personal growth and fulfillment.
Regularly checking in with oneself is crucial to ensure personal growth and fulfillment. It's important to assess your priorities and desires, as they may change over time. Don't pursue a dream that no longer fills you. Check in with yourself on a monthly basis to avoid losing your family or losing yourself in the pursuit of your business. Remember that you have the power to live well in the season you're in, even if you can't change the season itself.
Dive Deeper: Source Material
---
10. Greatness lies in small acts of kindness and self-belief.
The essence of greatness lies in the small acts of kindness and helping others, not just in grand achievements. It's important to periodically reflect on what your current great thing is and not discount your own impact. Greatness can be as simple as doing something awesome, and it's crucial to believe in your own potential. Start by serving a small group of people and have faith that opportunities will open up as you step into them.
Dive Deeper: Source Material
---
---
💡 Actionable Wisdom
Transformative tips to apply and remember.
Embrace the mindset of 'one more' in your daily life. Whether it's pursuing your dreams, overcoming challenges, or helping others, take one more step, make one more effort, and believe in the power of continuous action. By adopting this mindset, you can create positive change and unlock your full potential.
---
📽️ Source & Acknowledgment
This post summarizes Jay Shetty Podcast's YouTube video titled "Ed Mylett ON: Watch These 37 Minutes To COMPLETELY CHANGE Your Life | Jay Shetty". All credit goes to the original creator. Wisdom In a Nutshell aims to provide you with key insights from top self-improvement videos, fostering personal growth. We strongly encourage you to watch the full video for a deeper understanding and to support the creator.
---