Jay Shetty Podcast
How To Unleash Your CREATIVITY Into The World & Raise Your SELF-ESTEEM | Jhené Aiko & Jay Shetty
The Power of Nature, Music, and Meditation in Personal Growth.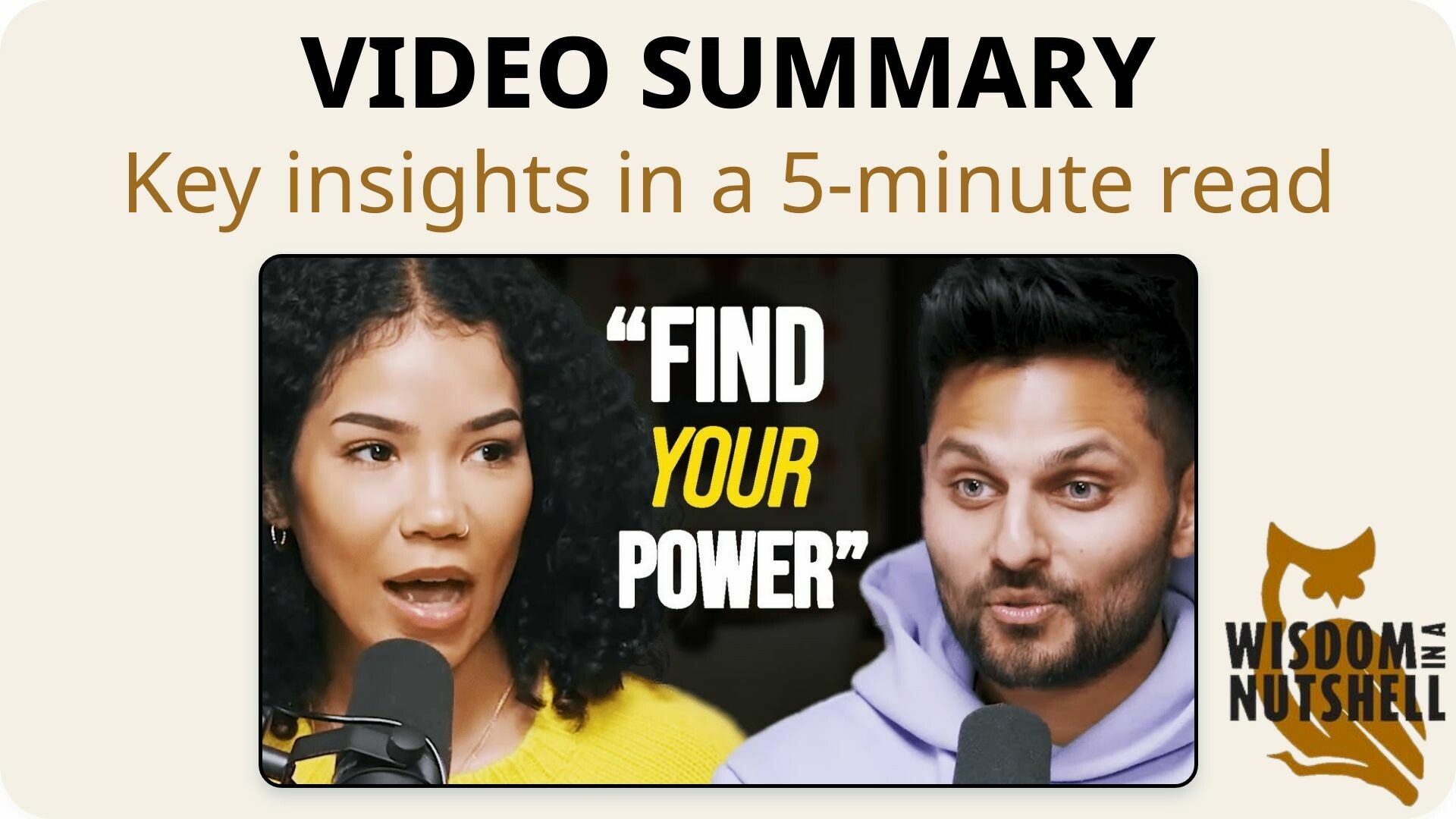 🌰 Wisdom in a Nutshell
Essential insights distilled from the video.
---
---
📚 Introduction
In this blog post, we explore the transformative power of nature, music, and meditation in personal growth and healing. From finding spiritual connection through butterflies to the healing journey expressed through music, we uncover the wisdom and insights gained from these practices. Additionally, we delve into the importance of meditation, the journey of self-discovery, and the essence of personal growth and well-being.
---
🔍 Wisdom Unpacked
Delving deeper into the key ideas.
1. Nature can evoke a sense of connection to loved ones after death.
The speaker's spiritual journey began at a young age, sparked by the death of their grandmother. They felt a connection to her through nature, specifically butterflies, and this experience made them contemplative and meditative. This connection between nature and loved ones is a powerful belief that can bring comfort and a sense of presence even after death.
Dive Deeper: Source Material
---
2. DNA testing and tree roots offer insights into family history and resilience.
The discovery of family history through DNA testing can be a fulfilling experience, providing a sense of grounding and connection to one's roots. This is akin to the interconnectedness of redwood trees, which share nutrients through their intertwined roots. Similarly, the roots of trees, like those at Point Lobos, can be fascinating and provide valuable insights. The smooth, shiny, and strong roots of these trees are a testament to their resilience and the importance of their roots in their survival.
Dive Deeper: Source Material
---
3. Music, a powerful tool for healing, reflects personal journeys and identity.
The journey of healing and self-care is often reflected in personal experiences, as seen in the artist's journey. Music, as a tool, can provide powerful experiences that resonate within the body and spirit. The artist's personal journey, expressed through music, emphasizes the importance of embracing all aspects of oneself, including the wild and destructive. The artist's name, Cholombo, symbolizes this journey and the power of personal identity. The artist's music, incorporating sound bowls and visuals, aims to create an immersive experience for the listener. The artist's personal experiences, including the loss of a brother and heartbreak, are reflected in their music, which also serves as a tool for healing and grounding. The artist's music is designed to provide experiences that can aid in calming down, distracting oneself, and seeking healing.
Dive Deeper: Source Material
This summary was generated from the following video segments. Dive deeper into the source material with direct links to specific video segments and their transcriptions.
| Segment | Video Link | Transcript Link |
| --- | --- | --- |
| Putting her Personal Growth and Story into Music | 🎥 | 📄 |
| Crystal and sound bowls. | 🎥 | 📄 |
| What does Jhene's name Chilumbo mean to her? | 🎥 | 📄 |
| Chilombo | 🎥 | 📄 |
---
4. Meditation and self-awareness can foster mindfulness, intuition, and resilience.
The practice of meditation, particularly the red light meditation, can help develop mindfulness and resilience. It's a continuous journey of awakening and growth, viewing every moment as an opportunity to breathe and be present. Developing intuition requires clarifying the difference between intuition and ego, recognizing that we are the observers of our thoughts and not the voices themselves. This process can be aided by reading books, practicing mindfulness, and listening to audio books instead of music or silence.
Dive Deeper: Source Material
---
5. Sleep, rest, breathing, and sharing are key to personal growth.
The essence of personal growth and well-being can be distilled into a few key insights. Sleep is crucial for mental health, and rest is necessary after intense creative endeavors. Breathing through difficult situations is a valuable lesson. The beauty and magnificence of cats, often overlooked, can bring joy and comfort. Lastly, sharing resources and ideas can foster a sense of community and ensure that everyone's basic needs are met.
Dive Deeper: Source Material
---
---
💡 Actionable Wisdom
Transformative tips to apply and remember.
Take a moment each day to connect with nature, whether it's observing the beauty of a butterfly or taking a walk in a park. Incorporate music into your self-care routine, allowing it to resonate within your body and spirit. Practice meditation, focusing on your breath and being present in the moment. Nurture your personal growth by prioritizing sleep, embracing all aspects of yourself, and sharing resources with others.
---
📽️ Source & Acknowledgment
This post summarizes Jay Shetty Podcast's YouTube video titled "How To Unleash Your CREATIVITY Into The World & Raise Your SELF-ESTEEM | Jhené Aiko & Jay Shetty". All credit goes to the original creator. Wisdom In a Nutshell aims to provide you with key insights from top self-improvement videos, fostering personal growth. We strongly encourage you to watch the full video for a deeper understanding and to support the creator.
---