Jay Shetty Podcast
Jay & His Wife Radhi ON: The BIGGEST LIE About Love & 3 Things To Look For In A Partner
Insights on Building and Maintaining Healthy Relationships.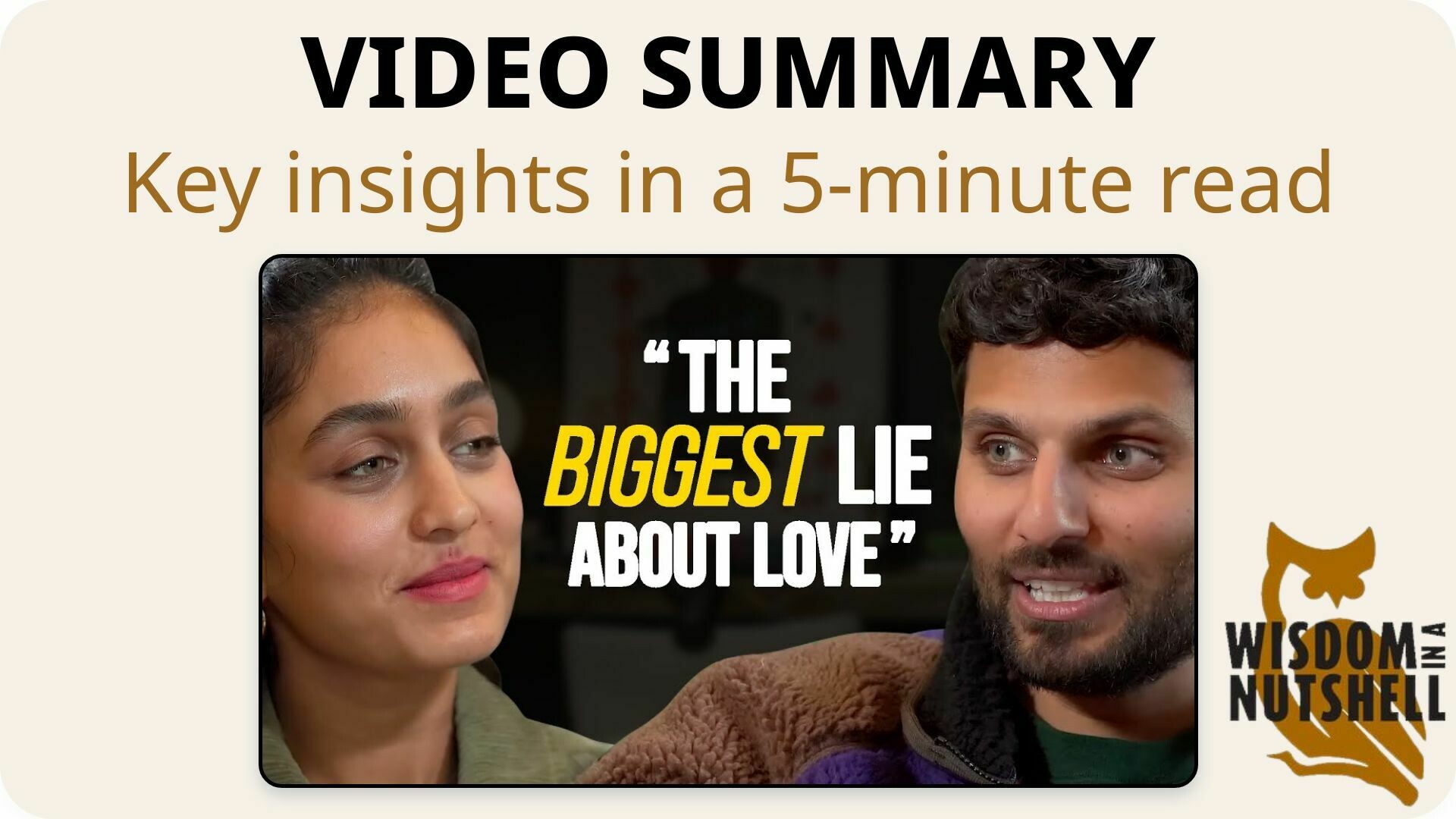 🌰 Wisdom in a Nutshell
Essential insights distilled from the video.
---
---
📚 Introduction
Building and maintaining healthy relationships is a lifelong journey that requires self-awareness, growth, and effective communication. In this blog post, we will explore various insights and wisdom on how to navigate the complexities of relationships and create meaningful connections.
---
🔍 Wisdom Unpacked
Delving deeper into the key ideas.
1. Healthy relationships involve self-healing, integrity, and tolerance.
The essence of a healthy relationship lies in teaching self-healing, not constant fixing. It's about helping your partner fall in love with themselves, not just with you. This requires living with integrity, being true to oneself, and giving permission to others to be themselves. It's also about not engaging in gossip or criticism, and being positive. The journey of self-discovery and growth can lead to a deeper understanding of values and what matters, impacting the relationship. This understanding can also teach the importance of tolerance and not being codependent.
Dive Deeper: Source Material
---
2. Healthy relationships thrive on growth, celebration, and maturity.
The essence of a healthy relationship lies in supporting each other's growth, celebrating successes, and embracing change. It's crucial to appreciate and value our partner's potential, even when they're not perfect. We often play different roles in relationships, such as parent, partner, or child, and it's important to handle these changes well. Maturity is key to finding happiness in oneself and appreciating the support of a partner. It's also important to prioritize time quality over quantity in a relationship.
Dive Deeper: Source Material
---
3. Communication and understanding are key to handling relationship annoyances.
Relationships, like any other aspect of life, are not perfect. It's normal to feel annoyed by your partner at times, but it's how you handle these moments that matters. Communication is key in these situations. It's important to remember that everyone has their own quirks and things that irritate them, and it's normal to have moments of annoyance. However, if these moments become a consistent pattern, it may be a sign of a deeper issue. It's also important to remember that everyone has their own way of dealing with stress and frustration. If you find yourself constantly feeling annoyed by your partner, it may be worth taking a step back and assessing the relationship.
Dive Deeper: Source Material
---
4. Happiness lies in personal growth, authentic relationships, and meaningful connections.
The pursuit of perfection is often linked to happiness, but it's a subjective concept that can vary from person to person. Instead of striving for perfection, focus on finding what truly makes you happy. This may involve reconnecting with your spiritual journey and understanding that there is no perfect partner or love story. Relationships require effort and the willingness to learn and grow together. Building authentic relationships takes time and energy, and it's crucial to invest in them for meaningful connections. Don't settle for superficial relationships; strive for deep connections that bring fulfillment and purpose to your life.
Dive Deeper: Source Material
---
5. Regular check-ins, open communication, and exploration are key to a healthy relationship.
The key to a healthy relationship is regular check-ins, both monthly and annually, to reflect and record progress. Daily check-ins, whether through messages or calls, are also crucial for maintaining open communication. It's important to be honest about your needs and communicate them clearly, as it's not assumed that your partner knows how you feel. Agreeing on regular check-ins can prevent misunderstandings and ruined relationships. Additionally, it's important to explore and discover your partner, rather than having a list of criteria. Relationships are about finding someone who ticks all the boxes in real life, not just on paper. It's also important to show up for each other even when busy and have priorities. Checking in every day and having quality time together is crucial for maintaining a relationship. Life doesn't always allow for perfect circumstances, but it's important to make time for each other and go deeper in less time when reconnecting.
Dive Deeper: Source Material
This summary was generated from the following video segments. Dive deeper into the source material with direct links to specific video segments and their transcriptions.
| Segment | Video Link | Transcript Link |
| --- | --- | --- |
| The things you no longer prioritize | 🎥 | 📄 |
| Top 3 things you're looking for in a partner | 🎥 | 📄 |
| Going deeper into the relationship in less time | 🎥 | 📄 |
---
6. Schedule and create quality time experiences for personal growth.
The pandemic has highlighted the importance of spending quality time together, especially after the lockdowns. It's crucial to schedule and create experiences, as they are valuable and can bring growth and progress. This includes traveling and having deep time together, which can be planned and worked on. It's also important to appreciate the journey of life together and the lessons learned, as well as finding your partner adorable.
Dive Deeper: Source Material
---
---
💡 Actionable Wisdom
Transformative tips to apply and remember.
Take the time to reflect on your own values, communicate your needs clearly, and prioritize quality time with your partner. Embrace growth and change, and appreciate the journey of life together. By applying these principles in your daily life, you can build and maintain healthy and fulfilling relationships.
---
📽️ Source & Acknowledgment
This post summarizes Jay Shetty Podcast's YouTube video titled "Jay & His Wife Radhi ON: The BIGGEST LIE About Love & 3 Things To Look For In A Partner". All credit goes to the original creator. Wisdom In a Nutshell aims to provide you with key insights from top self-improvement videos, fostering personal growth. We strongly encourage you to watch the full video for a deeper understanding and to support the creator.
---