Jay Shetty Podcast
SELENA GOMEZ ON: How To STOP Insecurity & TRULY LOVE YOURSELF To The Core | Jay Shetty
Key Insights on Personal Growth and Healing.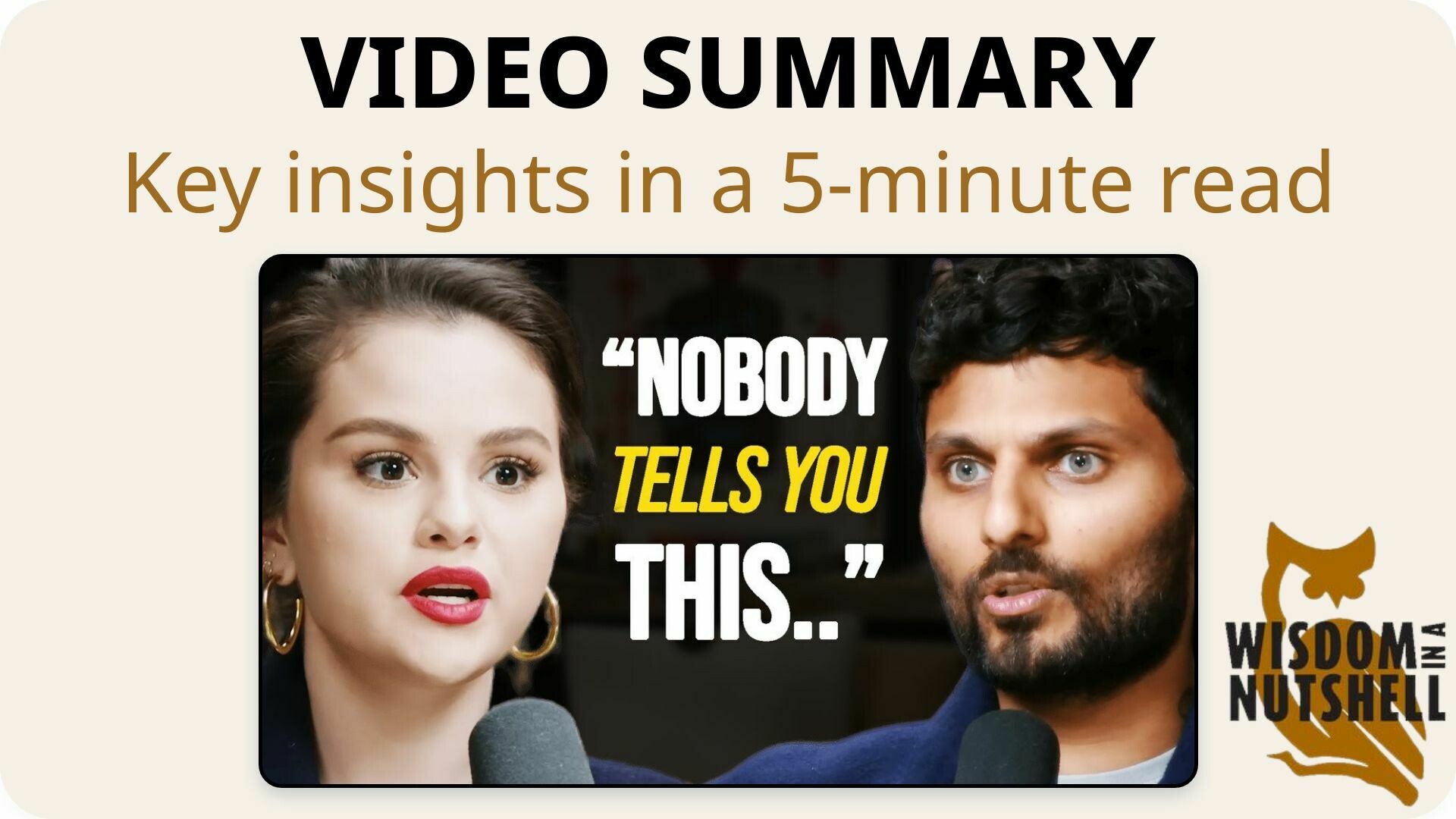 🌰 Wisdom in a Nutshell
Essential insights distilled from the video.
---
---
📚 Introduction
In the journey of personal growth and healing, there are various insights and lessons that can be learned. From understanding and accepting emotions to embracing imperfections and prioritizing well-being, each experience contributes to our overall development. This blog post will explore these key insights and provide actionable tips for applying them in daily life.
---
🔍 Wisdom Unpacked
Delving deeper into the key ideas.
1. Embrace emotions, share struggles, and cultivate authenticity for growth.
The journey of self-discovery and healing involves understanding and accepting our emotions, including those that may be considered taboo or shameful. Sharing our struggles with supportive people can help us find freedom and growth. Fear can be overcome by learning more about what scares us, and depression can be managed with therapy, medication, and a supportive network. It's important to acknowledge and allow ourselves to have days where we feel depressed and unable to get out of bed, and to focus on things that make us feel better. Facing our fears and rock bottom moments is a way to gain strength and wisdom. Intention plays a crucial role in our lives, especially in the public eye, and it's about being genuine and authentic, not just striving for success or recognition.
Dive Deeper: Source Material
---
2. Sharing truth without defensiveness is key to personal growth.
The process of sharing your truth without being defensive is crucial for personal growth and authenticity. It requires self-assurance and a commitment to your truth, even when faced with poorly asked questions. The documentary 'The Last Dance' provides a glimpse into this process, highlighting the struggles and frustrations of dealing with such questions. It also humanizes the person, showing that there is more to them than just their public persona, and that they desire genuine conversations and friendships.
Dive Deeper: Source Material
---
3. Embrace imperfections for a more fulfilling life.
The pressure to be perfect, especially in relationships, can be overwhelming. It's important to recognize that no one is perfect, including celebrities. Embracing imperfections and not having to be perfect all the time can lead to a more fulfilling life. Mistakes and imperfections can sometimes become a part of the process and lead to unexpected outcomes. It's about being a better person and making the best choices for ourselves. Losing someone can be difficult, but we can choose to celebrate their positive impact on our lives.
Dive Deeper: Source Material
---
4. Embrace change, inspire others, and understand the universal nature of mental health.
The journey of personal growth involves embracing change and the uncomfortable, as well as inspiring others from one's roots. Taking spontaneous trips or exploring simple places can be transformative. The universal nature of mental health challenges was highlighted during a trip to Africa, where people face similar struggles as in the US. The experience of bonding with someone from a different culture and world can be incredible, and the purpose of these missions is to continue spreading a message and bringing change. The ultimate dream is to change and impact lives, which evolved from a young age of helping others and understanding the complexity of the world.
Dive Deeper: Source Material
This summary was generated from the following video segments. Dive deeper into the source material with direct links to specific video segments and their transcriptions.
| Segment | Video Link | Transcript Link |
| --- | --- | --- |
| How do you deal with imperfections? | 🎥 | 📄 |
| Areas in your life that made you who you are | 🎥 | 📄 |
| Embracing change | 🎥 | 📄 |
---
5. Awareness and responsibility foster personal growth and problem-solving.
The essence of personal growth lies in being aware of the world around us and the people in it. This awareness, instilled by a supportive mother, fosters a sense of responsibility and the desire to be part of the solution. It's crucial to acknowledge the problems we face, rather than ignoring them, as this leads to a deeper understanding and the potential for finding a way out. This mindset, when combined with a willingness to learn and grow, can transform our lives and help us navigate challenges.
Dive Deeper: Source Material
---
6. Selena Gomez aims to be a role model by being honest and authentic.
Selena Gomez, a popular actress and singer, is set to shoot season three of her show in New York, where she will meet new people and spend time with her friends. Her mother, who has played a significant role in her life, will also join the show, providing an opportunity to discuss their work together. Selena aims to be a role model by being honest about who she is and not projecting perfection. She is proud of her daughter's success and the impact she has on millions of people.
Dive Deeper: Source Material
---
7. Embrace personal growth, forgiveness, and open dialogues for healing.
The journey of personal growth and healing can be challenging but transformative. It's important to prioritize our own well-being, not bury our emotions, and seek support when needed. Open and honest dialogues with family members, especially parents and children, can foster understanding and empathy. Self-work and therapy can be valuable tools for personal growth and healing. Representation of mental health on screen can break down stigmas and promote understanding. It's important to learn how to make growth a part of our lives and understand that it is a feeling. Forgiveness is a powerful practice that can bring positive change. Treating others the way we want to be treated is a simple yet powerful law that everyone should follow.
Dive Deeper: Source Material
---
---
💡 Actionable Wisdom
Transformative tips to apply and remember.
Prioritize your well-being by setting aside time for self-care activities that bring you joy and relaxation. Practice open and honest communication with your loved ones to foster understanding and empathy. Consider seeking therapy or engaging in self-work to support your personal growth journey. Remember to treat others with kindness and forgiveness, as it can have a positive impact on your own well-being. Embrace change and discomfort as opportunities for growth and transformation.
---
📽️ Source & Acknowledgment
This post summarizes Jay Shetty Podcast's YouTube video titled "SELENA GOMEZ ON: How To STOP Insecurity & TRULY LOVE YOURSELF To The Core | Jay Shetty". All credit goes to the original creator. Wisdom In a Nutshell aims to provide you with key insights from top self-improvement videos, fostering personal growth. We strongly encourage you to watch the full video for a deeper understanding and to support the creator.
---