Jay Shetty Podcast
The ROOT CAUSE Of Trauma & Why You FEEL LOST In Life | Dr. Gabor Maté & Jay Shetty
The Power of Vulnerability and Healing from Trauma.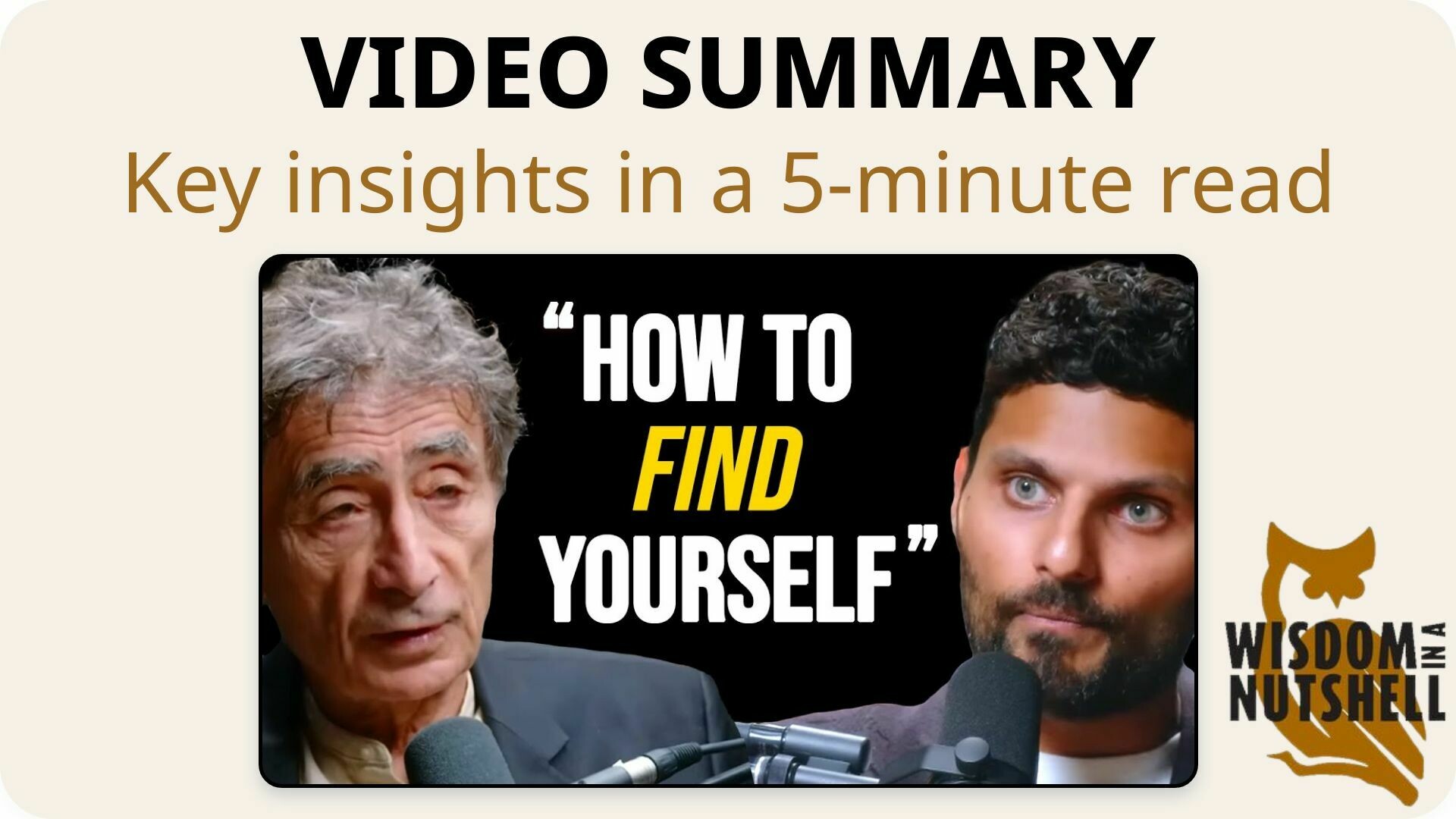 🌰 Wisdom in a Nutshell
Essential insights distilled from the video.
---
---
📚 Introduction
In this blog post, we explore the importance of vulnerability and healing from trauma. We delve into the concept of vulnerability in childhood, the impact of trauma on our lives, the healing process, the consequences of unmet childhood needs, the misunderstood concept of 'mollycoddling', the essence of human nature, and the defensive structure of the human mind.
---
🔍 Wisdom Unpacked
Delving deeper into the key ideas.
1. Embrace vulnerability for personal growth and development.
Vulnerability is crucial for personal growth, allowing us to embrace new experiences and be open to learning. This is especially true in childhood, where defenses developed to protect us from pain can hinder our development. To grow, we need to let go of these defenses and embrace the possibility of being wounded. This is akin to a tree growing where it's soft and green, highlighting the importance of vulnerability in our development.
Dive Deeper: Source Material
---
2. Trauma is a psychic wound that can be healed through self-reflection and vulnerability.
Trauma is a psychic wound that can manifest in various ways, often triggered by current experiences. It's not the difficult incidents, but the wound that a person sustains. Trauma can be healed at any time, even if it happened a long time ago. Healing involves addressing the wound and allowing it to heal. Trauma is not what happens to you, but what happens inside of you. Unhealed wounds can be dormant for a long time, but when something triggers them, it can cause a strong reaction. Time alone does not heal wounds; it may scar them over or make them less accessible to immediate memory. To heal, we need to do some work. Our beliefs about ourselves and others are often wired to make us feel safe, but to uncover wounds, we need to be vulnerable and open to the possibility that our beliefs may be based on past experiences. For example, in a marriage, if we received love and then felt guilty if we couldn't reciprocate, we may repeat that pattern in our own relationships. Assessing and addressing these patterns requires vulnerability and a willingness to question our beliefs for future stability.
Dive Deeper: Source Material
This summary was generated from the following video segments. Dive deeper into the source material with direct links to specific video segments and their transcriptions.
| Segment | Video Link | Transcript Link |
| --- | --- | --- |
| How do you define trauma? | 🎥 | 📄 |
| Time itself does not heal emotional wounds | 🎥 | 📄 |
| When the past dominates the present reactions | 🎥 | 📄 |
---
3. Healing is a process of becoming whole, authentic, and free from trauma.
Healing is a process of becoming whole again, not just the absence of a physical illness. It requires acknowledging and hearing the suffering, and often involves traditional practices like dance, chanting, drumming, sweat lodges, and wisdom circles. Forgiveness is not about making what happened okay, but about releasing the negative emotions that hold us back. Authenticity is key in healing, as is the understanding that trauma is a universal experience and not a personal failing. The best advice on healing is to be true to oneself, as authenticity is a major theme in life.
Dive Deeper: Source Material
This summary was generated from the following video segments. Dive deeper into the source material with direct links to specific video segments and their transcriptions.
| Segment | Video Link | Transcript Link |
| --- | --- | --- |
| How is healing defined? | 🎥 | 📄 |
| Suffering has to be acknowledged | 🎥 | 📄 |
| Getting closure and start moving on | 🎥 | 📄 |
| Spirituality becomes commoditized | 🎥 | 📄 |
| Dr. Maté on Final Five | 🎥 | 📄 |
---
4. Distorted childhood development and loneliness can be mitigated by meeting basic needs and fostering supportive relationships.
The lack of meeting basic childhood needs, such as unconditional acceptance, free play, and emotional expression, can lead to distorted development and mental health issues. This is particularly true in capitalist societies that emphasize performance and external values. It's crucial to recognize that seeking validation from others is not the issue, but rather seeking validation in the first place. Different experiences and coping mechanisms in childhood can lead to varied outcomes, with some individuals becoming successful but still suffering. Loneliness is a perception, and being alone does not necessarily mean being lonely. Building deeper relationships and cultivating a supportive community can help alleviate loneliness and promote healing. Our society's materialistic values and limited set of values can contribute to loneliness. Growing up around people of different ages provides a broader perspective on life, and it's important to be open and vulnerable to connect with others.
Dive Deeper: Source Material
This summary was generated from the following video segments. Dive deeper into the source material with direct links to specific video segments and their transcriptions.
| Segment | Video Link | Transcript Link |
| --- | --- | --- |
| The inherent expectations we all have | 🎥 | 📄 |
| The societal standards we try to live up to | 🎥 | 📄 |
| No two children have the same childhood | 🎥 | 📄 |
| The difference between loneliness and being alone | 🎥 | 📄 |
---
5. Support children in experiencing and moving past pain, validating their emotions.
The concept of 'mollycoddling' is often misunderstood as loving a child too much, but it's actually a trauma response that can harm the child. It's about projecting the anxieties of the parents onto the child, rather than allowing them to experience and move past pain. Children naturally experience pain and vulnerability, and it's important to support them in this process. The brain has a circuit for grief, which is essential for life, and it's crucial to validate children's emotions and help them accept loss. Overanalyzing experiences can be a sign of not allowing the grief to do its work, and it's important to find a balance between reflection and overthinking.
Dive Deeper: Source Material
---
6. Embrace interconnectedness and let go of false identities for growth.
The essence of human nature is not fixed, but rather a potential based on our needs. If these needs are met, growth and development will be healthy. However, if these needs are frustrated, it can lead to hatred and violence. Society often sets up false identifications and divisive identities, which can create tension and discomfort. Competition can be healthy, but it is important to differentiate between identification and attachment. In sports, players engage in a game for the process and joy, but when it becomes a business, the confusion between the game and life itself can be prevalent. It is crucial to prioritize larger issues like climate change and conflicts over trivial matters. The people of Rwanda have shown remarkable healing and forgiveness after the genocide, thanks to the leadership that encouraged them to think in a different way. It is possible to achieve a level of healing and let go of tribal culture by embracing principles like Ubuntu, which emphasizes interconnectedness and the belief that 'I am because you are.
Dive Deeper: Source Material
---
7. The mind's defense mechanism can lead to addiction and different reactions.
The human mind is a defensive structure that develops in response to pain and fear, protecting us from experiencing pain and change. This defense mechanism can lead to different reactions to the same situation, as seen in the example of two siblings with a drug-addicted parent. Addiction is one example of this defense mechanism, where the mind tries to protect us from the pain of being ourselves with its ideas, beliefs, certainties, and desires.
Dive Deeper: Source Material
---
---
💡 Actionable Wisdom
Transformative tips to apply and remember.
Embrace vulnerability in your daily life to foster personal growth and healing. Take the time to acknowledge and address any past traumas or wounds that may be affecting you. Seek out healing practices that resonate with you, whether it's through traditional methods or self-reflection. Remember that healing is a journey towards wholeness, and forgiveness and authenticity play crucial roles in the process. Lastly, prioritize meeting your basic needs and cultivating meaningful relationships to promote overall well-being.
---
📽️ Source & Acknowledgment
This post summarizes Jay Shetty Podcast's YouTube video titled "The ROOT CAUSE Of Trauma & Why You FEEL LOST In Life | Dr. Gabor Maté & Jay Shetty". All credit goes to the original creator. Wisdom In a Nutshell aims to provide you with key insights from top self-improvement videos, fostering personal growth. We strongly encourage you to watch the full video for a deeper understanding and to support the creator.
---