Lex Fridman
Albert Bourla: Pfizer CEO | Lex Fridman Podcast #249
Insights from Informative Videos: Institutions, Vaccines, and the Essence of Life.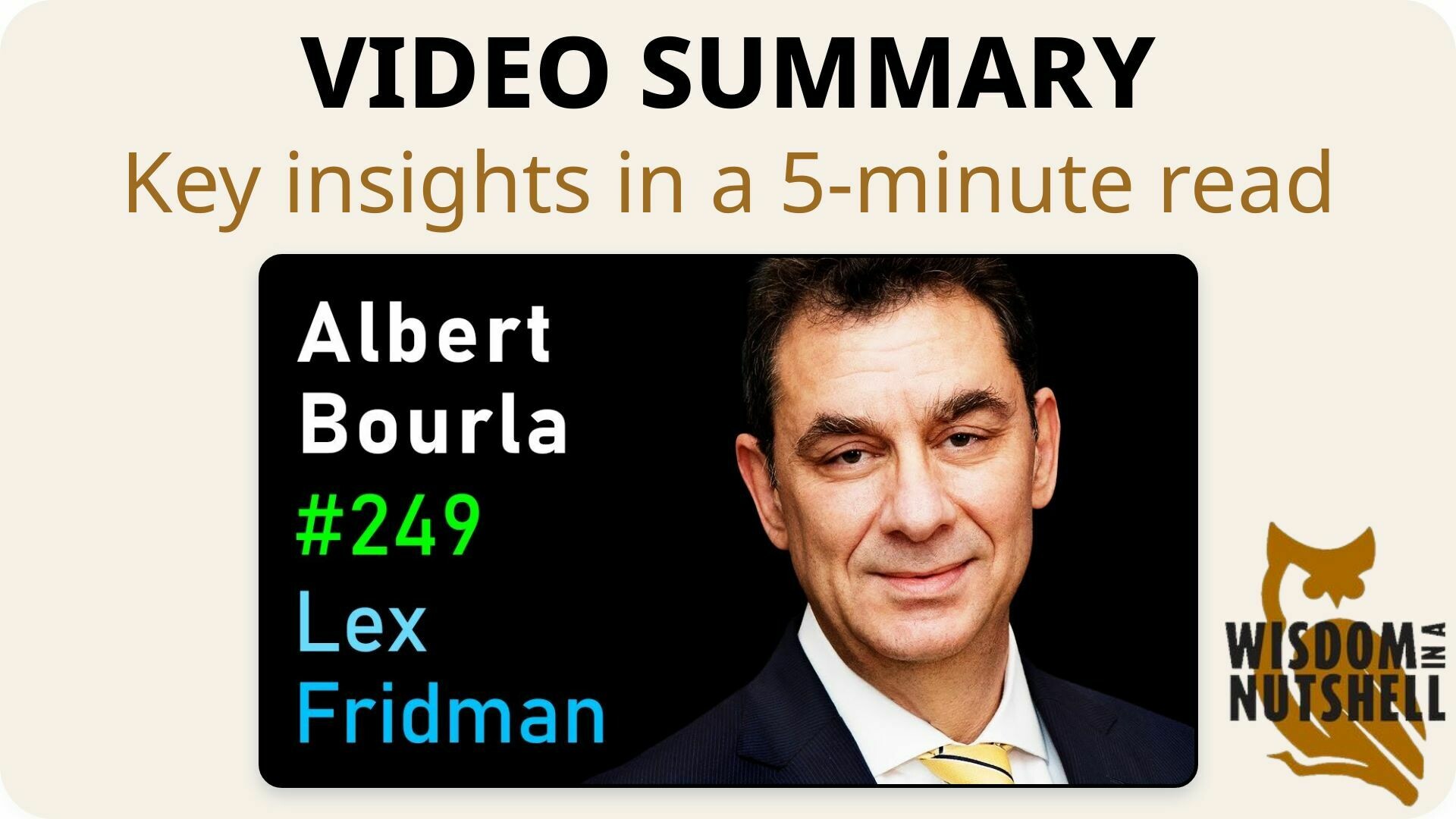 🌰 Wisdom in a Nutshell
Essential insights distilled from the video.
---
---
📚 Introduction
In a series of informative videos, various topics were discussed, including the power and harm of institutions, the development and safety of COVID-19 vaccines, the importance of transparency and communication in science, the decision to mandate vaccination, the effectiveness of new treatments, and the essence of life. These videos provided valuable insights and sparked meaningful discussions. Let's explore some of the key takeaways from these informative discussions.
---
🔍 Wisdom Unpacked
Delving deeper into the key ideas.
1. Use your mind, not blindly follow, and approach conversations with integrity.
The history of humanity has seen two groups of people, one believing in the saving power of institutions, and the other in their harm. It's crucial to use your own mind and not blindly follow leaders. The advancement of medicine and vaccines have saved millions, but it's important to learn from history's lessons of corruption within institutions. The development of COVID vaccines is a great accomplishment of science. Approaching conversations with an open mind and not forcing opinions on others is key. Choosing not to get vaccinated is a personal decision, and it's not necessary to dismiss concerns or divide people. Integrity is crucial, and this life is short without it. Beauty can save the world.
Dive Deeper: Source Material
---
2. Transparency and communication are key to regaining public trust.
The development of the COVID-19 vaccine is a significant scientific achievement, but it has also been a source of division. The decision to invest in the vaccine was made due to the pandemic and the fear of the unknown. The focus was on making breakthroughs that change patients' lives, and money will follow. The pressure to cover costs does not harm the ability to conduct unbiased studies. The FDA's request to release the Pfizer data in 75 years raises questions about transparency and immediate access to data. Bureaucracy can slow down government processes, but it is necessary for oversight. Transparency is crucial in winning people's trust and inspiring them with science. The FDA has the potential to be a great institution, but there are concerns about a lack of transparency. The review process is detailed and conducted by high-caliber scientists, but there is a need for effective communication to the world about the incredible science and processes followed. Silence and lack of communication can lead to distrust and hinder the effectiveness of solutions. It is important to address bureaucracy and ensure that regulatory agencies maintain their integrity. While there may be concerns about corruption, the track record of regulatory agencies in countries like the US, Europe, and England is generally good. It is important to recognize that human nature exists, but the rule of law and communication can help alleviate concerns.
Dive Deeper: Source Material
---
3. Pfizer vaccine is safe, effective, and adaptable to new variants.
The Pfizer vaccine is considered safe and highly effective in preventing severe illness and death. Initially, it was believed that regular booster shots would be required, but the emergence of the Delta variant led to the recommendation of a booster every six months. With the Omicron variant, there is a possibility that two doses may not be sufficient, and three doses may be needed. The production capacity for vaccines is not expected to be affected, as the industry is capable of producing four billion doses per year. The world should feel confident that if there is a need for a new vaccine, it will be available.
Dive Deeper: Source Material
---
4. Vaccination mandates balance individual freedom and public health.
The decision to mandate vaccination is a complex issue, with pros and cons. While it can lead to significant increases in vaccination rates, it also raises questions about individual freedom. It's crucial to convince people to get vaccinated while preserving the freedom not to. Children should be vaccinated, and parents should understand the science behind vaccines. The COVID vaccine is a new technology, and choosing to vaccinate children is a choice to protect them from the disease. Vaccines have been developed to protect children, and they are a very good thing.
Dive Deeper: Source Material
---
5. New COVID-19 treatment shows promise, but ivermectin claims are unsubstantiated.
A new treatment for COVID-19 has shown promising results, reducing hospitalization rates from 10 to one. However, concerns exist about the effectiveness of ivermectin, a drug without patents, as a potential solution. Scientists have not found any connection between ivermectin and COVID-19, and there is no reliable scientific evidence to support its use. It is crucial to focus on saving lives rather than speculative claims. The effectiveness of ivermectin is still being studied, but small studies with inconclusive evidence have been retracted. It is important to consider the credibility of research and the potential consequences of misinformation.
Dive Deeper: Source Material
---
6. Life is about forward momentum, progress, and love.
The essence of life lies in its forward momentum, creating new things, and adding beauty and love to the world. Despite the challenges we face, human ingenuity and progress in various aspects of society give hope for a better future. The fear of not being around to see our loved ones' milestones highlights the importance of life and the desire for a continuation of existence. The meaning of life is not just about surviving but about contributing and moving forward.
Dive Deeper: Source Material
---
---
💡 Actionable Wisdom
Transformative tips to apply and remember.
Approach conversations with an open mind and respect for differing opinions. Seek reliable sources of information and critically evaluate claims before forming judgments. Make informed decisions about vaccination based on scientific evidence and personal circumstances. Embrace the essence of life by actively contributing to the world and cherishing meaningful moments with loved ones.
---
📽️ Source & Acknowledgment
This post summarizes Lex Fridman's YouTube video titled "Albert Bourla: Pfizer CEO | Lex Fridman Podcast #249". All credit goes to the original creator. Wisdom In a Nutshell aims to provide you with key insights from top self-improvement videos, fostering personal growth. We strongly encourage you to watch the full video for a deeper understanding and to support the creator.
---