Lex Fridman
Alex Gladstein: Bitcoin, Authoritarianism, and Human Rights | Lex Fridman Podcast #231
Insights on Bitcoin, Authoritarianism, and Freedom.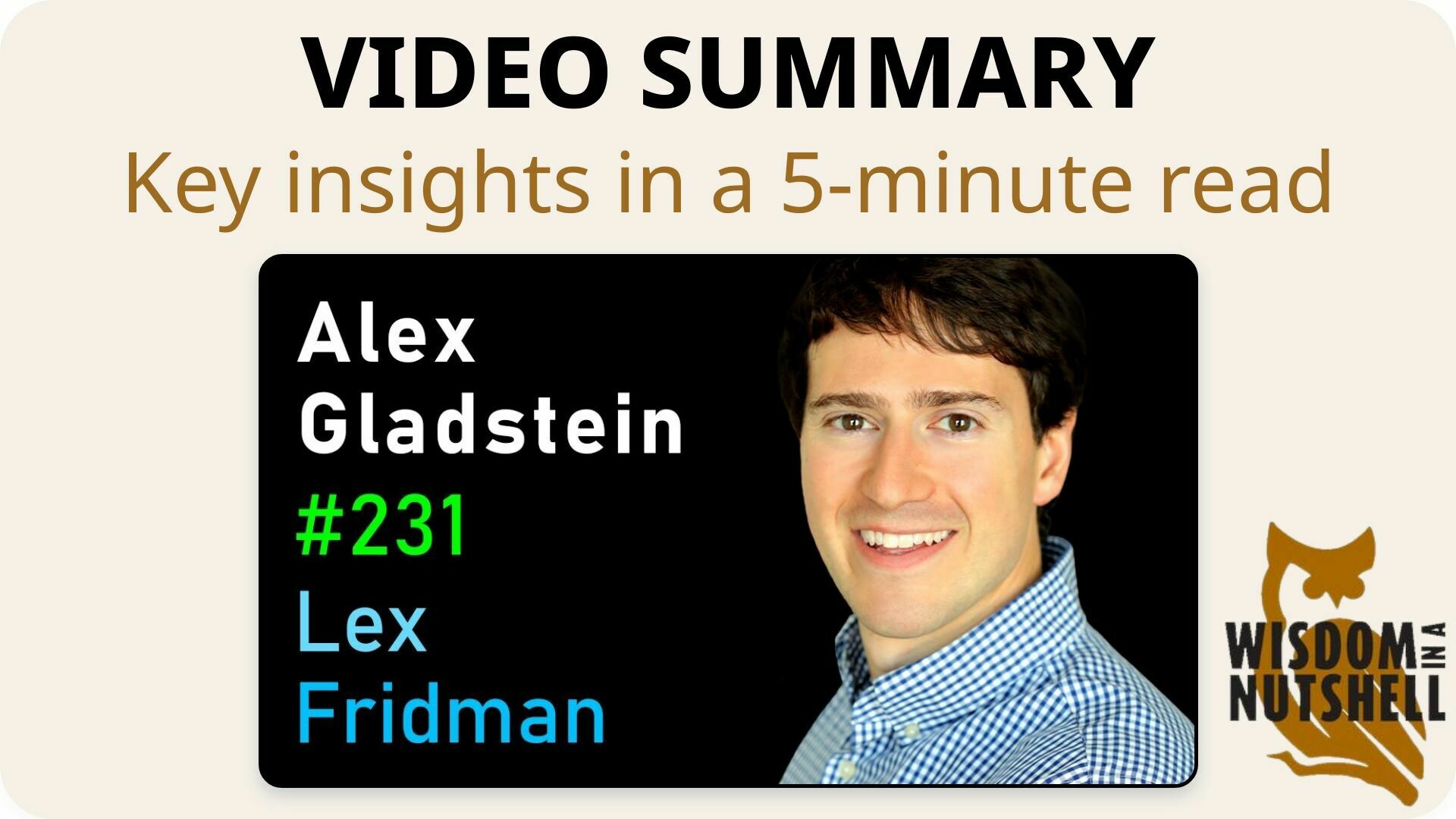 🌰 Wisdom in a Nutshell
Essential insights distilled from the video.
---
---
📚 Introduction
Bitcoin has emerged as a powerful tool in the fight against authoritarianism and the promotion of financial freedom. It offers equal access and control for everyone, serving as a decentralized form of money that cannot be manipulated by a select group of people. In this blog post, we will explore the various ways in which Bitcoin can be used to combat authoritarian regimes and discuss the importance of principles such as free speech and property rights in a free society. We will also delve into the impact of technology on democracy and the fight against surveillance. Join us as we uncover the potential of Bitcoin and the role it plays in shaping a more free and just world.
---
🔍 Wisdom Unpacked
Delving deeper into the key ideas.
1. Bitcoin empowers financial freedom and resists authoritarianism.
Bitcoin, a decentralized form of money, offers a revolutionary concept of equal access and control for everyone, decentralizing money and preventing arbitrary changes by a select group of people. It can be used to fight authoritarianism in various ways, such as acting as a sovereign savings account that is debasement-proof, providing a low-cost, easily accessible solution for individuals in countries with weak currencies or authoritarian regimes. It also serves as an unstoppable payments network, allowing individuals to conduct commerce and send money without relying on traditional financial systems. It is sanction-resistant and offers a more efficient and secure alternative to traditional remittance methods. Therefore, Bitcoin is a powerful tool for fighting authoritarianism and promoting financial freedom.
Dive Deeper: Source Material
---
2. Negative rights, free speech, and a free society are key to human flourishing.
The concept of negative rights, such as free speech and property rights, is fundamental to a free society. Authoritarian regimes often manipulate these rights, and it's important to prioritize principles and stand against such regimes. Living in an authoritarian state can be identified by the absence of certain freedoms and rights. The digital transformation of the world raises concerns about the impact on democracy. Patriotism, while a powerful feeling, should be differentiated from jingoism. Long-form conversations are essential for in-depth reporting and uncovering the truth. Journalism, while crucial for a free society, can be challenging when dealing with controversial figures. The litmus test of whether a country allows a gay pride parade can be a useful indicator of freedom. Books, fiction, and philosophy can have a profound impact on life.
Dive Deeper: Source Material
---
3. Technology can be used for freedom or oppression; privacy and encryption are key.
The use of technology can have both positive and negative consequences, with the potential for oppression and surveillance by authoritarian regimes. However, there are ways to fight back, such as using encryption to protect personal data and resist surveillance. The Snowden revelations highlighted the importance of privacy and the need for tools like Signal for private conversations. Encryption is crucial for protecting data, and the decentralization of information and money are key areas to focus on. Politics, information, and money are the three key areas to consider in this context.
Dive Deeper: Source Material
---
4. Bitcoin, a decentralized cryptocurrency, promotes individual freedom and resilience.
Bitcoin, a decentralized cryptocurrency, has the potential to withstand legal pushback and promote individual freedom. Its decentralized nature, attractive to users, leads to increased adoption, better user interface, and more privacy tools. The alignment of incentives in Bitcoin promotes the use of freedom tools, even by those who may not care about freedom. The future of Bitcoin includes potential upgrades that could further enhance privacy and fight surveillance. Despite the potential for Bitcoin to fail, it is a powerful tool for pushing back against centralized control. However, the presence of fake accounts and scams can make people skeptical. It's important to be cautious and skeptical when encountering ideas, especially when there are a lot of competing ideas and scams. Understanding the scaling conflict and different visions for Bitcoin is important. Some believe it should be a freedom tool, not just a payments technology.
Dive Deeper: Source Material
This summary was generated from the following video segments. Dive deeper into the source material with direct links to specific video segments and their transcriptions.
| Segment | Video Link | Transcript Link |
| --- | --- | --- |
| Government response to Bitcoin | 🎥 | 📄 |
| The blockchain | 🎥 | 📄 |
| Can Bitcoin fail? | 🎥 | 📄 |
| Bitcoin scams | 🎥 | 📄 |
| Attacks on Bitcoin | 🎥 | 📄 |
---
5. Activism and Bitcoin can address Chinese Communist Party's actions.
The Chinese Communist Party's actions, similar to those of past regimes, are being met with calls for action and activism. The fight against apartheid in South Africa provides a blueprint for peaceful action. The use of Bitcoin as a tool for human rights can be effective without requiring altruism or sacrifice. The possibility of a hot war between China and the US is unlikely due to economic interests, but the subjugation of Hong Kong, the genocide of the Uyghurs, and the colonization of Tibet are significant issues. The governments of China and Russia may need to be reformed, but their fall is unpredictable. America could continue to play a leadership role, but its methods may change as the world becomes more multipolar. Despite its flaws, America still represents the values it was founded on.
Dive Deeper: Source Material
---
6. Decentralized platforms prioritize user control and privacy.
The impact of social media platforms on the world is significant, with concerns about censorship and the loss of the golden age of the internet. Technological solutions like decentralized platforms and streaming money can help creators reach their audiences without censorship. However, the censorship and deplatforming issue may not be fixable. The idea is to give individuals more control over what they consume, rather than relying on platforms to do the censorship. A decentralized system with open protocols and different instances can provide more open discourse and allow people to select content based on their own intelligence. Federated social media platforms like Mastodon offer a trade-off between convenience and privacy. Creating a federated social network that balances user experience and data privacy is a challenge. The UX should be designed by the company, while data ownership should be in the hands of the individual. A feature like a one-button delete option is important for user control. Transparency and control are key to building trust and willingness to share data. While centralized platforms are easier to use, decentralized alternatives like Sphinx are promising. It's important to prioritize founding principles and user experience to create seamless and natural interfaces. Signal, an encrypted messaging service, has seen a surge in popularity due to factors like Elon Musk's endorsement and changes in WhatsApp's terms of service. It's encouraging to see digital communications tools prioritizing privacy and security.
Dive Deeper: Source Material
---
7. Bitcoin offers insights into authoritarianism, hyperinflation, and financial freedom.
The book 'The Fear' provides a deep understanding of authoritarianism and hyperinflation, while 'The Man Without a Face' explores the surveillance state and the loss of status as the reserve currency. 'The Mandibles' is a witty and dark fiction book about the United States losing its status as the reserve currency and going into hyperinflation. 'The Internet of Money' is a collection of talks that provide an engaging and fascinating introduction to Bitcoin, explaining concepts like proof of work and the network functions. 'The Little Bitcoin Book' explores the social and political aspects of Bitcoin and its importance for finances, freedom, and the future. The video 'Why is Bitcoin protecting human rights around the world?' provides a concise explanation of Bitcoin's impact, while the essay 'Why haven't governments banned Bitcoin?' explores the technological and game theory aspects of Bitcoin's resistance to government attacks.
Dive Deeper: Source Material
---
8. Embrace freedom, pursue knowledge, and protect Earth for a multi-planetary future.
The essence of life is to create beautiful communities, pursue knowledge, and promote freedom. Technology can aid in this pursuit by emancipating individuals and giving them the freedom to make their own choices. It's crucial to question, research, and work towards building societies that prevent arbitrary power concentration. The future of humanity lies in becoming a multi-planetary species, with Mars being a potential first step. It's important to recognize the uniqueness of Earth and protect it, while also addressing immediate concerns like nuclear war and authoritarian governments. The future is uncertain, but it's crucial to strive for a world without suffering and injustice, and to continue pushing for more freedom, entrepreneurship, creativity, and scientific inquiry.
Dive Deeper: Source Material
---
9. Understanding the petrodollar system and its impact on conflicts.
The petrodollar system, where the US forces oil-producing nations to sell oil in dollars, is a significant factor in the country's power. The invasion of Iraq in 2003 highlighted the manipulation of media and the importance of questioning the reasons behind military interventions. The dollar reserve currency system has been a driving force behind conflicts and the need for alternative currencies like Bitcoin. It is crucial to be patriotic and support America without relying on the petrodollar system. The lessons learned from 9/11 and the forever wars should guide our actions. While there are ongoing conflicts and military interventions, there is hope for technological innovations like Bitcoin to address these challenges. However, progress in the political arena is often slow due to bureaucracies, corruption, and human nature. It is important to continue fighting against the darkness and striving for a better future.
Dive Deeper: Source Material
---
---
💡 Actionable Wisdom
Transformative tips to apply and remember.
Embrace the power of Bitcoin as a tool for financial freedom and a means to fight against authoritarianism. Educate yourself on the principles of a free society and stand up for your rights. Use technology to protect your privacy and resist surveillance. Be cautious and skeptical when encountering new ideas, especially in the digital age. Strive to create a world without suffering and injustice, where freedom, entrepreneurship, creativity, and scientific inquiry thrive.
---
📽️ Source & Acknowledgment
This post summarizes Lex Fridman's YouTube video titled "Alex Gladstein: Bitcoin, Authoritarianism, and Human Rights | Lex Fridman Podcast #231". All credit goes to the original creator. Wisdom In a Nutshell aims to provide you with key insights from top self-improvement videos, fostering personal growth. We strongly encourage you to watch the full video for a deeper understanding and to support the creator.
---