Lex Fridman
Benjamin Netanyahu: Israel, Palestine, Power, Corruption, Hate, and Peace | Lex Fridman Podcast #389
Insights from Various Topics.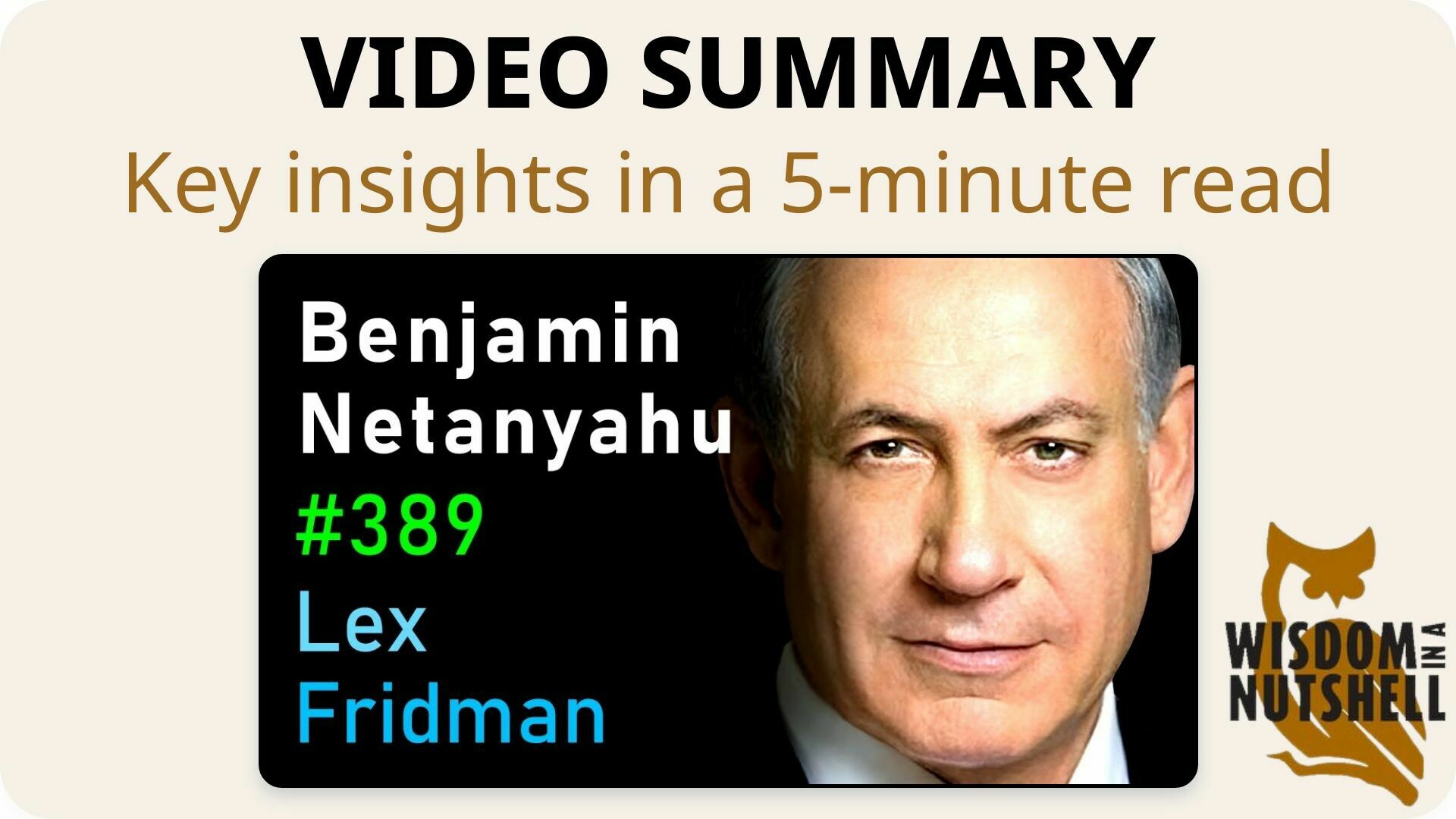 🌰 Wisdom in a Nutshell
Essential insights distilled from the video.
---
---
📚 Introduction
In this blog post, we will explore a variety of topics and extract key insights from each. From the power of conversation to the ongoing conflict in Ukraine, there is much to learn and apply in our daily lives. Let's dive in and uncover the wisdom within these discussions.
---
🔍 Wisdom Unpacked
Delving deeper into the key ideas.
1. Leverage conversation and humanity to prevent threats and do good.
The power of conversation and the common humanity we share can be leveraged to prevent threats and do good in the world. When someone threatens to destroy you, take them seriously and act to prevent it early on. Don't let them have the means to do so. Despite facing criticism and attacks, keep trying to do some good in the world.
Dive Deeper: Source Material
---
2. Israel's judicial reform aims to restore balance, while AI's rapid development demands regulation and global cooperation.
The proposed judicial reform in Israel aims to restore the balance of power between the legislative, executive, and judiciary branches, similar to the US system. The reform is being criticized for giving too much power to the government, but the protests are not representative of the majority. Israel has a vibrant democracy and a free market economy, attracting investments in high-tech industries. The rapid development of artificial intelligence (AI) is a concern, and there is a need for regulation and global cooperation. Israel is investing in AI for security reasons and has the potential to become a leading AI power. However, there are concerns about the impact on jobs and the need for a structural change in our economic models and politics. The concept of competition is a constant in life, but there is a challenge in defining market segments and monopolies in the interconnected world. The growing power of big tech companies raises questions about the role of regulation and competition.
Dive Deeper: Source Material
---
3. Leadership is about ensuring survival and thriving, not corruption.
The speaker, a leader, believes in the will of the Israeli voters and their consistent choice of leadership despite the lack of power in the media. They view their mission as ensuring the survival and thriving of the Jewish state. The concentration of power lies elsewhere, not with them. Corruption cases against them are collapsing, and the truth is coming out. However, the use of spyware and shaking down politicians is seen as a major obstacle to peaceful coexistence between Israelis and Palestinians.
Dive Deeper: Source Material
---
4. Two-state solution with Israel controlling security is a practical solution for Israel-Palestine conflict.
The ongoing conflict between Israel and Palestine is rooted in the Palestinian refusal to recognize a Jewish state, leading to a territorial dispute that is not the main issue. A two-state solution with Israel controlling security is a practical solution, although it may not be perfect. The expansion of settlements in the West Bank is not a major concern for most Israelis, as they recognize that urban blocks will be part of Israel in any future arrangement. The focus should be on finding a peaceful solution that respects the rights of both Israelis and Palestinians. Living among Arabs and Jews in disputed areas is possible. The Palestinian problem should not be a prerequisite for peace with the Arab world. Instead, direct peace accords should be made with Arab capitals, as seen in the Abraham Accords. The concept of war and peace can be applied to the conflict in Ukraine.
Dive Deeper: Source Material
---
5. Careful resolution and meaningful conversations are key to preventing escalation.
The ongoing conflict in Ukraine, involving a territory with nuclear weapons, highlights the importance of careful resolution to prevent further escalation. This is also true for Iran's aggressive ideology and pursuit of nuclear weapons, which pose a significant threat. However, the power of conversation lies in understanding the human element and the historical connection between Ukraine and Russia. While entering a room for negotiations can be more complicated than the actual negotiations, it is crucial for both sides to engage in meaningful discussions.
Dive Deeper: Source Material
---
6. Leadership requires vision, education, and continuous learning.
The ability to identify danger in time is crucial for survival, as seen in the history of the Jewish people during the Nazi threat. Iran poses a global threat, not just to Israel. To be a successful leader, one needs vision, flexibility, and a broad and deep education. Continuously learning and adding to one's intellectual capital is essential. History is the fundamental discipline for political life, along with studying economics, politics, and the military. Reading good works of history is recommended.
Dive Deeper: Source Material
---
7. Contemplate mortality, define purpose, and contribute to something meaningful.
Contemplating mortality is a natural part of life, and it's crucial to consider what lives on beyond our lives. It's important to have a defined purpose and contribute to something meaningful. Israel, a valuable ally of the United States, is a key player in the information world, with shared values of freedom and liberty. It's crucial to ensure the future and security of the Jewish state and people, and to be part of a coalition of like-minded nations.
Dive Deeper: Source Material
---
---
💡 Actionable Wisdom
Transformative tips to apply and remember.
Continuously educate yourself in various disciplines, such as history, economics, politics, and the military. This broad knowledge will equip you with the tools to be a successful leader and make informed decisions. Additionally, engage in meaningful conversations and leverage the power of dialogue to understand different perspectives and find peaceful resolutions. By being proactive in identifying and addressing threats, both on a personal and global scale, you can contribute to a safer and more harmonious world.
---
📽️ Source & Acknowledgment
This post summarizes Lex Fridman's YouTube video titled "Benjamin Netanyahu: Israel, Palestine, Power, Corruption, Hate, and Peace | Lex Fridman Podcast #389". All credit goes to the original creator. Wisdom In a Nutshell aims to provide you with key insights from top self-improvement videos, fostering personal growth. We strongly encourage you to watch the full video for a deeper understanding and to support the creator.
---