Lex Fridman
Dan Carlin: Hardcore History | Lex Fridman Podcast #136
Insights from Various Topics.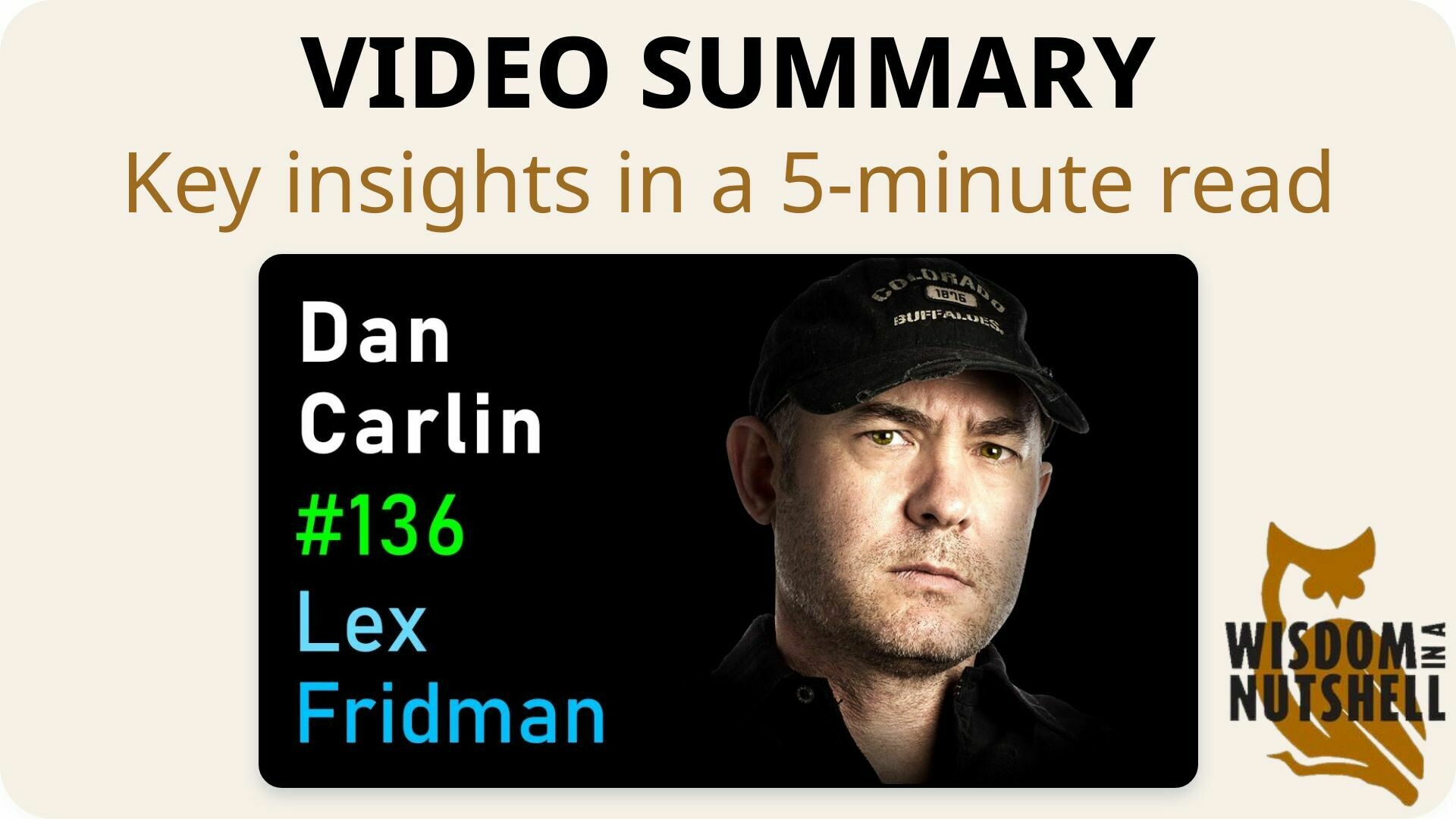 🌰 Wisdom in a Nutshell
Essential insights distilled from the video.
---
---
📚 Introduction
In this blog post, we will explore a variety of topics and uncover insightful perspectives. From the world of podcasting to the complex concepts of evil, war, truth, and leadership, we will delve into thought-provoking ideas. We will also discuss the rise of Hitler, the potential destruction of human civilization, the visionary Elon Musk, the impact of media on unity, and the nature of reality. Get ready to expand your knowledge and gain new insights!
---
🔍 Wisdom Unpacked
Delving deeper into the key ideas.
1. Podcasting's evolution and monetization challenges reflect human nature and history.
The process of creating podcast content involves improvisation, knowledge, and a focus on quality over release schedules. The medium of podcasting has evolved over time, with monetization becoming a challenge for independent podcasters. The future of podcasting is uncertain, with the potential for partnerships with outside firms to handle monetization. However, this could lead to a loss of control and potential strings attached. The speaker also highlights the importance of balancing the desire to focus on art with the need to consider the practical aspects of monetization. The speaker also shares their experience of meeting Dan Carlin, a podcast host, and the impact it had on their perspective on human nature and history.
Dive Deeper: Source Material
This summary was generated from the following video segments. Dive deeper into the source material with direct links to specific video segments and their transcriptions.
| Segment | Video Link | Transcript Link |
| --- | --- | --- |
| Introduction | 🎥 | 📄 |
| Advice on podcasting | 🎥 | 📄 |
| Joe Rogan, Spotify, and the future of podcasting | 🎥 | 📄 |
| Future episodes of Hardcore History podcast | 🎥 | 📄 |
---
2. Evil is complex, influenced by motivations and understanding force.
The concept of evil is complex and subjective, often defined as actions that cause suffering and destruction. However, the motivations behind such actions can vary, with some individuals believing they are doing good, while others may have malicious intentions. Understanding these motivations is crucial. Violence and force are closely related but not the same. Force is a physical law necessary for civilization, while violence is a tool that can be used for good or evil. The distinction between force and violence is not always clear, and the two often overlap. For example, intellectual discussions can escalate into coercion and violence. Actions often follow thought, and when peaceful methods fail, physical force may be necessary.
Dive Deeper: Source Material
---
3. War's complexity lies in its interconnectedness and manipulation.
The concept of war and its role in human history is complex, with the question of its existence being a challenge. The interconnectedness of governments, warriors, and the military-industrial complex influences choices. The victims of war are often soldiers, who are treated as disposable. The gray area in war is experienced by warriors, who may be victims of incompetence or manipulation. The heroism of soldiers lies in fighting to defend their lives and the people next to them, while patriotism can be manipulated to whip up war fever. The value of our troops should not be taken lightly.
Dive Deeper: Source Material
---
4. Truth and journalism are being challenged, understanding societal perspectives is key.
The concept of truth and the role of journalism in society are being challenged, with some viewing journalism as the enemy of the state. The belief in a stable trajectory towards truth is being questioned, and it's possible that truth is subjective and can be influenced by group beliefs. This is particularly evident in the context of political leaders like Putin, who maintain power by harnessing the power of the state and manipulating the system. However, it's important to recognize that different societies may have different perspectives on what constitutes human rights and individual needs, and understanding these differences is crucial for eliminating conflict and promoting peace. Traditional Americanism, for instance, has a healthy skepticism of the nation state and government manipulation, but it's important to recognize that this perspective may not be universal.
Dive Deeper: Source Material
---
5. Great leaders often inherit power, making difficult moral choices.
Great leaders are often defined by their ability to unite and inspire others, often inheriting power and achieving great things with it. However, there is a distinction between self-made leaders and those who inherit wealth or power. The stories of great leaders, like Genghis Khan, are often written by their enemies, highlighting their controversial nature. These leaders, like Alexander the Great and Frederick the Great, may have to make difficult moral choices that go against traditional moral values. The Mongols, for instance, were known for their religious tolerance but could still take people's daughters as concubines. They saw their conquests as a way to bring stability to the world. The Mongols started out as exceptional warriors and developed their ideology over time, with a unique relationship with animals, particularly horses, which gave them a military advantage.
Dive Deeper: Source Material
---
6. Hitler's rise was fueled by disillusionment and antisemitism, with tragic consequences.
The rise of Hitler and the Nazi regime was fueled by the disillusionment of the German people with their government and the promise of restoring German greatness. Antisemitism, while not integral to fascism, was a useful tool for Hitler to gain power. The Holocaust, a tragic sidebar to the Nazi phenomenon, weakened Germany and may have prevented it from getting nuclear weapons first. The power of collective human populations and the influence of individual perspectives are complex topics. The inevitability of history and the potential for military intervention to prevent worse outcomes are also debated. The heroic actions of individuals who opposed the Nazi government, even facing execution, are remarkable and demonstrate moral profundity. However, the question of whether World War II and the Holocaust could have been avoided without antisemitism is complex and tragic.
Dive Deeper: Source Material
---
7. Collective decision-making and long-term foresight are key to preventing civilization collapse.
The question of how human civilization could destroy itself or collapse is complex, with various possibilities including nuclear war, societal breakdown, engineered pandemics, nanotechnology, artificial intelligence, and unforeseen events. However, the odds of a collective decision leading to destruction are higher due to humanity's ability to focus and make collective decisions. The slow and insidious nature of global issues like pollution and climate change defies our natural fight-or-flight mechanisms and requires long-term foresight. While there is hope for humanity's ability to mitigate these threats, it is important to acknowledge the challenges and take action now to prevent future generations from facing devastating consequences.
Dive Deeper: Source Material
---
8. Elon Musk's innovative ideas and vision for a multi-planetary species are transforming industries.
Elon Musk, a visionary entrepreneur, is revolutionizing industries with his innovative ideas. He is a fan of hardcore history and is remembered for his work with SpaceX, potentially launching a new era of space exploration. He believes in the colonization of Mars and other Earth-like planets, making humans a multi-planetary species. His vision for Tesla is to create a car that is superior in every way, even for self-oriented consumers, leading to a transition away from pollution caused by automobiles. This approach aligns with the idea of making love more efficient than hate by creating a product that leads to more love than hate.
Dive Deeper: Source Material
---
9. Unity and respect are crucial in preventing division and promoting positive change.
The media landscape incentivizes division, leading to a system that profits from widening divisions. The United States, naturally inclined towards disunity, requires periodic events to promote unity. The current civil war is different, as a small group can cause significant damage. It's crucial for individuals to promote unity and respect for those they disagree with to prevent escalation. The American project is a beacon of hope, and it's important to preserve the idea of freedom and empower companies that can do good. Social media has a significant impact on society, and the way people treat each other online can have a cumulative effect. Historical figures who promote peace and non-violence often face challenges but can have transformative effects. Technology allows individuals to create platforms that can be more powerful than governments, but governments may take countermeasures to prevent the spread of love and positive change. Love and rationality do not always have to be in conflict with each other. Building products that people love and convincing influential figures to support them can be a game played in the pursuit of positive change.
Dive Deeper: Source Material
---
10. Questioning reality and assumptions is crucial for personal growth.
The concept of reality is questioned, with some denying the existence of a character in a production room. This raises questions about the nature of reality and the need for proof. It highlights the subjective nature of reality and the importance of questioning our assumptions.
Dive Deeper: Source Material
---
---
💡 Actionable Wisdom
Transformative tips to apply and remember.
Take the time to question your assumptions and seek a deeper understanding of complex topics. Engage in thoughtful discussions and consider different perspectives. Apply the principles of unity, respect, and love in your interactions with others, both online and offline. Support and promote ideas and products that align with your values and have the potential to bring about positive change. Embrace the uncertainty of reality and remain open to new possibilities.
---
📽️ Source & Acknowledgment
This post summarizes Lex Fridman's YouTube video titled "Dan Carlin: Hardcore History | Lex Fridman Podcast #136". All credit goes to the original creator. Wisdom In a Nutshell aims to provide you with key insights from top self-improvement videos, fostering personal growth. We strongly encourage you to watch the full video for a deeper understanding and to support the creator.
---