Lex Fridman
Dan Gable: Olympic Wrestling, Mental Toughness & the Making of Champions | Lex Fridman Podcast #152
Lessons from Wrestling: Leadership, Adversity, and Belief.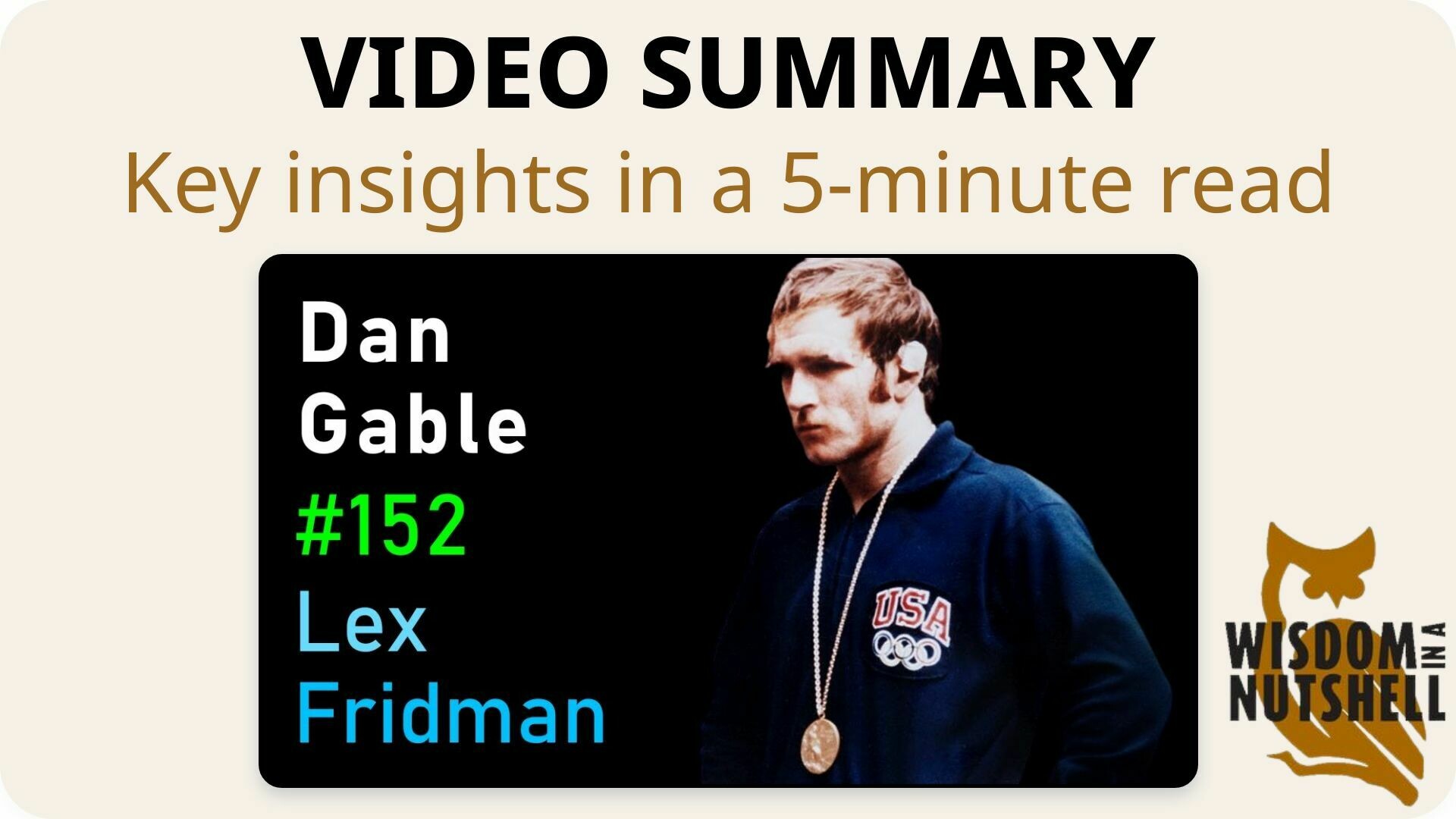 🌰 Wisdom in a Nutshell
Essential insights distilled from the video.
---
---
📚 Introduction
Wrestling is not just a physical sport, but a journey that teaches valuable life lessons. From the importance of leadership and overcoming adversity to the power of belief and the value of family, wrestlers embody qualities that can inspire and motivate us all. In this blog post, we will explore the wisdom gained from the world of wrestling and how it can be applied to our own lives.
---
🔍 Wisdom Unpacked
Delving deeper into the key ideas.
1. s and have coached many All-Americans, national champions, and Olympians.", '': 'Leadership and resilience are key to overcoming challenges.
The experience of being kicked out of the Olympics taught the importance of having top-notch leadership in an organization. This lack of representation made it easy for others to turn against the sport, but when faced with the possibility of being kicked out, everyone came together and made a difference. The loss of wrestling from the Olympics was devastating, but it made the community stronger. The speaker, a legendary Olympic athlete and coach, is known for their guts, spirit, mental toughness, and relentless hard work. They have led the Iowa Hawkeyes to numerous national.
Dive Deeper: Source Material
---
2. Wrestling requires a balance of toughness, technique, and strategy, with coaches playing a crucial role.
Wrestling, an ancient form of combat, requires a combination of toughness, technique, and strategy. American and Russian wrestling styles differ, with the former focusing on toughness and conditioning, and the latter on technique and strategy. Successful wrestlers attribute their achievements to dedication, hard work, and a focus on technique. Coaches play a crucial role in the development of wrestlers, requiring a deep understanding of each athlete's needs and limitations. They must create a comfortable and relaxed atmosphere for open communication and the exchange of valuable information. The pursuit of excellence in wrestling can lead to a desire to improve and reach new levels, which can be achieved by studying the best wrestlers and developing one's own unique skills.
Dive Deeper: Source Material
This summary was generated from the following video segments. Dive deeper into the source material with direct links to specific video segments and their transcriptions.
| Segment | Video Link | Transcript Link |
| --- | --- | --- |
| Russian wrestling | 🎥 | 📄 |
| Coaching the science, art, and toughness of wrestling | 🎥 | 📄 |
| To beat the best you must study the best | 🎥 | 📄 |
---
3. Turning adversity into opportunity is key to personal growth.
The story of Chad Zapato, a talented wrestler, highlights the importance of turning adversity into opportunity. Despite his incredible skills, he experienced defeat in three finals at the nationals, leading to a tattoo symbolizing his suffering. However, he realized the need to transform his suffering into something positive. He covered his tattoos, moved to California, and found a new purpose, eventually finding a good job and helping others. This journey serves as a testament to overcoming adversity and finding a new path in life.
Dive Deeper: Source Material
---
4. Belief, routine, and scientific approach are key to success.
The story of Roger Banister, who broke the four-minute mile, highlights the power of belief and the impact of time on what was once considered impossible. The journey of a young athlete, who had a strong belief in himself and a passion for competitive sports, is also inspiring. He had a routine and process that helped him achieve a score of 57 points and zero points scored on him. He focused on not allowing takedowns and worked on solving any weak points or situations where he got scored upon. He also had a scientific approach to his training, adding artistic elements to his approach. Despite struggling with interviews, he became a successful coach, producing many champions.
Dive Deeper: Source Material
This summary was generated from the following video segments. Dive deeper into the source material with direct links to specific video segments and their transcriptions.
| Segment | Video Link | Transcript Link |
| --- | --- | --- |
| Roger Bannister and the 4 minute mile | 🎥 | 📄 |
| The dream of becoming an Olympic champion | 🎥 | 📄 |
| The day in 1972 of the Olympic final | 🎥 | 📄 |
| Sauna story | 🎥 | 📄 |
| Match against the Russian | 🎥 | 📄 |
---
5. Wrestling involves pushing limits, controlling anger, and continuous improvement.
The essence of wrestling lies in pushing oneself to the limit, but not beyond. Fear can be a driving force, but it should be eliminated to achieve optimal performance. Anger, when controlled, can fuel performance, but uncontrolled anger can hinder it. The line between extreme physical wrestling and not rough or angry wrestling is crucial. Analyzing past performances and learning from them is key to continuous improvement.
Dive Deeper: Source Material
---
6. Tragic loss fosters appreciation for family, communication, and growth.
The tragic loss of a loved one can shape one's life, fostering a deep appreciation for communication and family. Family is crucial in personal growth and success, and it's better to do things together than alone. In relationships, it's important to prioritize family obligations and maintain open communication. In the context of wrestling, the goal is to have all wrestlers perform at their best consistently, with the coaching staff playing a significant role. The sport has faced challenges, including its removal from the Olympics, but it has since been reinstated.
Dive Deeper: Source Material
---
---
💡 Actionable Wisdom
Transformative tips to apply and remember.
Take inspiration from wrestlers and apply it to your daily life. Embrace leadership, overcome adversity, believe in yourself, and prioritize family. Push yourself to the limit, but always maintain control. Learn from past experiences and strive for continuous improvement. By incorporating these lessons into your life, you can unlock your full potential and achieve success in all areas.
---
📽️ Source & Acknowledgment
This post summarizes Lex Fridman's YouTube video titled "Dan Gable: Olympic Wrestling, Mental Toughness & the Making of Champions | Lex Fridman Podcast #152". All credit goes to the original creator. Wisdom In a Nutshell aims to provide you with key insights from top self-improvement videos, fostering personal growth. We strongly encourage you to watch the full video for a deeper understanding and to support the creator.
---