Lex Fridman
Daniel Negreanu: Poker | Lex Fridman Podcast #324
Insights from the World of Poker.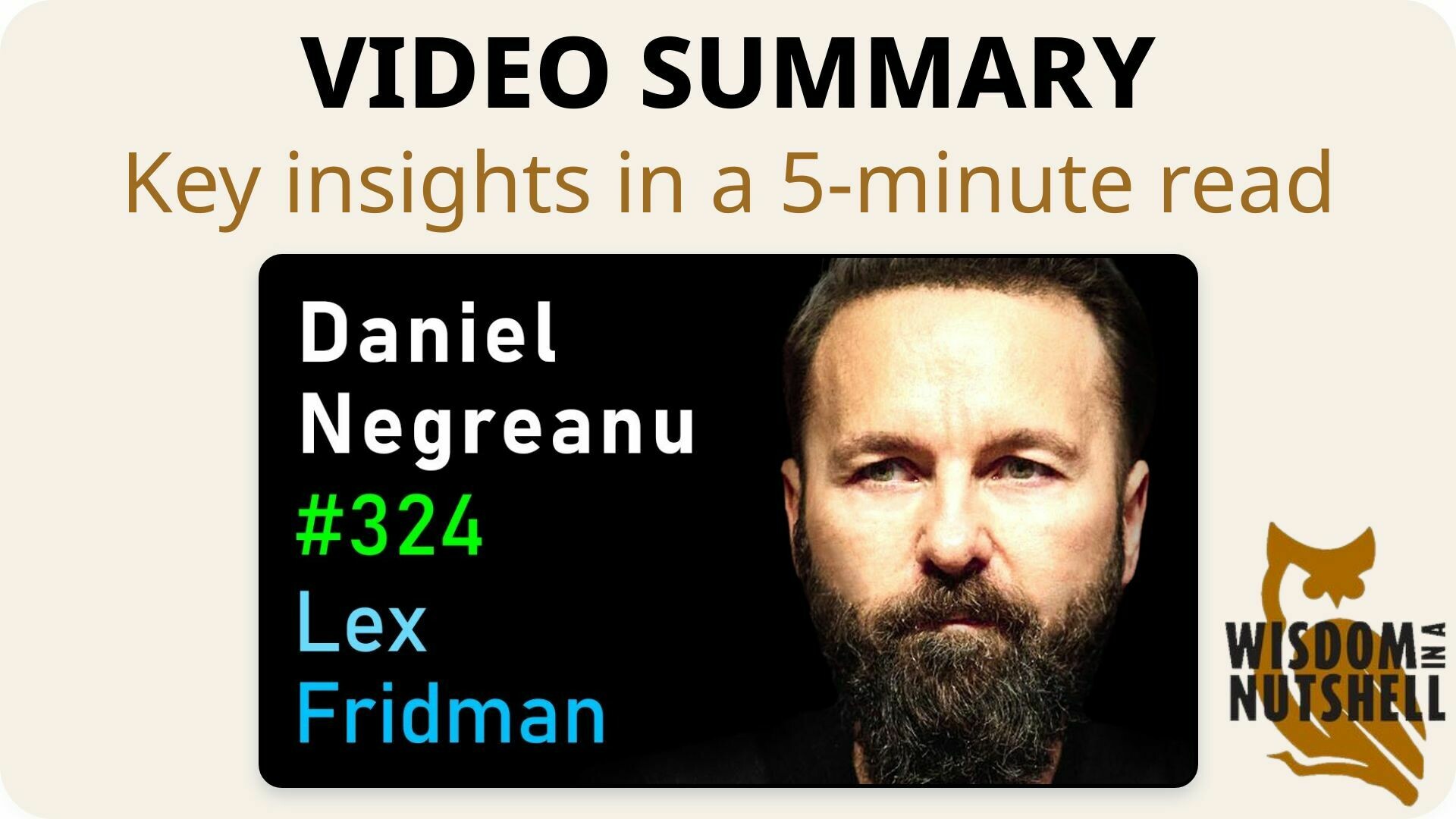 🌰 Wisdom in a Nutshell
Essential insights distilled from the video.
---
---
📚 Introduction
In the world of poker, there are various skills and strategies that can be applied to both the game and life. From finding profitable situations to understanding opponents and managing emotions, poker offers valuable lessons. This blog post explores the key insights from the world of poker and how they can be applied to personal growth and success.
---
🔍 Wisdom Unpacked
Delving deeper into the key ideas.
1. Poker success hinges on finding profitable situations and a structured routine.
The key skill of a poker player is finding profitable situations, regardless of skill level. This involves analyzing opponents and forming game plans to exploit their mistakes. A structured routine, including a balanced diet and measuring calories and macros, is crucial for success. During the World Series of Poker, indulging in cravings and eating whatever is desired is a common practice. The competitive aspect of poker and the level playing field it provides can be highly motivating, especially when faced with doubters.
Dive Deeper: Source Material
---
2. Poker strategy involves estimating hand ranges, representing a range, and controlling perception.
Poker strategy involves understanding the range of hands your opponents have, and representing a range of hands instead of specific hands. This is crucial in controlling how your opponents perceive your hand range, which can be done by betting big or small. Estimating the range of hands is like a grid that narrows down as players make decisions. Bluffing is misrepresenting the range of hands, and optimal players aim to make the fewest minus EV plays. Players also use verbal tells, body posture, eyes, throat, and pulse to project information at the table. Understanding the type of mind you're dealing with is important, as it can affect hand ranges and betting decisions.
Dive Deeper: Source Material
---
3. Mental resilience and self-awareness are key in poker.
The mental game in poker is crucial, with self-awareness and resilience being the most challenging aspects. It's important to distinguish between bad luck and poor decision-making, and to maintain resilience even in the face of adversity. Beginner's luck can be detrimental if it leads to overconfidence. Playing against weaker opponents can be profitable, but it's ethically questionable. It's also important to focus on the decisions made rather than the results, and to allow oneself to feel and express emotions. Suppressing emotions can hinder personal growth.
Dive Deeper: Source Material
---
4. Poker's evolution requires adaptability, strategic thinking, and understanding.
The game of poker has evolved significantly, with younger players and new strategies surpassing older ones. The use of artificial intelligence and solvers has introduced new personality types and learning methods. Solvers provide parameters for optimal play, but players can only input specific parameters, leading to unexpected plays. While solvers can be useful for guidance, it's important not to become a slave to them. At the highest level, there is still a role for feel and situation-based plays. To improve in poker, analyze your hands, use tools like solvers or discuss with friends, and understand the dynamics between heads-up and multi-player poker. Cheating in online poker is a concern, but there are various measures in place to detect and prevent it.
Dive Deeper: Source Material
---
5. Adaptable strategies and mental focus are key to poker success.
The World Series of Poker Main Event is a unique tournament where players need to adapt their strategies, often exploiting opportunities and taking advantage of amateurs. It's a combination of aggressive and patient play, finding ways to win pots without having the best hand. The final table is unique, with players making a lot of money by folding and waiting for weaker players to go out. Online poker is different from live poker, requiring a focus on fundamentals and game theory, as you don't have the same level of information about your opponents. Players play more hands online, creating a database of their opponents. The tabletop dynamic is less prevalent today, but it adds pressure to the game. The words spoken at the table can greatly affect a hand. Being comfortable and relaxed at the table is important, as it allows you to be yourself and make instinctual decisions.
Dive Deeper: Source Material
---
6. Life is a game of choices, pursue passions, embrace love, and overcome failure.
The essence of life is about making choices and taking risks. It's about being true to oneself, pursuing passions, and not solely focusing on money. Love, in all its forms, is a significant aspect of life, requiring acceptance, understanding, and support. It's crucial to have a backup plan and not be afraid to express oneself. The power of empathy and helping others is also important. Overcoming failure requires a break, recalibration, and regaining confidence. Life is a game of choices, and it's up to us to decide when to hold on and when to let go.
Dive Deeper: Source Material
---
---
💡 Actionable Wisdom
Transformative tips to apply and remember.
Incorporate the skills of a poker player into your daily life by analyzing situations for profitability, understanding the people around you, and managing your emotions effectively. Practice self-awareness and resilience, and focus on making informed decisions rather than being solely results-oriented. Embrace the power of empathy and support others in their journey. Remember, life is a game of choices, so make them wisely and take calculated risks.
---
📽️ Source & Acknowledgment
This post summarizes Lex Fridman's YouTube video titled "Daniel Negreanu: Poker | Lex Fridman Podcast #324". All credit goes to the original creator. Wisdom In a Nutshell aims to provide you with key insights from top self-improvement videos, fostering personal growth. We strongly encourage you to watch the full video for a deeper understanding and to support the creator.
---