Lex Fridman
David Kipping: Alien Civilizations and Habitable Worlds | Lex Fridman Podcast #355
Exploring the Universe: From Other Civilizations to the Search for Life.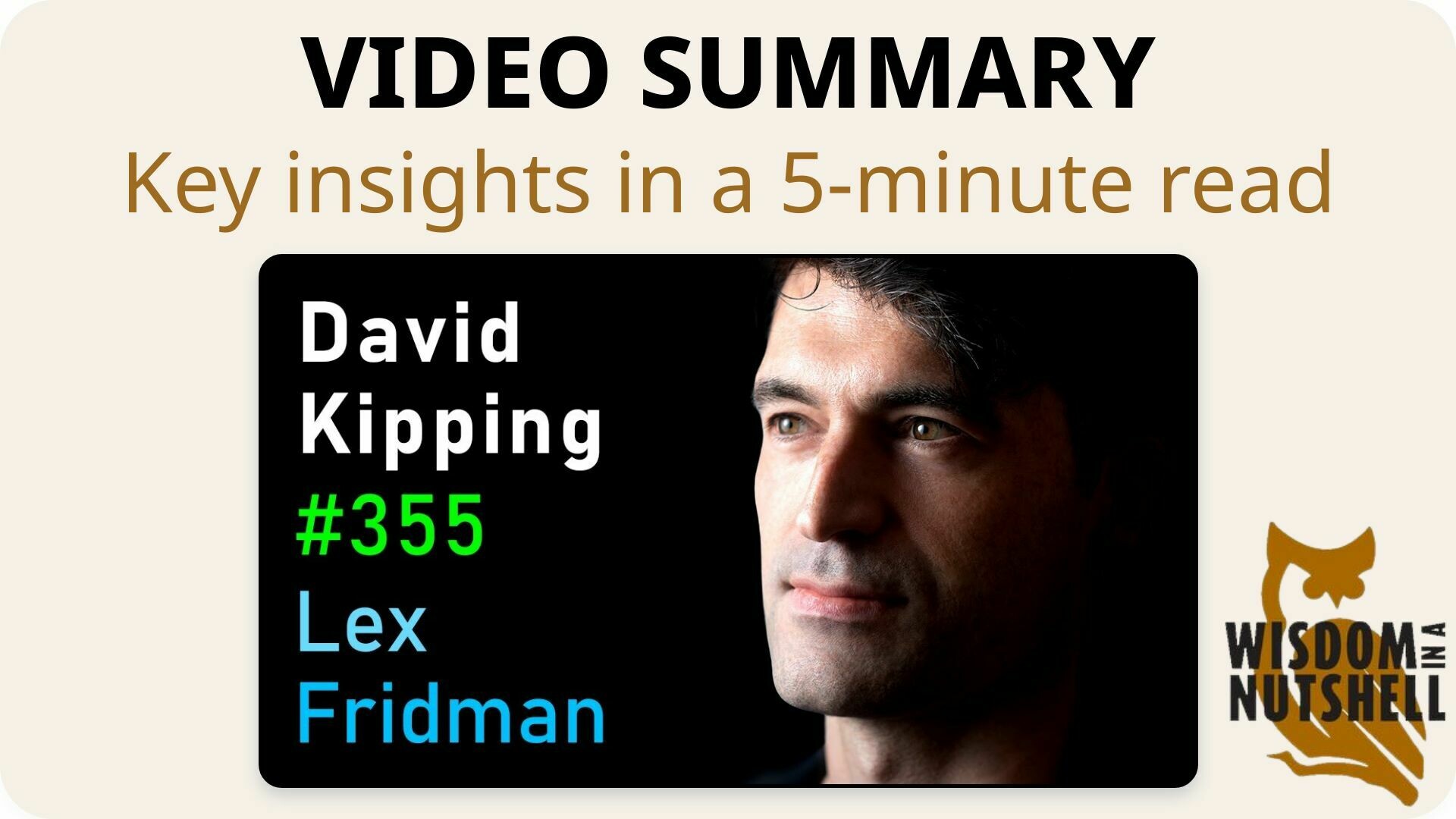 🌰 Wisdom in a Nutshell
Essential insights distilled from the video.
---
---
📚 Introduction
The universe is a vast and mysterious place, filled with countless possibilities. In our quest to understand the cosmos, we have delved into topics ranging from the existence of other civilizations to the search for life beyond Earth. This blog post takes a deep dive into these fascinating subjects, uncovering insights and raising thought-provoking questions along the way.
---
🔍 Wisdom Unpacked
Delving deeper into the key ideas.
1. Exploring the possibility of other civilizations and the Doomsday Argument.
The possibility of other civilizations existing in the universe is explored, with the suggestion that they may have attempted communication through time. The Doomsday Argument, which suggests that you are unlikely to be one of the first or last 1% of human beings to ever live, is discussed. The argument, based on the number of generations of humans and their average lifespan, estimates that there are about 20,000 years left in the clock. However, the reference class used in the argument can affect the outcome. The idea of a galactic spanning empire is improbable but not impossible, and the contradiction between the Doomsday Argument and the concept of a galactic empire is intellectually annoying.
Dive Deeper: Source Material
This summary was generated from the following video segments. Dive deeper into the source material with direct links to specific video segments and their transcriptions.
| Segment | Video Link | Transcript Link |
| --- | --- | --- |
| Intro | 🎥 | 📄 |
| The firm cognitive paradox | 🎥 | 📄 |
| The longevity & responsibility of civilizations | 🎥 | 📄 |
| Doomsday argument | 🎥 | 📄 |
---
2. Understanding the mechanics of the universe and the role of moons in life search.
The search for life in the universe involves understanding the mechanics of the universe, the possibility of life elsewhere, and the characteristics of planets and moons that might contain life. The existence of other stars with similar conditions to our solar system suggests the possibility of icy planets, water, and planets that can support life. The moon plays a crucial role in stabilizing the planet and creating tides, potentially leading to the origin of life in rock pools. Planets can form in the disk of a star and merge into one planet, or form at separate distances and dynamically scatter towards each other. The existence of binary planets is an open question in astrophysics, with implications for the probability of habitable worlds. The search for exo-moons, small cool objects in space, has been a long-standing effort, despite not finding anything for five years. The closest discovery was a hint of a Jupiter-like planet orbiting a star called Kepler 1625, with a hint of a moon on the edges of the transit data.
---
3. Astronomy's future holds revolutionary discoveries, but challenges remain.
The study of astronomy is rapidly evolving, with new methods and technologies allowing for the detection of signals like the prime number sequence and the presence of cool worlds. The use of telescopes, both on Earth and in space, is crucial for this research, as they can detect light from distant stars and planets, and even create a 'telescope' the size of the sun by using its gravity as a lens. The future of astronomy holds the potential for revolutionary discoveries, such as the detection of earth-like moons everywhere and the emergence of new technological capabilities for sensing. However, the current limitations of telescope size and the lack of available spacecraft for testing systems beyond the moon pose challenges to achieving these goals.
---
4. Oxygen presence on Earth is not solely a sign of life, other factors contribute.
The presence of oxygen on Earth is not solely a sign of life, as there were living organisms without oxygen throughout Earth's history. Other factors contribute to life, and there may be other sources of oxygen besides life. Hydrogen, a lighter atomic species, can escape the Earth's gravity, leaving a residual oxygen signature. Methane gas in combination with other gases can be an important bio signature, and the possibility of life in Venus's atmosphere, with its dense atmosphere and conditions similar to Earth's surface, is intriguing. The detection of phosphine in Venus's atmosphere, although uncertain, has sparked interest in sending missions to Venus.
---
5. Advanced engineering and in situ experiments can minimize contamination in celestial body exploration.
The exploration of celestial bodies like Venus, Europa, and Mars is crucial for understanding the universe and our own survival. However, it's important to avoid contamination, which can be achieved through in situ experiments and advanced engineering. The engineering behind landing on Mars is impressive, and the long-term goal of colonizing other surfaces is a risky but achievable strategy. The possibility of bringing back samples from other planets raises ethical concerns, but with advancements in technology, it's now possible to send micro laboratories to conduct experiments in situ, reducing the risk of contamination.
---
6. JVST and Starship telescopes offer unique opportunities for astronomical research.
The James Webb Space Telescope (JVST) is a powerful tool for astronomical research, but it's not designed to detect biosignatures like oxygen, nitrous oxide, and methane on a planet. However, the Starship telescope offers the opportunity to mass produce telescopes for surveying for life in the universe. The process of scheduling time on JVST involves collaboration among scientists to prioritize important problems and optimize experiments. The time allocation committee faces a difficult decision when allocating telescope time, with a high demand for proposals. JVST is the only telescope capable of finding moons similar to those in our solar system, which are abundant in the solar system.
---
7. Critical approach to life beyond Earth is crucial for understanding the universe.
The search for life beyond Earth is a complex and ongoing process, influenced by personal biases, religious beliefs, and the desire for fame. It's crucial to approach this search with a critical mindset, remaining agnostic and not jumping to conclusions. The existence of life elsewhere would be a groundbreaking moment, changing our understanding of the universe and the possibility of other life forms. However, it's important to be cautious and not assume that certain technologies or signs of life are inevitable. The discovery of life on another planet would be a significant discovery, but it's unlikely that we will have a meaningful conversation with alien life.
---
8. Life and intelligence in the universe are complex, open to interpretation, and influenced by technology.
The concept of life and intelligence in the universe is complex and open to interpretation. The word 'spontaneous' suggests that complex processes can emerge over time, potentially leading to the emergence of life. The probability of life emerging from the primordial soup is uncertain, but evidence suggests that life can thrive in various conditions. The process of life emergence may be separate from natural selection and evolution. It's possible that there are truly firsts in the universe, but they may be part of a broader continuation of chemical systems and networks. We should be cautious of our own arrogance and not assume that we are a special category of phenomena. The universe operates in infinite diversity and combinations. The algorithm of natural selection may be an invention of Earth and operate at all levels throughout the universe. Chemical systems compete for survival under limited resources, creating a balance. The idea of the zoo hypothesis, which suggests that we may be monitored, gains more credibility in a transitional period. AI, by its nature, observes and learns from human interaction and language. This raises philosophical questions about what makes us human. The lack of evidence of other civilizations in our history suggests that they may have destroyed themselves due to the power of their technology. The development of AI is correlated with other technological advancements, such as genetic engineering and nanoscale engineering. These advancements could potentially lead to the destruction of humanity before we have the ability to escape. It is important for us to consider the implications of AI and its impact on our society.
---
9. Search for extraterrestrial life involves various methods and signals.
The search for extraterrestrial life involves various methods, including the detection of biosignatures, technosignatures, and unusual celestial phenomena. The challenge lies in understanding the activities and motivations of other intelligent beings, as well as avoiding misinterpretation of natural phenomena as alien activity. The scientific community would be convinced of the existence of alien civilizations if there is a strong infrared signature or evidence of intelligent life that is not ambiguous, such as prime numbers or mathematical sequences following a specific pattern. Another proposal is to build artificial transitors that can transmit information without an energy source, creating a complex light curve with embedded messages. These signals could provide evidence of life or give us insights into the activities of other civilizations.
---
10. Warp drives and Halo Drive concepts challenge our understanding of the universe.
The concept of warp drives, which manipulate the fabric of the universe to travel faster than light, is a topic of interest in astrophysics. However, it raises questions about causality and the potential for time travel, which could lead to paradoxes and the destruction of the universe. The Halo Drive, a proposed propulsion system, utilizes black holes to launch large masses, including planet-sized objects. It is a way of exploiting cheat codes in the universe to achieve capabilities that were previously unavailable. Black holes can also be used as natural waypoint stations for space travel, accelerating and slowing down spacecraft. Advanced civilizations may use black holes in various ways, such as converting matter into energy through accretion disks and jets.
---
11. Kepler mission data analysis reveals insights on intelligence and communication.
The Kepler mission monitored 200,000 stars for four and a half years, capturing their brightness and behavior. This data is being analyzed using machine learning techniques, including the 'weird detector' that looks for repeating signals. While no prime number sequence was found, there could be something more generalizable. The concept of compression is crucial in understanding intelligence, as it involves compressing information and making it interpretable. Designing messages for aliens involves conventions and rules to make them interpretable, with a two-tier system of a lower key system and a deeper compressed layer of information likely.
---
12. The universe is dynamic, with resources in the Oort cloud and Kuiper belt.
The universe is dynamic, with stars changing their orbits and the galaxy's structure evolving over time. The Oort cloud, a region of space where stars' atmospheres intermix, can be a potential resource for interstellar missions, containing water and valuable materials. The Kuiper belt, a circular disk of objects, and the Oort cloud, a sphere of objects, are also potential resources. The alt cloud, a collection of objects, can be a source of resources and may have intermixed with other alt clouds in the past. Recently, there was excitement about an interstellar asteroid, Oumuamua, which may be an interstellar visitor. The outer solar system, like the bottom of the ocean, is largely unexplored and understanding phenomena requires light and observing how light interacts with it.
---
13. Future civilizations will harness universe energy, leveraging natural phenomena and AI.
The future of civilization lies in harnessing energy from the universe, leveraging natural phenomena to create artificial systems. This includes using solar energy, artificial black holes as thermal generators, and even harnessing the power of AI. However, these advancements come with consequences, such as increasing the planet's temperature. As civilizations expand into the universe, they will need to adapt to these changes and find sustainable ways to harness energy. The development of AI is a significant factor in this process, as it could potentially occupy a significant portion of our space exploration.
---
14. Legacy and transparency in understanding our biology and communicating with aliens.
The search for life and evidence of intelligent life in the galaxy and moon can inspire us to reflect on our legacy and what we want future civilizations to know about us. The golden record, an open-source version of which is being created, highlights the importance of transparency in understanding our biology and natural processes. However, societal and cultural imprints can influence the information we share. The challenge of communicating with alien beings, who may have different sensory devices and interpretations, underscores the need for contextual understanding. The efforts of SpaceX and Elon Musk, such as Starship, have the potential to be significant for astronomy and science.
---
15. Simulated reality and personal passions challenge our understanding of existence.
The concept of a simulated reality, where we may be living in a computer program, raises questions about the nature of existence and the meaning of life. It also highlights the importance of personal passions and interests in finding happiness and fulfillment. The idea of uploading one's mind to a computer or human body, while intriguing, may not be appealing to those who value their own conscious experience. The simulation hypothesis, while complex, is a fascinating topic that challenges our understanding of reality.
---
---
💡 Actionable Wisdom
Transformative tips to apply and remember.
As we ponder the mysteries of the universe, let us not forget the importance of humility and open-mindedness. Embrace the unknown and approach the search for life with curiosity, but also with a critical mindset. Take time to appreciate the wonders of our own planet and strive to make a positive impact on the world around you. Remember, the journey of exploration begins within ourselves.
---
📽️ Source & Acknowledgment
This post summarizes Lex Fridman's YouTube video titled "David Kipping: Alien Civilizations and Habitable Worlds | Lex Fridman Podcast #355". All credit goes to the original creator. Wisdom In a Nutshell aims to provide you with key insights from top self-improvement videos, fostering personal growth. We strongly encourage you to watch the full video for a deeper understanding and to support the creator.
---