Lex Fridman
David Pakman: Politics of Trump, Biden, Bernie, AOC, Socialism & Wokeism | Lex Fridman Podcast #375
Insights from Various Topics.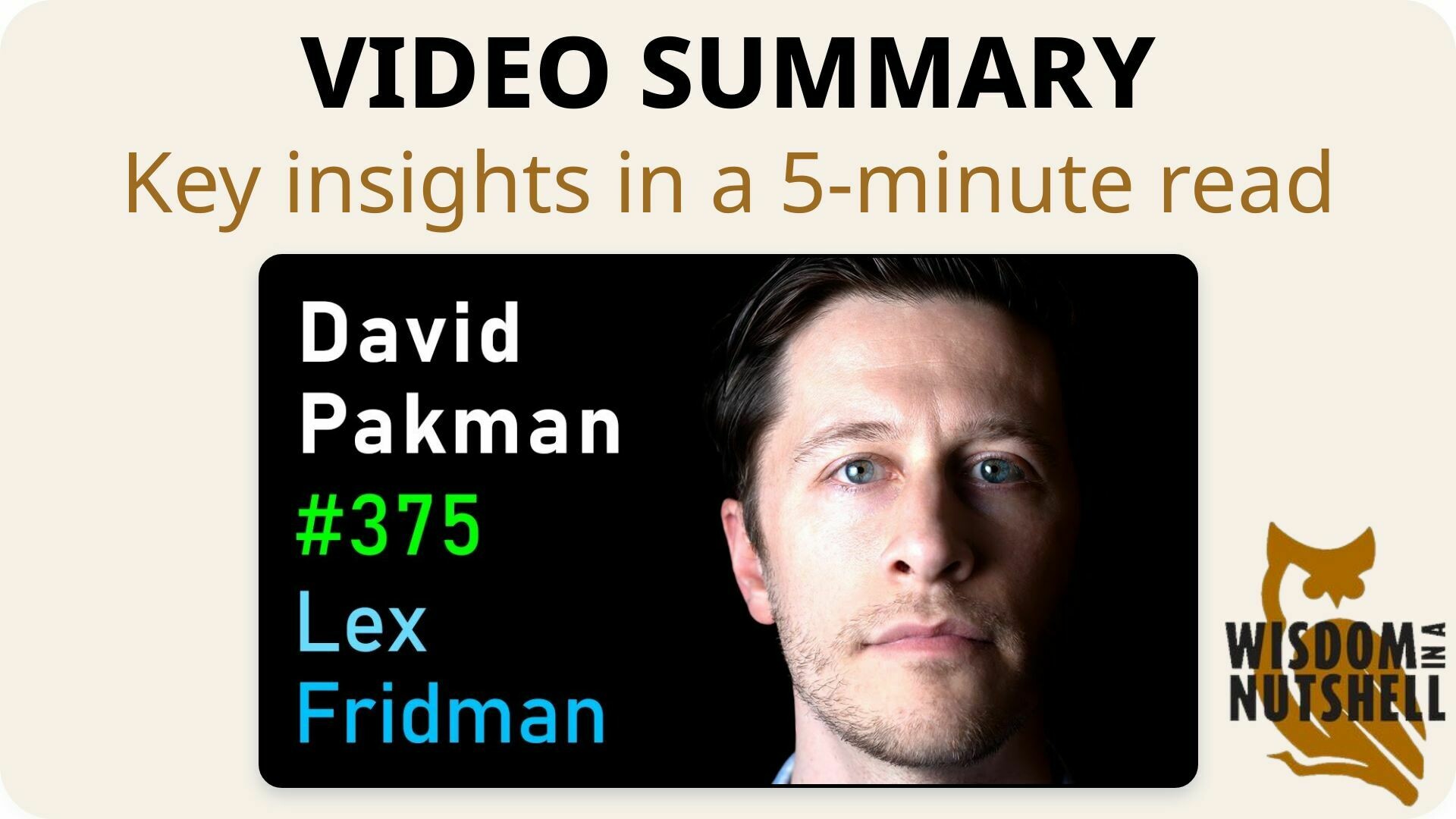 🌰 Wisdom in a Nutshell
Essential insights distilled from the video.
---
---
📚 Introduction
In this blog post, we will explore a variety of topics, ranging from politics to media controversies and future predictions. Each topic offers unique insights and perspectives that can help us navigate the complexities of the world we live in. From understanding the nuances of political ideologies to the challenges of creating content for different platforms, there is much to learn and apply in our daily lives. Let's dive in and uncover the wisdom within these topics.
---
🔍 Wisdom Unpacked
Delving deeper into the key ideas.
1. Political landscape is complex, with different factions and evolving terms.
The political landscape is complex, with different factions within the left and right wings. The right prioritizes individual freedom and liberty, while the left often promotes diversity and inclusion over meritocracy. The left also faces criticism for suppressing others and stifling free speech. The term 'liberal' has evolved, with 'progressive' now often used to describe social democracy. 'Democratic socialism' involves socializing ownership of the means of production. The tension between ideas can be intense, but it's important to be comfortable with disagreement and not hold grudges. Populism is a rhetoric that can be used to propose different policies, and Trump effectively used populist rhetoric in.
Dive Deeper: Source Material
---
2. Adapt content for platform, use mockery wisely, and focus on overall content.
The process of creating content for a show involves adapting it to the platform being used, with a focus on balancing serious and lighthearted topics. The use of mockery and snark on platforms like Twitter is a tool to build a community and simplify complex concepts, but it can also contribute to the chaos and division in political discourse. When discussing serious issues, it's important not to take oneself too seriously and to be open to engaging in conversations with people from different perspectives. The number of views on a platform can be a metric, but it's important not to obsess over it and to focus on the overall content and diversity of topics.
Dive Deeper: Source Material
---
3. election likely to see Biden vs. Trump, with AOC's potential impact.
The 2024 election is likely to see a rematch between Biden and Trump, with Biden having accumulated accomplishments and the stock market being steady. However, Biden's age and handling of certain issues may be liabilities. Trump's chaotic and disrespectful behavior may be a significant factor. AOC's charisma and ability to anger those who don't like her could make her a significant force in politics. The political landscape is complex, with different perspectives and policies. Bernie Sanders and AOC are similar in their ideas, while Biden is considered center left. The DNC's role in the primaries is controversial, and Bernie's popularity on social media may not accurately reflect his support within the party. Biden's weaknesses include not being seen as high energy and not being interested in the same policy issues as younger voters. However, he has strengths in foreign policy, diplomacy, and high-level negotiations. It is unclear if he is actively involved in the day-to-day operation of government.
Dive Deeper: Source Material
---
4. Pandemic response hindered by inadequate communication, leadership, and trust in science.
The pandemic response has been marred by inadequate communication and leadership, leading to confusion and mistrust. This has been exacerbated by the political situation, with some people following political leaders rather than science. The early communication about masks and vaccines was seen as inaccurate and overconfident. The development of the vaccine was made possible by advancements in mRNA technology and President Trump's support, but his handling of COVID was criticized for being too cavalier early on. The tariffs imposed by Trump on China had a negative impact on the Chinese economy and cost American jobs. The scientific leaders, including Anthony Fauci, were criticized for speaking with certainty and arrogance, leading to a lack of trust in science. The distrust in science and the failure of leaders to address it have been major challenges in the pandemic response. It is important for leaders to inspire unity and effective action in times of crisis.
Dive Deeper: Source Material
---
5. DeSantis faces challenges in Republican presidential race.
The political landscape is complex, making it challenging for young or outsider candidates to enter the race. The political process lacks innovation and technology, and many people follow politics as entertainment. However, it's crucial to focus on local communities and make tangible changes. Ron DeSantis, a potential candidate, has faced challenges and criticism, including his recent trip to Asia and his handling of Trump's attacks. Some Republican donors are not fans of Trump and were hoping for DeSantis as an alternative. However, DeSantis's polling is not strong, and he needs to figure out how to take votes from Trump. The decision to run for president is made soon, and it will be difficult for DeSantis to gain momentum. Other candidates, such as Vivek Ramaswami and Nikki Haley, are also running. Trump's popularity among Republicans is still strong, making it challenging for DeSantis to gain support. It is uncertain if Trump can be defeated, but major events or indictments could potentially impact his lead.
Dive Deeper: Source Material
---
6. Conspiracy theories can be misleading, leading to far-reaching consequences.
Conspiracy theories, while compelling, can be misleading and often rely on manipulated evidence. The 2020 election and the January 6th events are examples of such theories, which have had far-reaching consequences. The lead-up to these events involved claims of election fraud and conspiracy theories, which have continued to persist. The events themselves, such as the breach of the Capitol building, were seen as a departure from a factual reality and a violation of democratic principles. The incident has opened the door to further questioning of election results, with some candidates already using this tactic. It is unclear if this behavior will spread to the left. Overall, the incident has highlighted the importance of maintaining a factual reality and adhering to democratic principles.
Dive Deeper: Source Material
---
7. Controversies highlight censorship, risk mitigation, and political discourse.
The controversy surrounding the Hunter Biden laptop story and the firing of Tucker Carlson from Fox News highlights the complexities of censorship and risk mitigation in the media. The release of nude images without consent is illegal and violates social media policies, while the claim of references to the big guy being about Joe Biden getting 10% for some illicit activity has not been supported by evidence. The censorship of the Hunter Biden laptop story during the electoral process raises concerns about the actions of social media companies. The firing of Tucker Carlson was not a politically motivated decision, but a risk mitigation strategy due to the legal problems he caused for the network. The notion that both sides are the same is a meme that has spread in American political discourse on the internet.
Dive Deeper: Source Material
---
8. Language models can enhance learning, limit news exposure, and foster fact-based discussions.
The rise of language models like ChadGPT is changing the nature of learning and exploration, potentially replacing traditional university education. These models can provide a comprehensive and objective view of topics, helping users evaluate the strength of each paragraph. They can also offload memory effects and equations, allowing users to focus on asking good questions and thinking through complex issues. The purpose of education is to provide a background knowledge, discover one's passion and talent, and contribute to society. To avoid the toxic space of news and politics, it's recommended to limit exposure to feedback and comments, focus on genuine views, and use a wiki-like system to organize notes and information. Fact-checking involves starting with primary sources and using tools like Wikipedia's footnotes and Chat GPT for background research. Determining what is true and what is opinion is becoming increasingly difficult, especially with the rise of GPT. It's crucial to distinguish between opinions and facts, and to approach discussions based on evidence. In the case of bigger issues like fair elections, it's important to approach the conversation openly and without trigger words, allowing for a discussion based on evidence.
Dive Deeper: Source Material
---
9. Libertarianism faces practical challenges beyond 150 people.
American-style libertarianism, while advocating individual freedom, faces practical challenges beyond 150 people. Centralization becomes necessary for decision-making, and market-driven systems may not effectively replace government. Specialization and the need for solutions to complex problems arise, similar to the challenges faced during the agricultural revolution. While libertarianism prioritizes individual freedom, there are still unresolved issues in dealing with these challenges.
Dive Deeper: Source Material
---
10. Complex conflicts in Ukraine and Middle East require pre-negotiated terms and credible arbiters.
The ongoing conflict in Ukraine, fueled by political polarization and funding, is a complex issue with no clear solution. The Russian invasion is widely seen as an act of aggression, but the topic has become divisive. The conflict in the Middle East, particularly between Israel and Palestine, is also complex, with pre-negotiated terms and good faith parties necessary for progress. The US role in facilitating negotiations is debated, but credibility on the global stage is crucial. The conflict is likely to continue, with some issues becoming partisan. The possibility of peace in the region is uncertain, with the Palestinian Authority and Hamas questionable as arbiters of peace. A solution similar to the Clinton era with settlements and land swaps is likely, with East Jerusalem potentially part of a Palestinian state. The conflict has become politicized, with some supporting neo-Nazis and others criticizing US funding to Ukraine. The issue of war is complex, with conflicts between factions likely to continue. The size and wealth of the US, rather than unique intentions, should be considered when evaluating US foreign policy.
Dive Deeper: Source Material
---
11. Embrace the unpredictability of the future and start taking action now.
The future is unpredictable, and our biggest threats are difficult to foresee. However, it's crucial to be proactive and start taking action immediately, as this allows for valuable data collection and adjustments. Reading books can provide insights into the human psyche and the impact of intellectual property. It's important to appreciate life's joys and freedoms, especially when considering the potential for evil at scale. The future is likely to be strange and unpredictable, and exploring opportunities, even if challenging, can lead to valuable discoveries.
Dive Deeper: Source Material
---
---
💡 Actionable Wisdom
Transformative tips to apply and remember.
Approach discussions with an open mind and a focus on evidence. Distinguish between opinions and facts, and seek out primary sources for fact-checking. Limit exposure to toxic news and politics by focusing on genuine views and organizing information effectively. Be proactive in taking action and exploring opportunities for personal growth. Appreciate the joys and freedoms of life, while remaining aware of the potential for challenges in the future.
---
📽️ Source & Acknowledgment
This post summarizes Lex Fridman's YouTube video titled "David Pakman: Politics of Trump, Biden, Bernie, AOC, Socialism & Wokeism | Lex Fridman Podcast #375". All credit goes to the original creator. Wisdom In a Nutshell aims to provide you with key insights from top self-improvement videos, fostering personal growth. We strongly encourage you to watch the full video for a deeper understanding and to support the creator.
---